Below we compare 30 companies that currently provide merchant services, accounts and/or card payment processing services to businesses in the UK.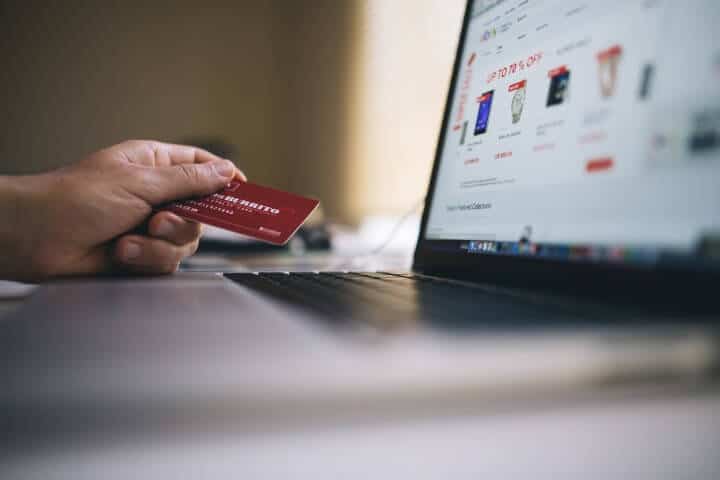 If you want to narrow down your choices, we can also help you to compare merchant accounts, PDQ machines and payment gateways.
We've split the list below into a few different categories to help make finding what you need easier. You can jump to the relevant section by clicking on the links below:
Top 10 Providers & Suppliers
The companies listed below are the 10 most popular (based on search volume) options when it comes to accepting card payments. However, be aware that not all of these companies offer full merchant accounts or a full range of payment processing services.
1. Paypal UK
By far the best known online payment processing company, Paypal remains a popular and easy to set-up choice for UK businesses just starting out online. Here a just a few of their features for businesses looking to accept card payments online:
Fees as low as 1.9% + 20p per transaction.
Faster checkout no need for customers to enter their debit or credit card details every-time.
Accept international payments in 25 currencies.
Integrated with many popular shopping carts including Shopify, WooCommerce, PrestaShop and Magento.
Also now offers their own mobile credit card machine called Paypal Here.
Although its primarily an ecommerce platform, Shopify now allows you to sell both on and offline. Here are a few key things to know about them:
Credit card fees as low as 1.6%.
Sell online via completely bespoke online store.
Sell offline via Shopify POS.
App Store to add extend your eCommerce shop.
Buy button, Facebook Shop & Messenger payments options as well.
Special Offer: Click here to try Shopify free for 14 days, no credit card required!
Visit: Shopify UK Website
Worldpay is a global leader in payments processing technology and is the UK's leading dedicated merchant service provider. Here are some of the benefits they can offer your business:
Handles approximately 42% of UK card payments.
Flexible pricing plans.
Offers full merchant account solutions.
Provides local in-store, online and mobile payment acceptance solutions.
Trusted by over 16,000 hairdressers, over 24,000 restaurants and more than 9,000 pubs in the UK.
Learn more: Worldpay Wesbsite
4. Stripe
Stripe is a popular online payment solution offering a complete commerce toolkit, built for developers. They offer advanced functionality for a range of internet businesses including eCommerce, mobile commerce, SaaS and subscription payments. Here are a few of their features and benefits:
Fees of 1.4% + 20p for European credit and debit cards.
Fees of 2.9% + 20p for non-European credit and debit cards.
Accept 135+ currencies.
Save card details so customers can pay again with a single click.
Easily to maintain PCI-DSS compliance for your payments.
5. Sage Pay
Sage Pay offers full merchant account services and are the payment division of Newcastle based Sage. Here are just a few things they can offer your business:
Offers Online, Face-to-face, phone and invoice payment solutions.
Fees as low as £0.59 per transaction (invoice payments).
Receive funds into your business bank account within 2 working days.
Connect Sage Pay & Sage Accounts to invoices paid instantly.
Accept any payment type, including PayPal in 25+ currencies.
iZettle offers a relatively cheap solution for business looking to accept face-to-face card payments only. Here a few of their benefits:
Mobile card reader from only £25!
Fees start at 2.75% but can drop as low as 1%.
No contracts or fixed monthly costs.
No merchant account needed.
Works with iOS and Android.
Learn more: iZettle Review
7. PayPoint
Paypoint is a household name in UK payment services and is probably best known for how you pay for prepaid utilities in the UK. However, they also offer a range of other payment services, including:
Provide cash, card and contactless payments – in store, on the phone and online.
eVouchers as a way to pay for online subscriptions.
Pay for internet purchase in-store with eMoney.
Offer terminal-based card payment services via Lloyds Cardnet.
UK network contains more branches than all banks, supermarkets and Post Offices put together.
8. Streamline
Streamline is a division of WorldPay but remains a popular solution in its own right. Here are a few of the benefits they offer:
Accept all major debit and credit cards.
Flexible payment options including card machines, over the phone or online.
24/7 UK customer support for help when you need it most.
Replace card machines, usually the next day.
Install products and services, and train your staff.
9. Klarna
Klarna offers a range of unique payment options for online businesses through via their Checkout and Payment options. These services include:
Pay after delivery for online orders.
Buy Now, Pay Later options for customers.
Offer all other major popular payment methods.
Can help to boost your conversion rates.
Works with a range of partner solutions including EKM and WooCommerce.
10. First Data
First Data provide full merchant accounts and they look for every opportunity to help customers get more value from every transaction. They offer solutions both for merchants and financial institutions. Merchant account solutions include:
Gift & Incentive Card solutions.
Terminals & POS Management Services including peripherals and supplies.
eCommerce solutions including API integration and hosted payment pages.
Regularly updated currency rates, reducing risk associated with unfavourable exchange rates.
Up to 36 of the world's most accepted currencies supported.
Complete Merchant Accounts & Credit Card Processing Service Providers
The companies listed below offer actual merchant accounts offering the full range of credit card processing services. Thus allowing you the greatest amount of flexibility if you want to handle card payments online, in-person and/or over the phone.
11. AIB Merchant Services
Allied Irish Bank (AIB) are one of Ireland's largest providers of payment solutions, with extensive operations in Ireland and Britain. Here a few of the services and benefits they offer:
Handled over 30 billion euros worth of payments in 2014.
Offer Clover POS for in-store payments.
Offer Authipay to accept online payments.
12. Bank of Scotland Merchant Services
The Bank of Scotland's merchant services are provided by Cardnet. Their key benefits are:
A fast, efficient payment system you can tailor to your needs.
Accept payments over the counter, by phone or online.
Reduce paperwork and simplify your accounting.
Bank of Scotland Merchant Services Website
13. Barclaycard
Barclaycard is Barclays Bank's payment processing division. They offer the following services:
Desktop, portable, mobile and Anywhere card machines.
A range of payment pages that make accepting cards and new digital payments really straightforward.
A virtual terminal for taking payments when a customer isn't present which works on a laptop, tablet or smartphone.
14. CardCutters
Based in Nottinghamshire they have helped over 5,000 UK merchants save hundreds of pounds a month on their merchant account fees. They represent AIB Merchant Services and offer the following:
No hidden charges with simple, clear and very competitive pricing.
Seasonal Card Machine packages for businesses that only operate during the summer.
Solutions for face to face, phone and online payments.
15. CardSave
A Worldpay company they offer the following services:
A range of countertop, portable and mobile card machines.
Flexible pricing plans: Pay as you go, fixed monthly and standard.
Advice on choosing the right online shopping cart software.
16. Co-operative Bank Merchant Services
The Co-operative Bank offers safe, secure and reliable card acceptance solutions through its strategic partner, First Data Merchant Solutions. benefits include:
Ability to accept all major credit and debit cards.
PCI DSS compliant.
Flexible product options that can be tailored to best meet your specific requirements.
17. Elavon
Elavon has been a leader in processing payments for over twenty years, leveraging the world's best technologies for our customers, from large worldwide enterprises to locally-owned small businesses. Some unique services they offer include:
Fanfare Customer Loyalty, Offers, and Gift Card Programme.
Tailored solutions for specific industries. They are the #1 payment processor for airlines.
Every Elavon owned card terminal is enabled to accept Apple Pay.
18. Global Payments
Global Payments specialises in card payment processing for customers ranging in size from owner-managed businesses to multinationals in every sector. A few key things to know about them:
HSBC's preferred supplier for card processing in the UK.
Specific solutions for Education, Hospitality, Online, Retail and Transport.
Accept payments online, in-person and by mobile MPOS.
19. HSBC Merchant Services
HSBC offers business debit & credit card processing solutions through their partner Global Payments (see above). Ways HSBC merchant services can help your business:
You can easily accept foreign card payments.
Accept payments securely online using Global Payment's Global Iris.
Award-winning protection against card fraud.
HSBC Merchant Services Website
20. Halifax Merchant Services
Does not provide merchant services or business banking itself, but works with Lloyds Bank Cardnet and Bank of Scotland (who are both part of the same banking group). Some benefits of using either bank include:
Access to your account online, in branch and over the phone.
Support from their business management team.
Free text message alerts service, direct to your mobile phone.
Halifax Merchant Services Website
21. Lloyds Bank Cardnet
Part of Lloyds Bank and and have been providing businesses with card payment services since 1997. Aim to make accepting card payments simple with card machines, international transactions services and help for setting up online payments. Some benefits they offer:
1.04 billion transactions a year with £61.3 billion card sales every month.
94% overall customer satisfaction.
Lloyds Bank Business Account holders get a fixed Rate of 1.25% for all MasterCard & Visa Credit & Debit Cards.
22. Metro Bank Merchant Services
Metro Bank's preferred partner for arranging merchant services is independent payments specialist acceptcards. Services offered include:
Multi-channel payments from face to face to online.
Supports local payment methods from around the world, across all payment channels.
Process contactless payments – including Apple Pay.
Metro Bank Merchant Services Website
23. Acceptcards
They are a part of UPG plc and help businesses get better rates than going to your own bank direct. Services include:
Free and no obligation price review.
Not tied to one single provider or company.
Can help with merchant accounts, chip and pin machines, mobiles payments, payment gateways and more.
Card Machine Only Providers
Online Only Payment Processing
The companies and suppliers listed below can help you accept card payments if you're only planning on selling online. If you're planning on selling by other methods in addition to online, you should jump back up to our list of merchant account providers.
Natwest – Offers merchant services and accounts via WorldPay.
NoChex – Their mission is to provide UK and European based online businesses and their customers with the means to make and accept payments safely and dependably at an affordable price.
PaymentSense – Card payment service that is dedicated to making card payments safer, simpler and more affordable for smaller businesses.
Paysafe (NETBANX) – Paysafe Group plc is a technology company that provides online and mobile payment services. Paysafe delivers end-to-end payment solutions.
Pitney Bowes – Pitney Bowes we are proud to offer a complete suite of payment solutions from the very best providers across the industry.
RBS – Payment services provided by Streamline / WorldPay.
Realex Payments – Realex Payments, a division of Global Payments Inc., is one of Europe's leading providers of ecommerce payment solutions.
Santander – Merchant services provided Elavon.
Skrill – Skrill has been making digital payments simple, secure and quick since 2001.
Sqaure – Square Register serves businesses big and small.
For Direct Debit companies have a look at our guide: Top 10 UK Direct Debit Bureau & Recurring Payments Companies