With over a decade of experience in the payments industry, Cardstream has established itself as a trusted provider of payment solutions for businesses of all sizes. It's a leading payment gateway that provides businesses with a secure and reliable platform to process online transactions.
Cardstream accepts payments in all currencies around the world and works with the most famous buying carts for eCommerce and MOTO. Cardstream also sells PDQ tools, which let you do deals in person. 
Prices/Fees
Each transaction comes with a fee, which is calculated using one of two pricing methods, Interchange ++ and Blended. 
The issuing bank will assess an authorisation fee in order to recoup some of the expenses associated with providing its services. This cost is not calculated as a percentage like the other fees we'll shortly cover, but rather as a "penny per transaction" fee. Often, the price falls anywhere between 2 and 10 pence. This fee is applicable in both pricing methods, so let's take a look at each. 
1. Interchange ++ 
The Interchange ++ price system is the more transparent of the two where the merchant pays the transaction charge separately from the Merchant Services Charge (MSC).
This pricing model consists of three fees directed at merchants:
Interchange fee

Card scheme fee

Acquirer fee
The interchange fee is charged by the cardholder's bank and depends on multiple factors, such as the country where the card was issued, the type of card used, the transaction in question, etc. 
As we can see, this pricing structure has two pluses incorporated in its name, and they stand for the other two fees.
The first "+" stands for the fee that the acquiring bank must pay to the card scheme, such as VISA or Mastercard, in order to use their services. It depends on factors such as the type of card, the trasaction value, business location, etc.
The second plus sign indicates the fee charged by the payment processor. The acquiring bank collects the acquirer fee in exchange for the services they provide for the transaction, which is a percentage of the transaction value.
2. Blended
This pricing plan also contains the three fees that are included in the previous plan, only here the interchange, card scheme, and processing fees are all included in a single price known as the Merchant Services Fee (MSC). It typically comes with an additional markup fee, which means that it's not necessarily the most cost-effective approach to facilitate transactions. 
Because various card schemes have varying prices associated with each transaction, the markup assures that merchants are charged the price of the costliest card scheme, even if that card scheme was not used in the transaction itself. 
Even though it's less transparent, the overall costs that come with Blended are more predictable. Because it offers a simpler overview in comparison with Interchange++, it is typically beneficial for merchants with a low transaction volume (less than 50 a month). Yet, merchants might be overpaying relative to what they would be charged under the Interchange ++ model.
To learn more about the two different price models offered by Cardstream, click here.
Services
White Label Payment Gateway
Cardstream's White Labeling solution offers a comprehensive selection of products that can be customised to create a payment environment that is uniquely yours. They offer comprehensive solutions that span an international network, such as:
Hosted forms

Direct integration

Selection of plug-ins

Developer-friendly API
The solutions are controlled through their Partner site, and their software provides streamlined customer interaction.
All Main Debit/Credit Cards
Merchants nowadays compete in a global market that is seeing rising levels of spending across international borders as a result of both travel and online commerce, so they have more opportunities for payment conversions if they give cardholders the option to pay with the card of their choice. 
The Payment Gateway offered by Cardstream accepts all major debit and credit cards, which is essential for any merchant. 
Checks for Safety
Cardstream provides scans for the Card Security Code (also known as CV2, CVV, and CSC), as well as tests for the Address Verification System (AVS). Merchants benefit by enhancing the user experience by making secure transactions.
Fraud Protection
The fraud protection solutions offered by Cardstream contribute to the elimination of fraudulent card transactions before they even take place.
You will have full control over the traffic that passes through your Gateway thanks to the Velocity Checking technology as well as a variety of national card-blocking solutions. Cardstream can also interact with specialised fraud management systems provided by third-parties to enhance the fraud protection capabilities available.
Cardstream also suggests making use of 3-D Secure, in order to increase the level of transaction protection. Cardstream provides 3-D Secure for each e-Commerce Merchant Account that makes use of the Payment Gateway.
Velocity Monitoring
Velocity Checking gives merchants the ability to limit the number of transactions they can do within a given period of time and the frequency with which they may use their cards, which helps to reduce fraud.
DDoS Mitigation
An effort to force an online service to be inaccessible is known as a DDoS assault, which stands for "distributed denial of service." This attack works by overwhelming the bandwidth of a web server with an excessive volume of data. 
Due to DDoS attacks becoming increasingly common, with some prominent websites being taken offline as a result of these assaults, Cardstream has formed a partnership with a renowned cloud-based DDoS mitigation solution provider. This supplier offers a global enterprise-level solution that provides 24/7 protection from the most severe DDoS attacks.
Tokenisation for the Purpose of Recurrent Payments
You will have complete freedom to operate a subscription, membership, or any other form of recurring payments thanks to the Cross Reference, which will enable transactions to be executed for the initial amount.
Cardstream's Cross References, Tokens, and Card Storage are all available to users at no additional cost, which is an additional perk of the service.
Maintaining Real-Time Account Information
With the help of the Account Updater, merchants are provided with the most up-to-date information on cardholders. As cards that are about to expire are renewed or lost cards are replaced, the updated data makes it possible for a flawless recurring or automatic card charging procedure to take place. This lowers the likelihood that the service will be cancelled.
Secure Virtual Terminal
The Virtual Terminal is a web-based gateway that is readily available for use on a variety of devices, including mobile phones, tablets, and personal computers. While accepting payments over the phone or by postal orders, merchants can feel safe using the secure Virtual Terminal. A user can handle payments made with credit and debit cards, as well as transactions involving refunds, all in real time. This is a good option for contact centres, sales clerks, and bigger organisations that want to restrict the ability to access transaction information or process refunds.
Interactive Voice Response (IVR)
Today's businesses are seeing the benefits of using automated payment systems. IVR solutions offer a dependable and cost-effective method of processing card payments around the clock, suitable for a variety of businesses and organisations, including parking services, financial services, and municipal authorities. It has been demonstrated that Cardstream's Payment Gateway functions effectively with industry-leading IVR professionals as well as merchants that demand this degree of intelligence.
Receipts
With Cardstream, both merchants and cardholders can get a receipt for each transaction that is processed. The receipts include specific information about the transaction, such as:
The cardholder's address information

The acquiring bank

The cross-reference number

The issuing bank
Cardstream Reseller Partners are provided with receipts that are completely branded with their own company's name. 
Integrations
Cardstream's integration features work with e-commerce platforms like WooCommerce, nopCommerce, BigCommerce, Magento, OpenCart, and others.
Card schemes, alternative payment methods, and acquirer-independent companies are all supported by Cardstream, as seen in the image above.
Cardstream also offers White Label Payment Gateway solutions to software businesses, acquiring banks, payment service providers, independent sales organisations, and other value-added service providers. The Open Payment Network controls the full payment procedure across nations.
API

Cardstream's API makes it possible for merchants to integrate Cardstream's payment gateway into their sites or apps.
All of the safe and user-friendly integration solutions can be completely rebranded to fit their brand. The integration tools also include:
Test cards

Sample code

Test accounts

On-demand help from skilled specialists
Click here to go to the Developers Area, where you can explore documents regarding e-commerce Modules, integrations, SDKs, logos, and sample codes.
Extra Care On Customer Support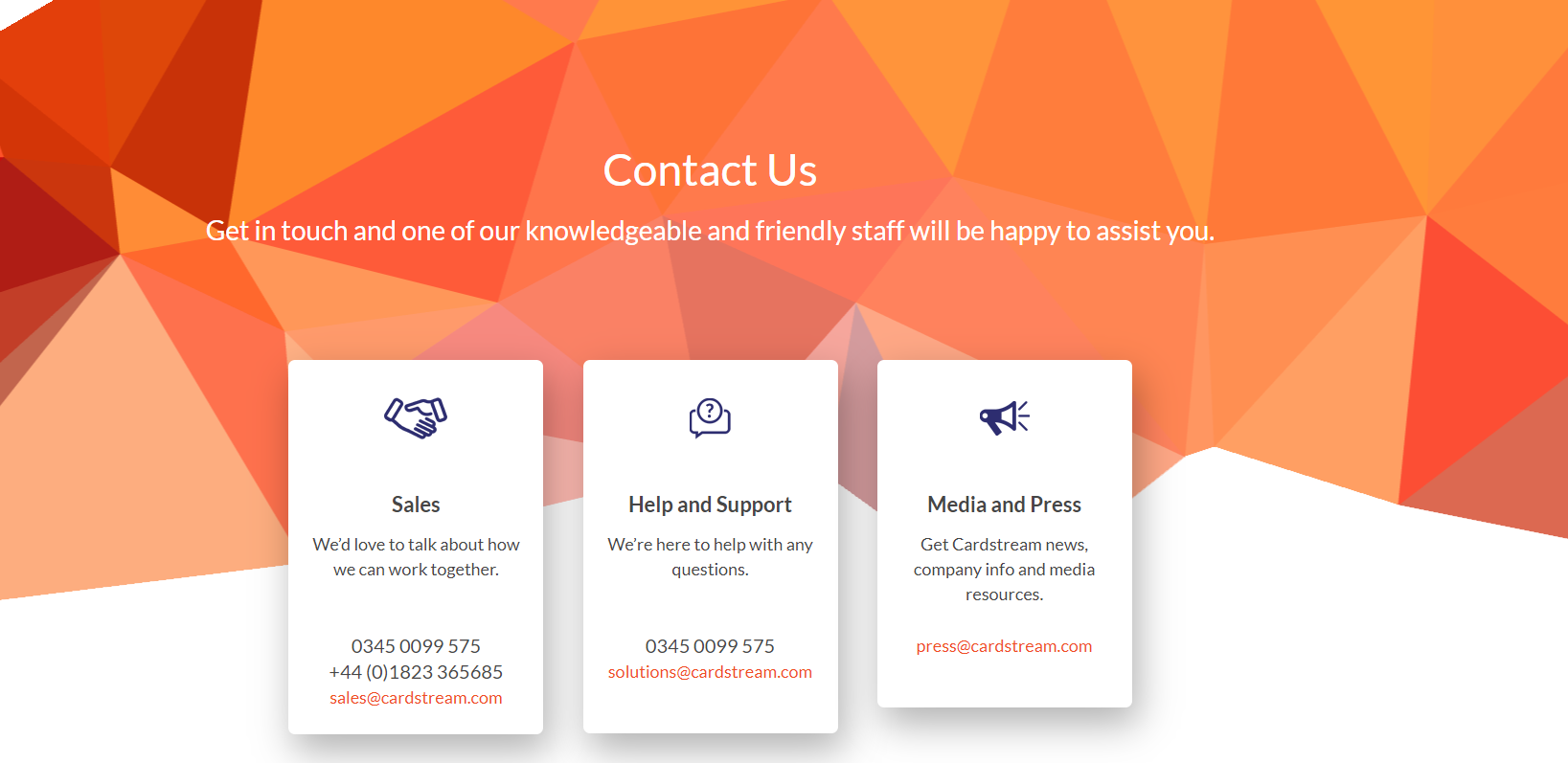 Cardstream provides an exceptional level of customer support to both its partners and the customers they serve. 
You can contact Cardstream's support staff reached by email or phone, as shown in the image above. You can also submit an online request for any question you have at the following link.
Company History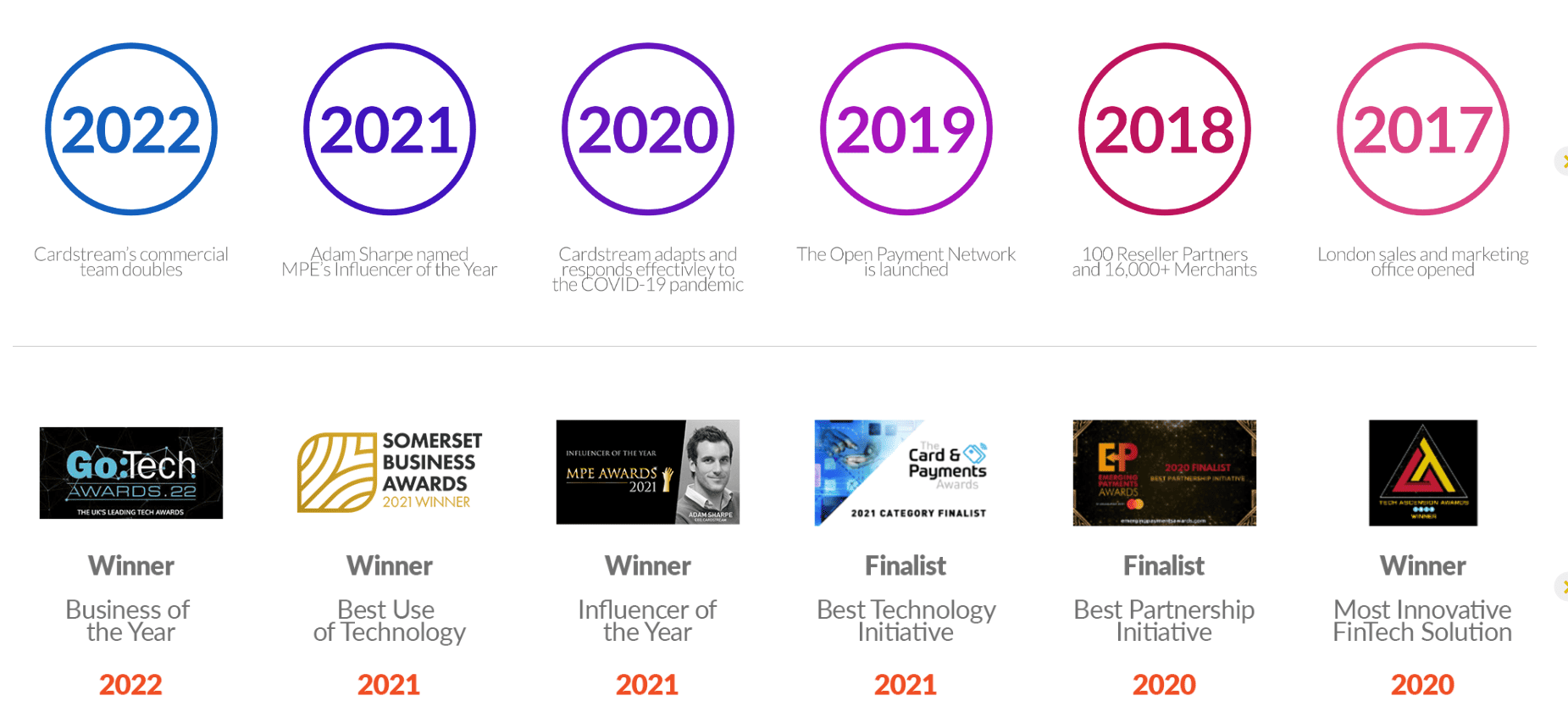 Cardstream was founded in 1999 and the company maintains its operations out of its base in Taunton, which is located in Somerset, United Kingdom. Given that it's an independent business, it's able to collaborate with a diverse group of acquirers. It's the only payment gateway that is completely autonomous and focused on partners. Cardstream has numerous reseller partners, all of whom put their faith in the company to handle the payment processing for thousands of global businesses.
Cardstream has a primary emphasis on its white-label partners, assisting them in the development of their corporate strategy. The company develops individualised solutions in order to provide partners with integrations and acquire banks with assistance in the operation of their respective lines of business.
In the image above, we can see the company timeline, as well as their awards and recognitions throughout the company's history.
User Reviews
We haven't found many Cardstream user ratings, except TrustPilot rating it 2.5 stars out of 5.
User Reviews
Review Summary
0.0 out of 5 stars (based on 0 reviews)
Recent Reviews
There are no reviews yet. Be the first one to write one.
Submit a Review