The 9 mobile credit card machines listed below make it easier than ever for UK small businesses to accept card payments almost anywhere without the need for a dedicated PDQ machine, merchant account, expensive PDQ machine rental contract or any other hassles that come from more traditional payment processing companies.
The table below compares the companies on their key features:
* Prices exclude VAT and are accurate as of Dec 2021.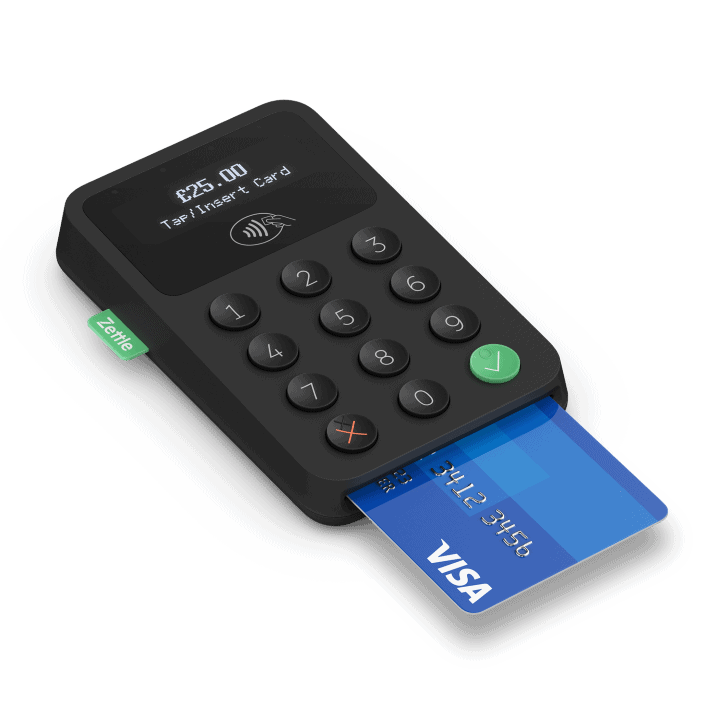 These card readers can be great for small businesses just getting started. But the trade-off is that they often charge higher fees compared to dedicated payment processing companies, usually do not offer the full flexibility of accepting card payments online or over the phone and may not look quite as professional as dedicated PDQ machines.
Therefore, while you should definitely have a look at all the companies below, you should also consider comparing card reader companies using our form at the top of the page as well.
For more about what each companies offers in greater detail have a look at our full company profiles below.
1. Zettle Card Reader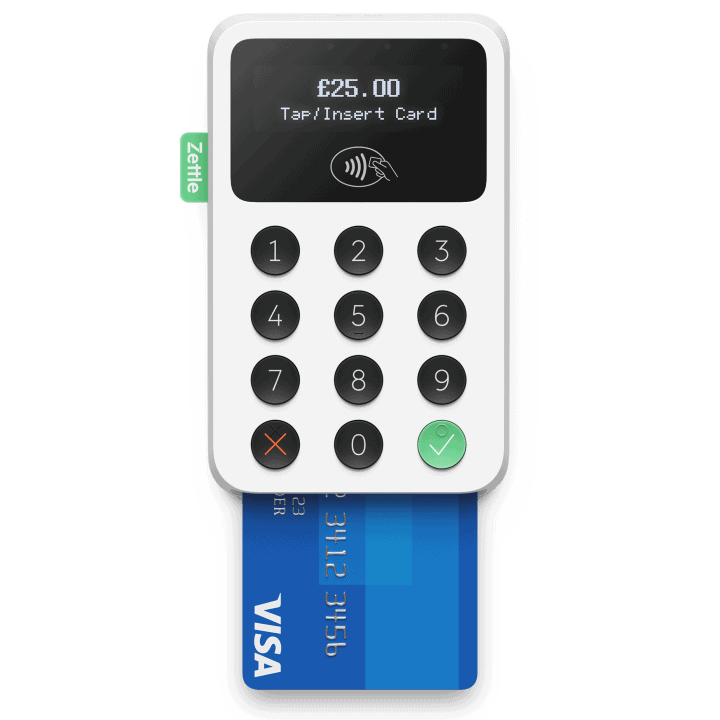 The Zettle card reader has quickly become one the most popular mobile credit card machines options for UK small businesses.
Below we outline the major pros and cons of the Zettle system, but for a more in-depth look have a look at our complete 2021 Zettle review.
Zettle Credit Card Machine Features
No monthly fee
Set up fast, sell straight away
Charge quickly for long-lasting battery
Accept VISA, Mastercard, American Express, Diners Club, JCB, Discover, all major debit cards, Apple Pay, Android Pay, Google Pay
Take contactless payments in under 5 seconds
Send online invoices
Accept cash payments with no daily limit
Send digital receipts and store them all on the cloud
Deposit earnings from app to bank within 2 business days
One charge can last for 8 hours (or around 100 transactions)
Free 12-month warranty
Owned by Paypal and can easily connect to your existing Paypal account
Full list of supported devices
Zettle Card Machine Cost
While there have been a few versions of the Zettle card reader, the current Reader 2 retails for £59 + VAT. However, until 31 December 2021 you can now get one for only £19 + VAT by clicking here.
This makes the Zettle card reader one of the most competitively priced in UK market at this time.
Zettle Transaction Fees
Zettle by PayPal now only charges a flat 1.75% fee per transaction for card payments regardless of which type of card you process (including AmEx).
Other transaction fees are as follows:
Invoice transactions: 2.5%
Payment link transactions: 2.5%
PayPal QR code transactions: 1.75%
E-commerce: 2.5%
Previously, its transaction fees were charged on a sliding scale. Merchants with low payment volumes were charged 2.75% per transaction. This fell to as low as 1% per transaction for businesses processing more than £40,000 worth of payments per month.
The minimum amount per transaction is £1 for all accounts with the maximum amount being £5,000 for Chip-card (incl. contactless) & PIN processed by business account holders. Total daily transactions can not exceed £500,000 limit per 24 hours.
Overall, Zettle's fees are among the lowest in the industry. However, you're still advised to compare them against the other options below and normal PDQ machines.
Zettle Set-Up & Monthly Fees
One of Zettle's greatest selling points is that there are no set-up fees (beyond buying a card reader) and no monthly fees either for their regular GO account. This makes them an attractive option for new businesses and those that are unsure how much they'll use their machine.
Zettle Contract
Another major selling point for the Zettle card reader is the fact that you are not required to sign a contract, unlike most traditional merchant account providers. This means you can use them for as long or short a period as you like.
Zettle Add-ons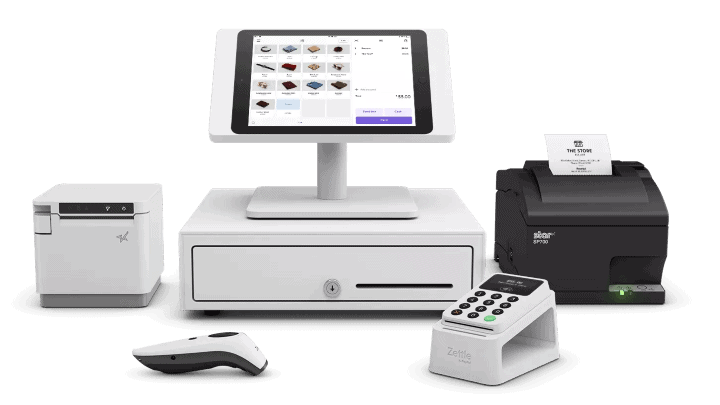 The Zettle card reader requires the Zettle by PayPal app (available for both iPhone and Android) to function properly. Beyond that there are a whole host of add-ons that can turn the card reader into a full fledged point of sale system.
These include:
Terminals
Stands & Docks
Receipt Printers
Cash Drawer
Store Kits
Overall, these add-ons greatly extend the functionality of the Zettle reader, but be aware the costs for some of the items may be more than equivalent price you'd pay for the same item on a standard EPOS system.
Zettle Summary
Overall, the Zettle credit card machine is great option for businesses looking to get started taking card payments. While their fees are not the lowest in the industry they are very transparent.
Moreover, the fact you do not need a contract to get started and there are no ongoing costs besides transaction fees, makes Zettle a top choice when it comes to mobile credit card machines for small businesses.
If you're ready to give them a try, get started by visiting the Zettle nby PayPal website here.
If you'd like to learn a bit more about them, read out full: Zettle by PayPal Review.
2. Square

Square is an American company and is the largest provider of mobile credit card machines and readers in the world. Although they're still relatively new in the UK, they have quickly become the second most popular option among small businesses searching online.
It was co-founded by Jack Dorsey who also co-founded Twitter and currently handles over £84 billion ($112 USD Billion) worth of payments globally each year.
Below we look at the costs along with some of the pros and cons of using the Square Reader to handle your payments.
Square Reader Features
Square lets you take chip and PIN cards, contactless cards, and other mobile payments like Apple Pay and Google Pay.
Accept Visa, Mastercard and American Express all for one low rate.
See deposits in your bank account as soon as the next business day.
Includes a a free point-of-sale app (Works on Apple and Android devices including both Smartphones and Tablets).
Option to save cards on file
Can also be used to sell online, by phone and collect payments via invoices
Connects wirelessly to your Apple or Android device via Bluetooth.
Battery lasts all day
Huge range of optional add-ons
Car reader is currently priced at just £16
To see all features visit the Square website.
Square Reader Cost
The Square Reader is now priced below the Zettle Reader, at just £16 + VAT, making it the cheapest option on the market.
You can buy it directly on the Square website.
Square Reader Transaction Fees
Square's transaction fees are pretty much exactly the same as Zettle's just 1.75% for chip & pin or contactless payments (for all cards including Amex).
For keyed-in (e.g. phone orders), online or invoice payments they charge 2.5% due to the slightly higher risks involved.
Other fees include:
Online payment fees: 1.9% (for EEA and UK card transactions) or 2.9% (non-EEA/non-UK card transactions cards)
And unlike Zettle there are no minimum transaction value.
So if you're just going to use it as card machine, you'll get one of the best rates in the market today with fewer restrictions.
Square Set-Up & Monthly Fees
Beyond paying the £16 for the card reader and the transaction fees above, there are no other hidden or monthly fees from Square.
However, like all the devices listed on this page you'll need a valid data plan with your mobile phone provider.
Square Contract
There is no contract required for using a Square Reader and no charges for inactivity.
Square Add-ons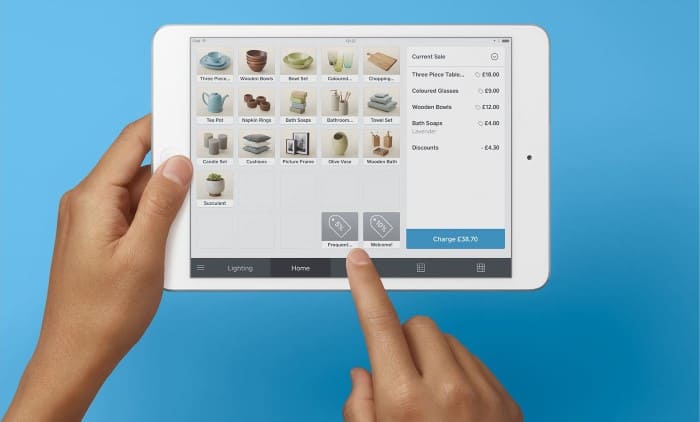 Of all the mobile credit card readers on this page, Square currently has the most to offer in terms of add-on features and functionality.
Some of these include:
Square Terminal: All-in-one device that allows you to take payments and print receipts from one machine.
Square Stand: Turn your iPad into a point of sale.
Square Register: A powerful till system with integrated POS & payments
Dock for Square Reader
Receipt Printers
Cash Drawers
Barcode Scanners
Full hardware kits
Inventory management via the App.
Invoicing software that allows people to pay you via card online (2.5% rate applies).
Ability to sell online via their Ecommerce API. (2.5% rate applies)
Virtual Terminal so you can take payments by phone or mail (MOTO payments) – 2.5% rate applies.
Can synch with other apps and software you use for things such as accounting, analytics, e-commerce and more.
Can track employees performance via the app.
Can track multiple locations.
Square Reader Summary
While the Square Reader is the core payment processing product offered by Square, it's more than just a simple card machine. If you wanted to, you could use Square to manage payments across your entire business.
The basic card reader now costs a little less than Zettle. With their fees being identical, the real choice comes down to how many additional features you need.
If all you need is a card reader and nothing else both Zettle and Square will do the job well. But if you need additional features Square likely has a few more and they also offer the Square Terminal if you need something more.
To get started with the Square visit their website here.
For more read: 2021 Square Card Reader Review – UK Payment Fees & Pricing Compared
3. SumUp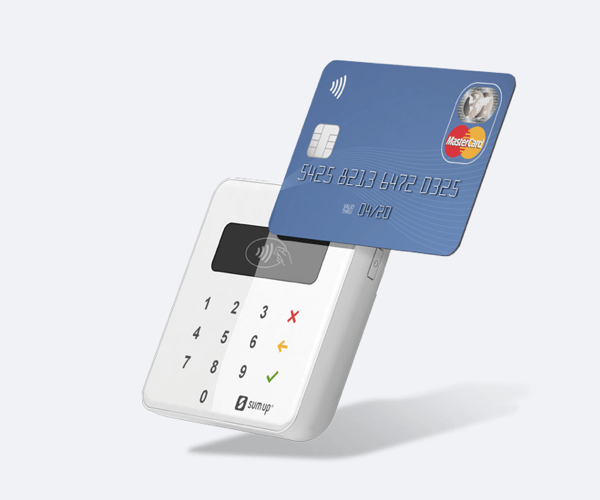 SumUp is a dedicated, standalone credit card machine provider similar to Zettle. They also recently purchased payleven, which offered a similar product.
SumUp's major selling point is that it offers a simple, flat transaction fee. This is great for businesses that process low volumes of card transactions. However, for businesses that process a higher volume of payments it might not be the right choice.
SumUp Features
Accept all debit and credit cards
Pay with tap of their card or their phone (contactless), Chip & PIN or magnetic swipe
No fixed monthly costs
100% online application with no contract and no paperwork
Card reader connects via Bluetooth and is compatible with iOS / Android phones and tablets
SumUp Machine Cost
The SumUp Air card machine currently costs £29 + VAT (click here to buy). This is lower than Zettle's normal card reader price, but higher than their current promotion price or Square's normal price.
They also offer a 3G Card Reader which costs £69 + VAT, which eliminates the need for a smart phone.
SumUp Transaction Fees
SumUp's major selling point is the low initial transaction fee of just 1.69%. This is the marginally lower than either Zettle or Square who charge 1.75%.
This makes them the among the cheapest options for businesses that are unsure how much they're going to be processing each month or businesses that process variable amounts per month (e.g. seasonal businesses).
SumUp Set-Up & Monthly Fees
Similar to all the other companies featured here, there are no set-up (beyond buying a card reader) and monthly fees to use SumUp Air. You also get free delivery of your card reader, free Android / iOS app, free dashboard with reporting, and free telephone and e-mail support.
SumUp Contract
You do not need to sign any long-term contract to use SumUp.
SumUp Add-ons
Unlike Zettle, SumUp does not offer official add-on products to extend the usefulness of their card reader. However, they do list compatible receipt printers that work with the SumUp Air.
SumUp Summary
SumUp is currently a strong alternative to Zettle and Square for businesses with lower transaction fees, but without all the bells and whistles of their competitors.
To get started with SumUp visit their website here.
Or to learn more read our 2021 SumUp Review – UK Card Reader Fees & Pricing Compared.
4. MyPOS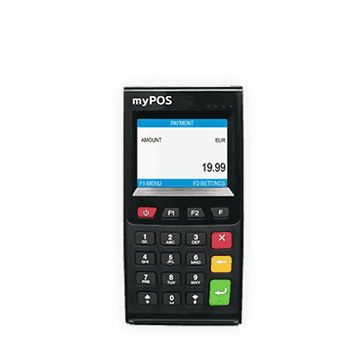 MyPOS is the newest entrant to the card machine market in the UK, and offer a much wider range of readers than the companies above.
MyPOS Card Reader Features
Eco-friendly and paper-free
Colorful LCD display
Powerful battery
1 year warranty
30 Days money-back guarantee
myPOS Account
myPOS Business Debit Card
Free DATA card
MyPOS Card Reader Cost
Unlike most of the other companies on the list, MyPOS offer a range of machines. The cheapest is the MyPOS GO at just £29 + VAT. The most expensive is the MyPOS N5 at £299 + VAT.
You see their full range here.
This means price of a GO reader is inline with SumUP and slightly more expensive than either Zettle or Square.
MyPOS Transaction Fees
Similar to other readers, MyPOS charges 1.75% per transaction although they do state that "The Transaction fee is displayed for indicative purposes and may vary depending on your business activity, geographical location and other factors."
MyPOS Setup & Monthly Fees
Besides buying one of their credit card machines, MyPOS advertise no monthly costs.
MyPOS contract
You don't need to sign a long-term contract to use MyPOS and there are no requirements for minimum turnover. Moreover, your account can be set-up in 5 minutes as is free.
MyPOS Addons & Accessories

MyPOS offers two sets of addons and accessories. The first have to do with the myPOS account:
Multi-currency account with free IBAN
Instant access to funds from all channels
Cost-effective SEPA and SWIFT transfers
Ability to offer private Label GiftCards
myPOS Business Debit Card
Earn additional income by recharging prepaid phones and services directly from your POS device
The second are accessories for the card readers themselves these include:
Customised silicon cases
Charging docks (including docks that can charge up to 5 machines at once)
Car chargers
Backup power chargers
Privacy screens
You can see the full range on their website.
MyPOS Summary
MyPOS are an interesting option when it comes to mobile card readers, since they offer something slightly different from Zettle, Square and SumUP. With a larger range of features and an account that works almost like a bank account they can act as an all-in-one solution to your payment needs.
Moreover, their fees are inline with both Zettle and Square at just 1.75%.
With a wide range of machines and lots of unique accessories that allow you to customise your machine they are at least worth a look.
Visit the MyPOS website to learn more
5. Shopify WisePad 3 Reader
6. Barclaycard Anywhere
7. Worldpay
8. Dojo Go
9. Takepayments
5. PayPal Here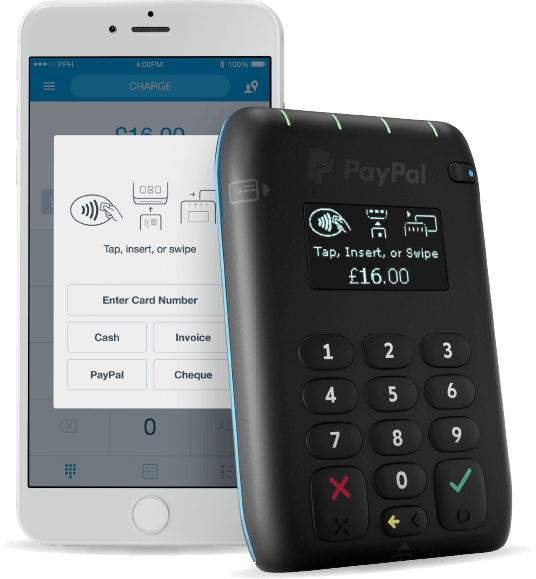 Paypal Here is PayPal's mobile credit card machine solution. While not as competitively priced as the Zettle card reader, it does benefit from integration with PayPal, one of the best known names in online payments.
PayPal Here Features
Accept card and contactless payments without monthly fees.
Payments reach your PayPal account in seconds.
Works with Apple Pay and Android Pay.
UK-based customer support team.
No fixed term commitment
PayPal Here Machine Cost
The PayPal Here card machine costs £75 including VAT (£62.50 exc VAT). This makes it marginally more expensive than the Zettle card reader's normal price.
PayPal Here Transaction Fees
PayPal Here's transaction fees start at 2.75%. However, their fee structure is quite a bit more complex than Zettle's or SumUp's, with their lowest fee dropping to 1.5%, 0.25% lower than Zettle.
To qualify for their Merchant Rate you need to process at least £1,500 worth of payments per calendar month. They then offer a Blended fee structure or an Interchange Plus fee structure. The differences between the two is not huge, which can make selecting the right even more difficult.
Overall, Zettle offers lower fees at most monthly transaction levels.
PayPal Here Set-Up & Monthly Fees
There are no set-up (beyond buying the card machine) or monthly fees for using PayPal Here. And if you already have a Paypal Business account you can get up and running right away.
PayPal Here Contract
PayPal Here does not require a monthly contract.
PayPal Here Add-ons
There are variety of add-on products you can purchase with your PayPal Here card reader to extend its functionality. These include:
Taxi Cab Bundle
Retail Stands
Fast Charge Cradles
POS desk stands and mounts
PayPal Here Summary
Overall, the main selling points of PayPal Here over Zettle are that it integrates with your PayPal Business account and may offer slightly lower fees. This allows you to manage online and offline payments in one place and helps get you up and running more quickly since you can apply and pay for your PayPal Here card reader using your PayPal Business account.
In terms of features there's not much to pick between the either company's credit card machine.
However, in terms of fees, Zettle's are likely to be lower than PayPal Here at most transaction levels. Combine that with more a greater diversity of add-on products and a lower initial machine cost and Zettle looks like the more attractive option for businesses only interested in handling in-person card payments.
6. WorldPay Zinc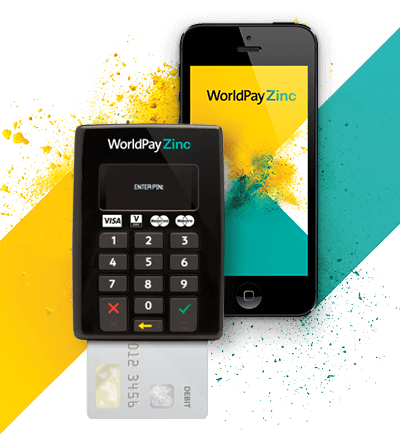 WorldPay Zinc is WorldPay's mobile credit card machine solution for small businesses. WorldPay is the UK's largest credit card processing company and also offers a range of other credit card machines and merchant services for both offline and online payment processing.
WorldPay Zinc's one major advantage over the other credit card machines above is that it can be used to handle phone payments as well as in-person payments. However, the major disadvantage is that their keypad does not currently accept contactless payments.
To process contactless payments with WorldPay, you'll have to go for one of their full priced card machines.
WorldPay Zinc Features
A secure Chip & PIN solution from the UK's leading card payments company.
Works with iPhone, iPad, Android phones & tablets.
Take payments face-to-face or over the phone.
Instant issue receipts via email or SMS
Keypad comes with a 12-month warranty
WorldPay Zinc Machine Cost
At the time of writing, the WorldPay Zinc Chip & PIN Keypad is only £39.99 (incl VAT). It has previously sold for as much as £79.99, making it more expensive than Zettle's current promotional price, but roughly in-line with both Zettle and PayPal Here in terms of cost.
WorldPay Zinc Transaction Fees
WorldPay Zinc has two pricing options in terms of fees. The first is 2.75% per transaction with no monthly fee. The second is 1.95% per transaction if you pay £5.99 a month.
This means your fees with WorldPay Zinc could be lower the same as SumUp or higher than Zettle.
WorldPay Zinc Set-Up & Monthly Fees
Similar to the other companies above, there are no set-up fees (beyond keypad) with WorldPay Zinc. However, there is an optional monthly fee of £5.99 per month, which drops your transaction fee from 2.75% to 1.95% (see above).
WorldPay Zinc Contract
Neither, WorldPay Zinc fee structure requires any commitment or long-term contract.
WorldPay Zinc Add-ons
For the WorldPay Zinc card reader to work, you'll need to download their free app. They also offer the WorldPay Zinc online portal where you can process phone orders. However, they do not have an official list of additional hardware you can use to extend the card reader. But, they do state you can connect a Bluetooth printer to your phone and print receipts.
WorldPay Zinc Summary
WorldPay Zinc is a very stripped-down mobile credit card machine solution, presumably because WorldPay does not wish to compete with its higher margin, traditional PDQ machines.
Nevertheless, WorldPay Zinc may be a good solution for small businesses processing less than £5,000 per month in card transactions and who don't need to accept contactless payments. It may also be a good solution if you take payments by phone and in-person but not online.
7. SmartTrade App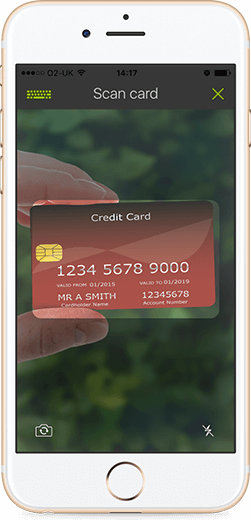 SmartTrade App is different from all the solutions above since it's aimed at tradespeople and does not even require a card reader. Instead you just scan your customer's debit or credit card with your smartphone. It also offers 3 different payment options: Face-to-face, over the telephone or through emailed paylinks.
In another twist, they offer you the ability to pass on your card fees to your customer so you in effect pay nothing.
However, all these features do come at a cost since their fees are generally a bit higher than some of the competing products above. You can learn more below.
SmartTrade App Features
No credit card reader required
0% per card transaction option (roll onto customer bill)
Create professional customised invoices
Send paperless quotes to customers and get them accepted in one click
Accept Visa, Mastercard and Amex, as well as all major foreign cards
SmartTrade App Machine Cost
Since you don't need a credit card machine to use the SmartTrade App, you don't need to pay anything upfront. They also offer a 30 day free trial of their service.
SmartTrade App Transaction Fees
The fees to use SmartTrade App vary from 2.15% + 20p Credit card fees to as low as 1.75% + 20p Credit card fees depending on the plan you choose. While the percentage taken is lower than some competing products, keep in mind you also pay 20p per transaction, no matter the size. So if you process a lot of very small transactions this could really add-up.
They also offer a 0% per card transaction option whereby you roll all the fees onto your customer's bill.
SmartTrade App Set-Up & Monthly Fees
There is a free 30 day trial to get started with SmartTrade App. After that you'll have to pick one of their 3 plans. They are:
Sole Trader: 1 user and 2.15% + 20p fee – £9.99/Month (£101.90/Year)
Business: Up to 15 users and 1.85% + 20p fee – £26.99/Month (£275.30/Year)
Enterprise: Up to 50 users and 1.75% + 20p card fee – £89.99/Month (£917.90/Year)
SmartTrade App Contract
You can cancel your contract at anytime and you get the first 30 days free.
SmartTrade App Add-ons
SmartTrade App is a standalone product so does not offer much in the way of add-ons. It does allow for easy integration into accounting packages like Xero and Quickbooks. You can also access the app on any Apple or Android Device or online through any web browser. They also offer a web dashboard to manage all payments, invoices, and quotes.
SmartTrade App Summary
The SmartTrade App makes sense for tradespeople who don't want to bother with a credit card machine, those who want to be able to accept payment by phone or those who want a zero fee card payment option. However, their per transaction fee and monthly plans mean, it may not be right for all merchants, only those who process relatively few, high value transactions.
To learn more about SmartTrade App visit their website here.
Final Verdict
For a quick comparison you can also have a look at: Zettle vs Paypal, Worldpay, Square & Sumup: 2021 Reader Comparison
The rankings above are based on monthly online searches, and do not reflect the quality of the products themselves.
Note: We have partnership agreements with Zettle, Square, SumUp, MyPOS, Worldpay and SmartTrade App. They each pay us a commission if you sign-up and start using their services. We genuinely think they offer great mobile credit card machines and processing solutions for UK small business, but we leave the final judgement up to you.