The 9 mobile credit card machines listed below make it easier than ever for UK small businesses to accept card payments almost anywhere without the need for a dedicated PDQ machine, merchant account, expensive PDQ machine rental contract or any other hassles that come from more traditional payment processing companies.
The table below compares the companies on their key features:
* Prices exclude VAT and are accurate as of Feb 2022.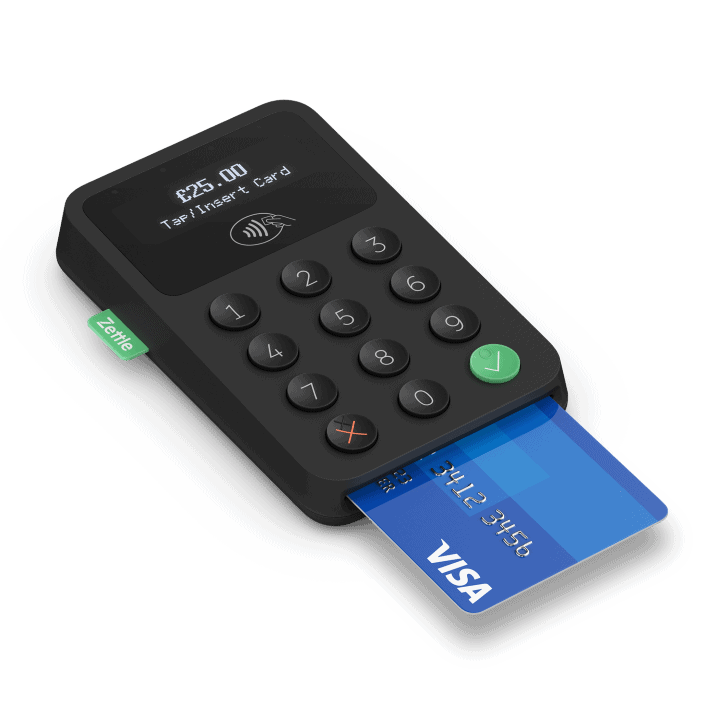 These card readers can be great for small businesses just getting started. But the trade-off is that they often charge higher fees compared to dedicated payment processing companies, usually do not offer the full flexibility of accepting card payments online or over the phone and may not look quite as professional as dedicated PDQ machines.
Therefore, while you should definitely have a look at all the companies below, you should also consider comparing card reader companies using our form at the top of the page as well.
For more about what each companies offers in greater detail have a look at our full company profiles below.
1. Zettle Card Reader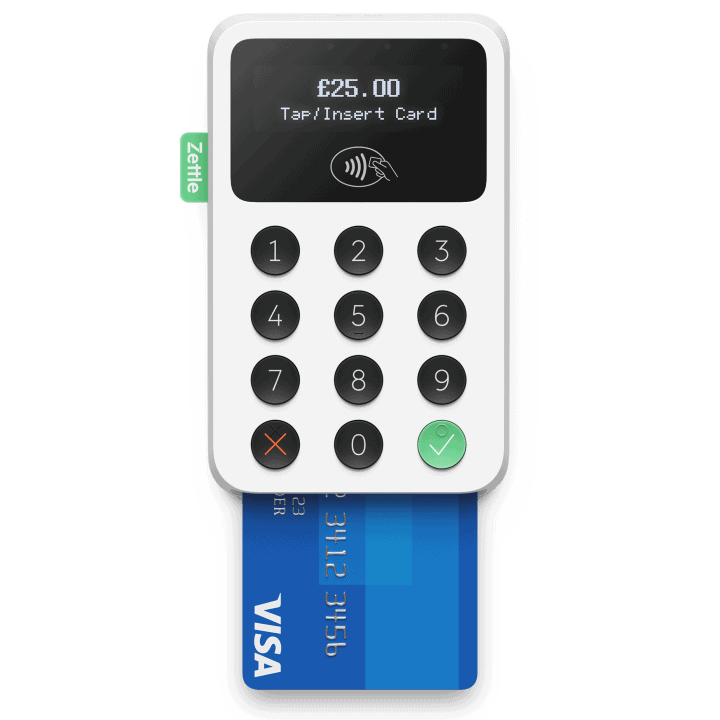 The Zettle card reader has quickly become one the most popular mobile credit card machines options for UK small businesses.
Below we outline the major pros and cons of the Zettle system, but for a more in-depth look have a look at our complete 2022 Zettle review.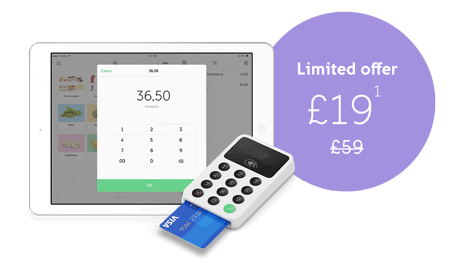 £19 Zettle Card Reader*
Until 31.05.2022 get a new Zettle card reader for just £19 + VAT.
Until 31.05.2022 get a new Zettle card reader for just £19 + VAT.
Show Less
Zettle Credit Card Machine Features
No monthly fee
Set up fast, sell straight away
Charge quickly for long-lasting battery
Accept VISA, Mastercard, American Express, Diners Club, JCB, Discover, all major debit cards, Apple Pay, Android Pay, Google Pay
Take contactless payments in under 5 seconds
Send online invoices
Accept cash payments with no daily limit
Send digital receipts and store them all on the cloud
Deposit earnings from app to bank within 2 business days
One charge can last for 8 hours (or around 100 transactions)
Free 12-month warranty
Owned by Paypal and can easily connect to your existing Paypal account
Full list of supported devices
Zettle Card Machine Cost
While there have been a few versions of the Zettle card reader, the current Reader 2 retails for £59 + VAT. However, until 31 May 2022 you can now get one for only £19 + VAT by clicking here.
This makes the Zettle card reader one of the most competitively priced in UK market at this time.
Zettle Transaction Fees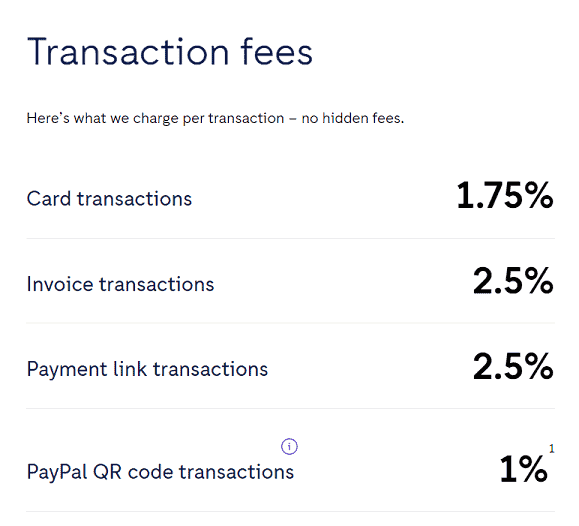 Zettle by PayPal now only charges a flat 1.75% fee per transaction for card payments regardless of which type of card you process (including AmEx).
Other transaction fees are as follows:
Invoice transactions: 2.5%
Payment link transactions: 2.5%
PayPal QR code transactions: 1.75%
E-commerce: 2.5%
Previously, its transaction fees were charged on a sliding scale. Merchants with low payment volumes were charged 2.75% per transaction. This fell to as low as 1% per transaction for businesses processing more than £40,000 worth of payments per month.
The minimum amount per transaction is £1 for all accounts with the maximum amount being £5,000 for Chip-card (incl. contactless) & PIN processed by business account holders. Total daily transactions can not exceed £500,000 limit per 24 hours.
Overall, Zettle's fees are among the lowest in the industry. However, you're still advised to compare them against the other options below and normal PDQ machines.
Zettle Set-Up & Monthly Fees
One of Zettle's greatest selling points is that there are no set-up fees (beyond buying a card reader) and no monthly fees either for their regular GO account. This makes them an attractive option for new businesses and those that are unsure how much they'll use their machine.
Zettle Contract
Another major selling point for the Zettle card reader is the fact that you are not required to sign a contract, unlike most traditional merchant account providers. This means you can use them for as long or short a period as you like.
Zettle Add-ons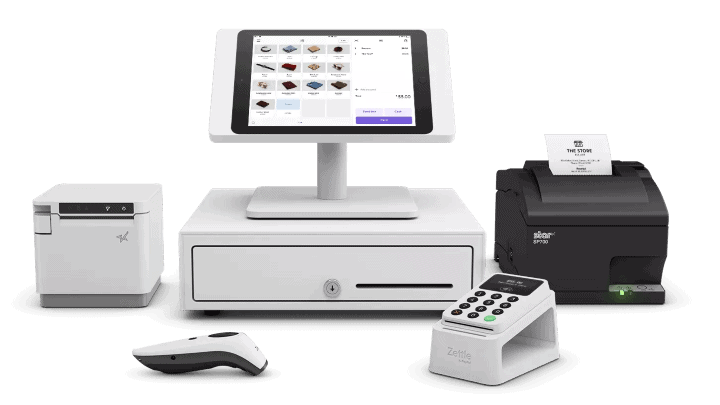 The Zettle card reader requires the Zettle by PayPal app (available for both iPhone and Android) to function properly. Beyond that there are a whole host of add-ons that can turn the card reader into a full fledged point of sale system.
These include:
Terminals
Stands & Docks
Receipt Printers
Cash Drawer
Store Kits
Overall, these add-ons greatly extend the functionality of the Zettle reader, but be aware the costs for some of the items may be more than equivalent price you'd pay for the same item on a standard EPOS system.
Zettle Summary
Overall, the Zettle credit card machine is great option for businesses looking to get started taking card payments. While their fees are not the lowest in the industry they are very transparent.
Moreover, the fact you do not need a contract to get started and there are no ongoing costs besides transaction fees, makes Zettle a top choice when it comes to mobile credit card machines for small businesses.
If you're ready to give them a try, get started by visiting the Zettle by PayPal website here.
If you'd like to learn a bit more about them, read out full: Zettle by PayPal Review.
2. Square


£16 (+VAT) Square Card Reader
Buy a Square Card Reader For Just £16+ VAT.
Take chip and PIN and contactless...Show More
Buy a Square Card Reader For Just £16+ VAT.
Take chip and PIN and contactless payments for one flat rate: 1.75%.
Accept all major credit cards including American Express and mobile payments.
Receive funds next business day
Show Less
Square is an American company and is the largest provider of mobile credit card machines and readers in the world. Although they're still relatively new in the UK, they have quickly become the second most popular option among small businesses searching online.
It was co-founded by Jack Dorsey who also co-founded Twitter and currently handles over £84 billion ($112 USD Billion) worth of payments globally each year.
Below we look at the costs along with some of the pros and cons of using the Square Reader to handle your payments.
Square Reader Features
Square lets you take chip and PIN cards, contactless cards, and other mobile payments like Apple Pay and Google Pay.
Accept Visa, Mastercard and American Express all for one low rate.
See deposits in your bank account as soon as the next business day.
Includes a a free point-of-sale app (Works on Apple and Android devices including both Smartphones and Tablets).
Option to save cards on file
Can also be used to sell online, by phone and collect payments via invoices
Connects wirelessly to your Apple or Android device via Bluetooth.
Battery lasts all day
Huge range of optional add-ons
Car reader is currently priced at just £16
To see all features visit the Square website.
Square Reader Cost
The Square Reader is now priced below the Zettle Reader, at just £16 + VAT, making it the cheapest option on the market.
You can buy it directly on the Square website.
Square Reader Transaction Fees

Square's transaction fees are pretty much exactly the same as Zettle's just 1.75% for chip & pin or contactless payments (for all cards including Amex).
For keyed-in (e.g. phone orders), online or invoice payments they charge 2.5% due to the slightly higher risks involved.
Other fees include:
Online payment fees: 1.9% (for EEA and UK card transactions) or 2.9% (non-EEA/non-UK card transactions cards)
And unlike Zettle there are no minimum transaction value.
So if you're just going to use it as card machine, you'll get one of the best rates in the market today with fewer restrictions.
Square Set-Up & Monthly Fees
Beyond paying the £16 for the card reader and the transaction fees above, there are no other hidden or monthly fees from Square.
However, like all the devices listed on this page you'll need a valid data plan with your mobile phone provider.
Square Contract
There is no contract required for using a Square Reader and no charges for inactivity.
Square Add-ons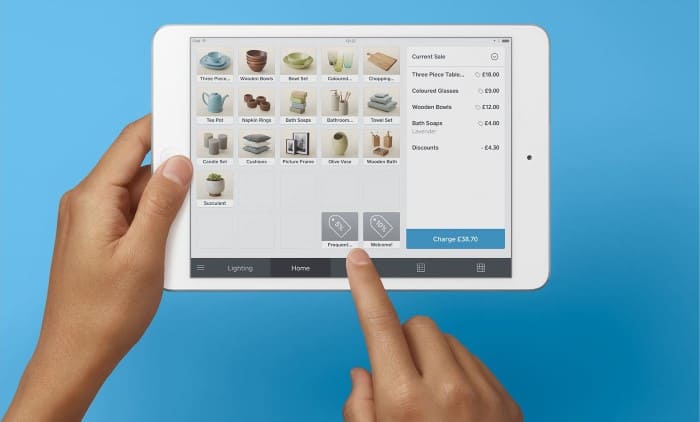 Of all the mobile credit card readers on this page, Square currently has the most to offer in terms of add-on features and functionality.
Some of these include:
Square Terminal: All-in-one device that allows you to take payments and print receipts from one machine.
Square Stand: Turn your iPad into a point of sale.
Square Register: A powerful till system with integrated POS & payments
Dock for Square Reader
Receipt Printers
Cash Drawers
Barcode Scanners
Full hardware kits
Inventory management via the App.
Invoicing software that allows people to pay you via card online (2.5% rate applies).
Ability to sell online via their Ecommerce API. (2.5% rate applies)
Virtual Terminal so you can take payments by phone or mail (MOTO payments) – 2.5% rate applies.
Can synch with other apps and software you use for things such as accounting, analytics, e-commerce and more.
Can track employees performance via the app.
Can track multiple locations.
Square Reader Summary
While the Square Reader is the core payment processing product offered by Square, it's more than just a simple card machine. If you wanted to, you could use Square to manage payments across your entire business.
The basic card reader now costs a little less than Zettle. With their fees being identical, the real choice comes down to how many additional features you need.
If all you need is a card reader and nothing else both Zettle and Square will do the job well. But if you need additional features Square likely has a few more and they also offer the Square Terminal if you need something more.
To get started with the Square visit their website here.

£16 (+VAT) Square Card Reader
Buy a Square Card Reader For Just £16+ VAT.
Take chip and PIN and contactless...Show More
Buy a Square Card Reader For Just £16+ VAT.
Take chip and PIN and contactless payments for one flat rate: 1.75%.
Accept all major credit cards including American Express and mobile payments.
Receive funds next business day
Show Less
For more read: 2022 Square Card Reader Review
3. SumUp Air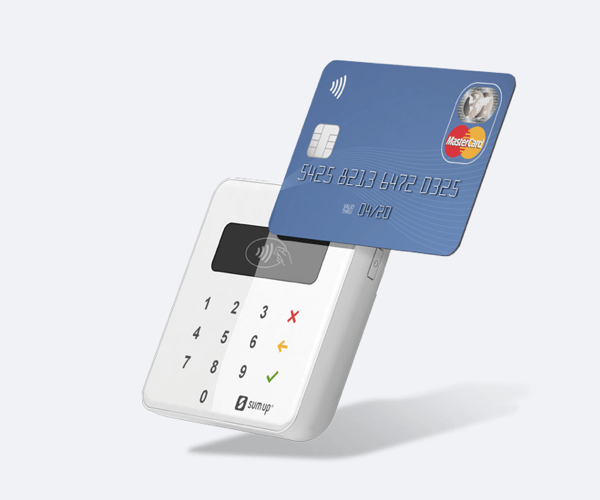 SumUp is a dedicated, standalone credit card machine provider similar to Zettle.
SumUp's major selling point is that it offers a simple, flat transaction fee of just 1.69%. This is great for businesses that process low volumes of card transactions. However, for businesses that process a higher volume of payments it might not be the right choice.
SumUp Features
Accept all debit and credit cards via Chip&PIN, contactless, Google Pay and Apple Pay
Accept Visa, VPay, Mastercard, Maestro, American Express, Diners Club, Discover, and Union Pay.
Pay with tap of their card or their phone (contactless), Chip & PIN or magnetic swipe
No fixed monthly costs
100% online application with no contract and no paperwork
Card reader connects via Bluetooth and is compatible with iOS / Android phones and tablets
Process 500 transactions on a single charge
Option to sell online
Also have their own dedicated POS solution: SumUp Point of Sale
Offer an optional business account with a pre-paid Mastercard
SumUp Machine Cost
The SumUp Air card machine currently costs £29 + VAT (click here to buy). This is lower than Zettle's normal card reader price, but higher than their current promotion price or Square's normal price.
They also offer a 3G and Printer duo which costs £149 + VAT and their more advanced Solo card reader (£99 + VAT) both of which eliminates the need for a smart phone.
SumUp Transaction Fees

SumUp's major selling point is the low initial transaction fee of just 1.69%. This is the marginally lower than either Zettle or Square who charge 1.75%.
This makes them the cheapest flat fee option in the UK market. This is great for businesses that are unsure how much they're going to be processing each month or businesses that process variable amounts per month (e.g. seasonal businesses).
However, if you process a high volume of payments you might want to look into solutions from companies like Takepayments which can offer even lower transaction fees.
Similar to both Zettle and Square you can also accept payments in the following ways:
Payment links: 2.50%
Invoices: 2.50%
QR codes: 0%
SumUp Set-Up & Monthly Fees
Similar to all the other companies featured here, there are no set-up (beyond buying a card reader) and monthly fees to use SumUp Air. You also get free delivery of your card reader, free Android / iOS app, free dashboard with reporting, and free telephone and e-mail support.
SumUp Contract
You do not need to sign any long-term contract to use SumUp.
SumUp Add-ons
Unlike Zettle and Square, SumUp has relatively few official official addons the main being a charging dock for the Air reader.
SumUp Summary
SumUp is currently a strong alternative to Zettle and Square for businesses with lower transaction fees, but without all the bells and whistles of their competitors.
To get started with SumUp visit their website here.
Or to learn more read our 2022 SumUp Review.
4. MyPOS Go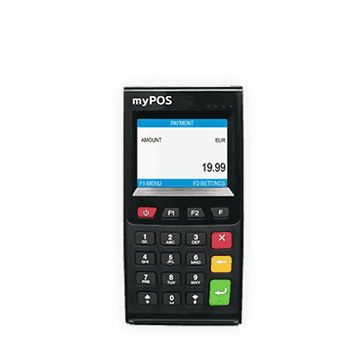 MyPOS is one of the newest entrant to the card machine market in the UK, and offer a much wider range of readers than the companies above.
MyPOS Card Go Reader Features
Pocket-sized, lightweight, sturdy
Digital receipts via SMS or email
Free data SIM card
No monthly fee
No contract
1 year warranty
30 day money back guarantee
A free e-money merchant account with dedicated IBANs in 14 currencies
Instant access to accepted funds
Free access to the myPOS mobile app, available for Android and iOS
A VISA Business card for instant access to funds and full control of corporate expenses with individual spending limits
MyPOS Card Reader Cost
Unlike most of the other companies on the list, MyPOS offers a wide range of machines. The cheapest is the MyPOS GO at just €29 + VAT.
Other machines include:
myPOS Slim (€199 + VAT): Android card machine with a barcode scanner
myPOS Carbon (€199 + VAT): Android mobile card machine with printer
myPOS Combo (€249 + VAT): Mobile card machine with a receipt printer
You see their full range here.
This means price of a GO reader is inline with SumUP and slightly more expensive than either Zettle or Square.
MyPOS Transaction Fees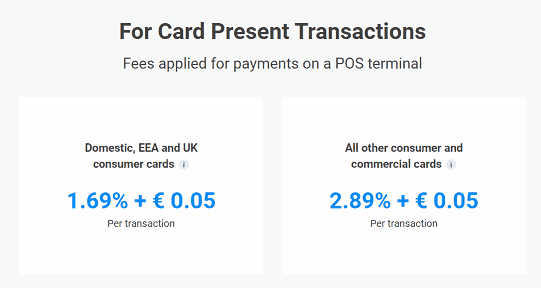 In line with other readers, MyPOS charges 1.69% + €0.05 per transaction for Domestic, EEA and UK consumer cards. All other consumer and commercial cards are charged at 2.89% + €0.05.
For Card-Not-Present Transactions the fees are as follows:
Domestic and EEA consumer cards: 1.30% + €0.20
All other consumer and commercial cards: 2.90% + € 0.20
MO/TO payments: POS payment fee + 1.00%
MyPOS Setup & Monthly Fees
Besides buying one of their credit card machines, MyPOS advertise no monthly costs.
MyPOS contract
You don't need to sign a long-term contract to use MyPOS and there are no requirements for minimum turnover. Moreover, your account can be set-up in 5 minutes as is free.
MyPOS Addons & Accessories

MyPOS offers a huge range of addons and accessories. These include:
Charing dock
Cases
Car Chargers
Privacy screens
Bundles
And full EPOS systems
You can see the full range on their website.
MyPOS Summary
MyPOS are an interesting option when it comes to mobile card readers, since they offer something slightly different from Zettle, Square and SumUP. With a larger range of features and an account that works almost like a bank account they can act as an all-in-one solution to your payment needs.
Moreover, their fees are inline with both Zettle and Square at just 1.69% + €0.05.
With a wide range of machines and lots of unique accessories that allow you to customise your machine they are at least worth a look.
Visit the MyPOS website to learn more
5. Shopify WisePad 3 Reader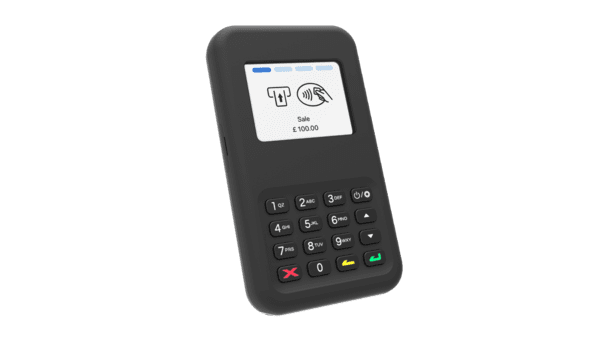 The Shopify WisePad 3 Reader is significantly more expensive than the other card machines listed above. However, it comes with the power of the Shopify eco-system so might be a great option if you have a Shopify store.
Shopify WisePad 3 Features
Accepts chip & PIN and contactless payments
Supports Visa, MasterCard, American Express, Apple Pay and Google Pay
Shopify POS protects card data per PCI DSS requirements
EMV certified to keep both you and your customers safe
Connects wirelessly to your iPad or iPhone using Bluetooth
Uses a customer-facing display to help your customers through the payment flow
Features an integrated PIN pad to provide full EMV chip card support
Designed to be comfortable to hold and take with you wherever you're selling
Compatible iPad or iPhone that is running iOS 12.5.1 or higher
Shopify WisePad 3 Cost
The WisePad 3 reader costs £49 + VAT which is a fair bit more than the other options above. Plus, you'll need to be signed-up to a Shopify plan to use it.
Shopify WisePad 3 Transaction Fees
The good news is that Shopify's transaction fees can be among the lowest out there. They vary based on your Shopify plan as follows:
Basic plan ($29/m): 1.7% + 0p
Shopify plan ($79/m): 1.6% + 0p
Advanced plan ($299/m): 1.5% + 0p
Shopify WisePad 3 Setup & Monthly Fees
As mentioned above the WisePad 3 only works with a Shopify plan. These range in price from $29-$299 per month. You can try Shopify free for 14 days with no credit card required.
Shopify WisePad 3 Contract
Shopify's plans are month to month, although they do offer annual or biennial plans. They offer a 10% discount on annual plans and a 20% discount on biennial plans, when they are paid upfront.
Shopify WisePad 3 Addons & Accessories
Shopify's main business is ecommerce. Therefore, the majority of their offerings are designed to help you sell online. However, in terms of in-person sales they offer the following addons and accessories.
A retail bundle, which includes both the card reader and stand for £149 + VAT.
Stands
Barcode scanners (both 1D and 2D)
Label Printer
Receipt Printers
Cash Drawer
Shopify WisePad 3 Summary
The Shopify WisePad 3 makes the most sense for businesses who want to use Shopify to sell online. Shopify probably offers the best ecommerce solution on the market today.
However, their POS offering is a fair bit more expensive than the competition. Therefore, it only makes sense to buy the WisePad 3 reader if you're already a Shopify customer or plan to be one in the future.
Visit the Shopify POS website to learn more
6. Barclaycard Anywhere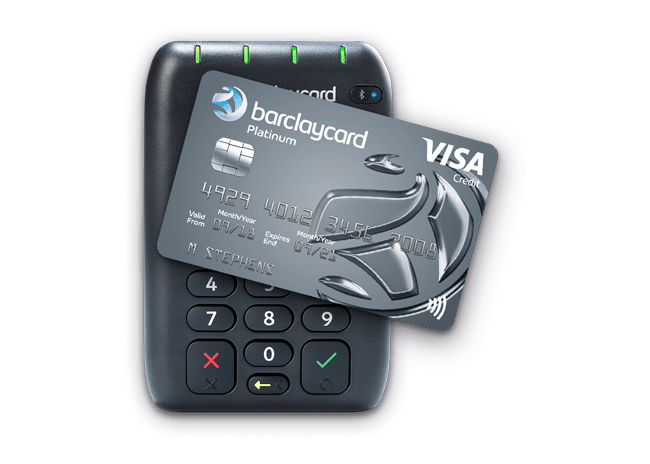 The Barclaycard Anywhere card reader is a solid choice from Barclaycard, which is part of Barclays Bank. Although it lacks many of the addons from other companies they do offer among the lowest transaction fees out there.
Barclaycard Anywhere Features
Accepts contactless payments
Works with Mastercard, Visa, Apple Pay and Google Pay
Works with free Barclaycard Anywhere app
Optional digital receipts via email
Real-time transaction data
Ability to give refunds
Can export all data to a spreadsheet
Barclaycard Anywhere Cost
The Barclaycard Anywhere normally costs £29 + VAT, which puts it in-line with SumUP and a bit more expensive than Square or Zettle. However, they do occasionally run promotions so it might be worth checking their website.
Barclaycard Anywhere Transaction Fees
The Barclaycard Anywhere card reader has some of the lowest transaction fees out there at just 1.6%. However, it should be noted they do not accept AMEX cards.
Barclaycard Anywhere Setup & Monthly Fees
They operate a pay as you go model, so there are no monthly fees or contract.
Barclaycard Anywhere Addons & Accessories
There are none listed on their website.
Barclaycard Anywhere Summary
The Barclaycard Anywhere is a good cheap option, so long as you don't need any of the additional functionality of rivals such as Zettle, Square or SumUP.
Visit the Barclaycard Anywhere website
7. Worldpay Mobile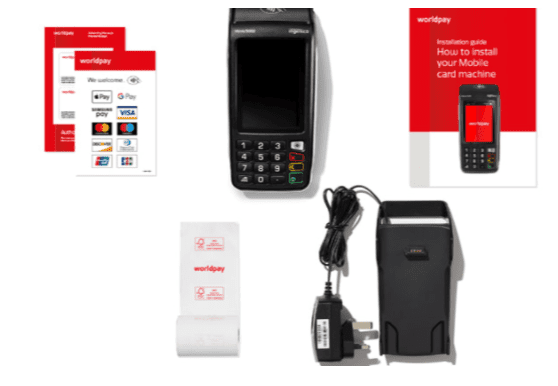 Worldpay which is now owned by FIS is one of the biggest payment processors in the UK. They offer a range of card machines for pretty much any use case.
Worldpay Mobile Features
Terminal can be connected through Bluetooth or Wi-Fi
Accepts contactless payments including Apple Pay, Android Pay, and Samsung Pay as well as credit and debit cards
Connectivity through built in SIM providing coverage over O2, Vodafone and EE. WiFi is also built in
Extendable battery life and separate charging station
Processes sales, refunds, cashback and gratuities
Includes Receipt roll
Worldpay Mobile Cost
Worldpay offers two main pricing plans. Fixed Monthly and Custom. The Fixed Monthly plan costs at least £49.99 per month, but includes transactions up to a set limit. Under the custom plan you pay at least £17.95 per terminal rental in addition to transaction fees which vary based on volume.
Worldpay Mobile Transaction Fees
Varies based on volume and plan.
Worldpay Mobile Setup, Monthly Fees & Contract
Worldpay Mobile offers no joining fees on both the Fixed Monthly and Custom plans, but ties you in to an 18 month agreement.
The Fixed Monthly plan costs at least £49.99 per month whereas the custom plan costs £17.95 per month per terminal. In addition, if you want to accept payments by phone you'll need to pay an extra £9.99 per month.
Finally, there is also an extra charge for accepting AMEX cards.
Worldpay Mobile Addons & Accessories
None listed on the website, but they are compatible with many epos solutions.
Worldpay Mobile Summary
The Worldpay Mobile, along with other Worldpay card terminals is really designed for businesses doing at least £10,000 per month in card transactions. And while their fees may seem high on the surface, they can often offer substantially lower rates on processing fees.
Therefore, they remain a good option to consider for certain types of larger small businesses.
8. Dojo Go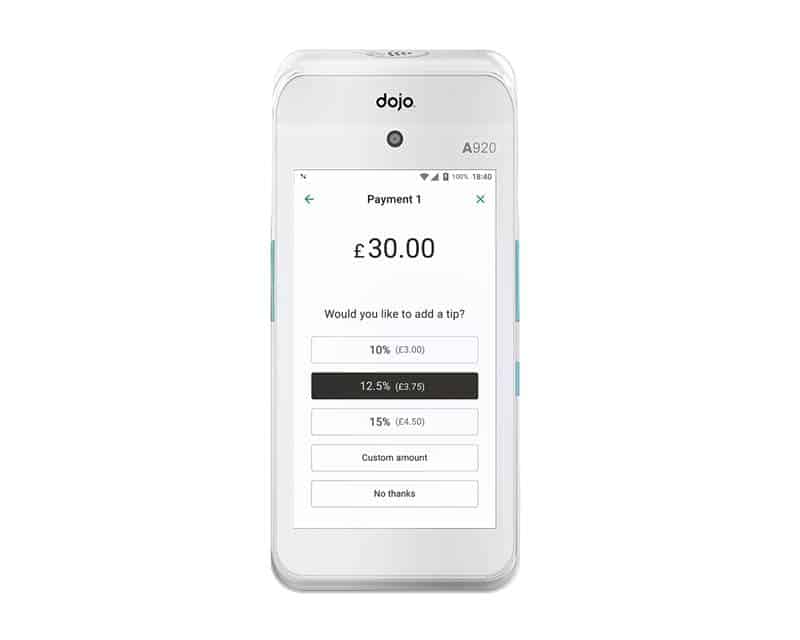 Dojo Go is a recent entrant to the UK card machine market. They are owned by Paymentsense one of the UK's largest payment processors.
Dojo Go Features
Built-in thermal printer
10-hour battery life
Integrated payments enabled
Point-to-point encryption
5-inch HD touchscreen
Wi-Fi connectivity
Mobile Connectivity
Dojo Go Cost & Monthly Fees
The Dojo Go reader costs a flat £20 per month with Free next working day delivery.
Dojo Go Transaction Fees
Dojo Go does not list their fees directly on their website, instead they offer bespoke pricing based on the type, size and risk of business. However, you'll have to talk to one of their sale reps to learn more.
Dojo Go Contract
They offer a monthly rolling contract for businesses earning over £150,000 per year. For businesses earning under £150,000 per year, you'll need to sign-up for a 6 month contract, which turns to a monthly rolling one after that date. Interestingly, they claim that if you Switch to them from another provider and they could pay your cancellation fees up to £3,000.
Dojo Go Addons & Accessories
They do seem to list any official accessories on their website, but the Dojo GO comes with its own app and the car reader includes a thermal printer.
Dojo Go Summary
The Dojo Go mobile card machine is an interesting choice for larger small businesses, especially those that process more than £150k worth of card transactions per year. They may be able to offer you lower rates than those offer by some of the other providers above.
9. Takepayments Mobile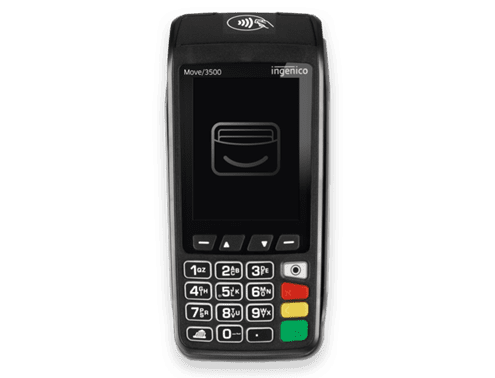 Takepayments offer a huge range of payment solutions for small businesses. One of these is their Mobile card machine.
Takepayments Mobile Features
Built-in GPRS SIM card
Long lasting charge
Light and durable
Easy to set up
Fast thermal receipt printer
Works anywhere in the UK
Takepayments Mobile Cost
There is a monthly terminal rental fee to use a Takepayments Mobile machine.
Takepayments Mobile Transaction Fees
These vary by card type and method along with the processing volumes and the type of small business you run. For some debit cards processing fees can be as low as 0.3%.
Takepayments Mobile Setup & Monthly Fees
There are no fees to join or leave once your contract is finished. However, there is a monthly terminal rental fee.
Takepayments Mobile Contract
They offer a standard 12 month contract.
Takepayments Mobile Addons & Accessories
They offer a range of EPOS solutions along with the ability to sell online.
Takepayments Mobile Summary
Takepayments Mobile is more of a traditional card terminal. However, because the offer lower rates on some card transactions they can be a cheaper solution for businesses that process a significant volume of transactions.
Visit the Takepayments Mobile website
Discontinued Small Business Card Machines In The UK
Here are a few of the card readers that are no longer sold in the UK:
PayPal Here: Paypal owns Zettle and now no longer offers their own branded solution.
Worldpay Zinc & Worldpay Reader: Worldpay has tried twice to enter the small business card machine market, but no longer offers either solution.
Payleven: They were bought by SumUP several years ago and have since moved everyone over to their platform.
Things to look for when choosing a mobile card machine
With so many great choices it can be difficult to narrow it down and actually choose a machine. Here are a few things to consider before you choose.
Transaction fees: Most of the card machines above charge between 1.6% and 1.75% per transaction. However, some companies like Worldpay and Takepayments offer substantially lower fees, but may require a contract and/or monthly rental fee. If you process more than £2,000 per month it may be worth comparing options here.
Business type: If you run a hospitality business you likely want to choose a card machine that offers additional POS functionality and/or integrates with your existing systems.
Card payment types: All the machines listed above can take VISA and Mastercard credit and debit cards. And most can also accept Google and Apple Pay. However, not all accept AMEX cards and other foreign payment options. This is not a problem for most small businesses, but could be an issue if you operate in a tourist heavy area.
Add-ons: Some of the card readers listed above are rather basic and others have a lot of optional add-ons. Make sure you consider you entire payment needs before choosing. For example, Shopify is an expensive option, unless you already have an online store with them, in which case they may be your best option.
Connection type: Some mobile card readers use WiFi and some use build-in SIM cards, which one is best will depend on where your business is located and the relative strength of you mobile vs WiFi connections.
Frequently Asked Questions
How much does a card machine cost?
Card machines are now surprisingly affordable. The Square card reader is just £16 and the Zettle Card reader is just £19. And these are one-time costs per machine.
However, you shouldn't look at machine cost alone when considering your options. Both SumUP and Barclaycard Anywhere offer lower transaction fees than Square and Zettle despite having slightly more expensive card machines. This means you'll keep more money from each each transaction.
The real difference though is between the cheap card machines above and more traditional payment processing companies. Worldpay and Takepayments for example will charge a monthly terminal hire fee of around £20 per month and require a contract. But they offer substantially lower fees (as low as 0.3%) on some payment types (e.g. debit cards).
Therefore, you'll have to look at your payment volume to see what option makes sense. Generally speaking you'll need to processing at least £2,000 per month to see any savings with the more traditional payment companies. But the savings do start to mount up the more you process.
What is the cheapest way to take card payments?
As mentioned above the cheapest way to take card payments varies by payment volume.
Process less than £2,000 per month and the Barclaycard Anywhere is the cheapest option in terms of processing fees at just 1.6% and the Square card reader is the cheapest in terms of purchase price at just £16.
However, once you start processing more than that amount per month it gets a little tricky to figure out exactly who offers the best rates. That's because it will come down to what types of cards you process, average order value, and business type amount other things. Your best bet is to compare companies here.
How to take payment over the phone on a card machine?
Many of the machines above allow you to phone payments using your card machine but they work in slightly different ways. Here are a few examples:
Zettle: Offers a payment link. This is a one-time link via the Zettle app that you can send to your customer by text message, Whatsapp, social media or email. They then follow the link and enter their card details. You'll be charged 2.5% instead of the normal 1.75%. They also offer an Invoice option with a 2.5% fee.
Square: Offer a Virtual Terminal that allows you manually key-in a payment to take payment instantly. Also offer an invoice option for payments that don't need to be made right away. Both of these are have a 2.5% fee.
SumUP: Offers Payment links, invoices and a virtual terminal solution. Invoices and payment links come with a 2.50% transaction fee, and the virtual terminal has a 2.95% + £0.25 fee.
MyPOS: Offer a full MO/TO virtual terminal payment option with a fee of their standard POS payment fee + 1.00%.
Shopify: Allows you to manually enter card details and with the same charges as their normal online rates.
Do you need a business bank account for a card machine?
No, but it is a good idea. Several companies such as Zettle, Square and SumUP work with sole traders in addition to limited companies. Therefore, you'll need a bank account that either matches the name of the person on the card reader account and/or matches your company name.
You also don't need a merchant account if you sign-up with companies like Zettle, Square and SumUP. They handle all the payment processing and PCI compliance issues for you, so you can focus on selling.
Payment processing companies such as Worldpay and Takepayments can help set you up with a merchant account, which brings many additional benefits along with some additional costs.
What is the best card machine for small business?
Honestly, each of the card machines listed above are a great choice for a certain types of small business. So there's no one "best" option. Below we give our verdict on the type of business each solution is good for.
Zettle By Paypal: The perfect all-rounder will work with almost any type of small business.
Square: Perfect for small businesses that are also looking for some sort of POS solution.
SumUp: Great if you need a card reader with a few extras.
myPOS Go: Great choice if you also need a business card.
Shopify WisePad 3 Reader: Perfect for businesses that already have an online Shopify store.
Barclaycard Anywhere: Great if you only need a card reader and nothing else.
WorldPay Mobile: A good option to look at if you process a significant volume of payments.
Dojo Go: Great if you need a built-in printer
Takepayments Mobile: Perfect if you want a more professional look
For a quick comparison you can also have a look at: Zettle vs Paypal, Worldpay, Square & Sumup: 2022 Reader Comparison
The rankings above are based on monthly online searches, and do not reflect the quality of the products themselves.
Note: We have partnership agreements with Zettle, Square, SumUp, MyPOS, Worldpay and Shopify. They each pay us a commission if you sign-up and start using their services. We genuinely think they offer great mobile credit card machines and processing solutions for UK small business, but we leave the final judgement up to you.