Need to process credit and/or debit cards in person? Then you need a PDQ machine. PDQ stands for Process Data Quickly (because they're pretty darn quick).
Black Friday Offer: The myPOS Go 2 is currently only £13 + VAT until 08/12/2023 making it the cheapest card reader on the market. Click here to learn more.
While PDQ is the most common way to refer to these machines in the UK, they're also known as chip & pin or credit card machines.
But, no matter what you call them, getting the right one is essential for your business.
Note, if you plan on processing less than £1,000 a month in card payments, you best bet is probably something simple like a Square card reader which costs only £19.

Features and benefits:
No rental contract or monthly fees!
Costs just £199 + VAT
1.75% per chip and PIN or contactless payment
24/7 phone support included
Accept all payment types and print receipts with one compact device
Learn about Square Terminal here
Types of Machines
PDQ Machines come in 3 main types:
Countertop Models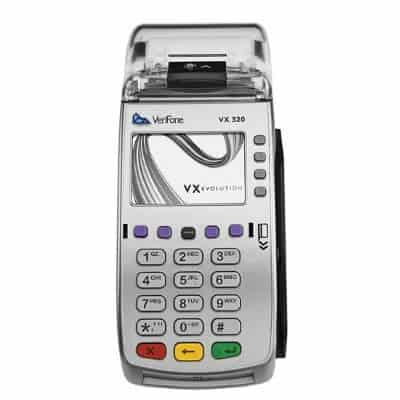 These are the classic machines you still see in most businesses in the UK. If people have to come up to a till to pay these machines make a fine option. These days all machines will accept chip & pin cards and some countertop models will also accept contactless payments for even faster processing.
Advantages:
Cheap: Countertop models are almost always the cheapest option.
Fast: Countertop machines usually connect directly through either a phone line or broadband connection, which means verification happens in seconds.
Always On: Countertop models generally connect directly to a power supply, so no worrying about batteries.
Disadvantages:
Not portable: Because the machines use wires, they are fixed to one location. Fine if don't need to move around a lot, but can be pain for restaurants, cafes and pubs.
Portable Terminals
Pubs and restaurants often need a more portable option. The good news is that for only slightly more money you can opt for a portable PDQ machine rather than a fixed countertop model. These machines work via bluetooth which means that as long as they are within range of their home base you can process credit cards anywhere within your business.
Like countertop terminals all machines will allow to accept chip & pin payments and some will allow you to accept contactless payments as well.
Advantages:
Portable: Can accept payments anywhere within range of the homebase.
Affordable: While not as cheap countertop models, portable terminals are still very affordable.
Multiple units: You can usually run multiple terminals from one base unit, which could mean lower overall costs.
Disadvantages
Not fully mobile: If you're out of range, you're out of luck.
Batteries: While most models come with rechargeable batteries, you do have to keep an eye that they are fully charged. If they run low, you may not be able to process payments.
Fully Mobile Terminals
What do you do if you need to take credit or debit card payments away from a physical business? For example at trade shows or pop-up restaurants. Well the good news is that many payment companies now offer fully mobile terminals that work off a mobile SIM card and GPRS.
This means you can process cards anywhere you are and gives your business the most flexibility in processing payments.
Advantages:
Flexibility: Can accept credit cards anywhere you can get a mobile signal.
Disadvantages:
Speed: Tend to be slightly slower than either wireless or countertop models as the verification happens over a mobile connection.
Cost: These machines cost significantly more to purchase/rent and run than the more basic models above.
Full EPOS Systems
Finally sometimes a lone PDQ machine is not enough and you need a full electronic point of sale system (EPOS) system. An EPOS system will allow you to keep track of and process transactions faster.
Most EPOS systems now include the ability to integrate card payments as just one of the features offered and can be used in conjunction with any of the PDQ machine above.
Advantages
Sales: Speeds up the process of processing payments.
Record Keeping: Keeps track of what you're selling.
Employee monitoring: Keep tabs on your employees and make sure they're processing all payment properly.
Disadvantages
Cost: EPOS systems generally do not come cheap, but their cost can generally be made up be the improvement they offer your business.
You can read our complete guide to EPOS systems here.
Handling Different Payment Types
Chip & Pin Payments
By far the most common type of card payment processing in the UK is chip & pin. Currently all models of PDQ machines offer this functionality and yours should as well.
Contactless Payments
In the last few years contactless payments have exploded in popularity. These greatly speed up transaction times and better for both businesses and consumers. However, not all PDQ machine can handle contactless payments at present. Be sure to ask any supplier about it.
In general, contactless payments are limited to around £30 to prevent fraud. Thus, if you're typical payment is above this amount, it generally won't make sense to pay extra for a machine that can accept contactless payments.
Swipe & Sign Payments
In most places in the UK it's rare to encounter cards without chip & pin technology. The one exception are businesses located in tourist areas, since many American cards still use swipe and sign rather than chip & pin. Thus if your business deals with large numbers of American tourists, you should make sure your machine can handle this legacy payment method.
Top 10 UK Chip & Pin Credit Card Machines, Readers & Terminals
Countertop Terminals
1. VeriFone Vx520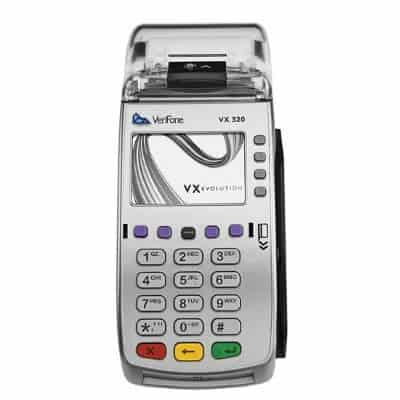 IP (broadband connectivity)
Dial connectivity
Integrated contactless reader
2. VeriFone Vx820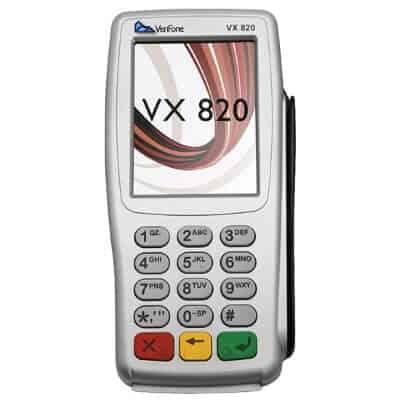 IP (broadband connectivity)
Dial connectivity
Large colour screen
Integrated contactless reader
Touch screen
Removable Pinpad
3. First Data FD50Ti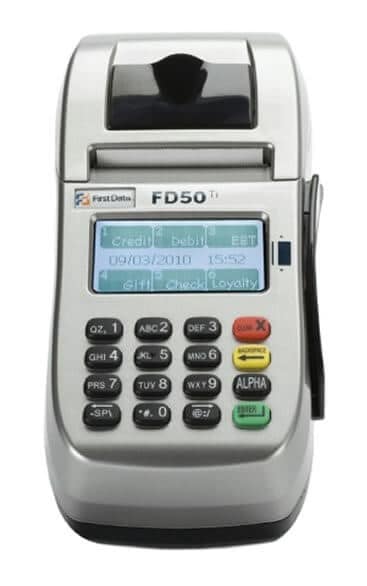 Connectivity—IP with dial-up backup
Sturdy, compact construction (7.8″ long, 3.7″ wide, 3.5″)
Compatibility—PIN pads: First Data FD-10, FD-10C, FD-30 and others; Contactless readers: First Data FD-30 and others.
Security—Secure Sockets Layer (SSL) encryption; MasterCard PTS-certified; CVV2/CVC2/CID verification for card-not-present situations.
LCD display—128 X 64
Thermal Receipt Printer—15 lines per second, virtually jam-free, standard paper
ARM9, 32-bit CPU core, 400 MHz
Two-track magnetic stripe reader
16-button keypad
Memory—32MB Flash/64MB SDRAM
Three USB ports
Large batch capacity
Dynamic Currency Conversion for merchants serving international customers
Options—Electronic commerce indicator, recurring payments for credit
4. Hypercom Optimum T4210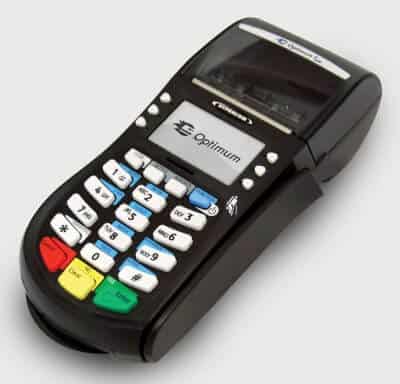 The Hypercom Optimum T4210 offers a powerful dial countertop solution with a small footprint.
FSTN LCD with graphics
160 x 80 resolution
White LED, backlit
Magnetic stripe: Bi-directional, Tracks 1, 2, & 3
Chip card: Optional; EMV 4.0 Level 1 & 2, ISO 7816
Three SAM slots
Communications Primary: Dial
5. Ingenico iCT220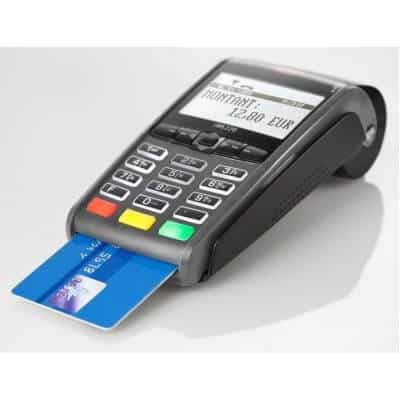 Latest PCI PTX 3.x security
Accepts Smartcards and Magstripes
Compatible with all Ingenico solutions
Portable Chip & Pin Devices
6. VeriFone Vx680
WiFi, GPRS, Bluetooth connectivity
3.5," Vibrant LCD colour touch screen
Integrated contactless reader
Tamper-resistant construction
7. Ingenico 7780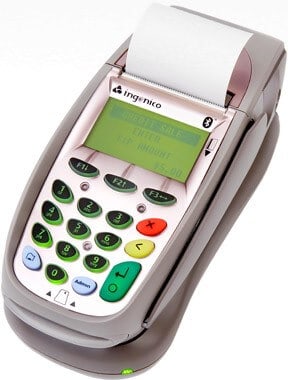 LCD display, 128×64 pixels and graphics capability
Backlit Display
18 keys including 3 screen addressable function keys
Backlit keypad for operator convenience
Spread spectrum Class 1 Bluetooth 2.4GHz
Single base can serve up to seven terminals
V34 modem, transfers up to 33,600 bits per second
Synchronous and asynchronous transmission
Ethernet and TCP/IP
8. Ingenico iWL250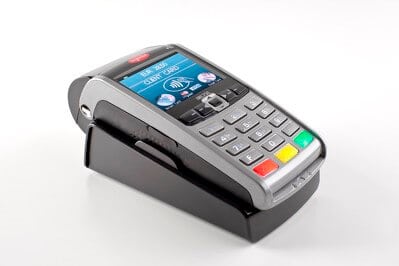 EMV and contactless card capability facilitates acceptance of more types of payments as customers upgrade to new technology
Bluetooth short-range wireless connection (with stationary base) supports high-speed Internet connection (dial-up backup) so you can take the terminal to your customers
Bright, high-contrast backlit display means high visibility for customers and staff, even in lower light conditions
Compact, lightweight design makes it easy to carry and easy to use in tight spaces
Built-in printer provides customer receipts without additional equipment
PCI PED 2.0 security standard exceeds industry requirements for data security
Mobile Credit Card Readers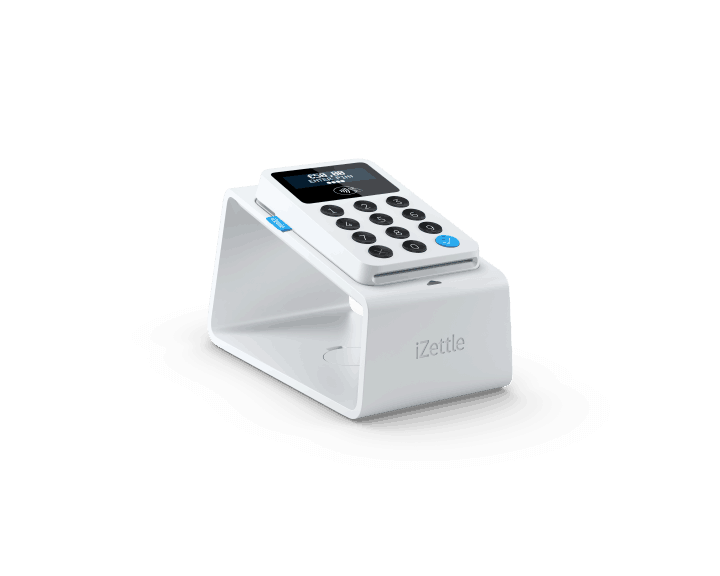 Accepts chip, magstripe and contactless payments – including Apple Pay and Samsung Pay
No need for a merchant account
Up to 25% faster than other mobile credit card readers
Battery lasts for up to 8 hours
10. Ingenico iWL250 3G-GPRS
EMV and contactless card capability facilitates acceptance of more types of payments as customers upgrade to new technology
Powerful 3G wireless connectivity processes customer payments in seconds
Bright, high-contrast colour display delivers high visibility for customers and staff, plus screensaver capability for your messaging
Compact, lightweight design is easy to carry and easy to use in tight spaces
Built-in printer provides customer receipts without additional equipment
PCI PED 2.0 security standard exceeds industry requirements for data security
Learn more from our guides:
* Please note we have an affiliate relationship with Square, myPOS and Zettle all of whom pay us commissions if you purchase via our links. This comes at no cost to you.