Zettle by PayPal (formerly iZettle) makes it easier for UK small businesses to accept card payments via both its app and affordable card reader to create a full mobile point of sale (mPOS) solution. The following Zettle review is aimed to help you figure out if they are the right payment option for you.
Click here to jump straight reviews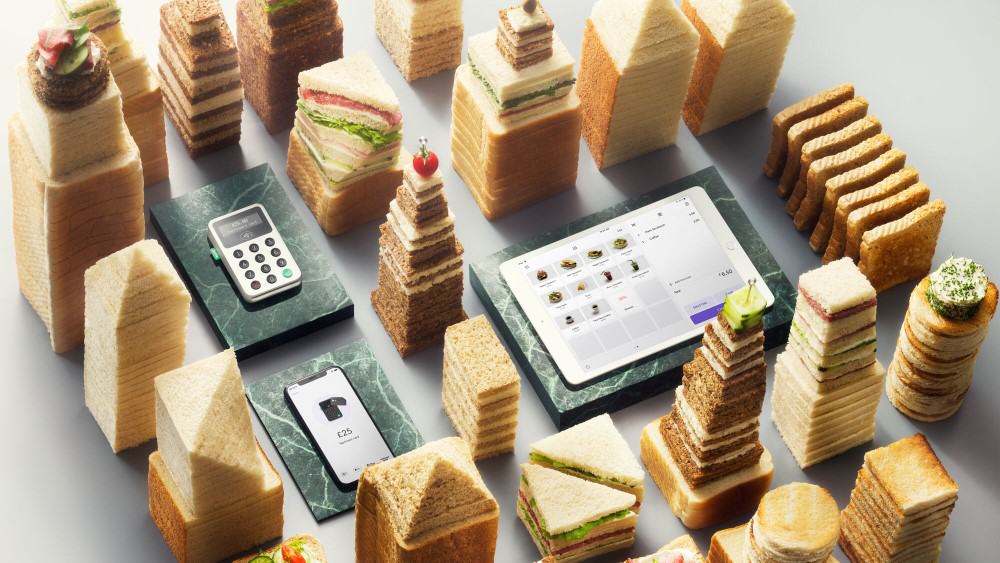 Zettle Card Reader
The Zettle card readers are similar to you standard PDQ machine that allows both contactless and chip and pin payments. However, unlike many other card machines, you can use an Zettle reader without a merchant account.
Currently, Zettle is focusing on their latest model, which is simply called the Zettle Reader 2. The key features and benefits of the machine are:
Connects via Bluetooth.
Accepts chip & pin, contactless, and magstripe payments – including Apple Pay and Samsung Pay.
Contactless card payments are up to 25% faster than other mobile credit card readers on the market.
Fast, stable and easy to use.
Simple elegant design
Transactions made by contactless cards and below £30 are approved within seconds.
Charges via USB cable or through the dock (purchased separately). Charge time: 1-2 hours.
Battery lasts for up to 8 hours or 100 transactions.
Previous models included the Card Reader Lite (Connects via cable to the audio jack on your smartphone or tablet) and the Card Reader Pro (connects via bluetooth) and Card Reader Pro Contactless.
Accepted Cards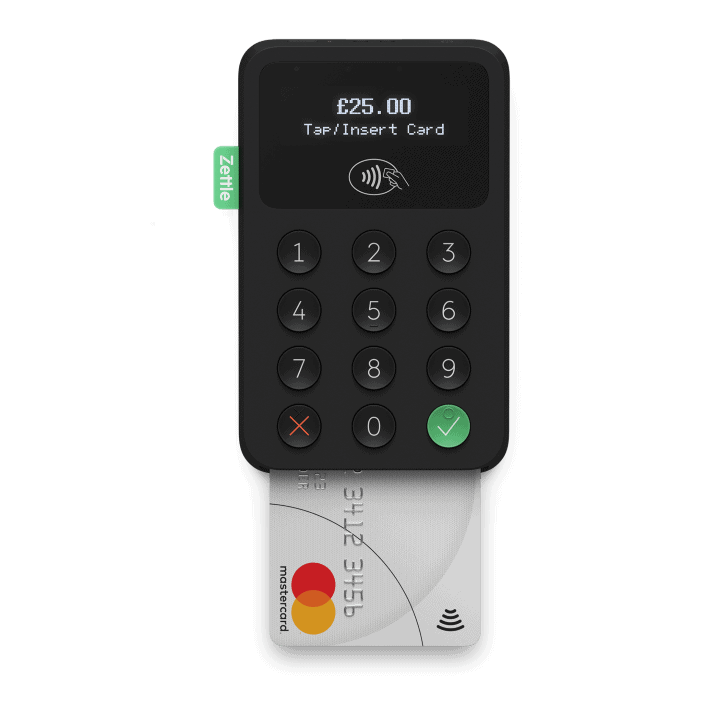 The Zettle reader allows you to accept the following cards in the UK:
MasterCard (including contactless)
Visa (including contactless)
American Express
Maestro
V pay
Visa Electron
JCB
Diners Club
Apple Pay
How Taking Payments Works
Simple 4 step process:
Enter the total sale amount in the app
Use the reader to take a credit card or contactless payment
Have customer enter their PIN number
Print a receipt or send it via SMS or email
Card Machine Security
Finally, it should be noted that the Zettle card machine offers the following security features:
Tamperproof design that self-destructs if someone tries to mess with it and also adheres to PCI PTS 4.1.
Transaction protection that covers up to €250 in eligible chargebacks per month.
All credit card data is encrypted according to the strictest standards.
Zettle Reader Feature Score: 5/5, the Zettle reader has all the features small businesses need to accept card payments.
For more information on supported devices see their Tested smartphones and tablets page.
Zettle Fees, Charges & Pricing
The Zettle reader makes it easy to start taking card payments and its charges are among the lowest in the industry. Although, not always lower compared to many UK merchant account fees.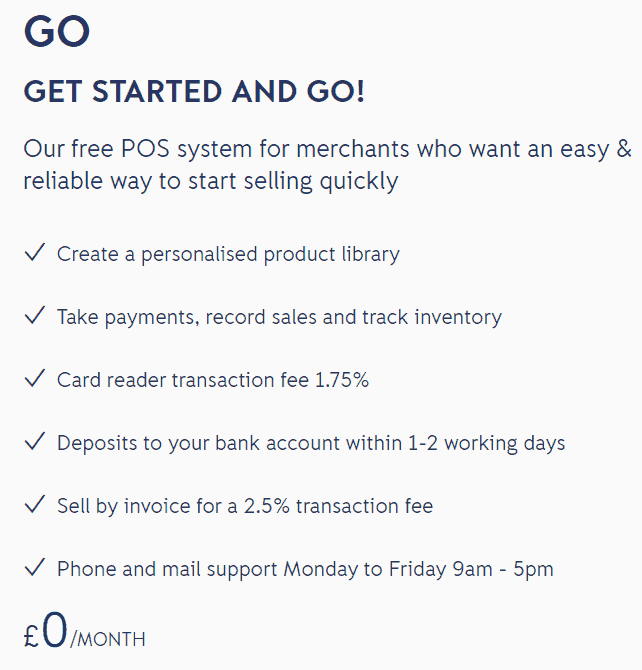 Pricing breaks down as follows:
Cost of Zettle Reader: Currently £29 + VAT (Normally £59 + VAT)
Transaction fees: Flat 1.75%
Setup fee: £0
Monthly fee:£0 (Optional GO PLUS option costs £20/month)
Point of sale app: free
Phone support: free
Daily Reports: free
Transaction fees compared
While the setup fees for getting started with Zettle are extremely competitive and among the lowest in the industry, transaction fees are likely to be by far your biggest cost with any payment processing solution. With that in mind how does Zettle stack up?
Zettle fees are now a flat 1.75% per transaction. Previously, they had charged on a sliding scale from 2.75% to as low as 1%, although this was only for businesses that accepted more than £40,000 worth of payments though the reader per month.
The good news is that they don't charge for cash payments or card payments that are declined. They also don't charge different rates based on the card type used including American Express. While this is good news if you process a lot of expensive cards such as AMEX and/or overseas credit cards, it's not necessarily a good thing.
The is because regular merchant accounts charge substantially different rates between credit card and debit card transactions. This is due to the risk associated with the different types transactions. Credit card transaction fees are typically around 2% per order, but a debit card transaction may be charged as little as 0.75%.
Therefore, if you're processing large volumes of debit card transactions, you could end up paying more than you would with a merchant account.
Reader Cost Score: 5/5 – the one-time cost works out to be cheaper than typical monthly rental PDQ machine costs.
Ongoing Cost Score: 5/5 – No monthly or setup costs make this a very cheap way to start taking card payments.
Transaction Fee Score: 4/5 – Zettle fees are lower than most of their competitors, but are still substantially higher than for merchant account, especially for debit card transactions.
Zettle App
Zettle offers both Android and iOS versions of their app for both mobile phones and tablets. Android users can download the App from Google Play and those with iPhones and iPads can download the app from the Apple App Store. Please note at the time of writing no windows, PC or desktop apps were currently available, but they do offer a web interface.
While you can use the app for free without the card reader, you will not be able to process payments without it. Conversely, you won't be able to use the Zettle reader without a version of the app installed.
The Zettle signup process is very simple using the app, just follow these 3 steps:
Download the app
Create a business or a private account using the app
Fill in the required details and to the T&Cs
For more information on supported devices see their Tested smartphones and tablets page.
App Features
The app is a basic, yet user friendly POS system. It offers the following features:
Create product libraries (including images)
Take payments (cash or card via reader)
Transaction History
Create reports to track sales
Daily sales summaries
Customise receipts
SMS receipts including resend option (free of charge)
Email receipts including resend option
Separate staff accounts
Ability to export data via Excel
Automatic backups of all data stored with Zettle
Works with iOS 8.2+ and Android 4.1+
Partner Apps
Xero: Offers small business accounting software. Zettle allows you to connect your Xero and Zettle accounts to let you import your sales and payments data.
Android App Score: 4.2/5 (From Google Play)
Apple App Score: 4.5/5 (From Apple App Store)
Zettle Printer, Dock & Other Accessories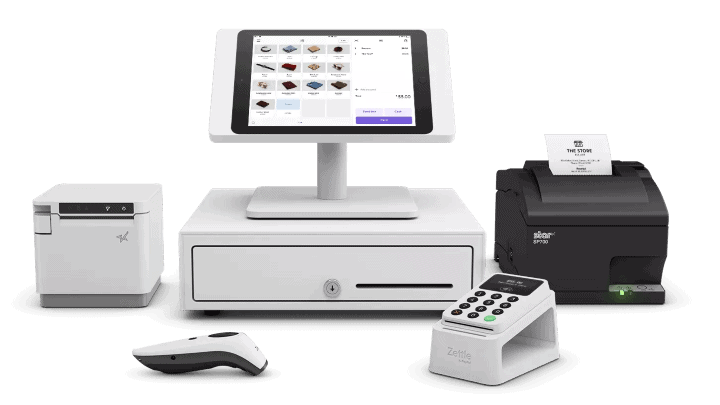 While the only two things you need to start accepting payments are the free app and the card reader, Zettle offers a whole range of accessories that vastly extend the functionality of the Zettle system. These include:
Stands & Docks: Stands and holders available for iPad models 2,3,4 and Air to keep your iPad safe. Docks and cradles available for the Zettle reader that keep it charged. Prices start from £39 (ex VAT).
Receipt Printers: Can print receipts, order tickets, and reports. Some models connect wireless via Bluetooth. Prices start from £189 (ex. VAT). See: Star TSP143LAN Ethernet Printer and Star TSP654IIBI Bluetooth Printer.
Barcode Scanners: Currently only works with iOS app and connects via Bluetooth. Prices start from £229 (ex VAT).
Cash Drawer: Stores cash and also works with some of the receipt printers to the till automatically when a cash sale is made. Prices start from £99 (ex. VAT)
Store Kits: Turns your Zettle reader into a fully functional POS system, by bundling many of the accessories above. Prices from £259 (ex. VAT)
Black Cab Bundle For London Taxis
This bundle was designed for London Black Cabs and other taxi services in the UK. It includes: Zettle Card Reader Pro Contactless, a wireless and battery driven receipt printer, mounts for the card reader and receipt printer, 20 receipt rolls and a power converter to keep your system charged while driving.
Zettle & intelligentpos
Finally, Zettle have bought intelligentpos to create Zettle Food & Drink (formerly iZettle Pro) which allows them to offer bigger retail or hospitality businesses a sophisticated, full-featured EPOS system that goes above and beyond the solutions above. Additional features include: Stock management and inventory control for retail businesses, Table management and tabs for pubs, restaurants and bars and loyalty schemes for all types of businesses.
Accessories Score: 4/5 – While all the accessories are cool and stylish, there is a relatively limited range of options and the prices for some are higher than equivalent accessories you'd find with a regular EPOS system.
Read our full: Zettle Food & Drink Review
Zettle Invoice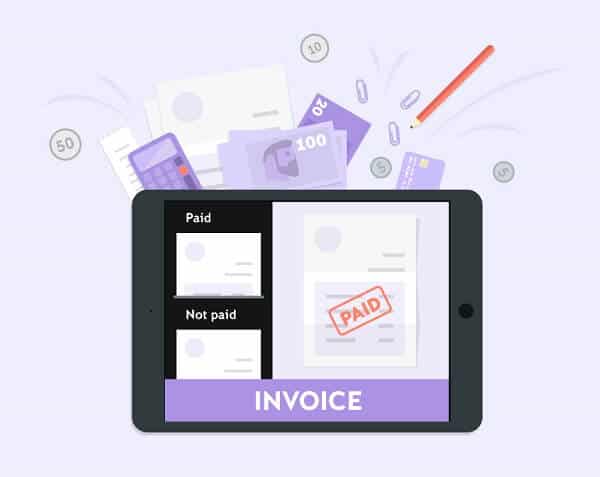 Did you know you can send invoices via the Zettle App or via their online dashboard. They then track and send automatic reminders until the invoice gets paid.
Zettle Invoice Cost
Using the invoice feature is free as part of the app. However, any payment received will be subject to a 2.5% payment processing fee. There is maximum value of £5,000 per invoice.
How do my customers pay?
Every invoice sent will include a unique payment link. Your customer then just clicks the link and enters their payment details on the form. You will be paid the next business day. Reminders are sent 5 days after the due date if it has still not been paid.
Zettle Payment Links
This is Zettle's solution for using your card reader to charge people who are not physically in front of you. All you have to do is use the app to crate a payment link which you can share via SMS, E-mail or social media. Perfect for phone and online orders.
Payment Link Fees
The fee for payment links is slightly higher at 2.5% compared to the in-person fee of 1.75%. The reason is that there is a slightly higher fraud risk with this payment method. Therefore, there is also a £1,000 transaction limit per link.
How do customers pay?
Once the user clicks on your link they will be directed to a payment form on their phone or computer. They then just have to enter their payment details and Zettle will handle the rest. You will then be send a e-mail letting you know it's been paid.
Payment Links vs Invoice Links
Payment links and invoice links are quite similar but have slightly different use cases. Payment links have a lower limit and less customer information and are intended for product sales to consumers. Invoice links include customer information, have a higher transaction limit and have the ability to send reminders and are intended to be sent primarily to businesses.
Another difference is that an invoice is counted as a sale as soon as it's been issued whereas a payment link does not count as a sale until it's been paid.
Frequently Asked Questions About Zettle
Does Zettle offer discounts and/or voucher codes? Not, any longer. For years they offered readers as low as £19, but currently they sell for £29+.
What types of accounts does Zettle offer? They offer both business and private accounts. Sole Traders and registered UK business should sign-up with a business account.
Does iZsettle work when not connected to the internet? No, they currently do not offer an offline mode due to card security issues.
Can I use Zettle to accept online payments for my eCommerce business? Yes, you now can use it for your Ecommerce business by singing up with their Zettle Go PLUS plan. Additionally, Zettle can be integrated with Ecwid eCommerce shopping cart software.
Can I use Zettle to accept card payments over the phone? No, (see above) to accept payments by phone you'll need a virtual terminal.
Does Zettle work with any third-party EPOS systems? Yes, Zettle recently purchased intelligentpos and is also compatible with Lightspeed EPOS.
How long does it take for Zettle to deposit money in my bank account? While the exact amount of time varies, you can usually get your money within 2-3 banking days for daily deposits. You can also choose to have your money deposited weekly or monthly. For chip & pin transactions a maximum of £1,000 can be deposited per day for personal accounts and £500,000 for business accounts.
Are there other transaction limits I should be aware of? The minimum amount for a single transaction is £1 for both private accounts and business accounts. Chip-card & PIN (incl. contactless) & Touch ID transactions have the following limits: Private account £1,000 per 24 hours and/or per card and transaction and cannot exceed £4,000 per 12 months; Business account £500,000 per 24 hours, and £5,000 per card and transaction. Other transaction types (Chip-card & Signature / Magstripe card & Signature ) have lower limits, but are very rare in the UK.
Can I select the correct VAT rate for each of my products? Yes you can change this in your product library using either the app of web interface.
Are there case studies of UK small businesses using Zettle effectively? Yes, Zettle has many case study stories on their website. It includes Big Issue, Peppermint Events, O-Food, London Bike Kitchen, Summer Hostels, Mr Wolfe Café and many more.
Does Zettle offer business loans and/or merchant cash advances? Yes, if you've built up a good sales history with them, you may be able to borrow money via Zettle Advance. You can learn more about merchant cash advance here.
Zettle By PayPal Alternatives and Competitors
The following mobile card readers and apps offer somewhat equivalent solutions to Zettle:
Also see:
For a full comparison see:
Zettle User Reviews
Review Summary
4.3 out of 5 stars (based on 3 reviews)
Recent Reviews
Great with reader, dreadful for card not present
the send link to pay function is dreadful, not all customers want or have the facility to deal with the links.. and it seems ONLY USA email addresses are acceptable, the rest get a red notice and won't work.
as a result after over 5 years of using PayPal and izettle readers I've had to go elsewhere
Works well
works well for me and never had a problem.
Love my reader
I love my Zettle reader, cheap and fast.
Submit a Review
To learn more visit: Zettle's website here.
Please note: Merchant Machine had an affiliate agreement with Zettle that paid us a commission if you buy a card reader via any of the links on this page. We still think they're great, but we thought you should know.