Credit card usage is on the rise. Businesses in the UK recorded 1.9 billion debit card transactions and 317 million credit card transactions in a single month.
Modern consumers expect to be able to pay by card wherever they're purchasing goods and services from. This data is great news if you take card payments. But if your business isn't set up to receive credit or debit card transactions, customers will go someplace that will.
Accepting credit card payments isn't always as simple as buying a card reading device. There's a lot you need to learn about first, such as payment processing systems, merchant accounts, variable transaction fees, and auto-renewing contracts.
But don't worry—that's what this guide is for. We're going to cover everything you need to know about processing card payments, including:
The benefits of taking card payments

How to take card payments online

How to handle card payments over the phone

How to take card payments in-person

How to choose a bank account that accept card payments
The benefits of taking card payments
The number of card transactions made in the UK rose 12.6% since 2020. The same study also highlighted that the amount people are spending on their cards decreased. People are no longer using their cards for huge purchases—they're using them for everyday ones. 
Here are some other benefits of accepting credit card payments:
It adds an air of legitimacy.

Being able to accept card payments puts your business in a better light. Offering more payment methods for your customers could boost your sales volume, too.

It's safer than cash.

You don't have to keep piles of cash on-premises and worry about safety when hauling it to the bank after work. 

Less cash, fewer problems.

With more customers paying by credit card, experience a reduction in cash-handling errors—like accidentally short-changing a customer. Awkward.

It's good for cash flow.

Depending on your business model, charging monthly or yearly payments can help make cash flow and revenue more predictable.
How to prepare for card payments
Once you've decided that it's time for your business to start accepting credit and debit card transactions, you need to make a plan. Here are some questions to get started:
What type of business are you?

Do you need to accept card payments online, in-person, or over the phone? The setup process for this varies. (More on this later.)

Do you need hardware? If you're a retail store, you're going to need a point-of-sale system or card reader in order to accept card payments. If you're mainly online, then you don't have to worry about that, but you will need a

payment gateway provider

.
Which payment processing system should you use? Cards don't process themselves—at least not yet, anyway. Work with a payment processor to make sure everything is above board. The best way of doing this is by opening a merchant account and partnering with a payment service provider.
How to take card payments online
If you're an ecommerce brand looking to take card payments online, you need either:
A contract with a merchant account service provider

—including

online payment methods

and a payment gateway.

A virtual terminal.

This is a type of software that allows you to input customer credit or debit information directly into your computer.
Note that processing fees tend to be higher for online transactions compared to in-person because the internet can be a dark place, rife with fraud and cybercriminals. The cost of taking payments online varies because there are transaction fees based on your monthly card usage, monthly fees, payment gateway fees, and more. 
We've listed four major UK companies offering payment processing solutions below. Here's what they have to offer:
1. Worldpay

Worldpay is the largest payment processing company in the UK. It offers everything you might expect from one of the largest payment companies around: payment gateways, online merchant accounts, robust security, and POS systems if needed. If you have an international business, WorldPay accepts payments in over 116 currencies.
Pricing:
Pay As You Go:

Online set-up fee is £25, and there's a 10p per transaction gateway fee. Transaction authorization fees apply.

Fixed Monthly:

Monthly package fee from £49.99, which includes transactions up to set threshold and authorisation fees.

Standard: Monthly online payments gateway fee of £19.95, 10p per transaction gateway fee,

PCI

annual management fee £29.99
2. Shopify

Shopify offers a complete solution for online business owners looking to accept credit card payments online: website hosting, payment processing, security, and POS. Shopify has a 14-day free trial (no credit card required) and is one of the easiest turnkey solutions to accepting card payments online.
Pricing:
Transaction fees:

Between 2.2% + 20p (Basic) to 1.6% + 20p (Advanced)

Monthly fees:

$29 (Basic) to $299 (Advanced)
3. PayPal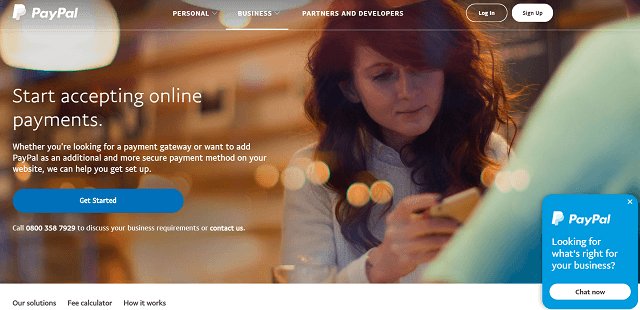 PayPal needs little in the way of introductions, with 22 million merchants using the platform to take online business. It's fairly simple to set up with no merchant account required—they handle everything.
"For any online business, PayPal is an excellent option: it's accepted in over 200 countries, is incredibly easy to navigate, is customizable, and bypasses the need for a merchant account. Plus, you can also accept payments over the phone and in-person." — Stephen Light, co-owner and CMO of

Nolah Sleep
Pricing: 
Transaction Fees:

From 1.9% + 20p per transaction (sales volume of up to £55,000 per month) up to 3.4% + 20p per transaction (sales volume under £1,500 per month). Note they also offer bespoke pricing options for even larger businesses.

Monthly Fees

: Free for Web Payments Standard or Express Checkout or £20 per month for Web Payments Pro.
4. Klarna

Klarna is a Swedish company making waves in the financial services sector. It offers all the standard options you might expect from a payment solution provider with some unique features, such as its buy now pay later service. 
Pricing:
Startup:

Transaction fee: 2.49%

Growing:

Transaction fee: 2.19%

Established:

Transaction fee: 1.99%

No set-up or monthly fees
5. Stripe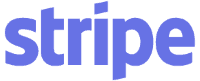 Stripe is another popular card processing platform that allows businesses of all sizes to take card payments online. It integrates with most major ecommerce platforms. All customers need to do is enter their debit or credit card information. Their order is automatically processed and passed through to your order management system. 
Pricing: 
European cards:

1.4% plus 20p

Non-European cards:

2.9% + 20p
How to take card payments over the phone
Taking card payments over the phone is a wise choice for delivery businesses or brands that don't want to keep large amounts of cash in-store.
Process card payments over the phone using a virtual terminal—software that allows you to process card transactions remotely. Install it on your computer where it acts as a virtual card reader. Most of the time you'll use it for payments over the phone, but it can also be used to take fax or mail orders.
Here's how virtual terminals work:
A customer calls you to place an order.

You logon to the virtual terminal software and input the customers' card details.

You confirm with the customer that everything is correct and process the transaction.

Payment gets approved and the funds are sent (minus fees) to your business bank account—usually in one to three working days.
There's a higher risk in manually entered transactions because you could make a mistake entering information. Because of this, many payment processing services have higher fees than retail transactions. Square, for example, charges 2.5% per manually keyed-in transaction.
Virtual terminals sometimes come included as part of your merchant account agreement, but usually require an additional fee.
How to take card payments in-person
If you're running a brick-and-mortar store, you'll need to take card payments in person using a physical card machine. Here's how it's done:
The customer taps or inserts their credit or debit card into your machine.

The reader scans the card and sends the data to the card network to be approved (i.e., Mastercard or Visa network).

The processor requests information from the card network and issuers (i.e., Barclays or Lloyds).

The issuer approves or denies the transaction.

Your business accepts the payment and completes the transaction. The processor tells the bank to send funds into your merchant account.

You get paid (minus any transaction fees).
You'll need a payment processor—a service that processes card transactions between the card network and the bank. A merchant account service provider can handle this for additional fees.
There's been a growing shift to consumers preferring contactless payment. You might want to future-proof your business and invest in a card reading device that can handle that, too.
Fees for in-person card payments can be a little complicated, to say the least. They vary depending on your service provider and the contract you signed with them. Expect to pay anywhere between 1.3% and 3.5% per transaction.
How to choose a bank account that accept card payments
Payment service provider or merchant account? You need one or the other to start accepting credit card transactions, and there are different benefits to each. 
Payment Service Providers (PSPs)
Some well-known PSPs are PayPal, Shopify, and Stripe. Each allows businesses to receive credit and debit card payments without opening a merchant account because it's included in the PSP service.
The fees are usually more transparent than those of merchant account providers. They often have extra features that you wouldn't get from a merchant account provider, too. For example: Shopify's built-in point-of-sale system and an app allows you to track orders and inventories across multiple stores and sales channels.
PSPs are often said to be a good choice for small business owners or those just getting started due to their ease of use and transparent fees.
Merchant account
Before other PSP providers were around, there was only one way for a merchant to accept cards: by opening a merchant account—a special type of bank account that allows you to receive cashless payments. 
"You can think of your merchant account service like a holding pen for your money once it's been processed by the bank. Some of the best merchant account providers that a UK business could choose from include WorldPay, SumUp, and that well-known brand PayPal." — Richard Parris, managing editor of

Startups.co.uk
Merchant account service providers are not very transparent about pricing. You'll have to contact them to get a quote. The pricing structure can also be confusing because of monthly fees, cancellation fees, auto-renewal, and minimum usage fees.
On the plus side, merchant account providers are usually long-established entities that are well-equipped to support you with any problems. They typically supply you with POS systems and mobile card readers that allow you to accept credit card payments through smartphone applications such as Apple Pay or Samsung Pay.
Which is best?
There's no right or wrong answer when it comes to choosing between the two. Some say that PSPs are easier for smaller businesses due to their open pricing policy and ease of use; others prefer the customizable contracts available with a merchant account.
Choose the right card payment processor right for you
Navigating the complex work of contracts and fees can feel frustrating. Most companies don't flat-out list their rates; talk to a sales representative for a custom quote.