If you are looking for an easy way to accept contactless card payments for your vending machine then we have 7 great solutions for you to choose from. We also look at some examples of vending machines with card readers for inspiration.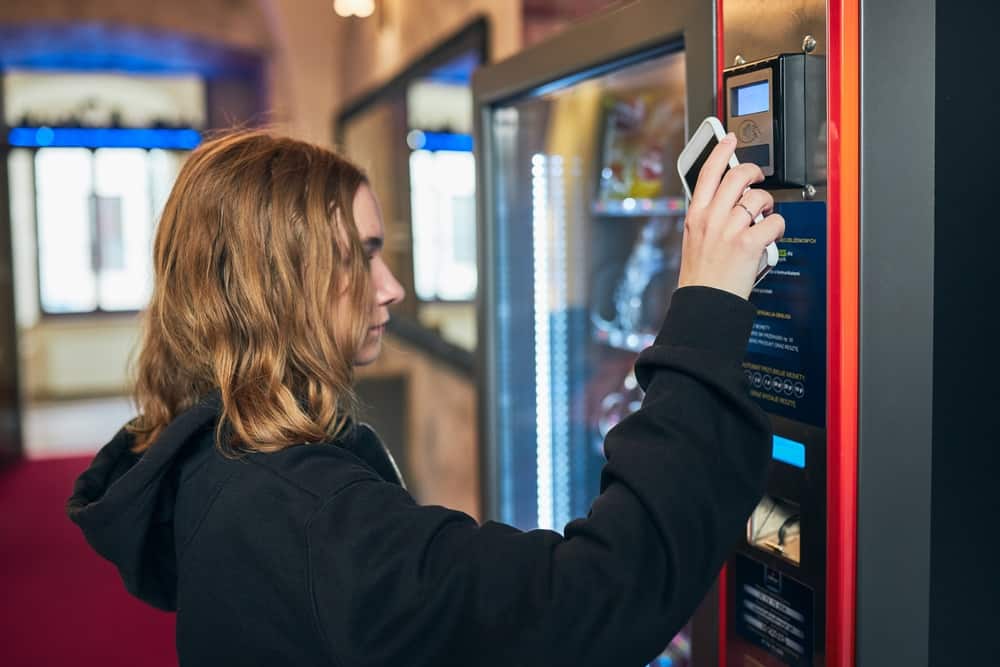 1. MyPOS Mini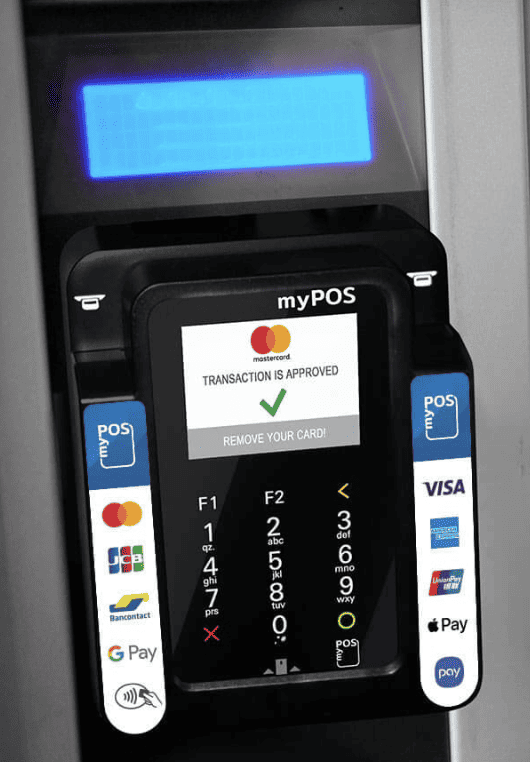 Here are some of the features and benefits of the MyPOS Mini:
Comes in a specially designed case
Easy operation
Flawless communication with vending machine
Accept any type of transaction, including cards, contactless transactions and NFC-enabled payments
Includes PCI PTS 5.x
Can be used at petroleum forecourts, car parks, kiosks and vending machines, transit and ticketing systems.
Offer a free merchant account and Business card VISA
Dedicated IBANs in 14 different currencies
Access to diverse myPOS Mobile App features
Instant access to funds at any place and any time
No monthly or annual service fees
Learn more on the MyPOS website.
2. Nayax VPOS Touch

Here are some of the features and benefits of the VPOS Touch:
Accept Mobile and NFC payments including Apple Pay and GPay,
Accept swipe, contact or contactless, EMV chip cards
Accept Static and dynamic QR codes
Colour touchscreen
Provides updated information on all aspects of operation including inventory, cash monitoring, alerts, and reports
Easy to install and can be retrofitted on any vending machine
Voice capabilities with voice interactions in local languages
Can connect suing Wifi, 4G or Ethernet
Anti-fraud thresholds
Remote vending option
Learn more on the Nayax VPOS Touch website.
3. MEI eChoice™ EMV Bezel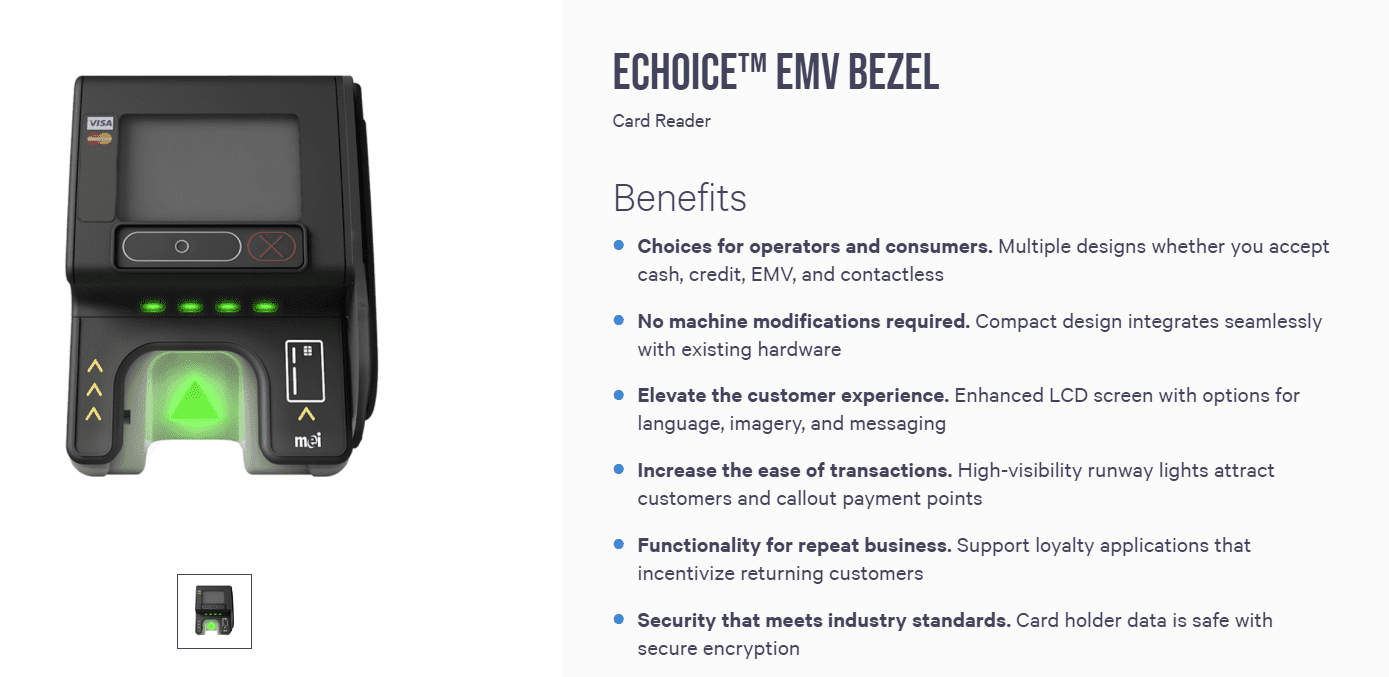 Here are some of the features and benefits of the MEI eChoice™ EMV Bezel:
Multiple designs whether you accept cash, credit, EMV, and contactless
No machine modifications required
Enhanced LCD screen with options for language, imagery, and messaging
High-visibility runway lights attract customers and callout payment points
Support loyalty applications that incentivize returning customers
Card holder data is safe with secure encryption
Can operate in temperatures between -15°C and 60°C
Some models accept ApplePay and AndroidPay SmartTap
Learn more on the eChoice™ EMV Bezel website.
4. Alio™ Note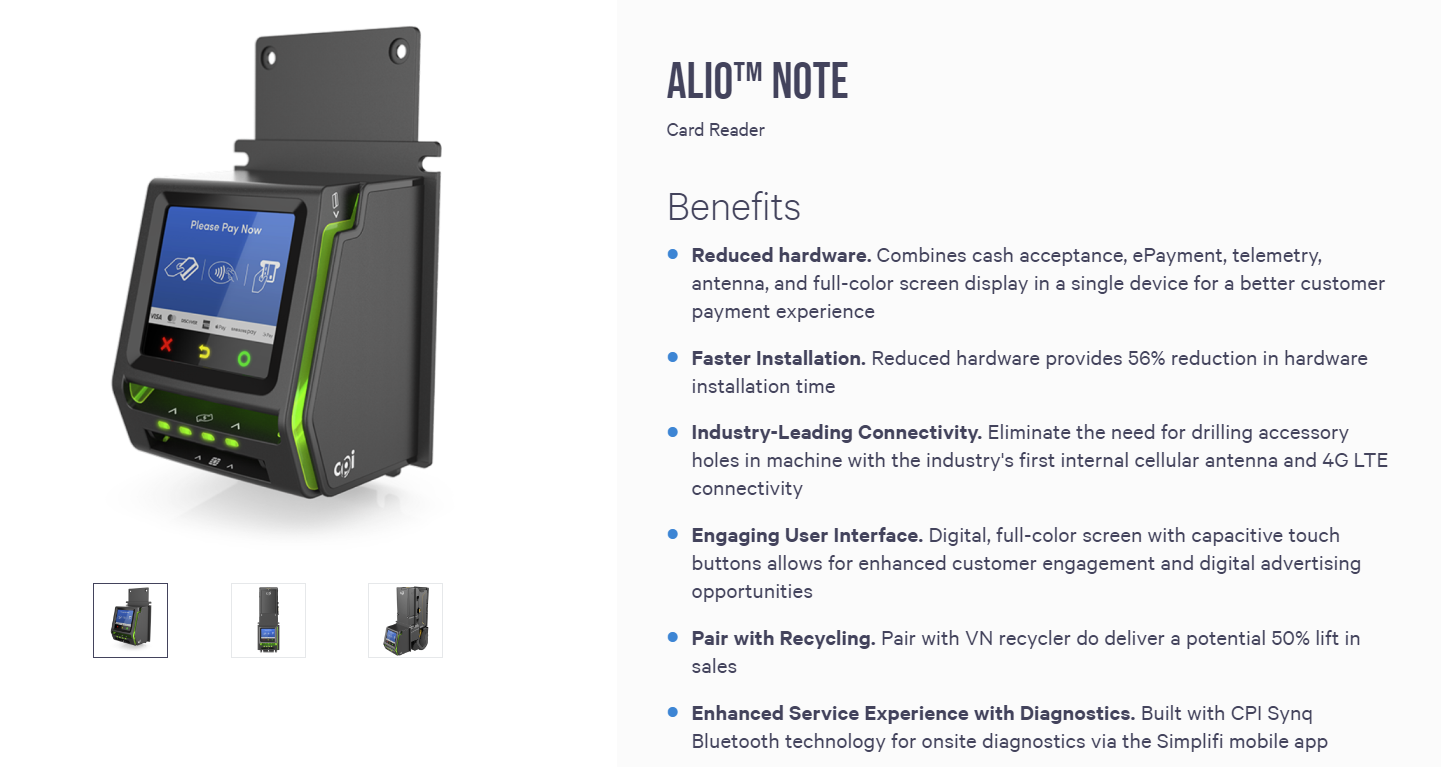 Here are some of the features and benefits of the Alio™ Note:
Accept ApplePay and GooglePay
Combines cash acceptance, ePayment, telemetry, antenna, and full-color screen display in a single device for a better customer payment experience
Reduced hardware provides 56% reduction in hardware installation time
Internal mobile antenna and 4G LTE connectivity
Digital, full-coluor screen with capacitive touch buttons
Digital advertising opportunities
Built with CPI Synq Bluetooth technology for onsite diagnostics via the Simplifi mobile app
Primary and secondary antenna support, internally mounted
Learn more on the Alio Note website.
5. Onyx Contactless Card Reader

Here are some of the features and benefits of the Onyx Contactless Card Reader:
Quick and easy payments with contactless smart cards, NFC and mobile payment apps, QR codes, and prepaid cards.
Accept ApplePay and GPay
Colour touchscreen provides easy navigation
Voice capabilities in multiple languages
Also includes telemetry device showing overview of sales, machine data, and alerts in real-time
Change settings and manage your entire machine wherever you are
Onyx features built-in marketing tools
Offers advertising opportunities
Plug and play with remote capabilities and software updates
Open door & temperature sensors
External communication: 2G, 3G, 4G, Ethernet, & NFC
Learn more on the Onyx website.
6. VPOS Fusion

Here are some of the features and benefits of the VPOS Fusion:
Card reader supports both cash and cashless payments
High resolution colour touch screen
Voice capabilities guide consumers through a payment process
Retrofittable and field upgradeable device that is easy to install on any vending machine
Operators can check in on all aspects of operation including inventory, cash monitoring, alerts, and reports in real-time
Offer consumers the option of paying with cash
Wi-Fi and a mobile network (LTE and 4G) connection
Marketing, loyalty, & consumer engagement options
Anti-fraud thresholds
Can also work with laundry machines, car wash stations, amusement rides, office coffee services, prize machines, pay restrooms and more.
Learn more on the VPOS Fusion website.
7. Alio™ Pro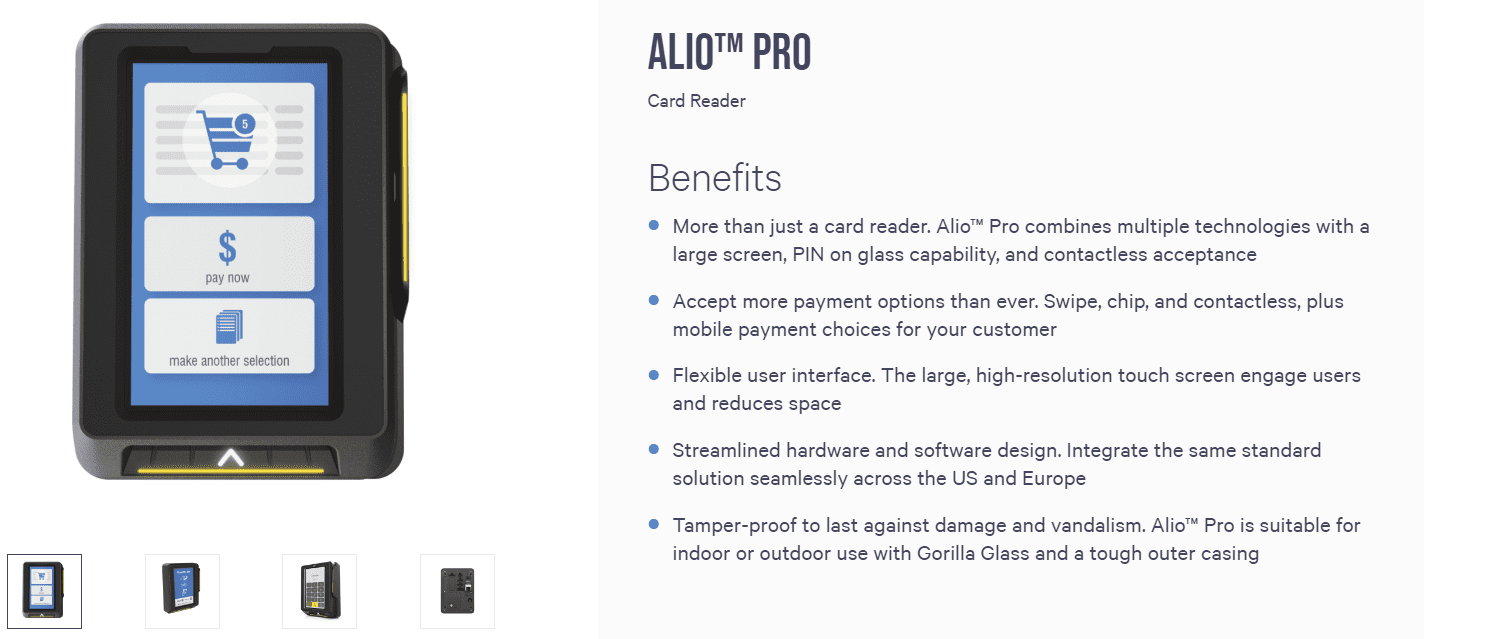 Here are some of the features and benefits of the Alio™ Pro:
Large screen, PIN on glass capability, and contactless acceptance
Swipe, chip, and contactless, plus mobile payment choices
Large, high-resolution touch screen engage users and reduces space
Streamlined hardware and software design
Tamper-proof to last against damage and vandalism
Suitable for indoor or outdoor use with Gorilla Glass and a tough outer casing
Cloud-based device management platform.
Can accept ApplePay and GooglePay
Can also work with Casinos, Off-Street Parking, Retail Kiosks, Laundrettes, carwashes, electric vehicle charging and more
Learn more on the Alio™ Pro website.
8. MEI® 4-in-1 Plus

Here are some of the features and benefits of the MEI® 4-in-1 Plus:
Accept cash, MEI coupons, contactless or magnetic stripe cards, and mobile wallets like ApplePay™, AndroidPay™ and SamsungPay™
Attract consumers, even in low light locales
Bright runway lights direct buyers toward payment options
Secures card holder data via industry-standard encryption
Contactless EMV certified by EMVco, Visa and MasterCard
User interface screen seamlessly guides consumer through the payment process
Add capability to interact with consumer engagement applications like loyalty programs
Can work between -15°C and 60°C
Learn more on the MEI® 4-in-1 Plus website.
5 Vending Machines With Card Readers
Looking for examples of vending machines with built-in card readers? Then have a look at the following 5 models.
1. Necta Swing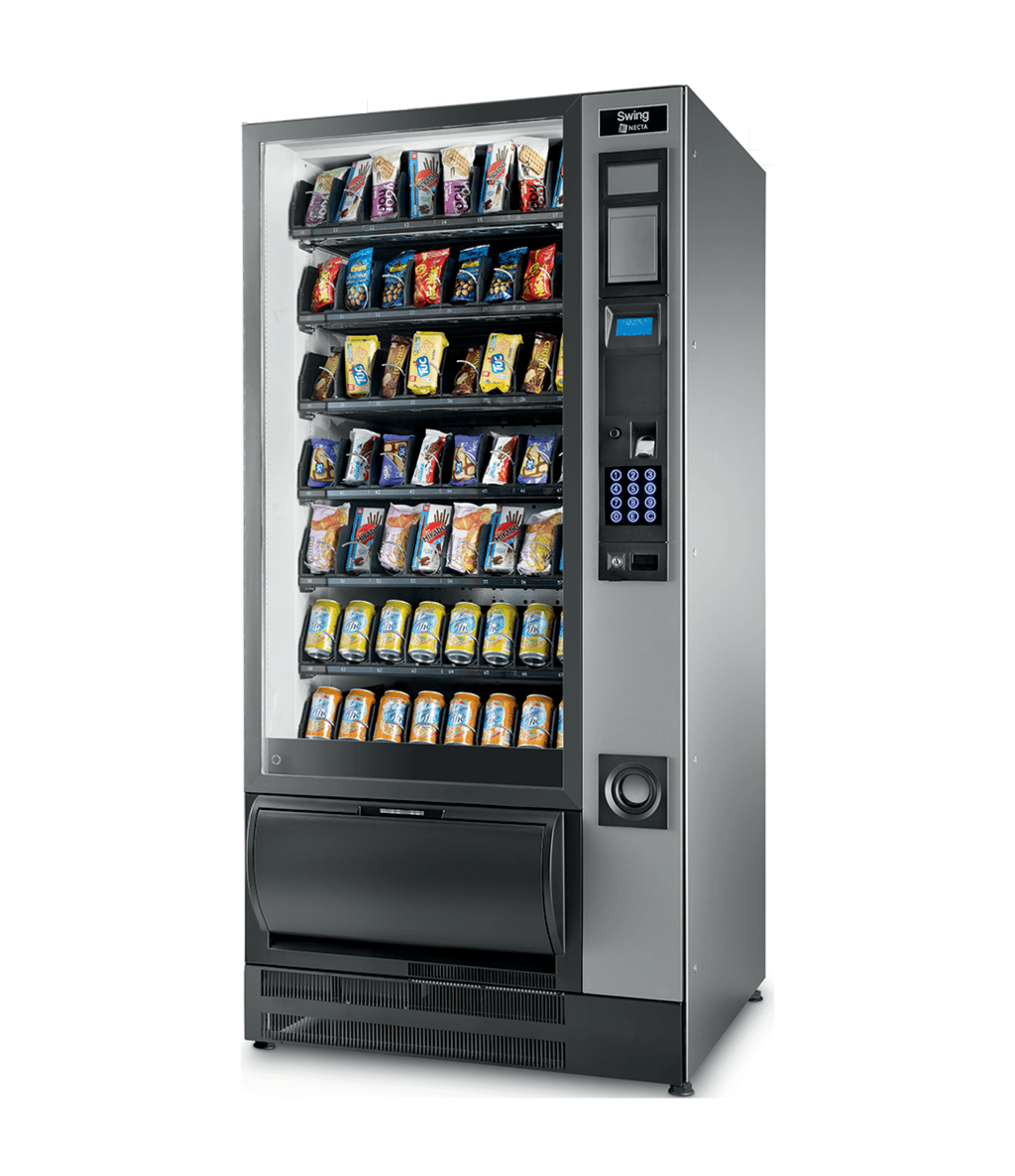 Here a few of the features of the Necta Swing vending machine:
Cashless payments with either key & card
Can handle up to 3 payment systems
Electronic tray labels
Available in many different layouts: 100% food, stratified temperatures, and/or Ambient Layout (no heating or cooling)
Product capacity: 360 units
LED lighting
Learn more on the Necta website.
2. CPI Bespoke Vending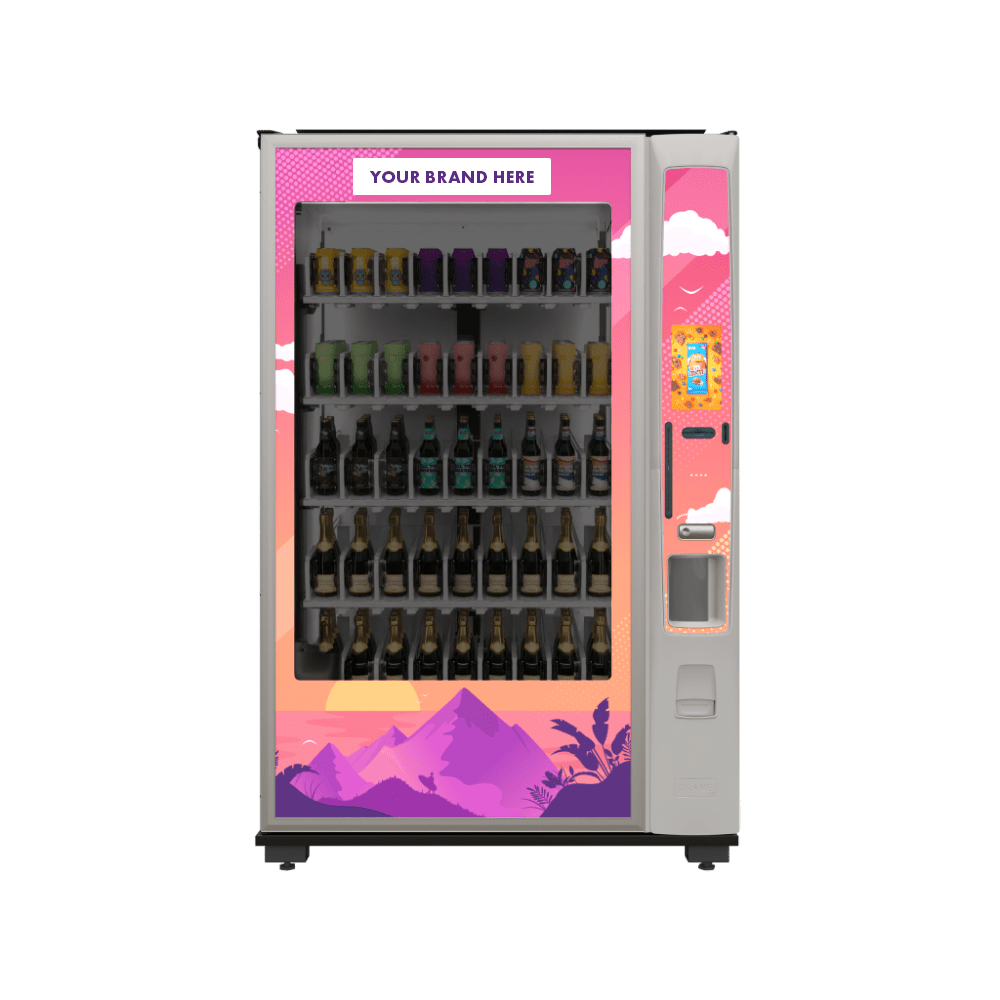 Increase brand awareness & customer engagement
Used by brands such as: Yves Saint Laurent, Moet and Spirit
Solutions for food, drinks, pools, gyms, school and coffee
3 step solution: Custom design your machine, place your product in the machine, place the machine in the right location
Learn more on the CPI website.
3. Merchant Combo MEDIA2

Capture every sale with a built-in and intuitive cashless solution
Delivering unparalleled speed, reliability and screen responsiveness
Large 9″ touchscreen with full-motion video attracts and engages consumers
Suggestive selling and digital advertising drive impulsive and multi-product sales
Shopping Cart: Enable multi-product purchases with one, simple transaction
Nutritional Information: Inform consumers with a large display of easy-to-read nutrition facts
Manage machines over the air with Simplifi TM CONNECT PLUS
Learn more on the Merchant Combo MEDIA2 website.
4. G-Caffè UNI-Q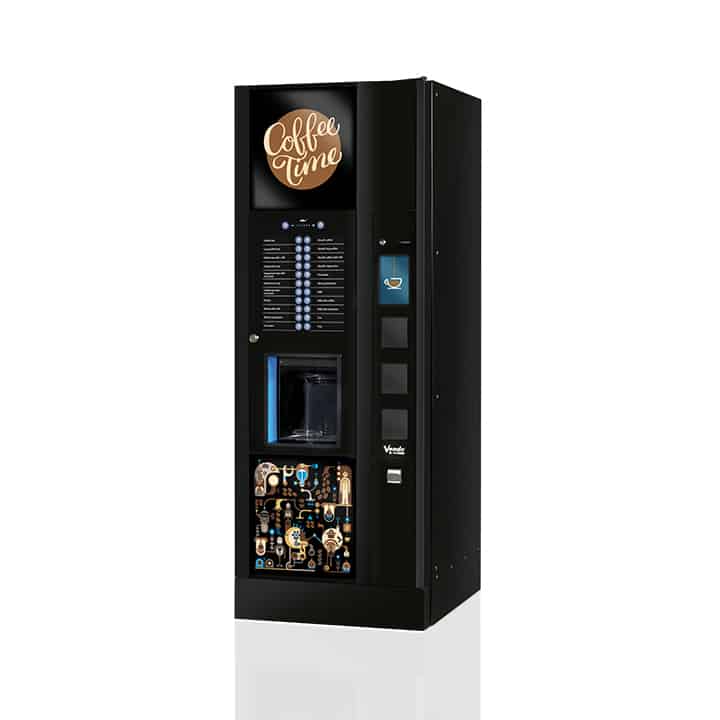 Integrated payment system available
Freestanding coffee vending machine
Innovative temperature management system
Available with the original coffee brewer or instant powder supply
Touch display selection
Telemetry kit available
Ability to customise your machine
Learn more on the G-Caffè UNI-Q website.
5. Saeco Artico L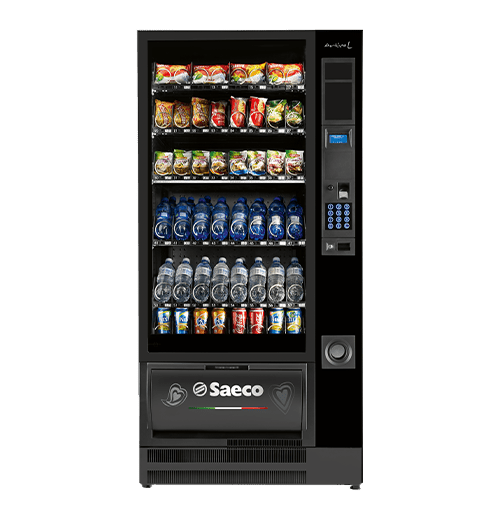 Possibility to install 3 payment systems at the same time
Accepts the most commonly used parallel and standard MDB, BDV and Executive payment systems
Programmable temperature (snack or food)
Optimized ventilation to reduce energy consumption
Possibility to create menus for selling more combined products
Number of trays: 6 – 7
Can tray: 48 cans
Number of spirals: 48 – 56
Food configuration snack: 8°C – 16°C
Food/Tetra Pak: 0°C – 4°C
Learn more on the Saeco website.
FAQ
How Much Do Vending Machine Card Readers Cost?
Unlike standard card payment machines for small business, vending machine card readers are not transparently priced. Based on our research we found prices for these machines ranged from £350 to over £1,000. In addition, there is usually around a £10 monthly subscription charge and transaction fees range from 2.95% to 4.95%.
All in all they are much more expensive than standard card readers.
How Do Credit Card Vending Machines Work?
Credit card vending machines usually have 3 components. There will be the card reader payment unit itself (see above), although some newer machines may have these built-in.
Then you will have to pay a monthly subscription fee to the relevant payment company to accept payments each month. Finally, you will have pay a transaction fee on each sale.
The payment company will handle all the payment processing and then remit funds to you based on your contract. Typically this can be anywhere from a couple of days to a week or more.
Where Can I Put A Vending Machine With A Card Reader?
Anywhere with foot traffic can in theory make a great location for a vending machine with card reader. Here are just a few ideas to get you started:
Offices
Gyms
Blocks of flats
Hospitals
Care Facilities
Hotels
Schools
Just keep in mind you'll have to make an agreement with the location owner to put your machine in place. This can involve either a monthly rental fee and/or a percentage value of good sold.