The merchant account and payment processing industry in the UK makes it difficult to compare rates & fees. However, on the whole you can get better rates and larger range of services than those offered by some popular competing services.
Below are some sample cost comparisons:
| Feature | Merchant Account | Shopify | Paypal | Stripe | Square |
| --- | --- | --- | --- | --- | --- |
| Credit Card Transaction Fee | As low as 0.65% | 2.4% + 20p | 3.4% + 20p | 1.4% + 20p | 1.75% or 2.5% |
| Monthly Fee | as low as £0 | As low as $9/month | £0 | £0 | £0 |
| Contract required? | Yes, usually | no | no | no | no |
| Accept Payments in Person | Yes | Optional (additional fees apply) | Optional (£69.95 per card reader) | No | Yes |
| Accept Online Payments? | Yes | Yes | Yes | Yes | No |
| Accept Payments by Phone? | Yes | No | Optional (additional application required) | No | Optional (additional fees apply) |
As an example let's say your business processes 50 transactions worth £20 each per month. The total amount you charge customers is £1,000 (50 X £20).
Here's how much you get to keep with the various options listed above.
Now keep in mind that this assumes you get the best rates offered by your UK merchant account provider. Not all providers are created equal and comparing rates can be slightly difficult.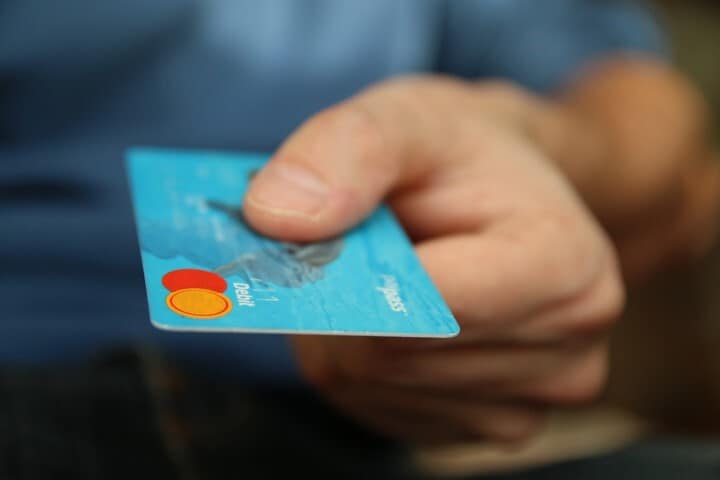 Why is it difficult to compare UK merchant accounts?
There are both good and bad reasons for this. The bad is that transparency is often not good for business. How do you know if you're getting a good deal, when you're not sure how much you would have been charged with someone else?
However, this is not the only reason why UK merchant account providers don't advertise their fees. The fact is that different businesses and business owners carry different levels of risk. If you have no credit or bad credit you may be charged a premium.
Similarly, if you're business is considered risky (e.g. gambling, travel, etc.) you may also be charged a higher rate that corresponds to the higher risk of chargebacks. While this may seem unfair, card processing companies spend a lot of time and money assessing risks and if you want to accept cards, you have to play by their rules.
How to make a fair UK merchant service comparison
Given that no two customers and no two businesses are going to be charged the exact same rate, how can you make a fair comparison?
Well here are a list of things you should look for:
Merchant Services Offered
Not all credit card processing companies offer the same services. Some will just offer merchant accounts while others will offer complimentary add on services as part of their packages. If you require these additional services be sure to ask if they're included and if not, how much they'll cost to get an accurate picture.
Typical add-ons:
PDQ machines (for retail payments)
Full EPOS systems (for more complex retail payments)
Virtual Terminals (for phone payments)
Online shopping carts (for e-commerce sites)
SSL certificates (for online payments)
Real Time Processing (for faster payments)
Recurring Billing (for subscriptions)
PCI Compliance Level
If you're handling card transactions in the UK you have to make sure that you're PCI DSS compliant. Most good merchant account providers will make this easy for you. The lowest level offered is 4 and the highest is 1. So if you want to be safe you may want to opt for a supplier that offers the top tier compliance levels.
Anti-Fraud Measures Offered
There are few worse feelings than selling to someone only to find out that their payment was made fraudulently. If you don't have measures in place to prevent this, you could be left on the hook for hundreds or maybe even thousands of pounds.
Typical anti-fraud features to look out for include:
Address Verification
CVV2 Verification
Contract Length
This is how long you agree to stick with a given payment processing company before you can switch. Want to leave early? You'll likely be charged a fee.
Typical length: none-3 years
Early Cancellation fee: £0-£1,000
Range of Cards Accepted
If you're accepting cards you want to make sure you can accept as many as possible. Most merchant accounts in the UK will accept UK debit cards along with Visa and Mastercard credit cards.
However, if you run a business in a tourist heavy area or want to sell online you may want to accept American Express, Discover card and/or other foreign credit cards. However be aware that payments via these cards may incur higher charges than domestic cards.
Costs & Account Fees
Last, but certainly not least, are account fees. Most merchant accounts come with a whole range of fees depending on how you process transactions and from whom. Here are just a few of the fees you need to be aware of.
Retail Transaction Charges
To accept cards in person you'll have to pay a fixed fee per transaction as well as a % of the total transaction value:
Typical retail fees:
Fixed Fee: £0-£1 per transaction
Transaction % Fee: 1.2%-3.5% (can be higher for high risk merchants)
Online Transaction Charges
Many different merchant providers charge different rates to process cards in person (retail), over the phone and online. Here are typical fees for accepting cards online.
Typical Fees
Fixed Fee: £0-£2 per transaction
Transaction % Fee: 1.2%-3.4% (can be higher for high risk merchants)
Other Fees
Monthly Account Fees: Some merchant banks and providers charge you just to have an account each month.
Range anywhere from nothing to £99 a month.
Monthly Minimum Fees: Basically if you don't do a certain volume of transactions each month you have to pay this fee (basically a penalty for doing poorly).
Ranges from nothing to £50 a month.
Set-up Fee: Some suppliers will set-up your account for free, whereas others charge you for the privilege.
Range: £0-£99
Tips For Making a Good Merchant Account Comparison
Make sure you know how you'll be accepting payment; including both the types of cards and how they will be processed. This is the only way to make an accurate comparison of fees.
Make sure you can give at least a rough estimate on the volume and value of your card transactions. The more you process the lower your fee per transaction.
Make sure you know what category your business falls under. High-risk businesses may have difficulty getting a merchant account and/or pay high fees when they do get one.
Know the merchant services you really need. Don't pay for things you don't need.
Finally have a system in place for handling customer data. Data breaches can be incredibly expensive and you may be able to get a lower rate if you have a robust system in place to prevent this.