Before choosing to rent or buy an EPOS system you need to decide what you need from it. System features vary widely from manufacturer to manufacturer and include software and hardware components.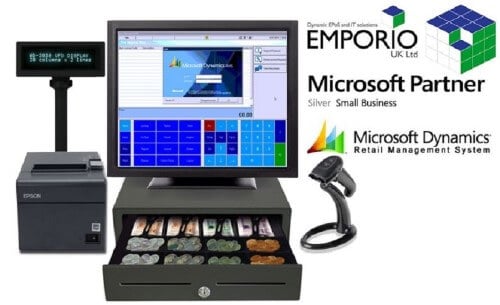 Advantages Of EPOS Over Traditional Cash Tills
EPOS stands for Electronic Point Of Sale Here are the top 5 ways an EPOS system beats a cash till:
Faster Order Processing For Both Cash & Cards
Instantly Updated Inventory
Ability to track sales over time
Ability to quickly adjust prices
Reduce Employee Theft
Business That Can Benefit From An EPOS System
While most businesses could likely benefit from an EPOS system, they are most commonly found in the following establishments:
Pubs and Bars
Restaurants and takeaways
Retail shops
Hotels, Hostels and B&Bs
Convenience Shops and Off-licenses
Grocery stores
Newsagents
Pharmacies
Dry Cleaners
Cinemas
and any other business that deals with customers face-to-face
You should keep in mind that most EPOS suppliers make bespoke systems for all sorts of different businesses. For example,a small dry cleaners probably has vastly different needs than a large 300 room hotel.
Common EPOS System Components
An EPOS system components vary depending on what type of business it will be used in and include both software and hardware. They can handle everything from card payments to complicated web integration depending on its configuration.
Hardware
Common hardware components include:
PDQ Machine (aka
Cash Drawers
Thermal Receipt Printer
Keyboard
Touch screen monitors
Barcode scanner (for retail environments)
Scales (for grocery stores)
Software
Common software features include:
Stock control
Purchase and order processing
Loyalty programs
Managing promotions
CRM system integration
Ability to coordinate stock and with ecommerce website
Ways to get an EPOS system
There are two ways to get an EPOS system. Either you can choose to buy or rent one. There are advantages and disadvantages to each approach.
Renting vs. Buying: 5 Things To Understand
Renting has little to no upfront cost, but is usually more expensive in the long run compared to purchasing, but only if nothing goes wrong with the system.
Rental agreements will often include some sort of service and maintenance package, which means you will be able to get support should something go wrong.
Buying a system means you can use whatever supplies you'd like with it, whereas as some rental agreements will require you to purchase supplies from your rental company.
Purchased systems can generally be customised to exact requirements (for a price of course) whereas a rented system tends to be more off the shelf.
Rented systems can be more easily upgraded than purchased ones as you can simply swap one machine for another or add extra machines as needed.
Thus there is no right solution for every business. If you're a new business just trying to get off the ground a rental agreement can make the most sense as you can't be 100% sure of your needs going forward.
However, if your business has been trading for a few years and is relatively stable you may wish to benefit from the lower cost of ownership from buying a machine.
How Much Do EPOS Systems Cost?
EPOS system prices vary widely based on what features you need. Simple, previously owned machines, can start from as low as £500 to buy. However, most new systems are priced between £1,200 and £2,000 for off the shelf models.
Bespoke solutions can easily top £5,000, if you need more advanced features.
If you'd prefer to rent you can expect to pay at least £20 per week (£85 a month) per machine for basic models and 2-3X that much for high-end ones.
Cost of Supplies
Most businesses will use their EPOS system to print customer receipts. Thus you should factor the cost of both Till rolls and ink. For high turnover businesses such as pubs this can easily mount up to £20-£30 extra just on EPOS supplies per month.
So how do you pick the right system?
Well you can either spend time contacting each supplier in the UK manually or you can let us do that for you. Fill in his form and our system will match you with suppliers who supply the system you need.
Read more:
– Suppliers
– Prices
– EPOS for specific businesses
– Supplies