With over 200 million users worldwide, PayPal is a company that really needs no introduction. 
Founded in 1998, the multinational fintech company has performed as a global leader in the payment industry. The company allows for businesses, enterprises and individuals to conveniently send and receive payments online in both a secure and cost-effective fashion. 
The PayPal network takes and builds upon traditional banking infrastructure and offers a secure payment system that can process in real-time globally. This forms a service that is perfect for small businesses and enterprises battling with the issues of traditional payment methods.
The size of the PayPal network is continually growing with the company offering support for a wide range of different businesses, both online and in-person. Support in eCommerce sites is one of the most impressive shifts, but this shouldn't overshadow the long list of offline businesses accepting payments through PayPal. Lawyers, doctors and contractors, to name just a few, are using PayPal to take payments offline. 
Prices/Fees 
The pricing and fees associated with PayPal can be a little confusing with a seemingly neverending merchant fees document.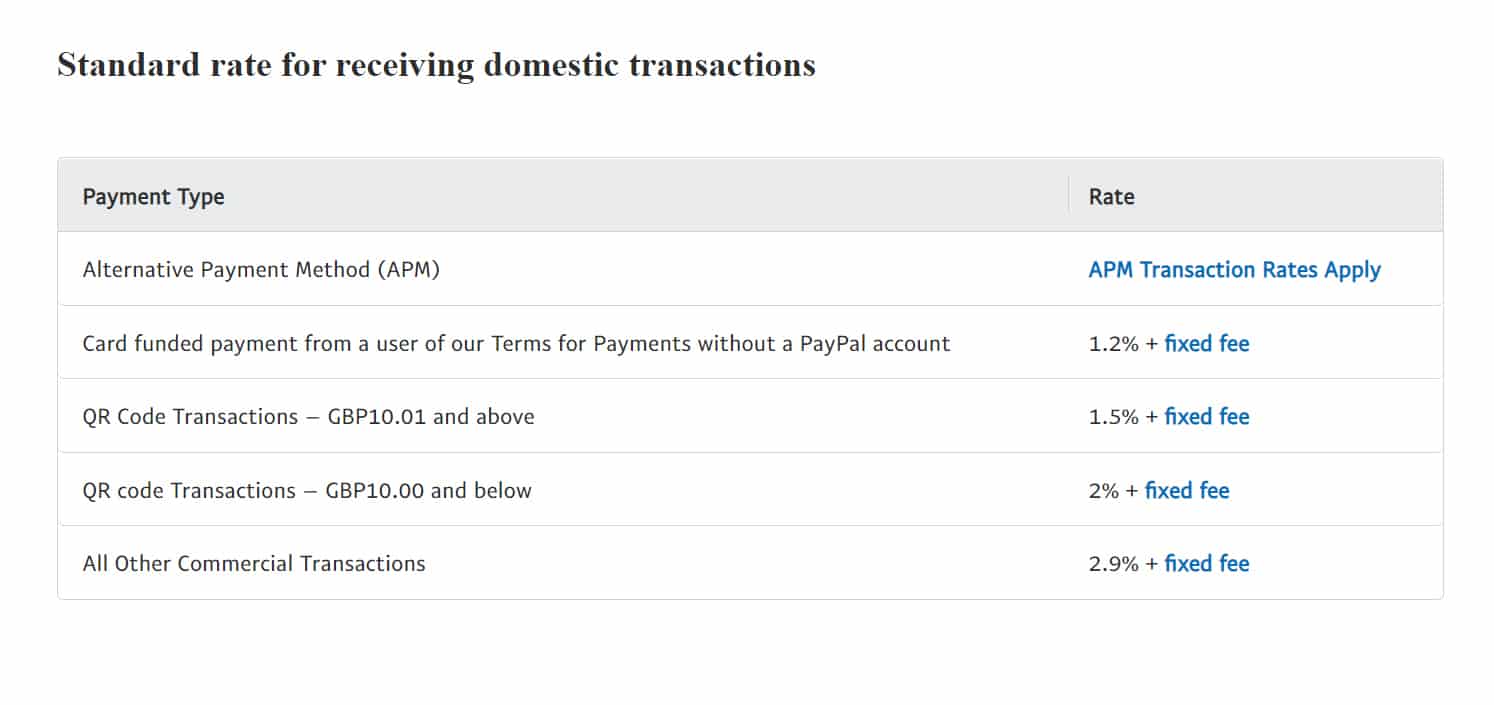 We can take a look at the standard rate for receiving domestic transactions in the table below. These rates are applied whenever goods or services are sold, payments are received via QR Codes, or receive payment following the "request money" feature. 
| | |
| --- | --- |
| Payment Type | Rate |
| Alternative Payment Method (APM) | APM Transaction Rates Apply |
| Card funded payment from a user of our Terms for Payments without a PayPal account | 1.2% + fixed fee |
| QR Code Transactions – GBP10.01 and above | 1.5% + fixed fee |
| QR code Transactions – GBP10.00 and below | 2% + fixed fee |
| All Other Commercial Transactions | 2.9% + fixed fee |
Table: The Standard rate for receiving domestic transactions via PayPal
The fixed fee value is dependent on the currency received with those payments received in GBP seeing a £0.30 fixed fee value. 
An additional percentage-based fee should be expected for international commercial transactions with the table below highlighting the expected fees. 
| | |
| --- | --- |
| Where sender's market/region is | Fee |
| European Economic Area (EEA) | 1.29% |
| All other markets | 1.99% |
Table: Additional percentage-based fee for international commercial transactions
For additional Merchant Fee information, a full breakdown of all fees can be found under "Pricing" at PayPal. 
Product/Service overview
With a payment service that bridges the gaps left open by traditional financial solutions, PayPal offers a fantastic service pitched perfectly for both Small-to-Medium Businesses and Enterprises.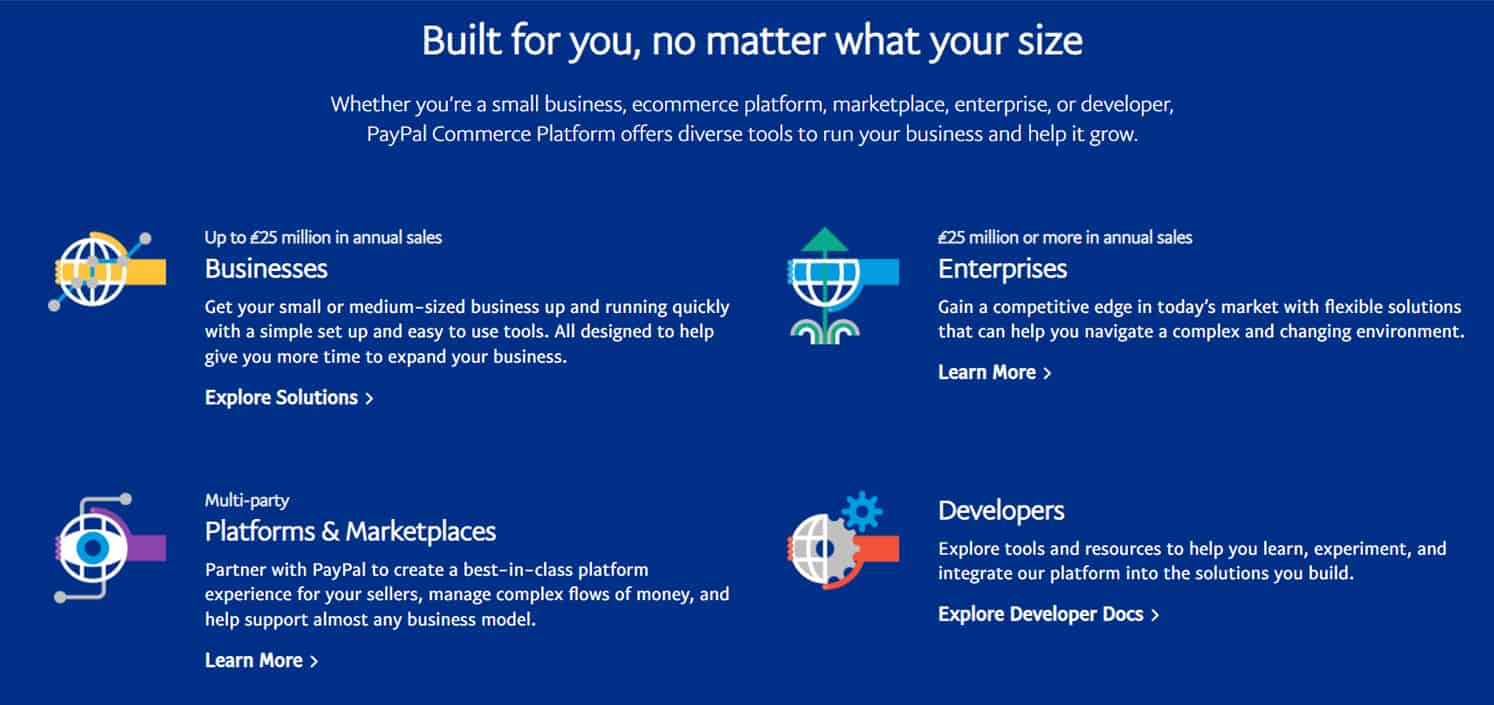 These services can, therefore, be broken into the two main categories of "Small-to-Medium Businesses" and "Enterprises" with the latter building on the former, offering additional services.
A detailed breakdown of the products and services offered by PayPal can be found listed below. 
Small-to-Medium Business
PayPal offers Small-to-Medium Businesses a range of products and services with a merchant account that they can rely on. 
Accept payments
One of the biggest pulls from PayPal is the ability to accept payments from customers from a range of different payment options. 
PayPal can be used on eCommerce websites, with some of the most popular platforms including Shopify, BigCommerce, and GoDaddy offering the payment provider built-in with the package. Similarly, online custom stores can benefit from the same built-in benefits with both WooCommerce and Magento utilising PayPal. Online shopping carts aren't required for every store and those that simply operate a non-eCommerce website can also benefit from taking PayPal payments online. 
Alongside credit and debit cards, customers are also able to pay with Venmo and PayPal, making the checkout process as smooth as possible. 
Customers are also able to choose a buy now, pay later option with PayPal, allowing shoppers to choose an interest-free way to, spreading the cost over three payments or using special financing with PayPal Credit. Vendors are paid upfront with PayPal taking the risk.
This is all achieved whilst offering the business additional protection from fraud and minimising claims and chargebacks.
Make payments 
Accepting payments is only one side of the sword with making payments occupying the reverse section – another area that PayPal can help with.
PayPal allows users to securely connect to their business bank accounts, allowing for easy transfer of funds between the two. Funds added to the PayPal account can then be used to conveniently make purchases and simple payments with instant electronic transfers. 
Alongside simple payments and purchases, PayPal offers a powerful service in which payouts can be scheduled for a dedicated time. These can be one-off events or businesses can send disbursements to numerous people/places all at the same time. These payouts have the ability to be received by recipients from a total of 96 countries with the option of 24 currencies.
Manage risk 
PayPal uses machine learning to protect Small-to-Medium businesses, manage their risk and allow them to grow safely.
With extensive experience spanning more than 1 million monthly payments, PayPal offers three main pillars of risk management that benefits businesses, Fraud Protection, Seller Protection and Chargeback Protection. 
Fraud Protection prevents businesses from both existing and evolving threats by making use of machine learning, analytics and their dedicated 2-sided network to build intelligence around fraud. Seller Protection helps businesses avoid any reversals or fees – even when they are facing customer disputes. 
Chargeback protection is offered by PayPal with the payment company assuming the liability of eligible debit and credit card transactions. If there's a problem along the way, PayPal will reimburse both the chargeback fee and the purchase amount.
Accelerate growth 
PayPal can help businesses accelerate their growth by expanding into Global markets, deepening their customer relationships and funding new opportunities. 
PayPal offers business financing options, providing an easy way to apply for additional funding to grow the business. A PayPal Working Capital loan works by accessing the account history and does not require a credit check. The loans are fixed-fee and can be repaid automatically with a percentage of each PayPal sale.
Alternatively, businesses can access business financing with a term loan that is based on the business. A regular payment made weekly can be arranged, automatically made from the bank account. 
Additional growth options can include access to insights and optimisations, access to buy now, pay later options, cart recovery and store cash. 
Streamline operations
PayPal offers streamlining services, allowing business owners to dedicate their time to the areas of the business that they are most excited about. 
The service offers businesses dispute management, allowing both buyers and sellers to resolve any disputes that they may encounter. All disputes can be found and solved in the account dashboard. 
PayPal's advanced reporting and analytics gives businesses the chance to learn more about their customers, using shopping insights to improve marketing plan tailored sales campaigns. 
Shipping can also be simplified with the dashboard giving businesses the option to purchase available discounted shipping labels, track their packages and send shipping notifications to customers. 
Enterprises 
PayPal isn't just a service for small businesses, enterprises can also benefit from a range of services offered by the payment giant.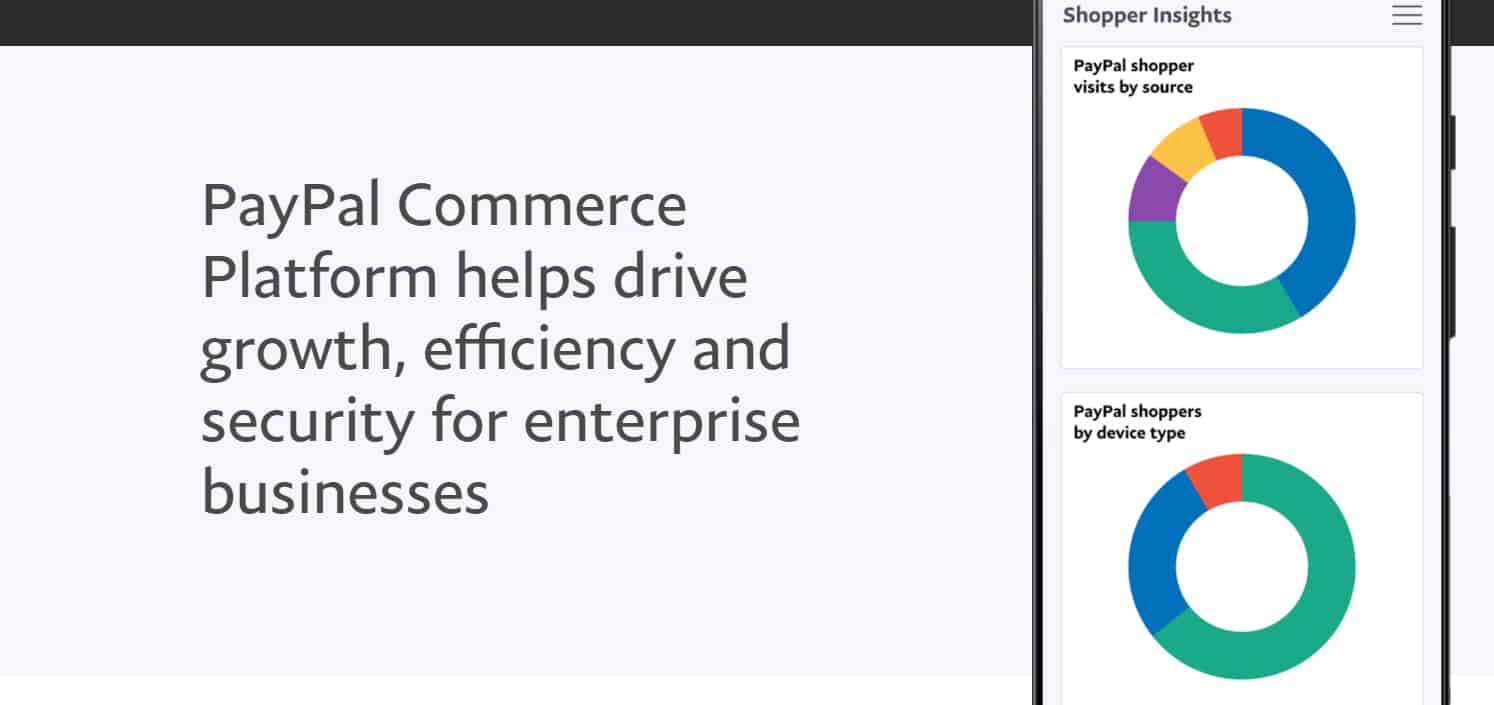 The payment company is used by global enterprises including Uber, Spotify, Asos, Iceland, Moonpig and more. Enterprises gain access to all of the services and features found above in the SMB category with an additional range of services. 
Enterprises can benefit from increased conversion rates and lifetime customer value, gain access to new customers and markets, adapt to changing market conditions and improve operational efficiency with the following features. 
Leverage payments innovation as a catalyst for growth
One of the key benefits of enterprises choosing to use PayPal is the option to leverage payments innovation as a catalyst for growth. 
Enterprises can capitalise on their agility and stay ahead of trends with dedicated tools designed to both launch new services and locate new markets. 
Maximise revenue with a proprietary intelligence
Enterprises are also able to work on maximising their revenue with access to one of the largest data sets in the world. 
With customer-focused data, PayPal can help enterprises both understand customer behaviour and cast a net over more revenue channels through devices and markets. This is completed all whilst detecting and preventing fraudulent transactions. 
Connect into a strong and reliable network
PayPal offers businesses and enterprises a strong and reliable network that's been proven time and time again. 
Top companies and brands including Asos, Iceland, ToolStation, Uber and Spotify all utilise PayPal as an entry point to extensive payments expertise, marketing tools, data and technology. 
It's these carefully curated tools that keep PayPal the industry leader in payments. 
Company background
Originally founded in 1998 as Confinity, before rebranding to X.com in 1999 and finally PayPal in 2001, the payment company has been no stranger in the online financial industry. 
The company has been one of the most talked-about financial service businesses since its creation, in no small part thanks to the impressive list of founders. Yu Pan, Luke Nosek, Max Levchin, Peter Thiel and Elon Musk have all had their hands on a piece of the PayPal pie with the final names in the list being the most influential. 
PayPal went public in 2002 and generated more than $61 million with a value of $13 per share under the ticker PYPL. Following the IPO excitement, PayPal was acquired by the online auction site eBay for $1.5 billion. 
A partnership with MasterCard was announced in 2007, allowing users to opt-in for a PayPal Secure Card. This was launched to allow users to make payments on websites that did not directly accept payments via PayPal. In part thanks to this partnership, PayPal generated more than $1.8 billion in revenue that same year.
PayPal began acquiring smaller payment companies in 2008 with Fraud Sciences as the first target on the list, shortly followed by Bill Me Later. The list of acquisitions grew in the eBay era with the company acquiring more than 10 different businesses including Venmo, Braintree and Paydiant. 
PayPal parted its ways from eBay into a separate publicly-traded company in 2015. The company had an eBay-PayPal agreement that expired in 2020, although the payment method does still appear as an option for shoppers using the auction site. 
Since this time, the company has accrued a long list of big-name acquisitions over its operating time including Xoom in 2015, iZettle in 2018 and Honey in 2019. Xoom was acquired for approximately $1.1 billion, granting access to the 1.3 million active Xoom customers within the US. iZettle was acquired for a total of $2.2 billion, allowing PayPal to strengthen its online and mobile payment services. 
The largest acquisition to date from PayPal is the purchase of Honey, the online deal-finding extension, for over $4 billion. These acquisitions have allowed PayPal to grow to reach over 200 million users and over 7 million businesses in more than 200 countries.
User reviews from around the web 
With a huge presence across the globe, PayPal has amassed a large number of online reviews with varying verdicts depending on the review site.
Trustpilot – 1.2 / 5 (based on 20,838 reviews)

G2 – 4.4 / 5 (based on 1,796 review)

Capterra – 4.7 / 5 (based on 21,478 reviews) 

Sitejabber – 2.7 / 5 (based on 2,217 reviews) 
Taking an overall average, PayPal scores of 3 / 5 from a total of 46,329 reviews. 
Reviews should always be taken with a pinch of salt from websites such as Trustpilot due to their tendency to attract mostly negative feedback for the majority of companies.
User Reviews
Review Summary
0.0 out of 5 stars (based on 0 reviews)
Recent Reviews
There are no reviews yet. Be the first one to write one.
Submit a Review
Also see: