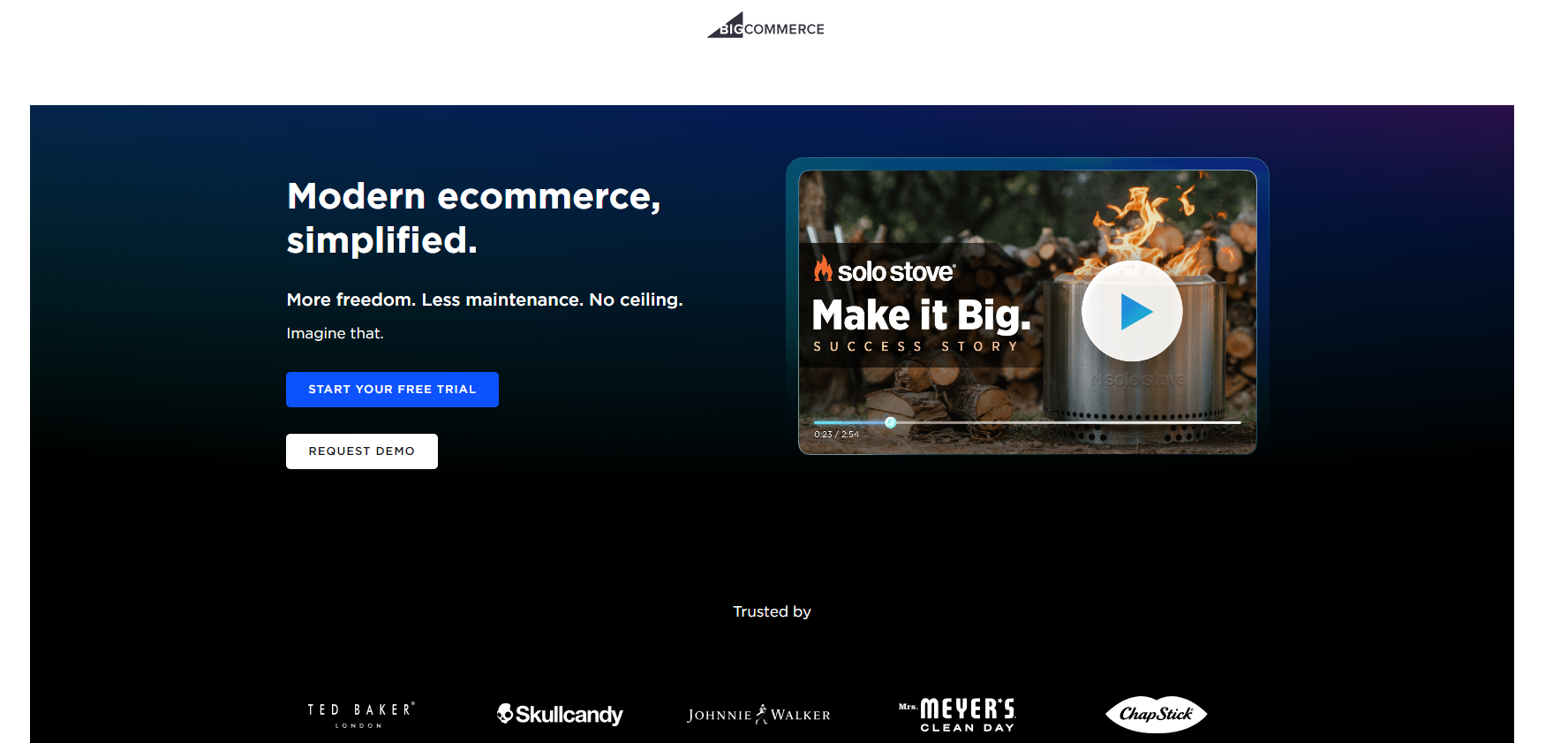 As a SaaS (software as a service) company, BigCommerce is an eCommerce platform where companies can create and run their online stores from anywhere. 
The platform provides both site creation tools, as well as hosting services for e-shops. The site creation tools provide various tabs, extensions, and payment gateways that can be integrated with the online store. These features give you everything you need to create a well-designed page that's easy for customers to navigate.
As for the hosting services, your site will be hosted on BigCommerce servers for as long as you make the necessary payments. This applies to both year-long contracts and month-to-month payments.
BigCommerce is a pretty robust platform and comes with a lot of tools and services that can be useful for any eCommerce shop. However, it's a better option for small to middle-sized companies rather than larger enterprises.
While there's a custom plan that you can pick if you make more than 400k in revenue a year on your site, the platform isn't really equipped to provide for companies that deal in the millions when it comes to yearly revenue.
Features
BigCommerce offers several customisation options that enable you to design your store exactly how you want it. You also get site optimisation and online ranking tools that can help you get more traffic to the site.
Universal Perks
BigCommerce has 4 price plans that you can pick from and all of them have their own perks and features. However, there are also some universal perks that you can get with all of the plans and we'll outline them for you here.
You'll get the following perks regardless of which plan you get:
Unlimited product listings and file storage

– allows you to place as many products as you want on your store page without having to delete anything;

Unlimited bandwidth

– all of the plans have the same data transfer speed;

Unlimited staff accounts

– you can allow as many people as you want to control and make changes to your site;

24/7 tech support

– any issues that you have can be resolved with an email, phone call, or live chat call with the support staff;

POS

– point of sale integrations can allow you to connect your online and offline stores;

Free SSL and HTTPS

– these two essentially give your site an extra layer of protection and ensure that all of your customer's info is safe;

Multi-Currency

– you can accept payments from over 100 different currencies on your site;

No gateway transaction fees

– none of the payment gateways charge you any additional fees outside of their standard transaction cost;

ShipperHQ

– this shipping rules engine simplifies the checkout transactions and makes sure that there are no misquotes on products;

Real-time shipping quotes

– gives your customers info on the exact shipping costs through UPS, FedEx, Royal Mail, and other package delivery companies;

Gateways

– all of the plans allow you to use Google Pay, Amazon Pay and Apple Pay;

Mobile App

– the phone app allows you to control and view site details from just about anywhere;

Mobile responsive sites

– your store page will automatically be optimsed for phones and tablets;

Discounts

– you can provide your customers with special coupons and gift cards that they can use, as well as implement discounts on any products at any time that you choose;

Built-in blog

– a blog page can help boost your SEO rankings through keywords, and this feature allows you to post as many articles as you want on your site;

Single-page checkout

– rather than transfer your customers to separate payment sites, all of the transactions start and end on your page;

Professional site reporting tools

– you can generate stats and graphs that show you all of the relevant site information, like visitors per day or Google rankings;

Product rating

– you can add reviews and ratings to your product descriptions.
Themes and Design
All of the products and site elements can be added with the drag-and-drop feature, and all of the themes that you can pick come with built-in HTML, CSS, and Javascript, so they can be altered if you know what you're doing.
Building your site on WordPress is also a possibility if you're more familiar with that particular site creator.
There are a few dozen free themes that you can choose from, but you can also buy a specific theme if you think that it suits your store. The prices start at $150 and go up to $400 per theme.
You can find several themes for any sort of products that you might be selling on your site. The catalogue includes themes for fashion & jewellery, health & beauty, electronics & computers, home & garden, and so on.
Global Availability
You get SEO-friendly URLs that can help your site get a better ranking.
The global CDN also ensures that your page will load quickly for your site visitors, regardless of which area of the world they're located in.
Every pricing plan on BigCommerce also comes with the option to add multiple currencies to your site, as well as pick from several languages.
Additionally, all of the plans come with a tool called ShipperHQ, which allows you to give your customers accurate quotes for cross-border shipping.
Integration with Payment Gateways
BigCommerce allows you to integrate Apple Pay, Google Pay, and Amazon Pay into your website. You can either choose one of the three, or you can simply install all of them and allow your customers to choose. Most people go for the latter option.
You can also use Paypal, and you'll get special credit card rates that you can offer to your customers through this service.
They'll be charged the following rates, depending on the plan that you're on:
Standard – 2.59% + $0.49 per credit or debit card transaction

Plus – 2.35% + $0.49 per credit or debit card transaction

Pro – 2.05% + $0.49 per credit or debit card transaction

Enterprise – 2.05% + $0.49 (or lower) per credit or debit card transaction
If the payments are made through a PayPal digital wallet, then all plans get the same 3.49% + 49¢ transaction fee.
Prices/Fees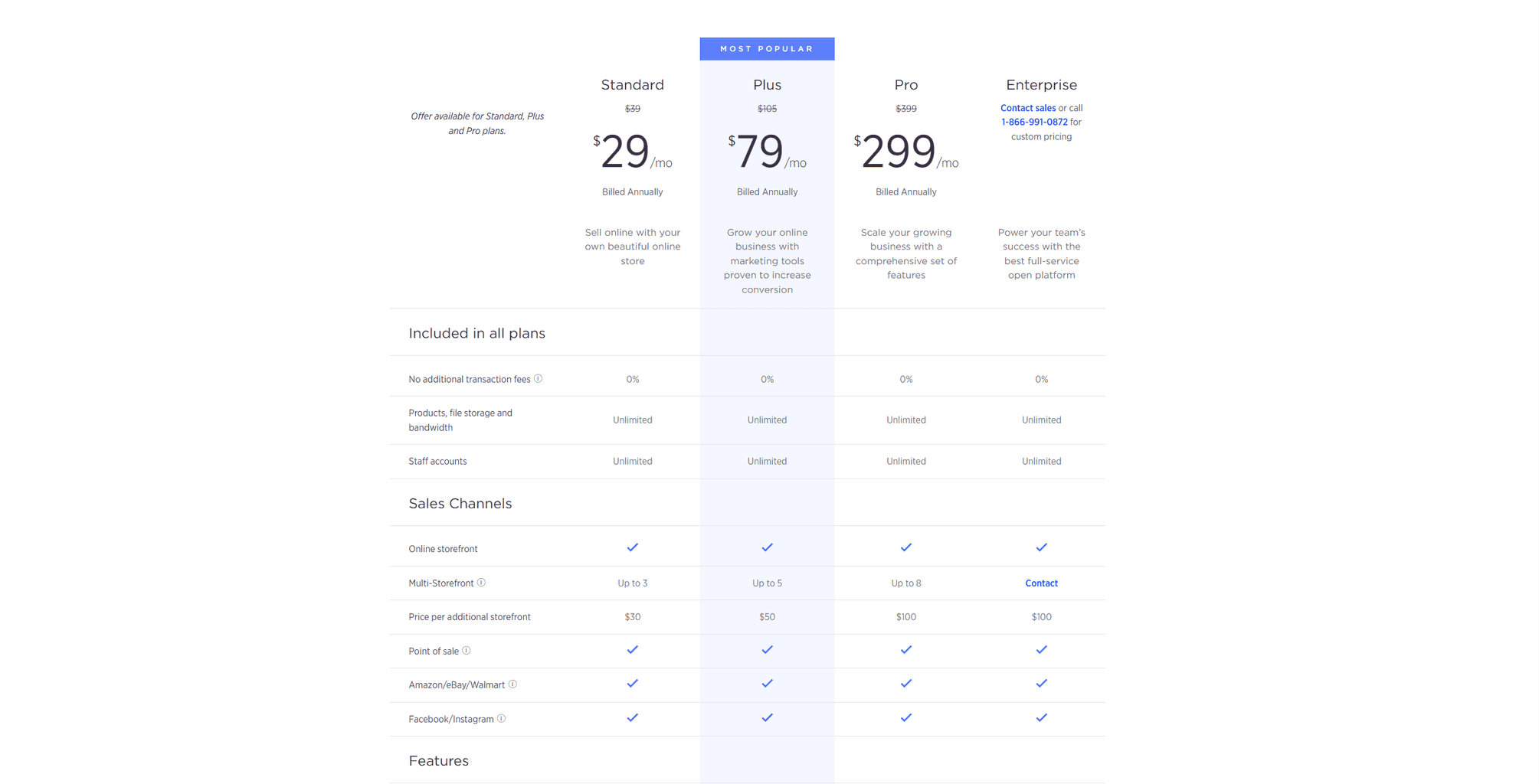 BigCommerce has several plans that you can pick from, all of which offer useful perks. The plans' cost increases based on the annual revenue your site takes in, but even the most expansive plans are pretty reasonably priced.
Standard
The standard plan costs $39 a month, or $348 anually if you sign up for a year-long contract. There are no additional transaction fees that you need to worry about and this plan is for stores that generate up to 50k in annual revenue.
This will get you up to 3 storefronts that you can add to your dashboard, as well as the option to add additional storefronts for $30 a piece. You also get up to 4 inventory locations, as well as the ShipperHQ shipping rules engine.
Plus
For $105 a month ($900 annually with a yearly contract), the Plus plan is for sites that pull in up to $180k annually, and comes with all the features included in the Standard plan, only instead of 3 you get up to 5 storefronts, and you can add additional ones for $50 apiece.
This plan also comes with the following additional features:
Abandoned cart saver

– this feature sends your customers an email reminding them that they still have items in their cart in case they forgot and they want to pick up where they left off;

Persistent cart

– all of the items in the cart are locked to each account, so customers will always have the selected products saved in their cart when they log on to the site;

Stored credit cards

– if your customers have already filled out their payment details, then all of the credit/debit card fields will automatically be filled out the second time they want to make a purchase;

Customer groups and segmentation

– you can separate your customers based on their shopping history to create different experiences for each returning site visitor.
Pro
The Pro plan is for stores that make up to 400k annually, and it'll cost you $399 a month without a contract, and $3,588 annually with a yearly contract.
For that price, you get up to 8 storefronts, and the option to add one for $100, as 8 inventory locations, and all of the perks we outlined in the previously mentioned plans.
This plan also comes with the following additional features:
Google customer reviews

– you can now add reviews that people have left on your products in the descriptions;

Product filtering

– you get several standard filter methods that you can sort your products by price, name, and so on.

Custom product filtering

– this sort of continues from the previous feature and allows you to create even more specific product filters that you can add to your site.
Enterprise
The last plan on the list doesn't actually have a price, and you'll need to get a quote from the company if you want to get an accurate estimation of how much it'll cost you. This is because large enterprises can bring in anywhere between 250k to a million or more.
Since the revenue margin is so wide, you'll need to specify the amount for yourself when you ask for a quote. We've explained the process in a bit more detail below.
As for the service itself, you get all of the tools and perks that were available in the previous payment plans, as well as a few additional ones:
Price lists – B2B (business to business) customers are given custom prices as dictated by you;

Unlimited API calls – third party system data is automatically and seamlessly integrated into BigCommerce platforms.

Priority support – you'll be the first in line if you have any issues with your site, the hosting service, or the API.
Additionally, you can tell BigCommerce exactly how many storefronts and inventory locations you want to use and you can negotiate a contract based on those specifications.
Getting a Quote
If you need a bit of help figuring out which plan would suit your needs the best, then you can always go to the BigCommerce pricing page and request a quote.
You'll need to enter your personal and company information, like your first and last name, your company email, and a phone number where you can be contacted. You'll also need to put in the projected annual revenue for your company, and you should receive a quote within several business days.
You'll be able to select from several projected annual revenue options, which range from 50k to 100 million.
Since you contact the company directly, you can tell them exactly what you want to have on your site. This includes the tools and payment options that you want, the level of support that you need, and so on.
Additionally, you'll also get information on how the company manages security and site updates, and how it can help you rescale your site once you reach a certain annual revenue.
Company Background
Eddie Machaalani and Mitchell Harper met in a chatroom in 2003 and started their first company a year later. That same company evolved into BigCommerce in 2009.
The company initially started out in Austin, Texas, but later on, expanded to San Francisco in 2014.
BigCommerce acquired Zing in 2015 in order to further develop the checkout and inventory management capabilities of the eCommerce site.
They partnered with Amazon in 2016 and finally went public after filing for IPO in 2020. 
User Reviews
PCMag gives BigCommerce a 4.0 score, and says that it's an excellent site, although they point out that the advanced plans are pretty expensive.
BigCommerce has a 4.6 rating on Forbes, but they point out that they have an issue with the limited number of free themes for the site.
Merchant Maverick puts the service at 5 stars, although the lack of customisation options for the site is pointed out here as well.
User Reviews
Review Summary
0.0 out of 5 stars (based on 0 reviews)
Recent Reviews
There are no reviews yet. Be the first one to write one.
Submit a Review