Both Square and Paypal are complete payment solution providers, offering in-store card readers and online checkouts.
Paypal is well known by both businesses and consumers as a secure payment processor. Square (also known as Square Up) is a slightly newer platform developed to help businesses accept payments and manage their finances effectively.
Product
Price
Price
£19 + VAT
£29 + VAT
Transaction fee
Transaction fee
1.75%
1.75%
Monthly Fee
Payout to Bank Account
Payout to Bank Account
Next Business Day
Within 2 Business Days
Chargeback Fees
Chargeback Fees
None
None Up To £250
They're both excellent solutions with all of the features merchants need.  And that means it's tricky to choose between them.
But we're here to help. This article takes a look at the pros and cons of both providers to help you make the best choice.
| | Square | PayPal |
| --- | --- | --- |
| Reader Price | From £19 + VAT | From £29 |
| Transaction fees | 1.75% | 1.75% |
| Monthly Fee | None | None |
| Supported Cards | Visa, MasterCard, American Express, Maestro, Visa Electron, Vpay, Apple Pay, Google Pay, Samsung Pay | Visa, MasterCard, American Express, etc. |
| Contactless | Yes | Yes |
| Settlement Delay | None (with a fee) | Up to 3 days |
| Receipts | Yes | Yes |
| Operating Systems | iOS and Android | Windows, Android, MacOS and iOS |
Terminals and Payment Features
Both PayPal and Square offer multiple ways for businesses to take payment, both online and in-person.
The PayPal Commerce Platform makes it easy for merchants to accept payment any way they like. PayPal is a leading online payment provider, with checkout, subscriptions and buy now, pay later functionality.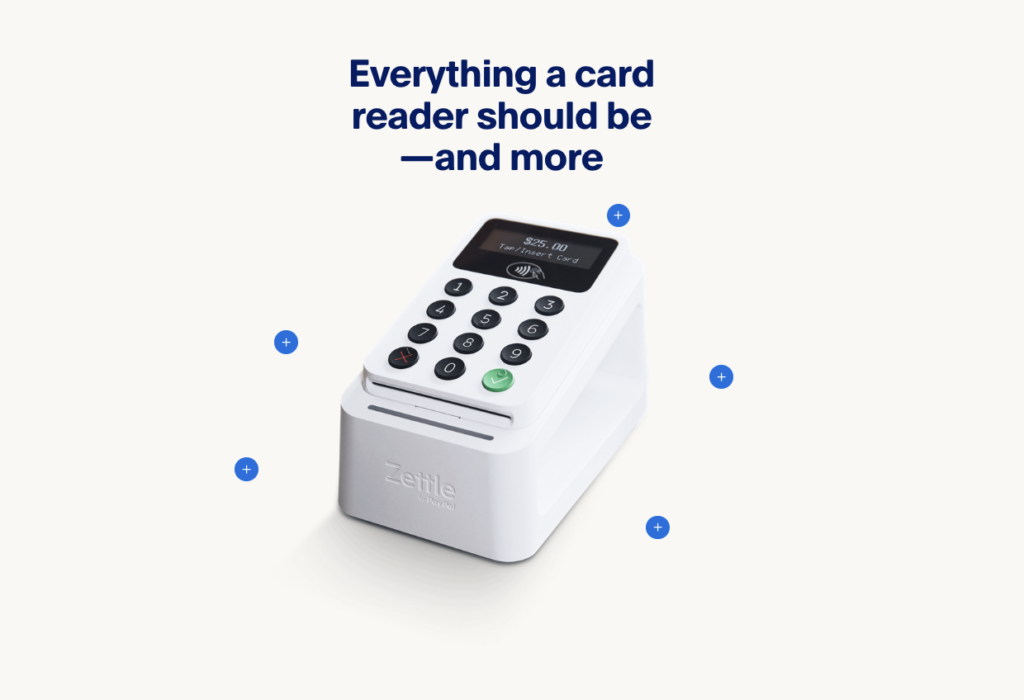 It also facilitates in-person transactions through Zettle, the card reader company it owns. Zettle offers a range of in-store POS systems and card reader terminals that can supplement PayPal's online offering.
PayPal benefits massively from its reputation. If customers see the PayPal option at checkout, it immediately provides a sense of trust and security. Paypal allows users to store their card information to make checking out easier.
PayPal's payment offering includes include:
Free POS app
A card reader powered by Zettle
Accept payments in person, via mobile, or online
Easy and quick to set up
Credit card reader available
Wide range of accepted payment methods
Third-party integration
Square allows businesses to accept payments in person, with a range of hardware on offer, including card readers and registers. Businesses can also accept mobile and online payments.
Square also offers a range of online payment tools, including a store builder and an online checkout. There's the option to integrate your calendar with your Square account and allow customers to schedule appointments through the app (depending on your business type). You can even send customers reminders of their appointments through the app!
With Square, you can keep customer cards saved and even send a notification to ask them for pre-payment before an appointment.
Square's payment lineup includes:
Square Reader
Square Terminal
Square Stand
Square Register
All of these devices allow contactless and chip & pin transactions. The Square Register is an all-in-one POS system.
The App
Both PayPal and Square offer free POS apps to allow businesses to manage their finances.
The Paypal app is fairly easy to navigate: you simply download it onto your chosen device and enter your details. You'll need to choose whether you want a personal or business account, and confirm your details for security reasons.
PayPal's app is simple and easy to use. However, it doesn't offer as many features as the Square app.
Like PayPal, the Square app is simple to download and set up. Square's app has more features which allow you to grow your business and add on software. Keep in mind that this does make it more complex to set up and navigate depending on which features you use.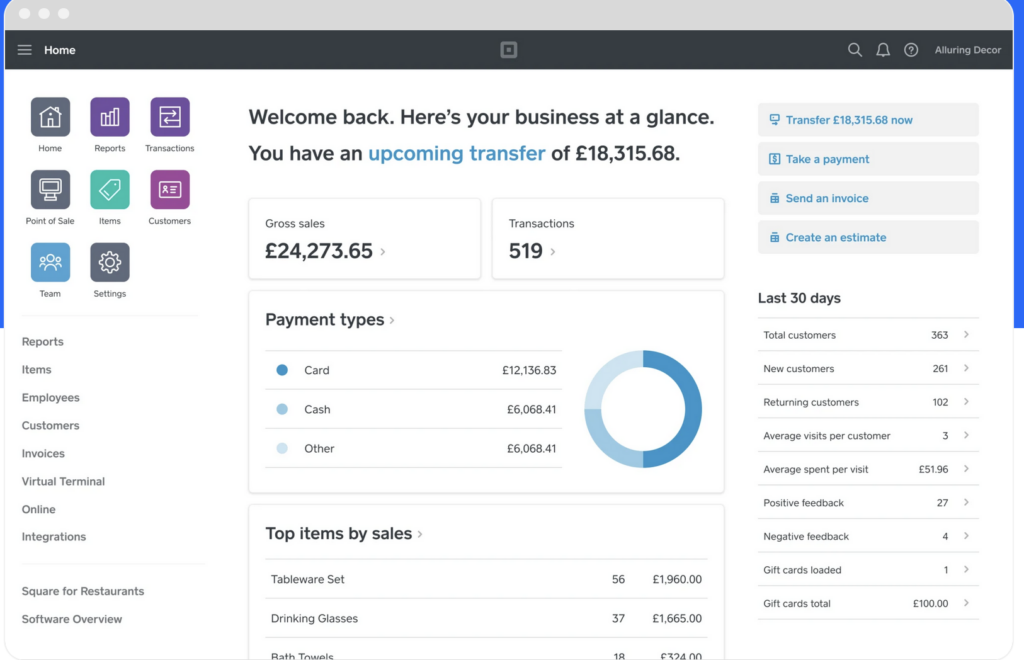 Prices and Fees
Both Square and Paypal have standard fees for processing card transactions.
Paypal charges a 1.75% fee on Chip & PIN and contactless payments through the Zettle card reader. There is a 1.29% is a charge for online transactions for UK and EEA-based transactions. For non-UK and EEA transactions, PayPal charges a 1.99% fee.
Zettle card readers start from £29.
PayPal also offers two plans for merchants: Standard and Payments Pro. The standard plan is free, easy to use, and offers a range of features. It's the one most merchants use already. The Payments Pro plan is £20 per month and offers a range of advanced features, including a virtual terminal, free phone support, and the ability to accept more currencies. Customers don't have to leave your website to complete payment, either.
Square offers some of the cheapest and most transparent pricing options on the market.
The Reader costs £16 + VAT
The Terminal costs £149 + VAT
The Stand costs £89 + VAT
The Register costs £599 + VAT
Best of all, you can get interest-free instalment plans on all devices except the Reader.
As already stated, Square's POS app is free to use. Card present transactions incur a 1.75% fee per transaction, while card-not-present transactions cost 1.4% + 25p for transactions with UK cards and 2.5% + 25p for transactions with non-UK cards.
If you wish to use Square to sell online, there are four plans to choose from:
Free: A plan with no monthly fee, basic features, and a charge of 1.9% for UK and EEA cards or 2.9% for non UK or EEA cards.
Professional: £9 per month, with a custom domain, no ads, and the ability to password protect your pages. The charge for card processing remains the same.
Performance: £19 per month, with a range of advanced features, including advanced reporting, product reviews, and gifting options. The charge for card processing remains the same.
Premium: £54 per month, with a range of enhanced professional features and lower processing fees of 1.75% per month for UK and EEA cards.
Accepted Cards
Both PayPal and Square accept a range of payment methods, including most major credit and debit cards, as well as popular digital payment methods.
PayPal accepts all Visa, MasterCard, Maestro, or American Express cards. They also accept a wide range of other payment methods and currencies, including cryptocurrency.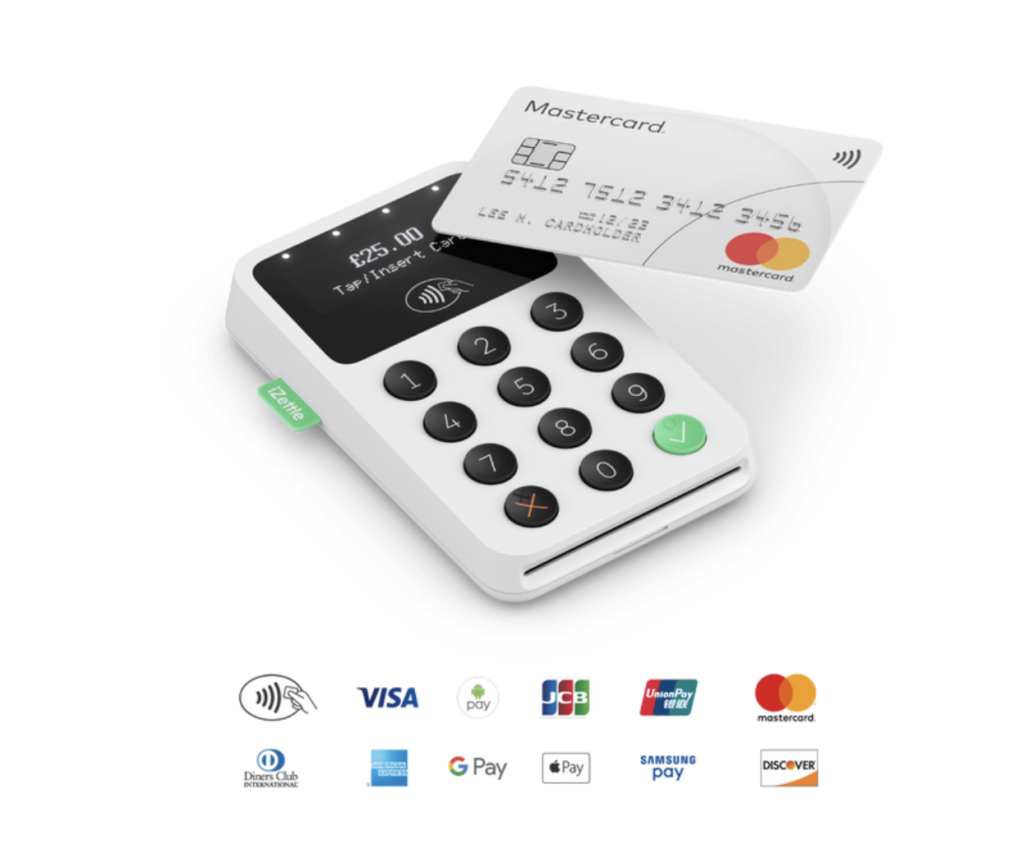 Square accepts Visa, MasterCard, American Express, Maestro, Visa Electron or Vpay. They also accept other payment methods such as Cash App, Apple Pay, and other types of contactless payment.
Payout Times
With PayPal, payments should be processed almost instantly. Withdrawing money from your PayPal account to your bank account can take up to five days, depending on your bank.
Square tends to process payments within 24 hours, Monday to Friday.
Receipts and Invoices
Both PayPal and Square allow business owners to send receipts to customers. Both platforms also enable you to send invoices.
PayPal automatically generates a receipt and sends it to the customer in the app once they've made a payment, which saves business owners time and energy.
Through the app, you can easily generate invoices and email them with the click of a button. There are even invoice templates to guide you. The service is free and guides customers back to the PayPal app, where they can pay the invoice.
Square allows business owners to print receipts with some of their hardware (the Terminal and Register)  if transactions are done in person. Receipts can also be easily sent online after each transaction.
The Square platform allows you to customise and send free invoices and estimates to customers online. Their software helps to create invoices with a professional look.
Security
Both PayPal and Square have a range of security features to protect both businesses and customers.
PayPal offers comprehensive data security and fraud protection and the company is PCI compliant. This helps protect users' card information and ensures safe transactions.
They state that they: "monitor every transaction 24/7 to help prevent against fraud, email phishing and identity theft". Transactions are encrypted, and they have a proactive team of security specialists. They also offer both buyer and seller protection to ensure purchases run smoothly.
The Square platform has a heavy emphasis on security and is PCI compliant. When card details are entered, the payment data is encrypted to ensure it's secure. Any hardware used with their platform features end-to-end encryption for safety.
Reporting
Both platforms offer in-depth reporting to help businesses track their process and focus on growth.
PayPal updates its reports daily so you can keep track of your transactions and data. You can request monthly and custom reports which cover:
Activity reports
Monthly and annual financial summaries
Monthly sales reports
Disputes and chargebacks
Detailed transaction reports
User audits
Order fulfilment (details on pending and completed orders)
Money management reports
Like PayPal, Square offers a wide range of reports which you can access from the dashboard in the app. Reports include:
Sales summaries
Sales trend reports
A range of transaction and sale reports
Balance reports
Activity logs
Dispute reports
Balance reports
Team member sales reports (showing sales per each employee)
Customer Support
Both platforms offer good customer support, however, Square is generally more consistent with support.
PayPal has a helpline, an online chat, a community forum, and a resolution centre to help you find answers to your problems.
Square's customer support team can be contacted through live chat, phone, or email Monday to Friday. They have a support centre, a seller community, and support resources built into their app. They also have a Customer Success team who specialises in Square's products and services to help you get the most out of the platform.
And the Winner Is…
Both platforms have their purpose and offer a range of useful features. In general, Paypal is better suited for e-commerce and payments received online, as well as for customers shopping online. Square is better suited for use by small to medium businesses offering in-person transactions or mobile transactions.