| Crypto Gateway Name | Minimum Processing Fee | Number of Supported Cryptocurrencies |
| --- | --- | --- |
| NOWPayments* | 0.5% | 200+ including Bitcoin, Ethereum, XRP, Tether, Litecoin, Doge, SHIB, Monero & many more |
| Coinbase Commerce* | 1% | Bitcoin, ApeCoin, Bitcoin Cash, DAI, Dogecoin, Ethereum, Litecoin, SHIBA INU, Tether & USD Coin |
| Coingate* | 1% fee for all buttons, plugins, web PoS, APIs and billing. | 70+ cryptocurrencies including: Bitcoin, Litecoin, Ethereum, XRP, Dogecoin, Tether, BNB, Cardano, Solana & more |
| Spectrocoin* | Exchnage Rate Fee | 32 including Bitcoin, ETH, USDT, USDC, LINK, MATIC & More |
| Cryptopay | 1% | 16 including BTC, ETH, XRP, XLM, ADA, SHIB & More |
| Bitpay | 1% + 25¢ | 15 including Bitcoin, Ethereum, DOGE, USD Coin, XRP & More |
| Crypto.com Pay | Settlement Fee | 32 including BTC, ETH, CRO, USDC, DAI, USDT |
1. NOWPayments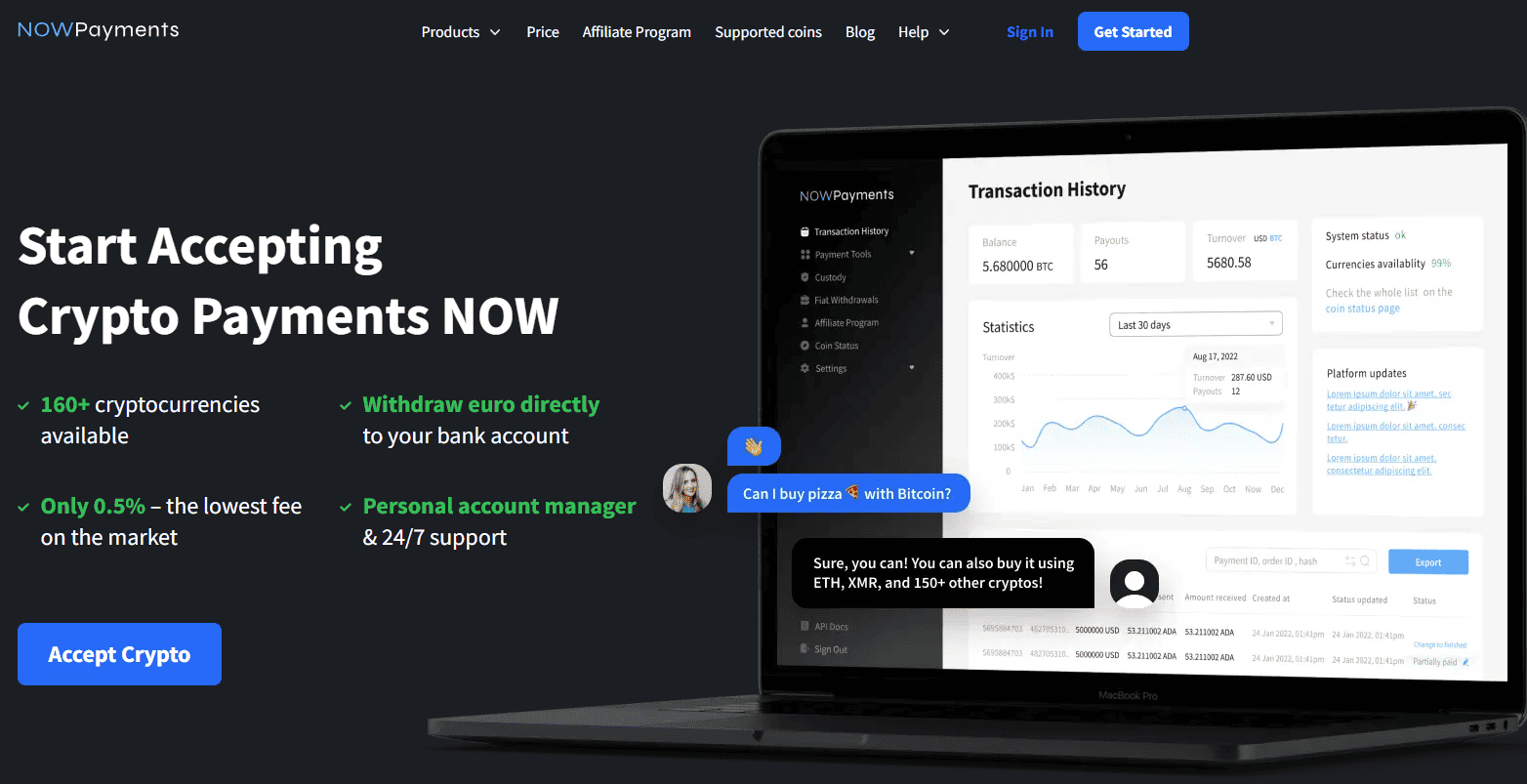 NowPayments Crypto Payment Processing Fees:
For a monthly asset flow of 0-49 BTC, the transaction fee is 0.5%
If the flow reaches 50 BTC, the fee lowers to 0.45%
At 100 BTC, the fee decreases to 0.4%
A special offer is available for flows exceeding 200 BTC, for which users are advised to contact NOWPayments directly
When accepting payments in the same cryptocurrency as the customer's, the transaction fee starts from 0.4%
An additional 0.5% exchange fee applies if different currencies are involved, leading to a total fee of 1%. This fee enables instant exchange between cryptocurrencies
For registered NOWPayments users, conversions within the Custody feature incur a 0.5% service fee
Mass payouts do not come with a service fee. However, the network fee set by the blockchain applies
A fixed-rate exchange option is available for protection against crypto volatility, and it standardizes the transaction fee to 1%, regardless of transaction volume
Crypto-to-fiat and fiat-to-crypto conversions are also available, with pricing details to be checked directly from the NOWPayments website
Click here to learn more on their website
2. Coinbase Commerce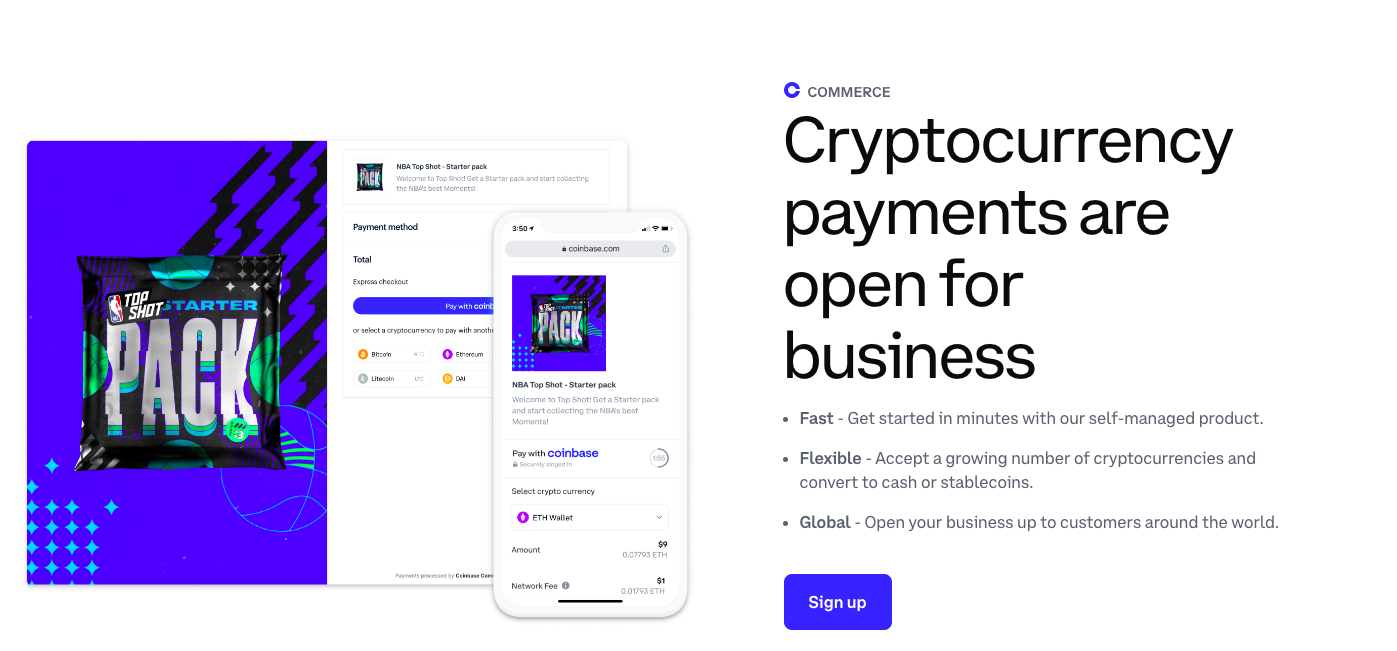 Coinbase Commerce's fees and features:
Payment solution from the world's leading crypto exchange
Offers two options to accept crypto payments: self-managed and Coinbase-managed.
Both have 1% transaction fees
Self-Managed allows you to manage your own wallet and private keys
Self-Managed currency conversion is manual
Self-Managed accounts can be set-up instantly
Coinbase-Managed currency conversion is automatic with free settlement into crypto or fiat
Coinbase-Managed accounts require more rigorous account reviews
No chargebacks on either account
Integrates with popular eCommerce platforms such as Shopify, WooCommerce and many more
Click here to learn more about Coinbase Commerce
3. Coingate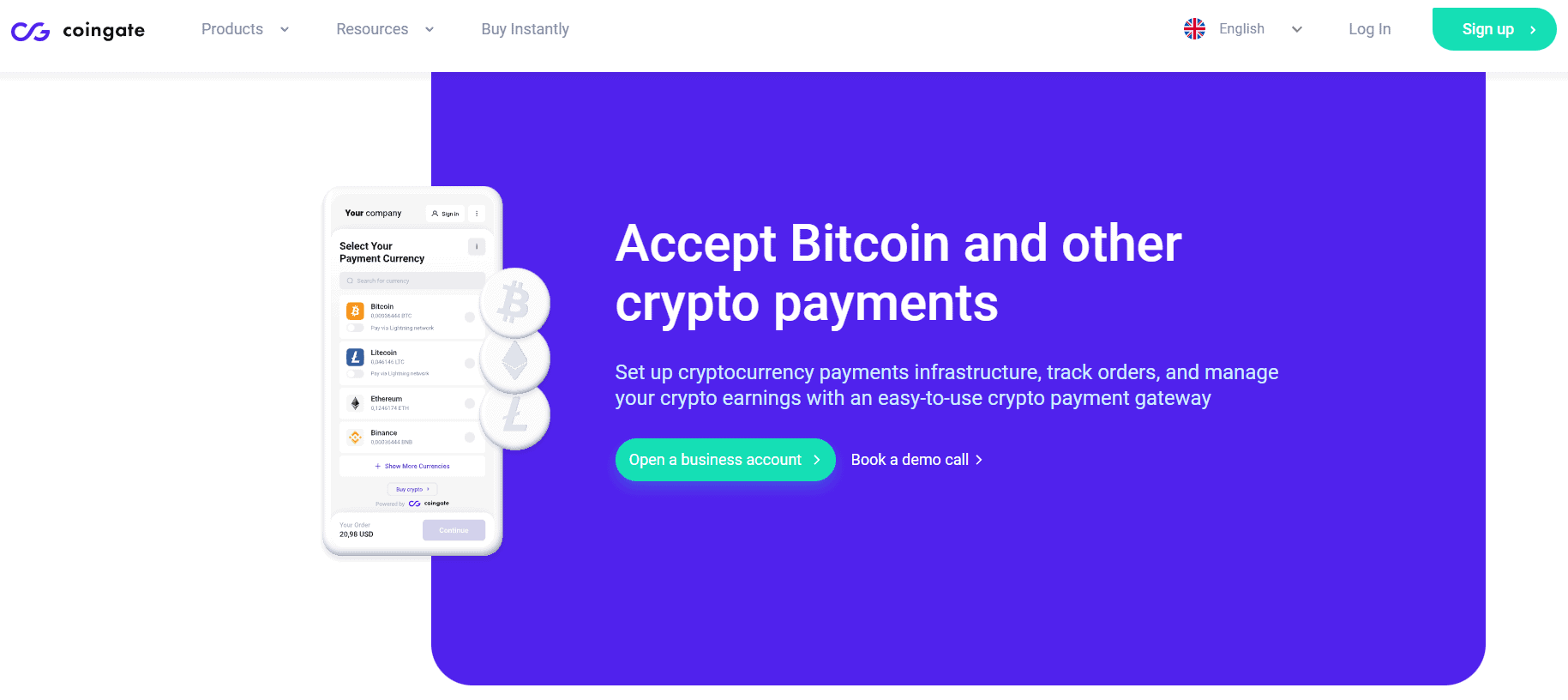 Coingate Payment Processing Fees:
CoinGate charges a 1% processing fee for all transactions through SEPA bank transfer.
If you'd like to buy crypto with your credit/debit card, the fee is 8%.
Plugins, APIs, Web Pos, and billing are also subject to a 1% fee, which is relatively low compared to other (non-crypto) payment processors in the market.
The fees might change depending on your business' risk tier.
For Billing services, Coingate offers 3 different plans: subscription, one-time, and custom.
For subscribers, the service fee starts from 8 EUR/month, while the exact number is determined based on the specific needs of your business.
One-time billing starts from 10 EUR
And custom billing starts from 8 EUR/month.
Click here to learn more on their website
4. Spectrocoin

Spectrocoin's pricing and features:
They do list pricing on their website, but instead offer bespoke pricing to each business
Ability to create Instant Pre-Order Forms
Create mass Multiple Receiver Pre-Orders
Offer Point of Sale (POS) URLs
Offers plugins for popular eCommerce platforms, such as WHMCS, PrestaShop, OpenCart, Magento, Drupal, WordPress, ZenCart, and VirtueMart
Payment Buttons with 25 different cryptocurrencies available, including popular ones like BTC, ETH, and USDT.
Ability accept crypto both online and in-store
Dedicated IBAN feature
Also has their own SpectroCoin API
Visit the Spectrocoin website to learn more
5. Bitpay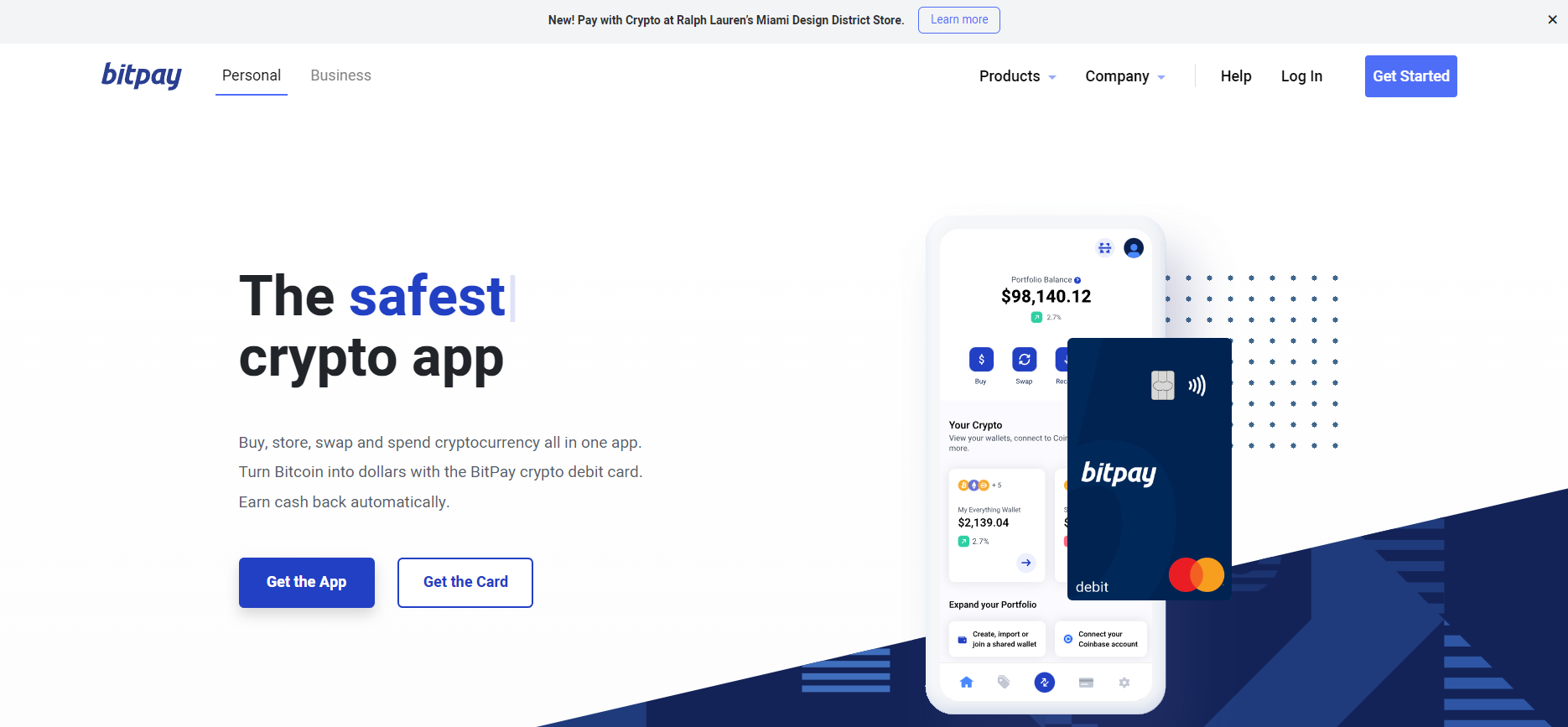 Bitpay features and pricing:
For a monthly transaction amount below $500,000 USD: 2% + 25¢
 
For a monthly transaction amount between $500,000 and $999,999 USD: 1.5% + 25¢
For a monthly transaction amount of $1,000,000 USD or more: 1% + 25¢
Note that higher fees may be applicable for high-risk industries
BitPay's partner platforms, such as Shopify, Ubercart, Wix, and more, make it easy to integrate cryptocurrency payments.
BitPay code libraries allow developers to focus on the payment flow and e-commerce integration
Offer a Direct API Implementation
Also offer Website Payment Buttons
BitPay offers retail payment tools that merchants can use in conjunction with their conventional point of sale systems
Also offer an email billing service
6. Cryptopay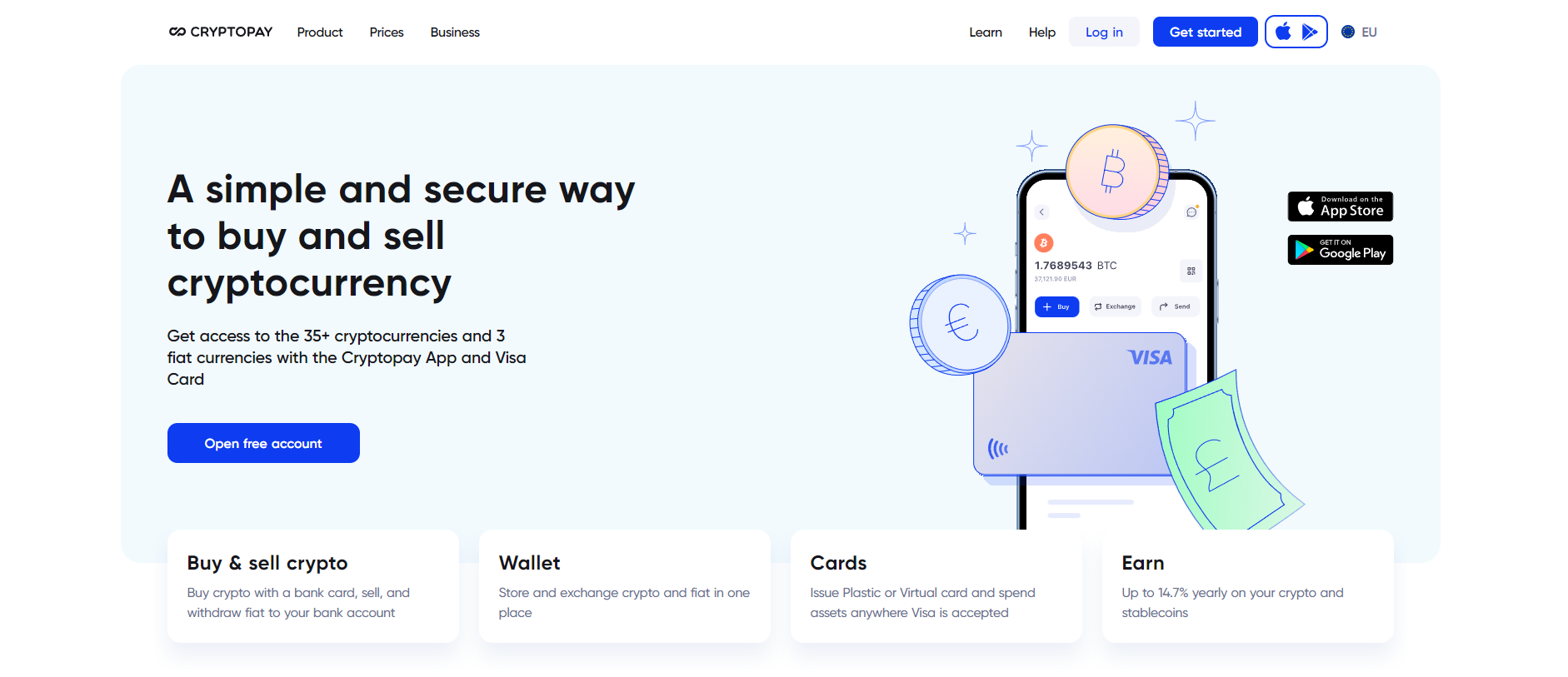 Cryptopay features and pricing:
Opening an account is completely free of charge. There are no hidden fees; only a 1% processing fee.
Accept crypto and store on multiple fiat wallets
Offer a fully integrated suite of payment products
Intuitive platform and comprehensive reporting
Enjoy multi-user feature and multiple projects under one account
API and premade solutions that can be tailored to your needs. Customise quickly and easily
E-commerce payment plugins for WooCommerce, Adobe Commerce (Magento), OpenCart and PrestoShop
Several Payment and software providers
Offer tools that monitor illicit cryptocurrency addresses and tag addresses that interact with them
7. Crypto.com Pay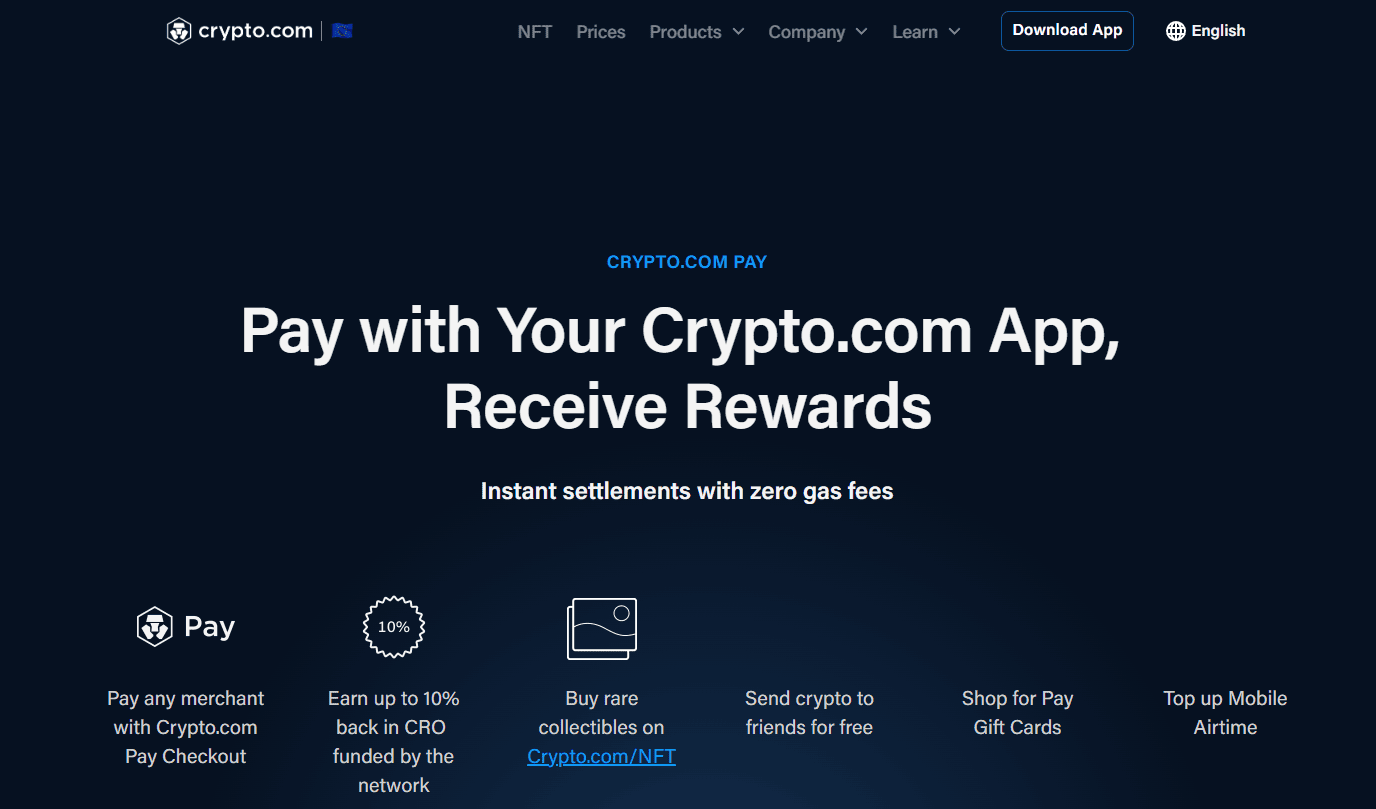 Crypto.com Pay features and pricing:
Accept Payments From Over 50 Million Users
Easily send invoices and manage payments using their dashboard
No transaction or setup fees
Claim to help save up to 80% on fees when settling in your preferred fiat currency
E-commerce integrations with Shopify, WooCommerce, OpenCart, ecwind and many more
Made it easy to start accepting cryptocurrencies with just a few lines of code
Customer bonusses such as getting cashback up to 10% in CRO
Merchants get listed in the Crypto.com Pay App
* Please note we have an affiliate relationship with these companies. This means they may pay us a referral fee if you sign-up via our link. This helps support this website at no additional cost to you.