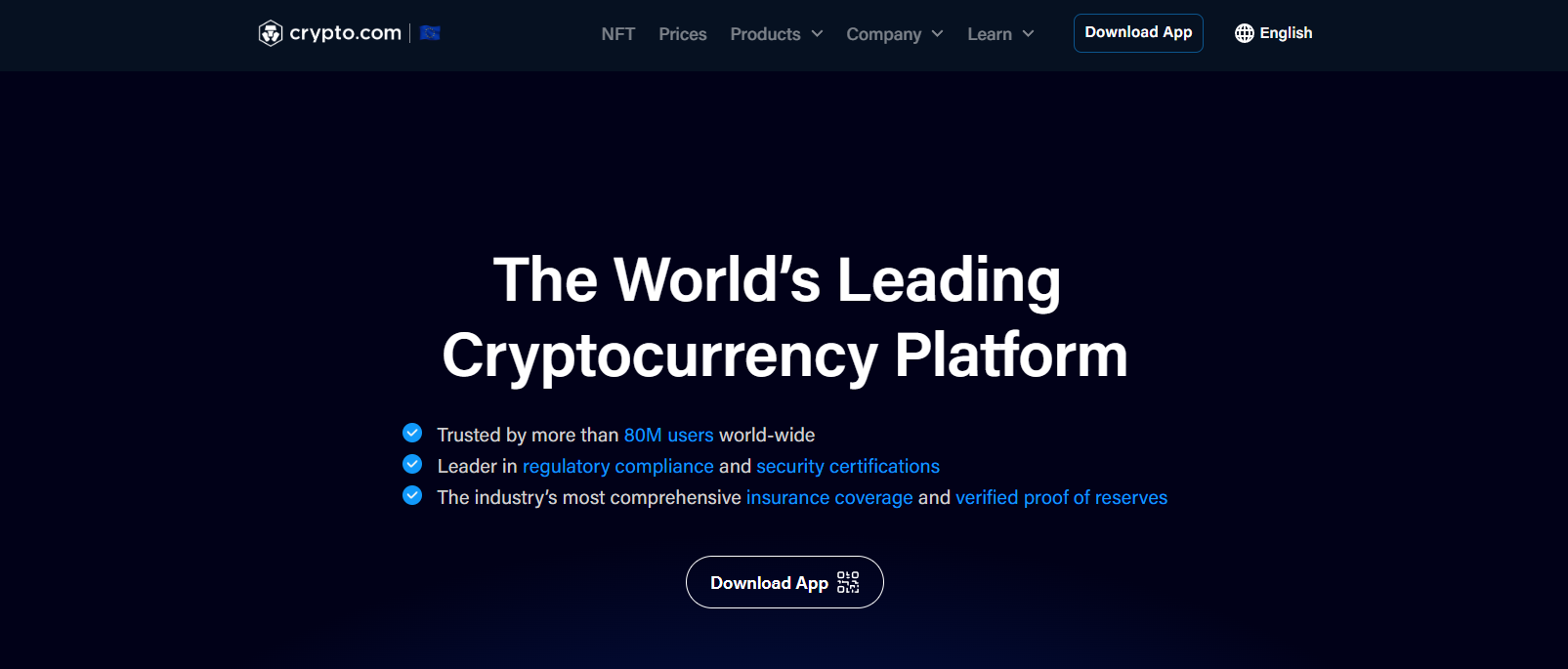 Crypto.com is a worldwide cryptocurrency exchange platform for investing, trading, NFTs, staking, wallets, and much more. The company's services and products are available in more than 250 countries. Their wallet allows for trading in more than 250 currencies using different operations.
Prices/Fees
Due to the nature of the Crypto.com business, prices on their webpage are ever-changing, so to find out more about the up-to-date prices, we recommend visiting their website.
However, at the moment of writing the article, here is the price list for the 10 most popular crypto values.
| Name | Price |
| --- | --- |
| Bitcoin | £23,780.34 |
| Ethereum | £1,678.07 |
| Tether | £0.8083 |
| BNB | £275.88 |
| USD Coin | £0.8077 |
| XRP | £0.4128 |
| Cardano | £0.3516 |
| Dogec Coin | £0.07417 |
| Polygon | £0.9375 |
| Solana | £19.87 |
Crypto.com also offers a selection of metal Visa cards that come with certain fees. Here's an overview of the fees and limits for each card type.
| | Obsidian | Frosted Rose Gold & Icy White | Royal Indigo & Jade Green | Ruby Steel | Midnight Blue |
| --- | --- | --- | --- | --- | --- |
| Free ATM Withdrawal per Month (beyond this limit, there's a 2% fee) | £858.71 | £687.24 | £687.24 | £343.62 | £171.81 |
| ATM Withdrawal Monthly Limit | £8,587.09 | £8,587.09 | £8,587.09 | £8,587.09 | £8,587.09 |
| Aggregated Top-up Monthly Limit | £21,467.72 | £21,467.72 | £21,467.72 | £21,467.72 | £21,467.72 |
Product/Service Overview
Crypto.com offers a number of products designed to make crypto trading as convenient as possible for its users.
Application
Available on both App Store and Google Play, Crypto.com mobile application is currently used by more than 80 million people worldwide. The application gives users access to all of the features and cryptocurrencies available at Crypto.com. It makes crypto trading more convenient as users can access and manage their access from their pocket.
Metal Visa Cards
The Crypto.com Visa Card is a prepaid card that has the same features as the debit card. The only difference is that this card needs to be topped up. Users can do it through their bank account transfers, crypto, or via other bank cards or credit cards.
To apply for this card, interested parties need to sign up for it and pass the KYC verification. Then, they need to purchase CRO tokens and deposit them into their crypto wallets. 
Finally, users ought to access their Crypto.com App and select the Visa Card they want. Then, they can click on the "Lockup CRO" button and follow the instructions on the screen. Crypto.com will then notify them when their card is dispatched. Selecting the "Lockup" option implies that CRO holdings will be retained in the Crypto.com app wallet for a 6-month period, which can bring users certain benefits.
There are several tiers to Crypto.com Visa Cards, each coming with a different type of benefit. Here are the benefits of using each card type.
| | Obsidian | Frosted Rose Gold & Icy White | Royal Indigo & Jade Green | Ruby Steel | Midnight Blue |
| --- | --- | --- | --- | --- | --- |
| CRO Lockup | £299,479.45 | £29,947.94 | £2,994.79 | £299.48 | £0.00 |
| CRO Rewards | 5% | 3% | 2% | 1% | - |
| Monthly CRO Rewards Cap | - | - | £36 equivalent | £18 equivalent | - |
As for other benefits, the Obsidian Visa and Frosted Rose Gold/Icy White cards come with the most additional benefits. These include membership reduction fees for Spotify, Netflix, Amazon Prime, Expedia, and Airbnb, Airport lounge access, Crypto.com Private, earning bonus rewards, exclusive merchandise welcome pack, and private jet membership (Obsidian only).
Royal Indigo/Jade Green come with Spotify and Netflix monthly subscription reduction for the first 6 months and airport lounge access. Ruby Steel comes with 6 months of Spotify membership reduction.
Crypto Earn
Crypto Earn is a feature that allows Crypto.com users to earn interest on their cryptocurrency holdings, as they wait for the price of the currency to increase.
There are two types of membership plans for earning interest: standard rate and private membership. The difference is that the private membership comes with enjoying an extra 2% p.a. rewards distributed in CRO. 
To calculate how much money they can earn in reward, users should simply input their token of interest, term, and the size of CRO lockup, and the algorithm with calculate the amount of the reward they can expect.
Crypto.com NFT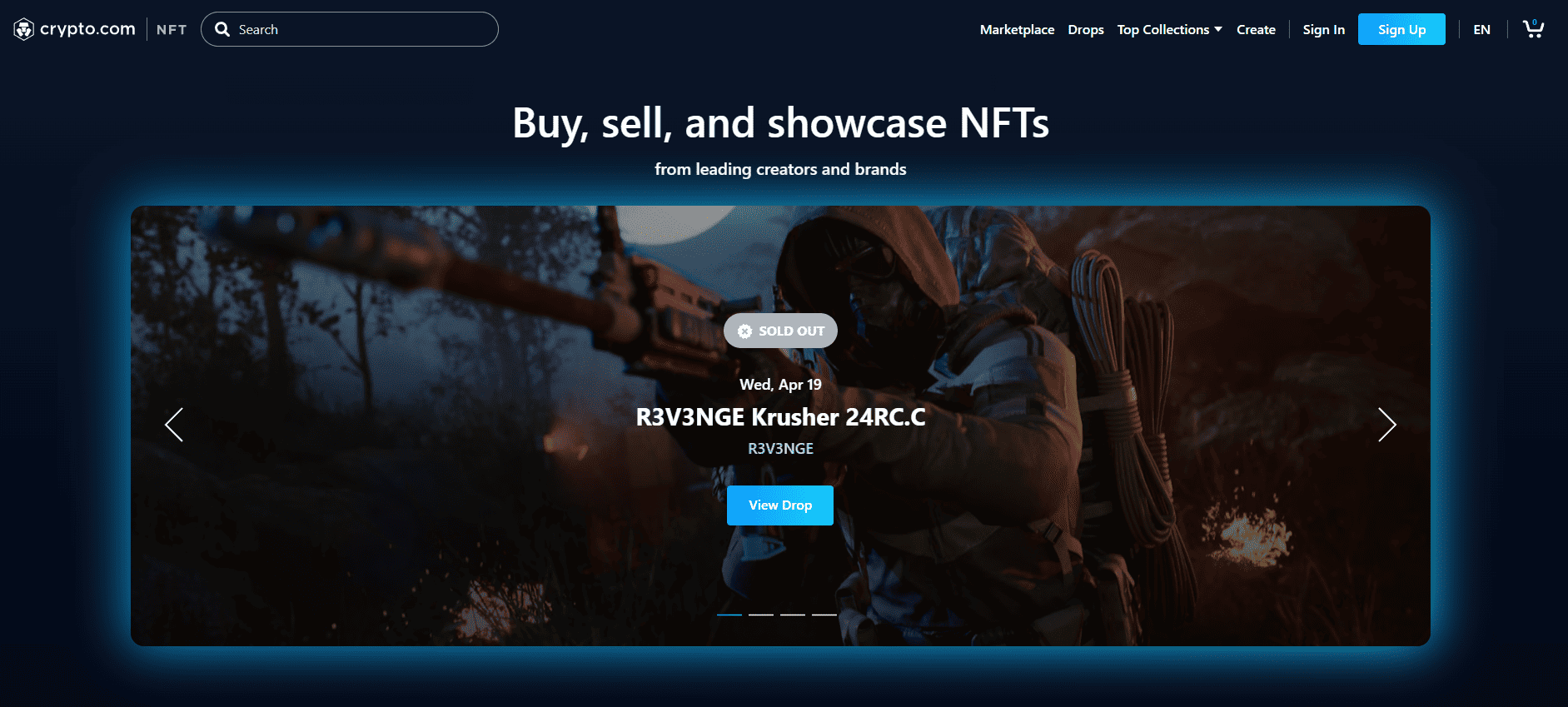 Besides the traditional crypto values, Crypto.com also offers its users to buy and sell digital assets known as No-Fungible Tokens, or NFTs. NFTs are indivisible items such as art, music, or other forms of collectables stored on a blockchain.
The Crypto.com NFT platform offers a range of NFT collections, including licensed collections featuring popular brands and intellectual properties, as well as original collections created by independent artists and creators. Users can browse for NFTs on the platform, view their ownership history, place bids on NFT auctions, or showcase their NFTs.
The NFT market on Crypto.com is quite huge, and users can search for collectables based on publishing date, creator, best-sellers, and brands.
Crypto.com Pay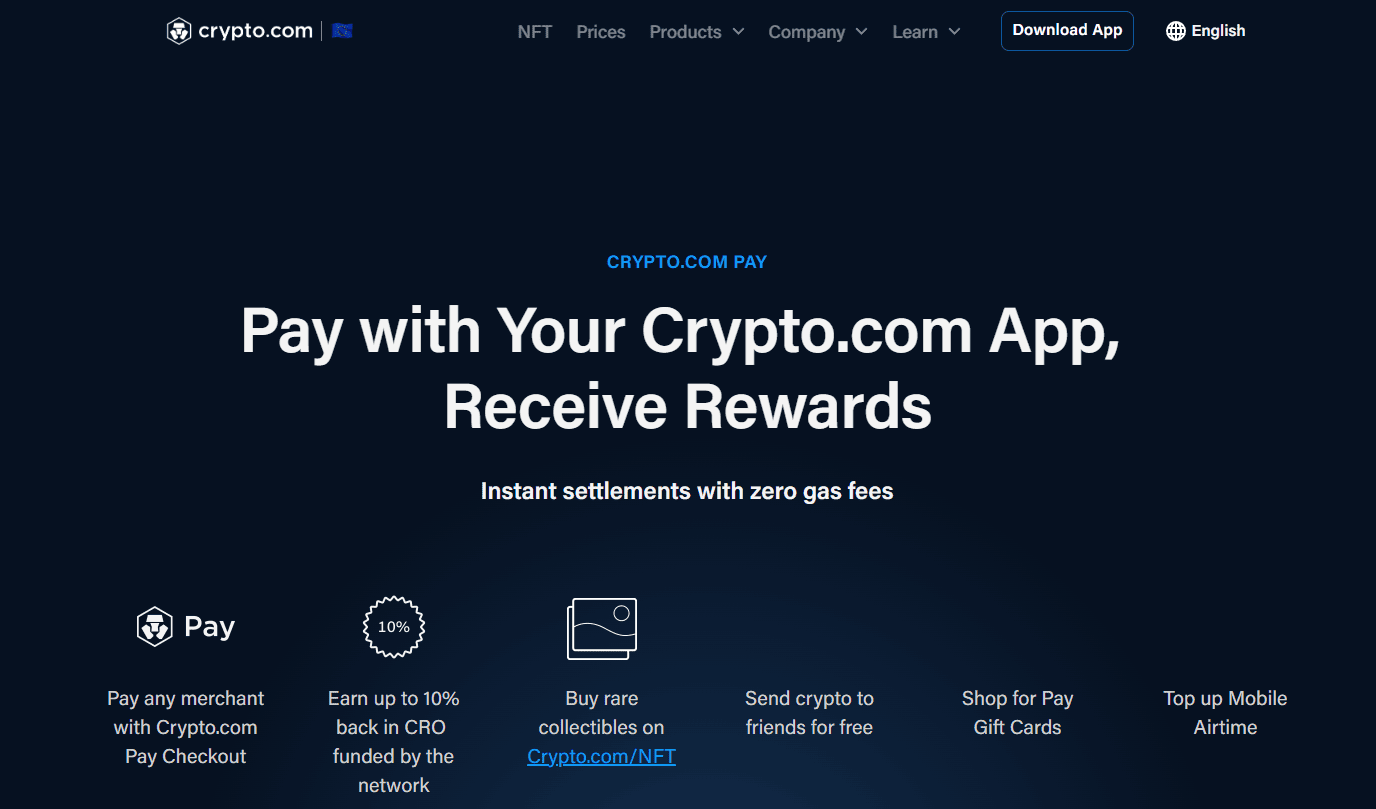 The Pay feature allows Crypto.com users to make payments from their Crypto.com App to any merchant who accepts cryptocurrency. Crypto.com platform supports both online and offline transactions, making it possible for users to pay for their goods and services through physical stores, websites, and mobile applications alike.
In addition to providing a convenient payment solution for users, Crypto.com Pay also offers benefits for merchants. These include faster settlement times, lower transaction fees compared to traditional payment methods, and the ability to accept payments from customers around the world without the need for a traditional bank account.
Crypto.com Pay feature comes with a number of benefits, such as sending crypto to friends for free, earning up to 10% back in CRO, shopping for Pay Giftcards, and topping up Mobile Airtime. Pay Gift Cards are available from more than 300 brands, in more than 30 countries, and in more than 300,000 shops, such as Airbnb, Adidas, Apple iTunes, Starbucks, and Barnes and Noble, just to name a few.
There is a long list of merchants whose products are available for sale in crypto, some of them being Time magazine, Ledger, and Unstoppable Domains.
Crypto.com Credit
Crypto.com Credit is a credit line offered by the Crypto.com platform that allows users to access and secure credit by using cryptocurrency as collateral.
To apply for Crypto.com Credit, users need to have a verified Crypto.com account and hold sufficient cryptocurrency as collateral. The amount of credit available is determined by the value of the collateral, with a loan-to-value ratio of up to 50%. This means that for every £1 worth of collateral, users can access up to £0.50 of credit.
Crypto.com Credit offers a range of benefits, including flexible repayment terms, low-interest rates, and no credit checks. Users can choose to repay the credit line in cryptocurrency or in fiat currency, with repayment terms ranging from 12 to 60 months. It also offers a wide selection of tools and features for credit management, real-time monitoring of credit limits and balances, customisable repayment schedules, and automatic payment support.
Crypto.com Exchange
The Exchange feature allows users to buy, sell, and trade a wide variety of cryptocurrencies. It provides them with tools for cryptocurrency management, including real-time market data, advanced trading charts, and customisable order types.
To use the exchange, users need a verified Crypto.com account to deposit funds. Exchange supports buying and selling a range of cryptos like Bitcoin, Ethereum, and Litecoing, but the exchange also supports a range of trading pairs, allowing users to trade one cryptocurrency for another.
It is possible to trade more than 500 pairs with up to 5 times leverage. Users can also earn rewards on their balance with no lock-up period. Sometimes, newly-listed tokens can be available to Crypto.com users for only half of the price. 
The platform offers a range of trading options, including market orders, limit orders, and stop-loss orders, as well as some advanced trading features such as margin trading and futures trading. Users can also access real-time market data and trading charts to help them make informed trading decisions.
DeFi Wallet
DeFi stands for "decentralised finance," which refers to financial systems and applications that operate on a decentralised, blockchain-based network, meaning that DeFi wallet is the cryptocurrency wallet that allows users to safely manage and trade their DeFi assets.
One of the key features of this Wallet is that it supports decentralised exchanges (DEXs). These allow users to trade cryptocurrencies directly with other users without the need for a centralised exchange. Users can swap more than 1000 tokens across multiple chains as well as migrate assets between different chains and Cronos. The wallet also supports staking and yield farming, allowing users to earn rewards for holding and supporting various DeFi protocols.
The wallet can also be used for depositing and accessing NFTs, sharing them on social networks, and learning about their traits.
One of the main concerns of the majority of people when it comes to keeping their valuable assets online is safety. The DeFi Wallet tackles this problem by offering a range of security features, including two-factor authentication (2FA), biometric authentication, and the option to create multiple wallets within a single account. The wallet is also non-custodial, which means that users have full control over their private keys and assets, and the wallet doesn't store or manage user funds.
Wallet Extension
In addition to the DeFi wallet accessible from the mobile app, there is also a desktop extension to the wallet, which allows for seamless connecting of the DeFi wallet mobile App to the desktop browser.
The extension helps sync the activities between the app and the browser. This way, traders can receive and send crypto, review their balance, and easily confirm transactions, all from one device.
Business Operations
Along with useful crypto products and services that enable users to trade and securely store their digital assets, Crypto.com has expanded its offerings to include a suite of valuable business operations aimed at enhancing the user experience and maximising opportunities within the crypto market.
Crypto.com Private
Crypto.com Private Membership refers to exclusive access to various benefits and rewards, such as higher interest rates on holdings, lower fees, and priority customer support.
Users who wish to become private members need to have a certain amount of Crypto.com coins (CRO) and stake them for a specified period of time. The required amount of CRO depends on the desired level of membership.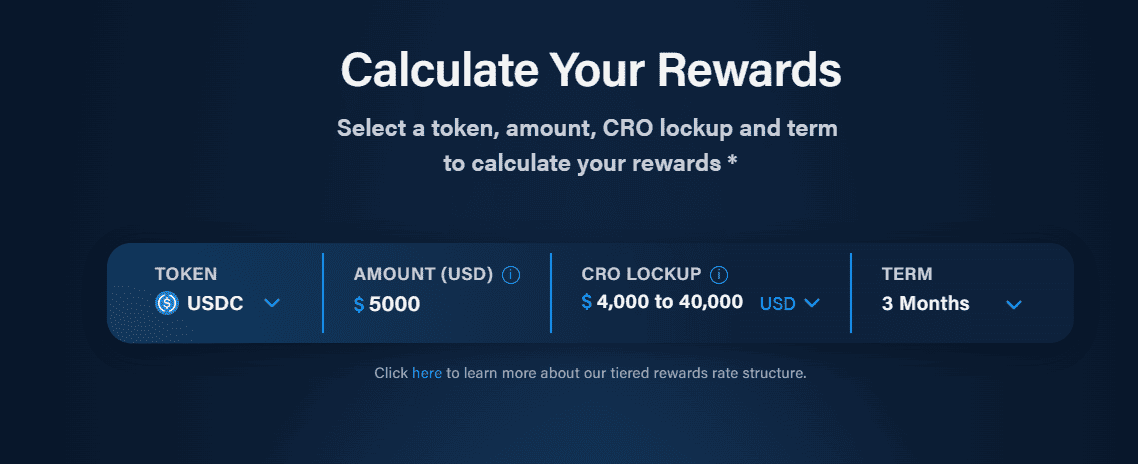 Security
Crypto.com puts a high value on product safety, therefore, the company employs a multi-layered security approach, including encryption, two-factor authentication, holding users' fiat currencies in regulated custodian bank accounts, and biometric authentication to ensure that users' data and assets are safeguarded.
In addition, Crypto.com stores the majority of its digital assets in "cold storage". This type of storage is offline and it's less vulnerable to hackers' attacks. They also offer a wide range of advice to their users on how to protect their assets, such as setting up strong passwords and not sharing their login credentials with other people.
Crypto.com also holds a number of certifications and assessments which grant security, privacy, and compliance, such as ISO 22301:2019, ISO/IEC 22701:2019, and ISO/IEC 22701:2013.
Crypto.com Partners
On their way to reaching the widest possible scope of users, they have partnered up with a number of successful brands. These partnerships serve as a testament to Crypto.com's reliability and success.
Some of their partners are Fifa World Cup Qatar 2022, UFC, Paris Saint-Germain, Formula 1, Libertadores, Cognizant, Arena Sport, and many other big international names.
Company Background
Founded in Hong Kong by Bobby Bao, Gary Or, Kris Marszalek, and Rafael Melo in 2016 under the name "Monaco", within two years, the company was renamed to Crypto.com, after a cryptography professor and researcher Matt Blaze purchased the domain under the same name.
Today, the company is operated from Singapore and it's a subsidiary of Foris DAX MT Limited from Malta.
In 2021, the company reached more than 10 million users, and by 2022, this number rose to 50 million. Currently, they have 80 million users.
Although the crypto market suffered heavy fluctuations, the company is currently working on a plan to reach a billion users.
Their mission is to be the vehicle of the future of the internet by giving users full control over their money, data, and identity. 
User Reviews From Around the Web
There aren't many user reviews of Crypto.com around the web, however, here's what we found that users had to say.
Trust Pilot: 2/5 (based on 6,503 reviews)

Sitejabber: 1.5/5 (based on 54 reviews)

G2.com: 4/5 (based on 22 reviews)
User Reviews
Review Summary
0.0 out of 5 stars (based on 0 reviews)
Recent Reviews
There are no reviews yet. Be the first one to write one.
Submit a Review