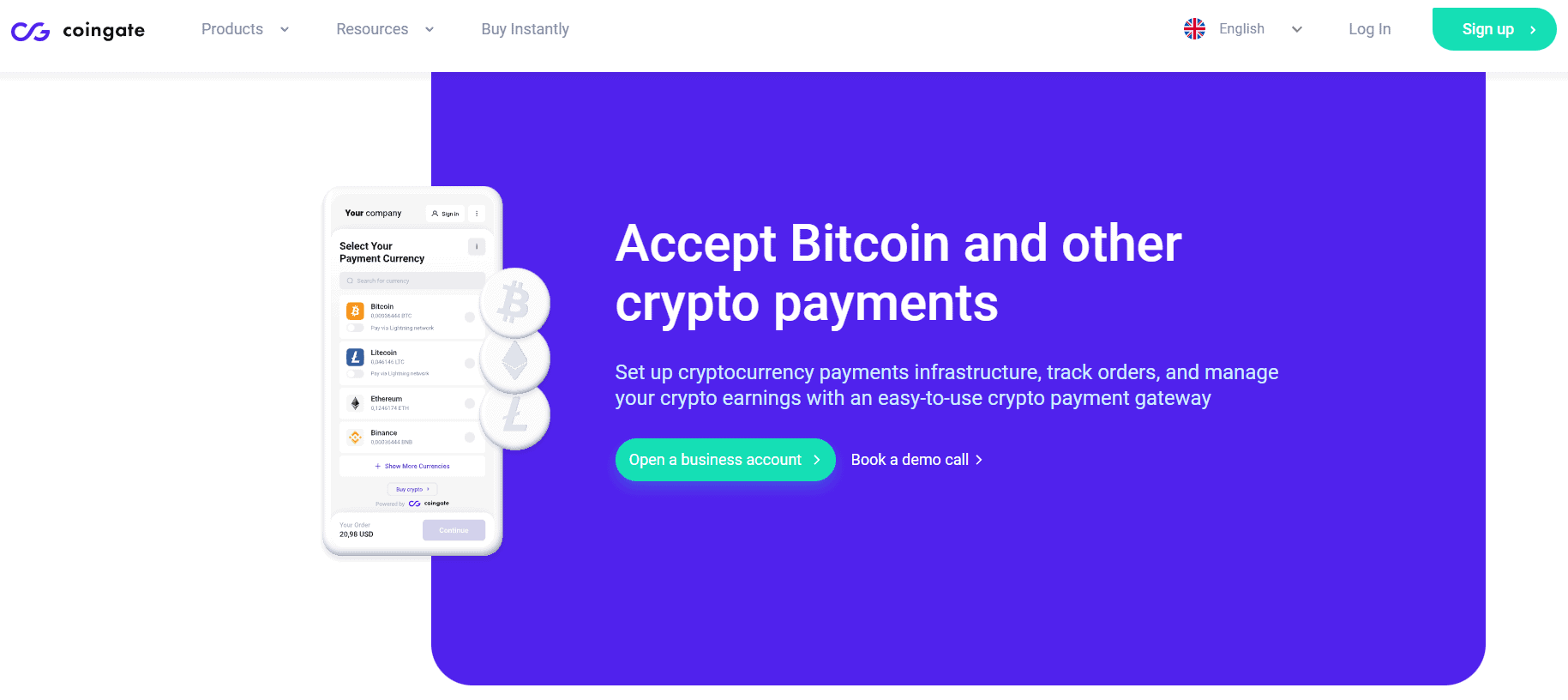 As digital currency and online transactions become increasingly prevalent, businesses are striving to adapt to new payment methods in order to remain competitive. 
One such solution that has gained prominence in recent years is CoinGate, a payment processing platform designed for businesses looking to accept, buy, and sell cryptocurrencies. Here, we'll review CoinGate's fees and the various services they offer.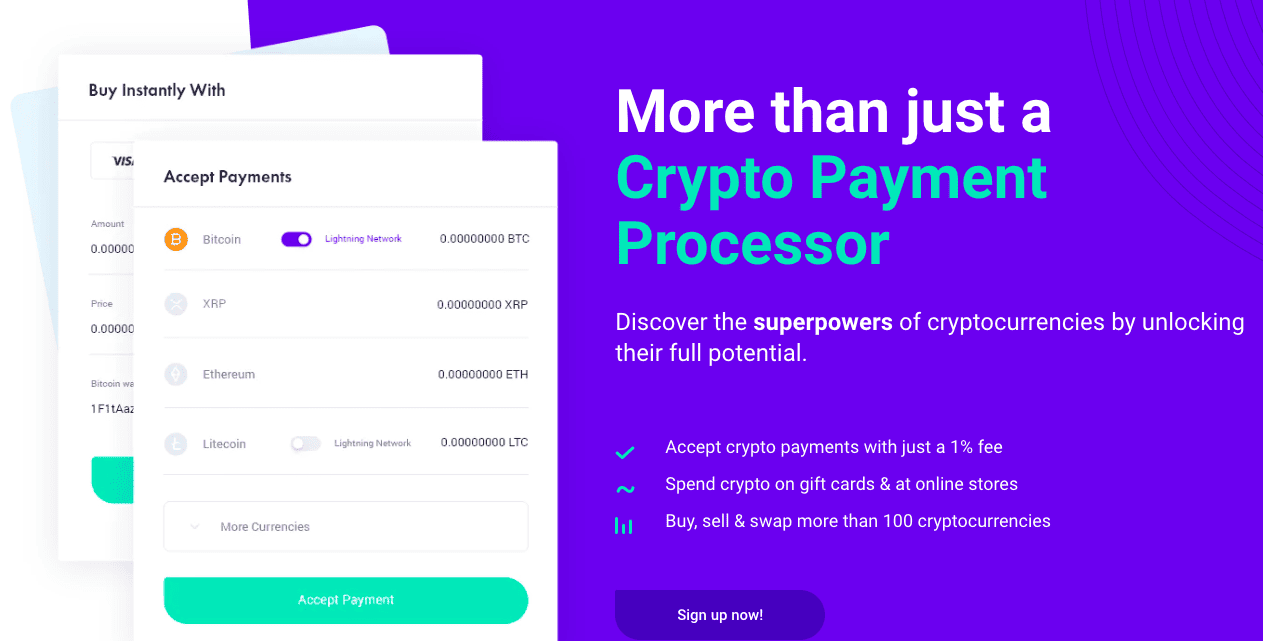 Pricing
CoinGate charges a 1% processing fee for all transactions through SEPA bank transfer. If you'd like to buy crypto with your credit/debit card, the fee is 8%. 
Plugins, APIs, Web Pos, and billing are also subject to a 1% fee, which is relatively low compared to other (non-crypto) payment processors in the market. However, it's important to note that the fees might change depending on your business' risk tier. 
For Billing services, Coingate offers 3 different plans: subscription, one-time, and custom. For subscribers, the service fee starts from 8 EUR/month, while the exact number is determined based on the specific needs of your business. One-time billing starts from 10 EUR, and custom billing starts from 8 EUR/month.
Services Overview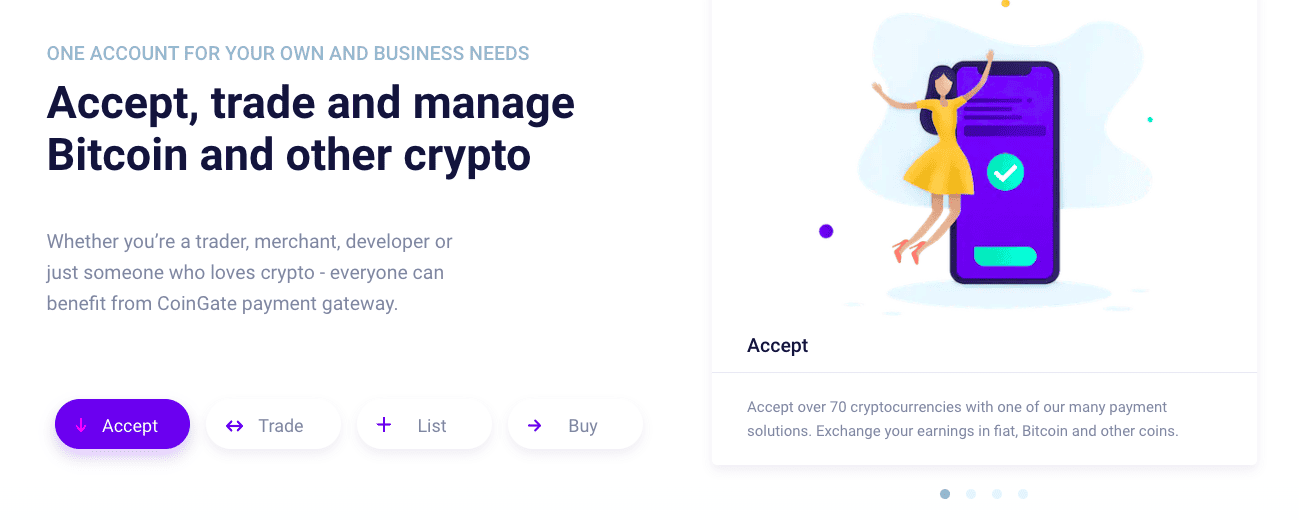 Accepting Payments
Cryptocurrency Payments
CoinGate allows merchants to accept various cryptocurrencies, including Bitcoin, Ethereum, Litecoin, and many others. By using CoinGate's payment gateway, businesses can reach a broader customer base, particularly those who prefer to use digital currencies.
Fiat Currency Support
You can receive payouts in your preferred fiat currency, such as USD, EUR, or any other supported currency, and hedge the high risk associated with the price volatility of the digital currency ecosystem.
Point of Sale Solutions
If you have a brick-and-mortar store and you'd like to accept crypto payments, CoinGate also offers Point of Sale (POS) solutions. Their POS app supports both Android and iOS devices.
Buying and Selling Cryptocurrencies
Instant Exchange
CoinGate is also a crypto trading platform where you can buy and sell cryptocurrencies instantly. Their platform supports multiple payment methods, such as credit cards, bank transfers, and mobile balance.
OTC Trading Desk
For large transactions, CoinGate provides an Over-The-Counter (OTC) trading desk to facilitate trades with minimal slippage and competitive fees.
Integration Options
API 
CoinGate's API allows developers to build custom integrations for their websites or applications, offering greater flexibility and customization options.
E-commerce Plugins
CoinGate supports popular e-commerce platforms, such as WooCommerce, Magento, PrestaShop, and others. By using their plugins, you can easily integrate cryptocurrency payments into your online stores.
Merchant Directory and Gift Cards
Merchant Directory
CoinGate features a directory of businesses that accept cryptocurrency payments, making it easy for customers to find and support merchants who use their platform.
Gift Cards
CoinGate offers a range of gift cards from popular brands that can be purchased using cryptocurrencies. This feature helps to increase the adoption of digital currencies by allowing customers to spend their coins on everyday purchases, and you can utilize this feature for your own brand.
Supported Countries and Currencies
Global Availability
CoinGate is available in more than 100 countries, providing businesses with the opportunity to expand their reach and tap into new markets.
Supported Currencies
CoinGate supports a wide range of cryptocurrencies and fiat currencies, ensuring that merchants can cater to the diverse preferences of their customers.
Company Background
Established in 2014 in Vilnius, Lithuania, CoinGate is a payment processing platform dedicated to bridging the gap between businesses and digital currencies. Operating under the European Union's regulatory framework, CoinGate is a member of the Blockchain and Virtual Currencies Working Group (WG), ensuring compliance and security for its users.
Since its inception, CoinGate has reached several milestones, including launching its Point of Sale (POS) application in 2015, expanding to buy and sell services in 2016, supporting SegWit in 2017, adopting the Lightning Network in 2018, and offering an Over-The-Counter (OTC) trading desk in 2019. In 2020, CoinGate added gift cards, further expanding its services.
Today, CoinGate is a trusted platform that offers various services for businesses looking to accept, buy, and sell cryptocurrencies. With a focus on compliance, security, and innovation, CoinGate remains a leader in the digital currency payment processing industry.
User Reviews From Around the Web
CoinGate generally has positive reviews across different review platforms, but there is some variation in the ratings.
Trustpilot – 4.2 / 5 (based on 995 reviews)

G2 – 3.6 / 5 (based on 29 reviews)

Capterra – 4.5 / 5 (based on 14 reviews)

Cryptoradar – 3 / 5 (based on 14 reviews)
Taking all reviews into account, CoinGate scores 4 out of 5. The overall rating of the company is positive, but there is still some room for improvement.
User Reviews
Review Summary
0.0 out of 5 stars (based on 0 reviews)
Recent Reviews
There are no reviews yet. Be the first one to write one.
Submit a Review