Founded in 2006, Shopify is a Canada-based eCommerce company focusing on small to medium businesses both online and in-store. 
The company offers itself to millions of businesses as an all-in-one commerce platform, allowing users to start, run and grow a business from the ground up. New users are able to claim a 14-day free trial to experiment with the eCommerce platform.
With award-winning support and a company ethos centred around making the best possible eCommerce platform for all users, it's easy to see why Shopify performs at such a high level. 
Prices/Fees 
Shopify gives new businesses the chance to try the software for 14 days for free, giving users the chance to decide on the best plan for them.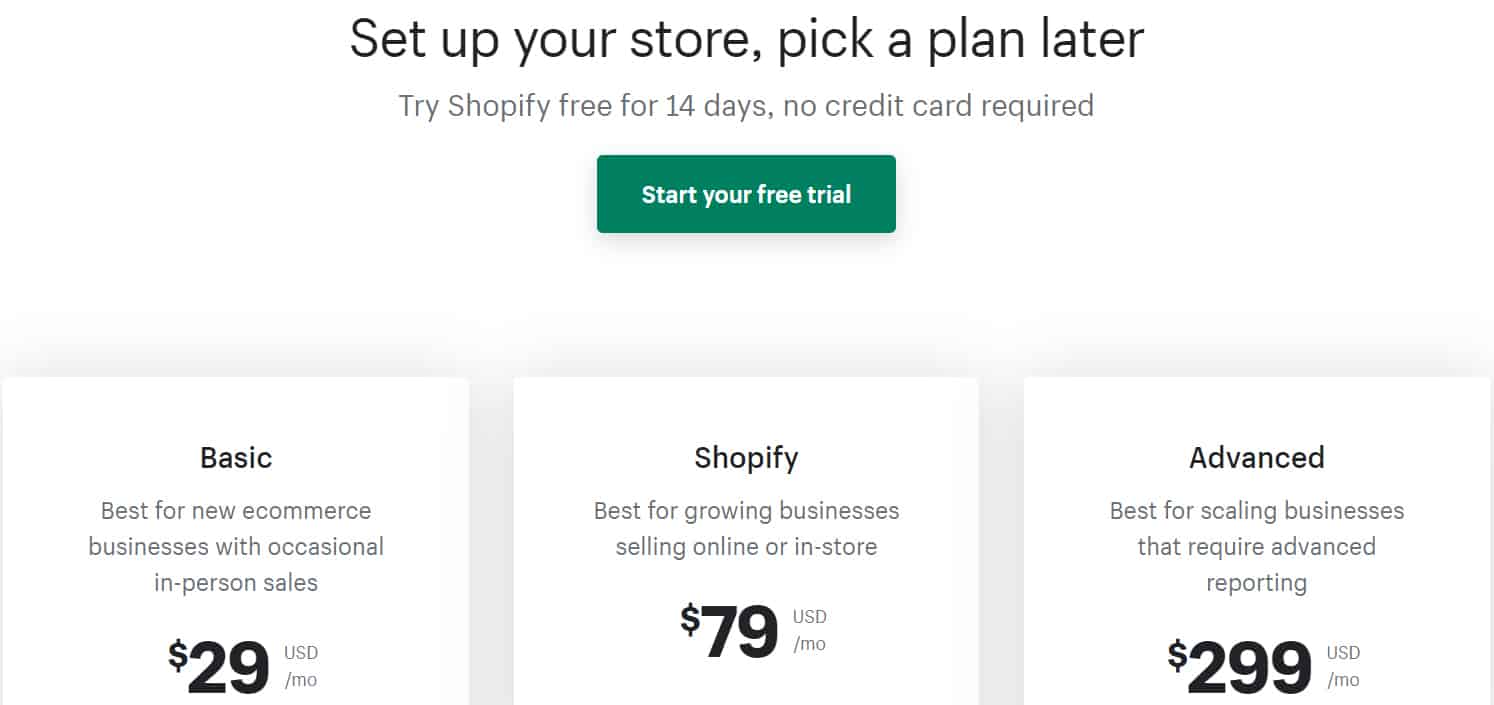 There are just three main plans for businesses to choose from when deciding on their Shopify account: Basic, Shopify and Advanced. 
Basic – $29 USD per month
The Basic Shopify accounts are created for new eCommerce businesses and can accommodate a small number of in-person transactions. 
Priced at $29 USD per month, a breakdown of the fees can be found in the table below.
| | |
| --- | --- |
| Basic Features | Fees  |
| Online credit card rates | 2.2% + 20p |
| Bancontact rates | 2.2% + 20p |
| iDEAL rates | 2.2% + 20p |
| In-person credit/debit card rates | 1.7% + 0p |
| Transaction fee if not using Shopify Payments | 2.0% |
| Shopify POS Pro (per location) | +$89 USD/mo |
Table: Shopify payment features for Basic accounts
Shopify – $79 per month 
The Shopify account is the midrange option for businesses looking to use the software and is best for growing businesses selling both online and in-store. 
Priced at $79 USD per month, a breakdown of the fees can be found in the table below.
| | |
| --- | --- |
| Shopify Features | Fees |
| Online credit card rates | 1.9% + 20p |
| Bancontact rates | 1.9% + 20p |
| iDEAL rates | 1.9% + 20p |
| In-person credit/debit card rates | 1.6% + 0p |
| Transaction fee if not using Shopify Payments | 1.0% |
| Shopify POS Pro (per location) | +$89 USD/mo |
Table: Shopify payments features for Shopify accounts
Advanced – $299 per month
The Advanced Shopify account is the top option for businesses and is best for those scaling companies that require advanced reporting. 
Priced at $299 USD per month, a breakdown of the fees can be found in the table below.
| | |
| --- | --- |
| Advanced Features | Fees |
| Online credit card rates | 1.6% + 20p |
| Bancontact rates | 1.6% + 20p |
| iDEAL rates | 1.6% + 20p |
| In-person credit/debit card rates | 1.5% + 0p |
| Transaction fee if not using Shopify Payments | 0.5% |
| Shopify POS Pro (per location) | +$89 USD/mo |
Table: Shopify payments features for Advanced accounts
Product/service overview
The products and services offered by Shopify can be categorised into four main areas with "Start", "Sell", "Market" and "Manage" offered by the company. 
Start
Shopify gives new businesses all of the tools that it needs to open an online store, including the very first steps from the branding, the online presence and the online store used to sell to customers. 
Build a brand
The Build a Brand feature offered at Shopify helps businesses get started from the very first step – generating a business name. 
Users are able to jump into the Shopify dashboard to access the name generator before creating a free logo that they can use on whatever they like. Whether that's the online store or merchandise further down the road. 
Build an online presence
The next step in the Shopify journey is to build an online presence – a process that starts with purchasing a domain name that customers can search and access online.
Once a domain name has been chosen, it can be purchased and users can then access the website builder to get to work on their online store. Businesses can access the Shopify stock image folders to help build their site and promote their online presence. 
Build a store
Building a store is the last piece of the puzzle and users are able to access the Shopify Themes menu to choose from a wide range of different available themes to start off their online store. 
Users are able to browse through industry, type of design, and trending stores to find the best theme for their store. 
For businesses that don't yet have a product to sell, Shopify offers the chance to build a dropshipping business using Oberlo. Businesses can start generating revenue without the stress of shipping, packaging, or holding inventory with a company that has amassed over 85 million products sold worldwide. 
Sell 
Shopify allows businesses to sell everywhere – both online and in-store with their impressive commerce sales features. 
Online store 
The online store is the main focal point of Shopify, offering businesses every single tool that they need to sell online.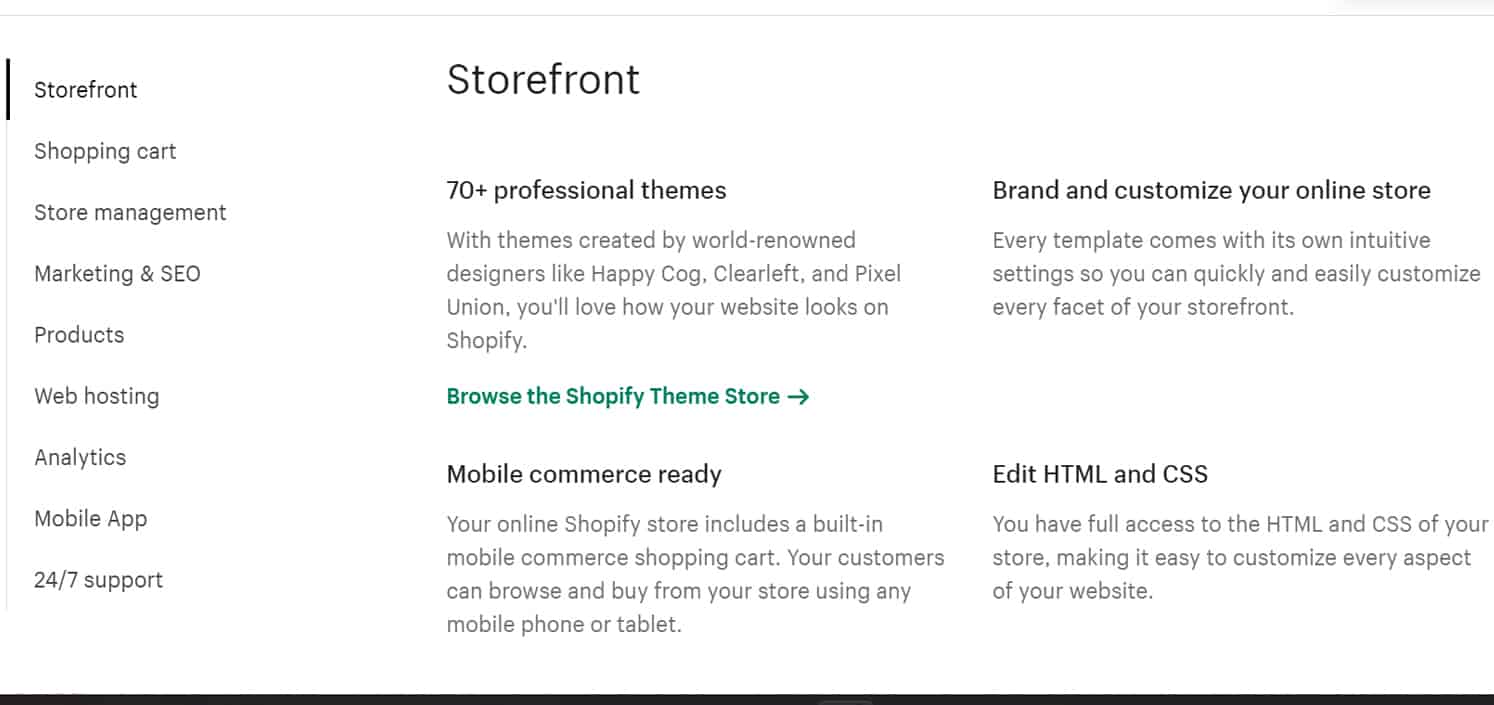 It's never been quicker, easier or simpler to create an online store than with Shopify. Users can access the drag-and-drop store builder to choose from more than 70 different available themes to use on their Shopify store with a fully responsive package that offers mobile-friendly stores out of the box. 
The online stores are optimised for growth, allowing businesses to scale with access to full analytics that helps to steer the store in the best possible route. Businesses can also access a huge range of useful tools including. 
Storefront

Shopping cart

Store management 

Marketing and SEO 

Web hosting 

24/7 support
The possibilities for an online Shopify store really are endless and the long list of features really does have to be seen and experienced. 
Shopify checkout
The Shopify checkout boasts an enormous total of processed orders totalling more than 2.5 billion – so it's safe to say they know what they're talking about. 
The checkout focuses on usability with customer experience put at the centre of the priorities list. Speed is vital and the checkout is regularly optimised to offer one of the quickest ways to pay online with the impressive "Shop Pay" option. 
Businesses can find options to create subscriptions to sell smarter and a plethora of payment options giving the customers their favoured way to pay. The Shopify Checkout is also optimised for mobile and with 70% of shoppers using their mobile devices to make payments, it targets the best possible experience. 
Point of sale
Shopping online is just one facet of what Shopify can offer with the company also stretching into the in-store solutions. 
Businesses that make sales in-store can find themselves with the most versatile point of sale (POS) allowing for a unified online / in-store package. The powerful POS system can be used on a range of both Android and iOS devices with a fully customisable interface with the most used app, discounts and products occupying the main real estate for streamlined processing. 
The POS system can be used to power the in-store aspect of the business with fully integrated hardware that can be used to manage inventory, access staff permissions and create reports stemming from company data. 
International Commerce 
Businesses looking beyond the country borders can sell around the globe with Shopify International Commerce. 
Businesses can reach new markets and sell internationally from the same online store with full control in the Shopify dashboard. There are over 133 different local currencies available with the ability to translate stores into the correct languages for the local area.
Customers can automatically calculate import fees before paying with popular local banking methods all powered by the same Shopify site.
Market 
Marketing is an integral part of success for businesses utilising Shopify and the platform helps to build an online presence through digital marketing. 
Marketing campaigns are one of the favourite features of Shopify and are much loved by business owners thanks to the intuitive design. 
Businesses can promote their products and create campaigns with email marketing, Google Smart Shopping and Facebook Ads from the Shopify platform. The tools available to Shopify users are near endless and offer the key features that small businesses need to thrive. 
Email ads 
Email ads can be created in Shopify easily, with absolutely no coding required with management found within the Shopify platform. 
Branded emails, created with templates can be used to send trustworthy emails, personalised with colours, logos and the business domain name. Audiences can be targeted and selected with the ability to preview work before it's sent. 
Google Smart Shopping
Google Smart Shopping allows customers to find products when searching Google and can be accessed directly through the Shopify dashboard.
Businesses can promote products, sell across Google and list for free. There's a huge amount to get into with Google Smart Shopping with the answers to most questions available at Shopify. 
Facebook and Instagram Ads
Facebook and Instagram Ads are huge for Shopify business owners with businesses able to sync their product catalogue to create both ads and shoppable posts in the social apps. 
The social ads bridge the gap between social media and eCommerce site, allowing those that follow the social accounts to effortlessly make purchases. 
eBay 
Shopify account holders can also make additional sales by connecting their accounts to eBay.
The online auction site may open up a new customer market for business owners, giving them a chance to sell to new customers that they may not otherwise have considered. As with all other marketing options, users can manage this from the Shopify dashboard. 
Manage
The piece of the Shopify puzzle is the ability to manage a business through the software. 
Shopify allows businesses to streamline their business via the dashboard – the area where users will also find information about their business with orders, finances and vital insights – sharing data for how best to proceed.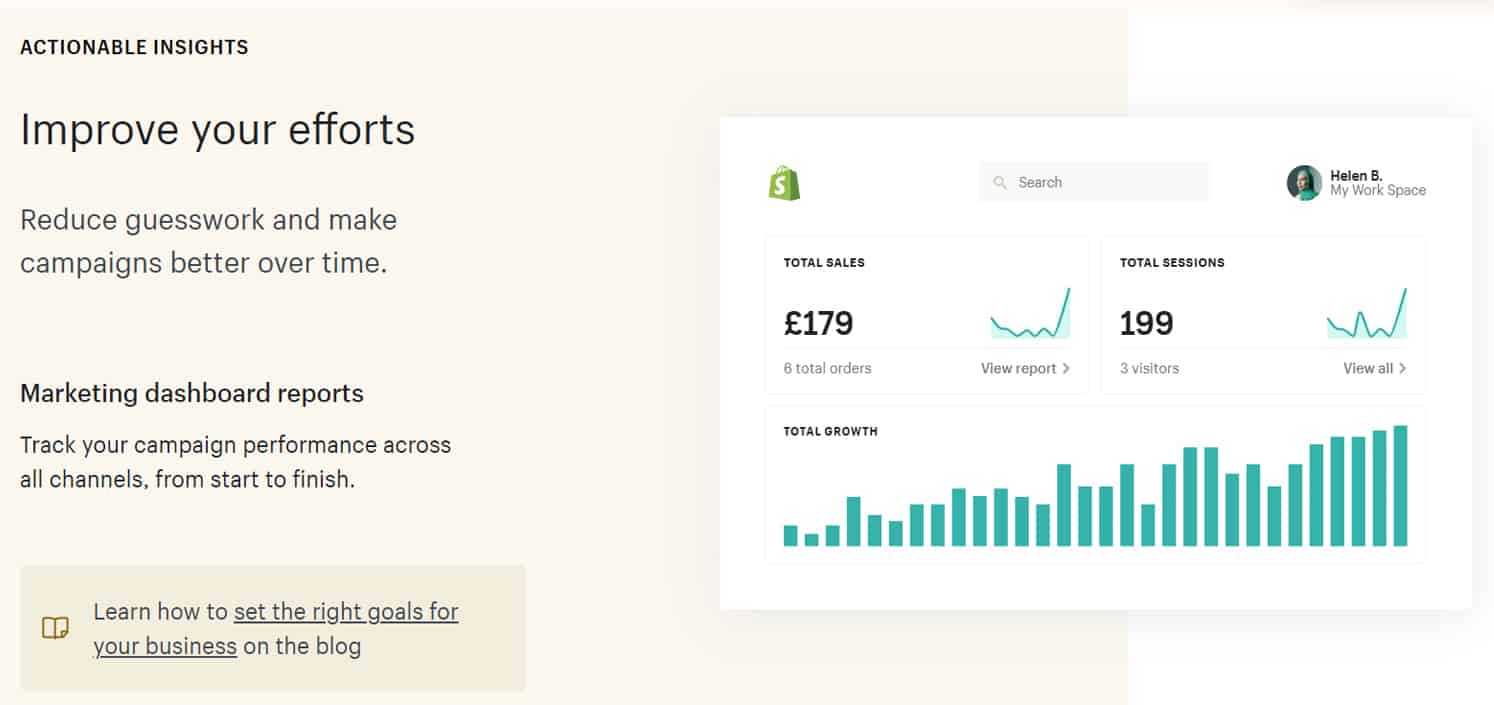 Order management and fulfilment, inventory management, shipping and delivery and returns and refunds can be accessed and managed from a sleek and easy-to-use menu. This can be paired with the insights available at Shopify, giving access to Mission Control, contextual insights and live analytics. 
Money management is one of the most important facets of the Shopify manage tab and businesses are able to manage both payment acceptance and access capital with the platform.
Payments 
Managing payments is one area that Shopify excels, allowing customers to use popular payment methods to purchase products from an online store. 
There's no confusing onboarding process or requirement for third-party software, users can simply flick the "on" switch on their account to begin accepting payments instantly. Customers are able to pay the way that they want, with local currencies and popular banking methods available to choose from. 
As Shopify is PCI compliant and can support 3D Secure checkouts, businesses can be sure that all customer payment information remains secure.
Capital
Businesses that are looking to increase their rate of growth can find access to funding with Shopify Capital. 
Businesses can apply without the need for lengthy paperwork and extensive application forms. Access to capital can be quick with funding typically received within 2-3 business days of approval. 
Company background 
Shopify was founded in 2006 by Tobias Lütke and Scott Lake with an original focus on building an online snowboarding store, Snowdevil. 
The pair were frustrated with the limited options for building online eCommerce stores and opted to create their own. Shopify was born and released with an API platform and application store in 2009, allowing developers to create their own Shopify apps and sell them on the Shopify app store. 
Following initial rounds of financing, Shopify went public in 2015, raising a huge $131 million with shares starting at $28. At the time of writing, Shopify's worth is quoted at more than $145 billion. 
User reviews from around the web 
With such a large user base, Shopify has accrued a large number of reviews around the web with the following sites offering unbias feedback.
Trustpilot – 1.3 / 5 (based on 523 reviews) 679.9

G2 – 4.3 / 5 (based on 3,911 review) 16,817.3

Capterra – 4.5 / 5 (based on 4,355 reviews) 19,597.5

Sitejabber – 3 / 5 (based on 53 reviews) 159
Overall, Shopify manages to score an average of 4.2 / 5 from a total of 8,842 reviews.
User Reviews
Review Summary
5.0 out of 5 stars (based on 1 review)
Recent Reviews
Easiest to use ecommerce platform on the market.
Love Shopify, made my business what it is today.
Submit a Review
Also see: