Shopify and Square are two of the best e-commerce solutions for entrepreneurs. Both platforms are held in high regard by retailers selling online and in-store. But which one is the best choice for you and your business?
In this Shopify vs Square review, we will take a look at what Shopify and Square have to offer and the key differences between them. By the end, you'll have everything you need to make the right choice.
Product
Price
Price
£19 + VAT
£49 + VAT
Transaction fee
Transaction fee
1.75%
1.7% (or less)
Monthly Fee
Monthly Fee
£0
From £19 (+VAT)
Payout to Bank Account
Payout to Bank Account
Next Business Day
3 business days
Chargeback Fees
Ready? Then let's get going.
[table "177" not found /]
POS Systems and Card Readers
Shopify and Square both offer POS (point of sale) systems and card readers with brilliant features.
Shopify offers a card reader and various iPad Stands. You can also purchase a Retail Kit which includes both the reader and a stand.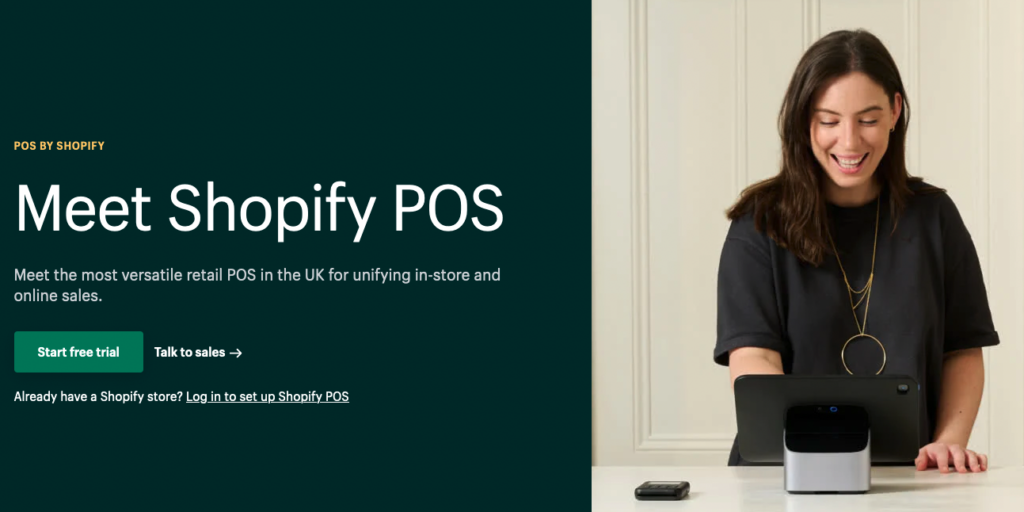 WisePad 3 Reader
Shopify's WisePad 3 Reader works with any iPad or iPhone with iOS 12.5.1 or higher, as well as any Android device with version 7.5 or higher.
This hand-held card reader can process chip, PIN, and contactless payments. It also supports Visa, MasterCard, American Express, Apple Pay and Google Pay.
iPad Stands
Shopify offers two different Retail iPad stands for either 9.7" iPads or for iPad 10.2" / Air 10.5". An Eddy Tablet Stand allows 360° screen sharing. Yet another option is the Click Tablet Stand which has everything the others do plus increased portability.
How does Square compare? One of the things that immediately stands out about Square is that it has four different POS hardware options. These brilliant POS systems include their Square Reader, Square Terminal, Square Stand, and Square Register.
Let's have a closer look.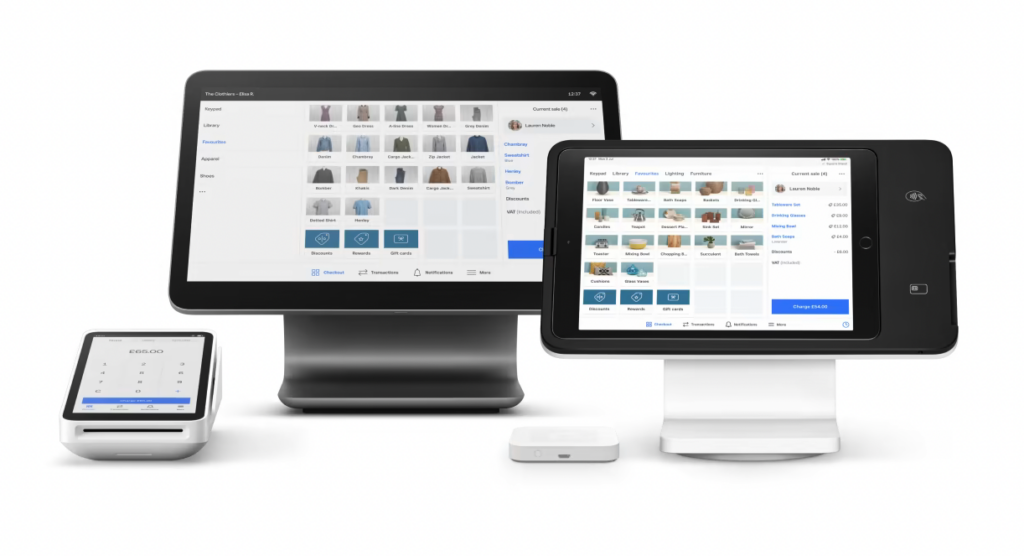 Square Reader
The Square Reader is one of the easiest POS systems to use. Square boasts that the Reader is not just secure, but also surprisingly fast.
Square's Reader allows you to process debit/credit card or mobile device payments in a simple and contactless way. This device is small enough to carry in your trousers at just 66mm x 66mm x 10 mm, and it weighs only 56 g. It has a long-lasting battery that lets it process payments all day long.
You can use the Square Reader with either iOS or Android mobile devices. You can also get a Dock to keep it constantly charged and well-positioned for countertop payments.
Square Terminal
The Square Terminal is a bigger and more robust device than the Reader. This all-in-one POS system is ideal for payment options such as chip, pin, mobile, and contactless cards.
This POS system prominently features a large 139.7 mm (5.5″) screen which makes it easy to use. It also has a high-quality battery. Plus, Square's Terminal can print receipts.
Square Stand
With the Square Stand, you will not be using a dedicated POS device but turning your iPad into one. Square's Stand is compatible with 10.2" and 10.5" iPads. Getting this POS solution ready is as easy as downloading Square's Sales App and attaching your iPad to the stand.
Choosing the Square Stand over other POS systems means you will have fewer devices to deal with. However, if you want to add a receipt printer, barcode scanner, or other devices, you can do so with the Stand's included USB hub.
Square Register
The Square Register features not one but two screens. One is for you and the other for your customers, ensuring a fast and simple checkout experience.
The Register is the most advanced POS system in Square's lineup. Setting up the Register is easy since it already has built-in POS software. You just have to unbox the unit, plug it in, choose your display setup, and connect your Square account to begin processing payments.
Shopify App vs Square App
You can download either the Shopify or Square App easily whether you use an iOS or Android device. But what kind of features can you expect from both Apps?
Shopify's POS App allows you to sell your products, process orders, accept various types of payments, give out receipts, and more. Plus, you get to control it all from a mobile device such as your smartphone or tablet.
Key features you get from Shopify's POS App include:
Print Receipts or Email them
Square's POS App offers a similar range of features. These include:
 Credit Card Payments. Process credit card payments easily with Square, although some people feel that their hardware makes the process more complicated than with Shopify.
Receipts. You can provide customers with receipts via email, SMS messaging, or print them physically.
 Process Refunds. Processing refunds with the Square App is simple and fast.
Offline Functionality. Square's App allows you to accept card payments even if you are working offline.
Split Tender. Just like Shopify, Square lets users split a balance between group members.
Apply Discounts. Use Square to easily apply discounts.
Pricing & Fees
Both Shopify and Square provide business owners with card readers and POS systems at various prices.
You do not have to purchase a POS system from Shopify or Square to use their App since you can use a mobile device for free and sell exclusively online. However, if you want to purchase a POS device to process payments physically, Square comes out on top with pricing.
You can get a Square POS Reader for just £16 + VAT. Translation fees start from 1.75% for in-person transactions.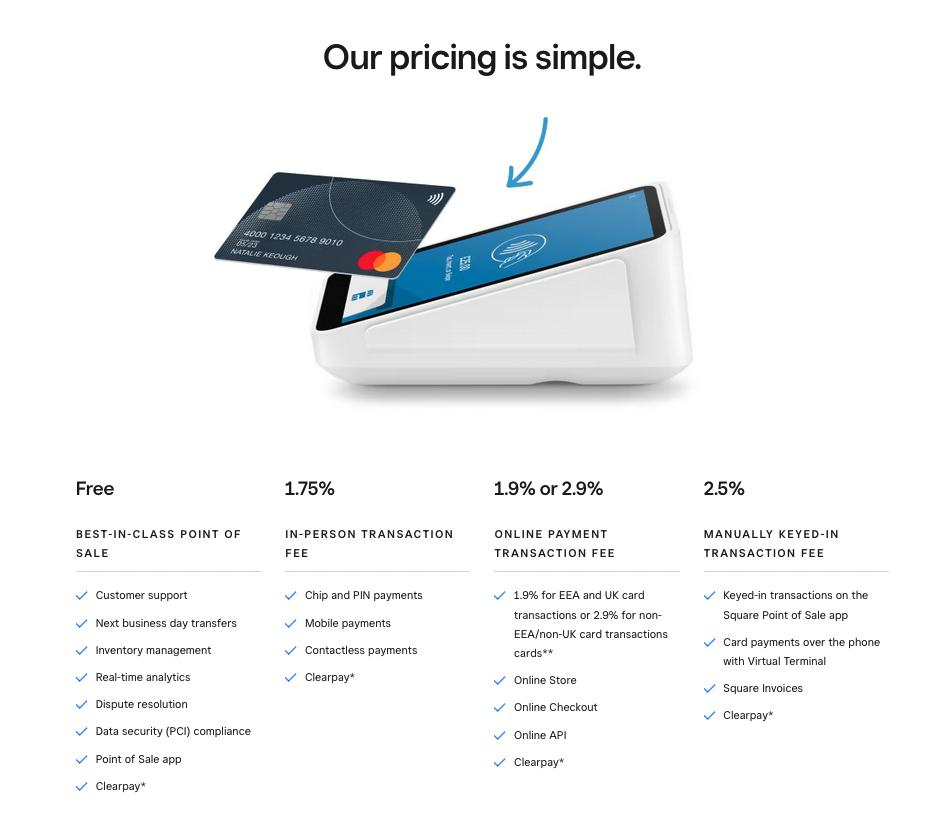 Square's online store builder has a free plan that lets merchants sell unlimited products for a 1.49% fee on all transactions. Premium plans, which come with a custom domain, start at £9 per month + a .49% transaction fee.
Shopify's WisePad 3 Reader will cost you £49.00.
When it comes to building an online store, Shopify charges £19 per month for its basic service, £49 per month for its "Shopify" service, and £259 per month for its advanced service. Shopify also offers a free trial to get to know their services without financial risk.
There are no setup or monthly fees associated with the Square POS App, but that does not mean it is free. There is a 1.75% fee for Chip and PIN or contactless payments and a 2.5% fee for Virtual Terminal and Invoices.
Accepted Cards
Both Shopify and Square support most major credit and debit cards and e-wallets. There is no clear winner here.
With Shopify, you can process payments through Visa, MasterCard, American Express, Apple Pay, Google Pay, and more.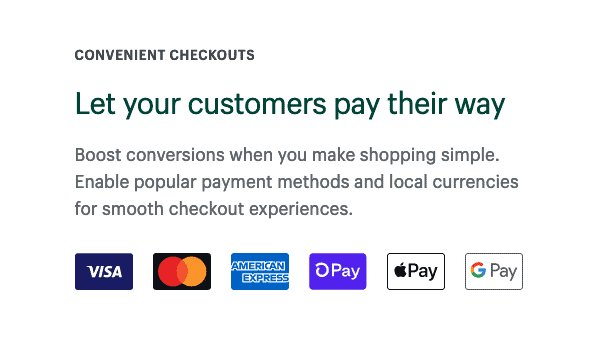 Square allows transactions with Visa, MasterCard, American Express, Maestro, Visa Electron, and more.
Payout Times
Both Shopify and Square aim to process transactions as quickly as possible. They both transfer money the following working day. Both apps can also process payments instantly for a fee, but Square charges less.
Depending on your Shopify plan, instant payments can incur a fee of up to 2%. Square charges a 1% fee for the same service.
Receipts
You will be able to email and print receipts whether you choose Shopify or Square. Since the Square App allows you to send receipts via SMS, it has a slight edge here.
You can either choose to email or print receipts for customers with Shopify.
When using Square, you can email or text receipts to customers once a transaction is complete. You can also print receipts on the spot with a Terminal or Register.
Security
Security is not a concern with either Shopify or Square since both apps implement security guidelines called PCI compliance. They both go out of their way to avert fraudulent activity, although Square does seem to do more in this area.
Both apps utilise state-of-the-art encryption to protect user data from hackers and other malicious activities.
Square also states that it will handle disputes without any additional fees.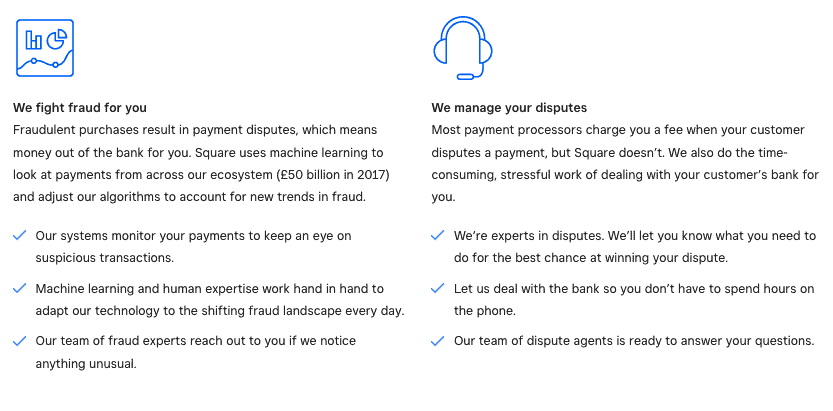 Reporting
Both sites offer all of the reporting options a growing business could need.
With Shopify, you can:
Monitor sales
Compare the popularity of products
Analyze other data pertinent to sales
Square provides users with extensive reporting that includes:
 Key statistics
 Summary of sales
 Applied discounts
 Taxes
Customer Support
Shopify just edges Square when it comes to customer support.
No matter what Shopify plan you choose, you get 24/7 customer support. When faced with an issue, you can get help via email, live web chat, or by phone.
You will also have access to a self-help knowledge base with plenty of resources and a community forum.
Square's customer support is almost as good as Shopify's. Unfortunately, however, they don't offer phone support. You can email their support team at any time, but you will likely wait a few hours or longer for a response.
It is worth noting that Square has an extensive support centre where you might find the solution to the issue you are facing.
And the Winner Is…
Both Shopify and Square get praise from users, but Square gets higher scores.
Shopify scores 2.5/5 on TrustPilot, and a much higher score of 4.5/5 on Capterra
Square scores 4.0/5 on TrustPilot, and 4.7/5 on Capterra.
It is easy to see that most people rank Square above Shopify. Both have plenty to offer, but Square has cheaper POS solutions which are ideal for entrepreneurs who are just getting started and/or have a tight budget.