The Square Card Reader has quickly become one of the most popular mobile credit card machines in the UK.
The reader itself costs just £19 for UK customers. And standard transaction fees in the UK are a flat 1.75% for debit and credit card transactions paid via chip & pin or contactless.

£19 (+VAT) Square Card Reader
Buy a Square Card Reader For Just £19 + VAT.
Take chip and PIN and contactless payments for one flat rate: 1.75%.
Accept all major credit cards including American Express and mobile payments.
Receive funds next business day
This makes it among the cheapest card machine on the market. However, what really sets it apart are all the other features it offers. Below we'll examine them in a bit more detail.

Square Card Reader
The Square Card Reader is somewhat similar to a mobile PDQ machine. They can both be used to accept chip and pin or contactless payments anywhere you can get a mobile signal.
However, the Square Reader does not require a merchant account, monthly terminal rental fee or any contract. Therefore, it can be a very affordable way to start taking payments.
Just be aware you will need an Apple or Android Smartphone and/or Tablet (iPad) with a data plan before you can begin using your card reader. This is not included in the price of the card reader, but is something you likely already have.
Here are just a few of the key features and benefits of reader and Square:
Take chip & pin, contactless and mobile payments.
Accept Visa, Mastercard and American Express all for one low rate.
See normal deposits in your bank account as soon as the next business day.
Need money faster? Square now also offers instant deposits (1% fee applies)
Includes a a free point-of-sale app which works on both Apple and Android devices including smartphones and tablets.
Option to save cards on file
Can also be used to sell online, by phone and collect payments via invoices.
A full feature list can be found on the Square Website.

£19 (+VAT) Square Card Reader
Buy a Square Card Reader For Just £19 + VAT.
Take chip and PIN and contactless...Show More
Buy a Square Card Reader For Just £19 + VAT.
Take chip and PIN and contactless payments for one flat rate: 1.75%.
Accept all major credit cards including American Express and mobile payments.
Receive funds next business day
Show Less
Square Card Machine Models
In addition to the Square reader, they also offer a more powerful Terminal model. See how the two stack-up below:
Model
Price (buy)
Price (buy)
£19 + VAT
£149 + VAT
Fees (In person)
Fees (In person)
1.75%
1.75%
Fees (Manually entered)
Fees (Manually entered)
2.5%
2.5%
Mobile Phone Required
Mobile Phone Required
Yes
No
Accepted Cards
Currently in the UK you can use the Card Reader to accept payments from the following cards/payment options. Any UK-issued and most international chip or magnetic stripe cards displaying a logo from:
Visa
Mastercard
American Express
Maestro
Visa Electron
Vpay
This includes: Debit, credit, corporate, prepaid and rewards cards.
Discover, JCB or Union Pay are not currently supported in the UK.
You can also accept Apple Pay, Android Pay and other NFC-enabled smartphones and watches.
How Taking Payments Works
Square have made this short video explaining how accepting contactless, chip & pin and swipe payments work using the Square Reader.
Card Machine Security
Square meets Level 1 PCI Data Security Standards and never sells data to third-party vendors.
Here are a few key things to know about Square and data security:
The Square app does not retain payment card data on the mobile device or within the application.
Square performs data encryption within the card reader at the moment the card comes in contact with the reader.
Only standard, well-reviewed cryptographic protocols and message formats (such as SSL and PGP) are used when transferring data.
Access to sensitive data, including application data and cryptographic keys, is strictly controlled on a need-to-know basis.
Two-factor authentication and strong password controls are required for administrative access to systems.
Square complies with the Payment Card Industry Data Security Standard (PCI DSS) on your behalf so you do not need to individually validate your state of compliance.
Square Card Reader Features Score: 5/5 has all the features you'd expect for a mobile card machine.
Square Fees, Charges & Pricing
Square has among the most transparent fees in the UK payments industry. Overall, their fees are among the lowest compared to similar companies.
However, depending on your transaction volumes, these fees can work out to higher than a standard merchant account and card machine combination.

Here's how Square's pricing works:
Reader Price: £19, Buy it here.
Transaction fees: Flat 1.75% for Chip & Pin or Contactless payments or Flat 2.5% for online, invoice or keyed-in payments.
Set-up cost: £0 (beyond buying the card reader)
Monthly cost: £0
Employee Management Software: £3.00 per employee, monthly (optional extra, not required)
App Marketplace and Third-Party Integrations: Varies (optional extra, not required)
And unlike many other companies payment companies there are no fees for:
Refunds
PCI compliance
Activation
Early termination
Interchange
Chargebacks
Cash payments
Inactivity
It should be noted that Square charges its transaction fees in the following way:
Card fees are included in Square's fees, so you will not incur any extra charges from card companies.
Square charges merchants the same processing fee for all cards.
Payment processing fees are taken out of the total amount of each transaction, including VAT on the sale and tip.
Square's fees apply to all business types, including non-profit organisations.
Transaction Fees Compared
At only £19, getting a Square Reader can cost a lot less than what some companies charge just in set-up fees. However, your biggest long-term cost is probably not going to be the cost of buying the reader, but how much you spend on transaction fees.
If your business processes just £1,000 per month by card, you'll end up paying £17.50 a month (£1,000 X 1.75%) or £210 per year in fees.
While the fees are very easy to calculate, they are far from the lowest out there. Depending on the type of business you run, your transaction volume, credit history and a few other factors, you could easily pay less than 0.4% per debit card transaction and less than 0.7% per credit card transaction.
But just be aware these lower transaction fees do generally come with a whole host of other monthly and compliance fees. So overall, if your business processes £1,000 a month or less by card machine you're almost certainly better off going with a Square or other similar reader (e.g. Zettle).
However, if your business does more than £1,000 a month by card you may want to compare with a standard merchant account company via our form above.
To better understand how this all works have a look at our UK Merchant Account & Credit Card Processing Fee Comparison.
Square Reader Cost & Fee Score: 4/5. Wile the reader costs are low and the fees are transparent, you could still end up paying more if you process a large value of transactions each month.
Square App
Square offers a free Point of Sale app for both Android and Apple devices (Smartphones and Tablets).
While the app is completely free, you can't process payments without a Card Reader. Conversely, you'll need to download the App once you buy your card reader before you can start taking card payments.
App Features
Here are just a few features included in the App:
Process payments right on your device.
Record cash and other forms of tender.
Customise your products with photos, names and prices.
Send receipts via email or text message.
Apply discounts and issue refunds.
Access real-time sales data and complete sales history.
Track inventory in real time.
Connect to a receipt printer, kitchen ticket printer, bar code scanner and cash drawer.
Send invoices free from your Square Point of Sale and get paid faster (2.5% fee applies to invoices paid by card).
The free Square Dashboard app works in sync with Square Point of Sale and lets you view your live sales data in seconds. You can access powerful analytics and easy tools to help you track and improve your business.
Google Play Score: 4.6 out of 5
Apple App Score: 4.4 out of 5
Average App Score: 4.5 out of 5
Square Invoice App
Square now offers a separate invoice app with the following features:
Free to download and use
No monthly fees
No long-term commitments or contracts
Can create, send and track invoices for free
Only pay flat 2.5% payment processing fee when payments are processed online
Square Printer, Dock & Other Accessories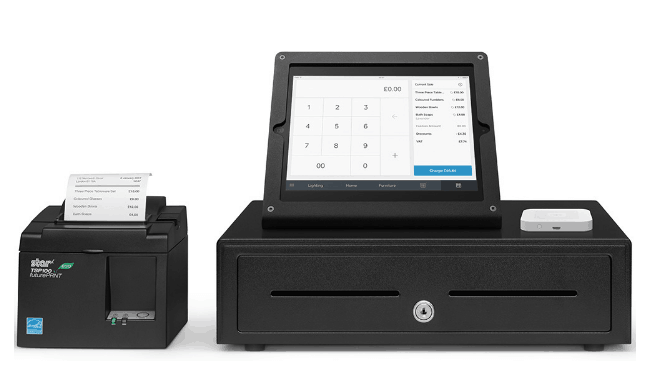 The following accessories listed below are all optional extras that can help extend the functionally of your Square Reader.
Sold by Square:
Dock: Keeps the Square Reader charged and in place for seamless countertop transactions. Cost just £19 + VAT.
OtterBox uniVERSE Case: Attach your Square Reader attaches directly to your phone (iPhone: 6,6s, 6 Plus, 6S Plus, 7, 7 Plus only). Cost from £39 + VAT.
Stand for Apple iPad Air, Air 2 & Pro 9.7: Secure your iPad with this sleek stand for easy point-of-sale navigation and quick card payments. Cost £99 + VAT
Sold by third parties:
The following devices are sold by third parties, but should be compatible with your Apple and/or Android Device.
Note: Bluetooth hardware accessories aren't currently supported with Android devices.
USB Receipt Printers:
Star TSP113
Star TSP143
Star TSP143GT
Star TSP651
Star TSP654
Bluetooth Receipt Printers: (Apple Only)
Star Micronics SM-S220i*
Star Micronics SM-230i
Star Micronics SM-T300i **
* Compatible with 58 mm/2″ receipt paper
** Supports 80 mm/3″ receipt paper
Receipt Printers with Ethernet Interface:
Star Micronics TSP143LAN*
Star Micronics TSP654IIE3*
Star Micronics TSP143IIILAN
* Ethernet interface thermal printer with 80 mm/3″ receipt paper.
Impact Kitchen Ticket Printer with Ethernet Interface
Star Micronics SP742ML: Ethernet interface impact printer with 80 mm/3″ receipt paper
Barcode and Label Printer:
No officially supported devices, but unofficially claim DYMO Label Writer 450 works for some merchants.
Cash Drawers:
The following cash drawers must be connected to a receipt printer to open automatically after a sale:
Star CB-2002
Tysso Flip-Top Cash Drawer
Heckler Design Windfall Automatic Cash Drawer
Star Micronics SMD2-1617
USB Barcode Scanners:
Square Accessories Score: 4/5. While Square doesn't sell a lot of accessories itself, their device is compatible with many third party devices. The benefit is that you can create a totally bespoke system. The downside is that you may have to spend a bit more time playing around with different product combinations to get your system fully up and running.
Other Features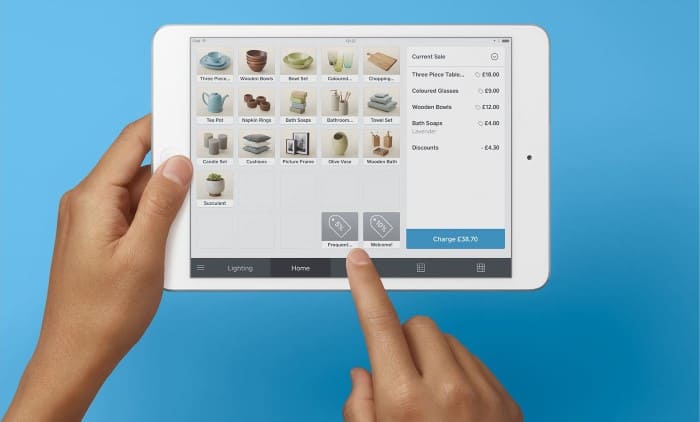 In addition to being a card reader, Square also offers a range of other functions. Below we look at 5 of the most interesting.
Point of Sale Software:
The main feature of Square beyond the Reader is their free point of sale software that comes with the App. It allows you do most of the things you'd expect from a much more expensive Point of Sale System.
Here are just a few of the key features:
Manage inventory in real time.
Customers can choose between digital (email or text message) and printed receipts.
Drag and drop items and categories, customise your items grid and bring popular items to the front and centre.
Speed up the line with simple modifiers (e.g. Extra beetroot, extra bacon)
Save cards on file (Store payment details for your regulars.)
Timecards at the point of sale.
Multiple locations, one account.
Get private customer feedback.
Free Square Dashboard
You can learn more on the Square Website.
Invoices:
Beyond just accepting payments in-person, you can use Square to send invoices to your suppliers/customers. Sending invoices is always free, but there is a 2.5% fee per transaction if your supplier/customer chooses to pay the invoice via debit or credit card.
Here are just a few highlights:
Create an invoice in seconds.
Send via email or print it out.
Accept card payments if you need to.
No fees for your customers.
Store and charge cards on file.
You can learn more here or from this short video below:
E-commerce (Selling Online):
Another interesting Square feature is the ability to use it to sell things online, via their API integrations. Like invoices any card payments accepted online come with a 2.5% transaction fee, which is quite high. (Stripe charges 1.4% + 20p for UK/EU cards and many payment gateways charge less than 1% per card payment).
However, if you're looking to get started selling online, it's great place to start. Especially if you're already using the Square Reader.
Works with the following ecommerce platforms:
WooCommerce
Weebly
Square for Magento
Zen Cart
OpenCart
Learn more about Square's eCommerce solutions here.
Virtual Terminal (Selling by Phone or Mail):
Finally, your Square Reader can also be used as a virtual terminal so you can take phone and mail order payments. Again these payments come with the slightly higher 2.5% transaction fee.
A few highlights:
Type in payments from your web browser.
No need for extra devices.
Send payment confirmations.
Payments you take with Square Virtual Terminal are tracked in real time with all your other Square sales and reports.
Learn more about the Square Virtual Terminals here.
Employee Management:
Finally, the Square Reader and POS software can be used to track and manage your employees. While a few basic options are included for free with the software, more advanced features cost £3 per month per employee.
A few of these features include:
Track time at the point of sale
Let employees take payments and issue refunds with Mobile Staff.
Define roles and permissions across all staff.
Set role-based access in Point of Sale and/or Dashboard.
Securely delegate permissions to your managers.
Access timecard reports with clock in/out action data.
View individual employee analytics across reports.
To learn more you can watch the following video:
Additional Square Features Score: 5/5. Great range of extra products that go above and beyond the competition.
UK User Reviews
Currently there are relatively few real user reviews online for Square UK, although Trustpilot does have a few. Generally speaking they tend to be either totally positive or negative.
Here is a summary of a few key points:
Square Pros
Cheapest card reader at just £19 (+ VAT)
No contract or monthly fees
Accept Visa, Mastercard and American Express all for one low rate
Works with Apple Pay and Google Pay
Get money as soon as the next business day
Square Cons
1.75% transaction fee is not the lowest on the market
No built-in printer with basic reader
As with all payment processing companies, Square has some good and bad reviews. However, most of the negative ones seem to be due to account suspensions, which in turn may be due to the types of businesses trying to use it. If you're unsure if your business is right or not for Square, just get in contact with them via their website.
Square Alternatives and Competitors
You can see how Square stacks up against it's biggest competitors below:
For a full comparison see:
Currently in the UK the biggest competitor to Square is Zettle which charges the same 1.75% transaction fee.
Other popular alternatives include:
Square Reader Review Summary
Card Reader Features: 5/5
Cost & Fees: 4/5
App Score: 4.6/5
Accessories: 4/5
Additional Features: 5/5
Square User Reviews
Review Summary
2.7 out of 5 stars (based on 3 reviews)
Recent Reviews
When it works it's great
Constantly disconnects, states it has failed 8/10 times but the client is stood there with a pending payment. You then have to explain to the client that reader is C**p and they will get their money back, in the meantime could you try again so I actually get paid?!
Honestly awful
Waste of time and money.
Paid for the pos touch screen reader and the only payments it will let me take is clear pay! Absolute waste. Avoid at all costs.
Cheapest UK card reader
Love the price. Can't really go wrong for £16.
Submit a Review
To learn more and see if the Square Reader is right for you, visit the Square website here or learn more about their special discount offer here.
Note please be aware we are currently Square affiliates. This means we may be paid a commission if your purchase a Square Reader via any of the links above. This does not increase the cost for you, nor has it influenced our review. But we feel you should be aware of the fact.