Zettle and Square are two of the UK's most popular mobile card readers and payment processors. They're both used by thousands of businesses to process transactions every day. But which is the right choice for you?
Product
Price
Price
£19 + VAT
£29 + VAT
Transaction fee
Transaction fee
1.75%
1.75%
Monthly Fee
Payout to Bank Account
Payout to Bank Account
Next Business Day
Within 2 Business Days
Chargeback Fees
Chargeback Fees
None
None Up To £250
In this Zettle vs Square review, we assess the fees, features, security and accepted cards of both brands in detail.
By the end, we promise you'll know which is best for your business.
| | Zettle | Square |
| --- | --- | --- |
| Reader Price | From £29 + VAT | From £19 + VAT |
| Transaction fees | 1.75% | 1.75% |
| Monthly Fee | None | None |
| Supported Cards | Visa, Mastercard, American Express, Maestro, JCB, UnionPay, Discover, Diners Club, V Pay, Apple Pay, Google Pay, Samsung Pay | Visa, MasterCard, American Express, Maestro, Visa Electron, Vpay, Apple Pay, Google Pay, Samsung Pay |
| Contactless | Yes | Yes |
| Settlement Delay | 1-2 working days | None (with a fee) |
| Receipts | Yes | Yes |
| Operating Systems | iOS and Android | iOS and Android |
Terminals and Features
Zettle and Square have an excellent range of card readers and POS terminals with Square just about edging it with their offering.
Zettle has three card readers in total:
The Reader
The Terminal
The Store Kit
The Zettle Reader 2 is the cheapest of the three and an easy way to start accepting payments with your smartphone. It connects via Bluetooth or Wifi and can make up to 100 transactions per charge. Both contactless and Chip and PIN payments are available.
The Terminal is a comprehensive payment processor that doesn't rely on a smartphone. It comes loaded with a pre-paid SIM, which means it can be used by your staff on the move. It even includes baked-in POS software so store owners can track inventory and access reports on the go. Optional extras include a printer and docking station to keep the Terminal fully charged.
The Store Kit is Zettle's comprehensive POS system with a large screen, card reader and printer. It's everything you need for the checkout desk.
Square gives customers a comprehensive range of four POS card readers and terminals:
Square Reader
Square Terminal
Square Stand
Square Register
The Reader is the most well-known and recognisable card reader offered by Square. It connects to your iOS or Android phone via Bluetooth and facilitates contactless and chip and pin payments.
Square's Terminal looks and acts similar to Zettle's offering. It's an all-in-one card machine that prints receipts and can be charged via a wall outlet or battery. Contactless chip-and-pin and mobile wallet payments are all accepted and receipts are printed from the terminal itself — there's no need for an additional printer.
The Stand turns your iPad into a POS device in minutes. It connects with the Square Point of Sale App and accepts all forms of payments — the stand even swivels to give customers the privacy to enter their PIN details.
The Square Register goes one step further than the Stand by offering businesses a complete POS tool, featuring two screens and built-in POS software.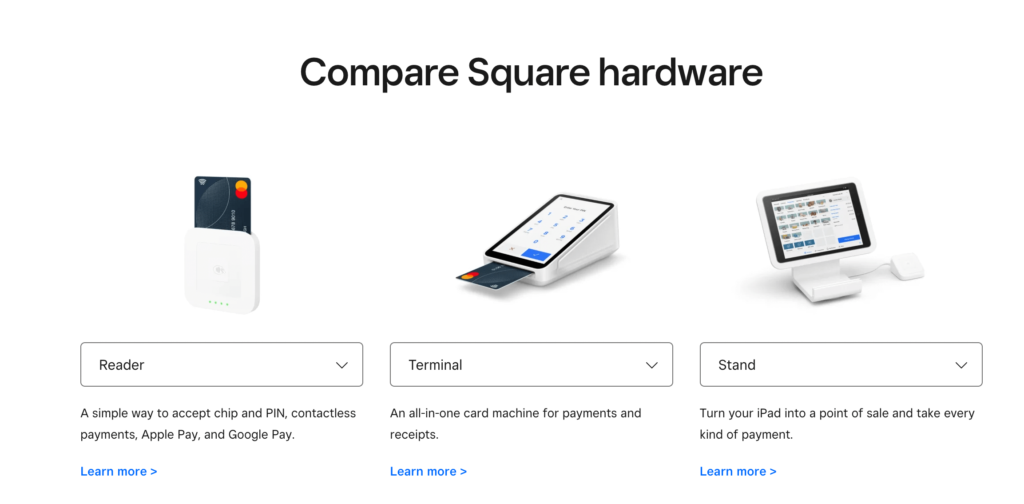 The App
Both Zettle and Square have their own free-to-use POS app. Zettle's readers and terminals also integrate with multiple other POS software platforms, too.
The Zettle Go app makes it easy to manage and run your store. It connects with the Zettle Reader to accept all payments and lets you collect customer data, send recipes and run reports.
The Square Point of Sale app is a free, all-in-one POS system that's easy to set up and use. It can be used on the vast majority of Android and iOS smartphones, as well as tablets and Square's Register.
As well as payment technology, it also offers team management, invoices, inventory management and much, much more. You can even run loyalty programs and gift cards through the app.
Pricing & Fees
Square is slightly cheaper than Zettle when it comes to hardware. Both brands have the same transaction fees.
Zettle devices are reasonably cheap compared to the market average.
The Card Reader 2 costs £29 + VAT
The Terminal costs £149 + VAT
The Store Kit starts at £189 + VAT
Zettle Go is free to use with no monthly fee. All card transactions processed through a Zettle device incur a 1.75% fee. Additional transactions (discussed below) cost 2.5%.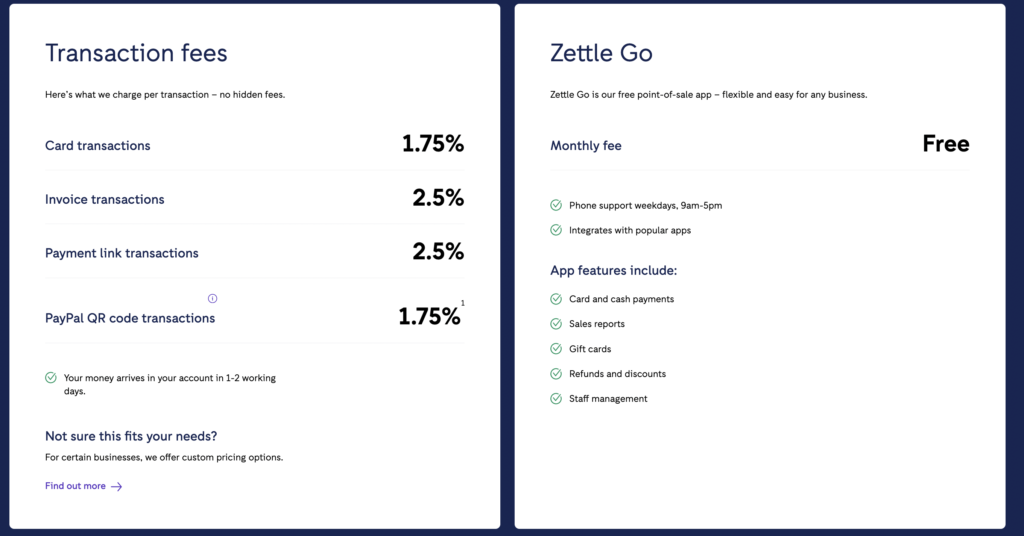 Square has some of the cheapest terminals in the market.
The Reader costs £19 + VAT
The Terminal costs £149 + VAT
The Stand costs £89 + VAT
The Register costs £599 + VAT
Interest-free instalment plans are available on all devices except the Reader.
Square's POS app is free to use and there's no monthly fee. Like Zettle, all card transactions have a 1.75% fee. Custom plans are available for brands doing more than £200,000 in annual card sales.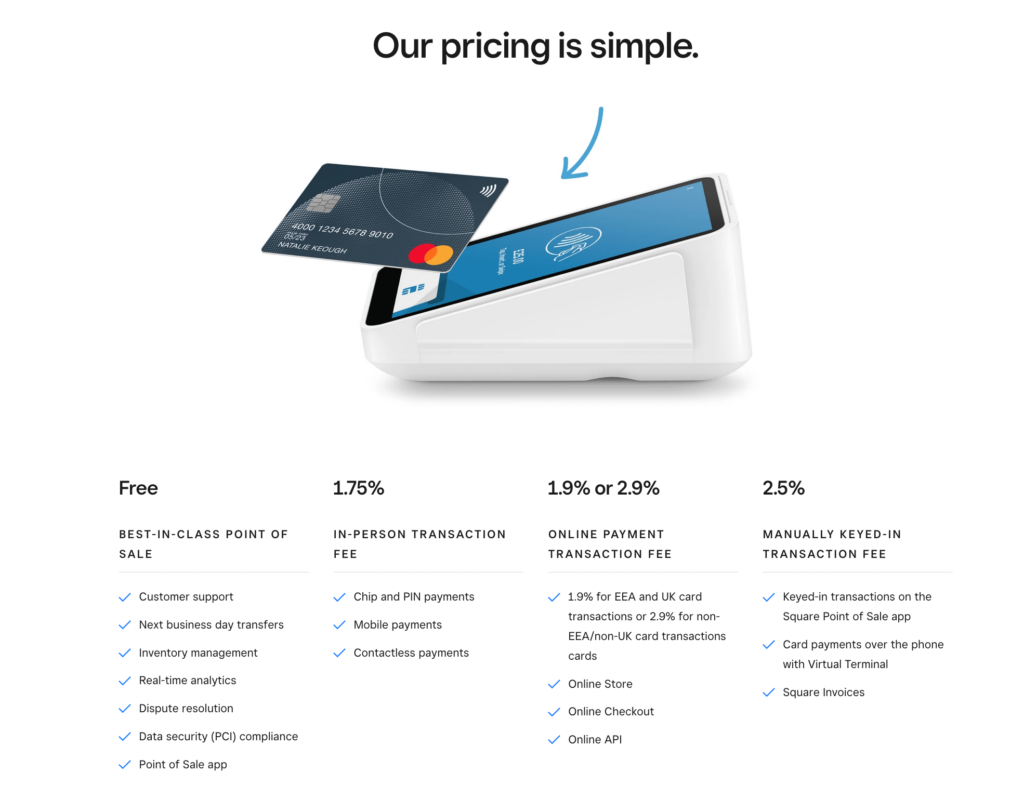 Accepted Cards
Zettle and Square accept most major credit and debit cards as well as the top mobile wallets. Zettle has a slight edge due to more cards being accepted.
Zettle accepts the same range of cards across its three devices. These are Visa, Mastercard, American Express, Maestro, JCB, UnionPay, Discover, Diners Club, V Pay, Apple Pay, Google Pay, Samsung Pay.
Square accepts slightly fewer cards. It accepts debit, credit and prepaid cards with the Visa, MasterCard, American Express, Maestro, Visa Electron or Vpay logos. It also accepts Apple Pay, Google Pay, and Samsung Pay.
Other Ways to Get Paid
Both SumUp and Zettle offer several additional payment features on top of their card readers.
Zettle has three other payment solutions. These include:
Zettle also integrates with major e-commerce platforms like Shopify, BigCommerce, PrestaShop and WooCommerce.
Square provides a similar range of payment solutions, including:
Remote, manual entry payments
Invoices
All remote payments processed by Square incur a 2.5% transaction fee.
Square has an eCommerce store builder that can be used to build an online store or a brochure website for your business. There is no monthly fee for this service and all payments are processed at 1.9%.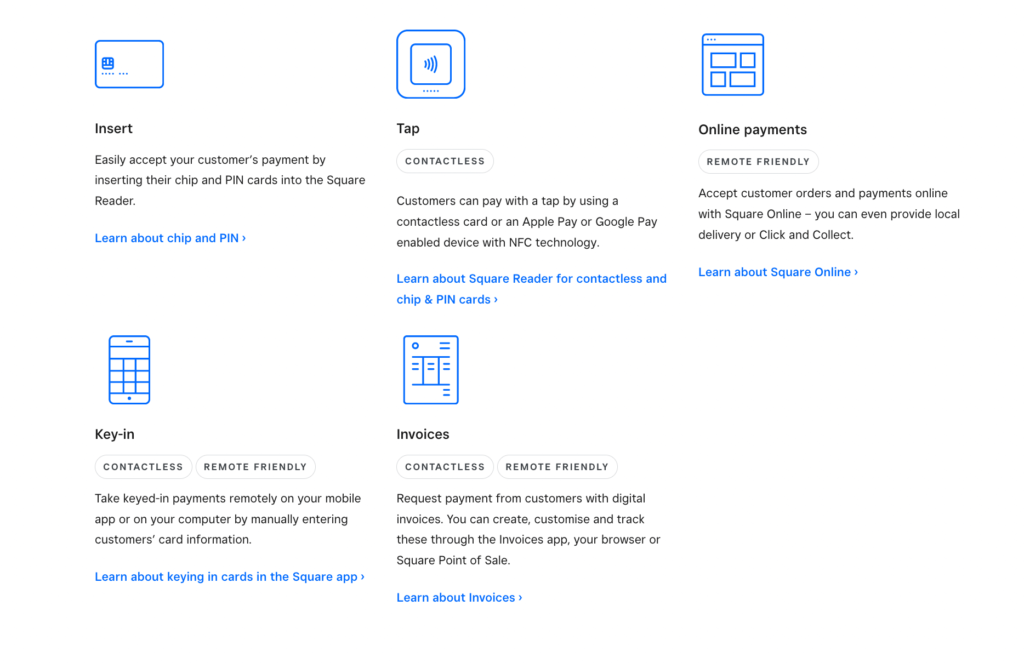 Payout Times
Square has faster payouts than Zettle.
Zettle takes between one and two days to process transactions and deposit them, minus transaction fees, into your bank account.
Square promises to transfer funds at 16.00 the next working day. You can also apply for an instant transfer, which will arrive in 20 minutes but cost 1% of the transfer amount.
Receipts
Both Zettle and Square give stores the ability to email and print receipts.
Zettle offers two ways to provide customers with receipts. Both the app and the terminal let store owners text or email receipts to their customers.
You can also connect the Terminal and Store Kit to a Bluetooth printer. That could be Zettle's own printer or any compatible third-party device.
Square also lets you email or text receipts to customers at the end of each transaction. If you have the Terminal or Register, receipts can be printed using the hardware.
Security
Both brands are big on security, with Square just edging it thanks to their efforts to fight fraud on your behalf.
Zettle is completely PCI-compliant, using advanced encryption to secure data in storage and transit. Its terminals are also tamper-proof and will shut down if anyone tries to break into them.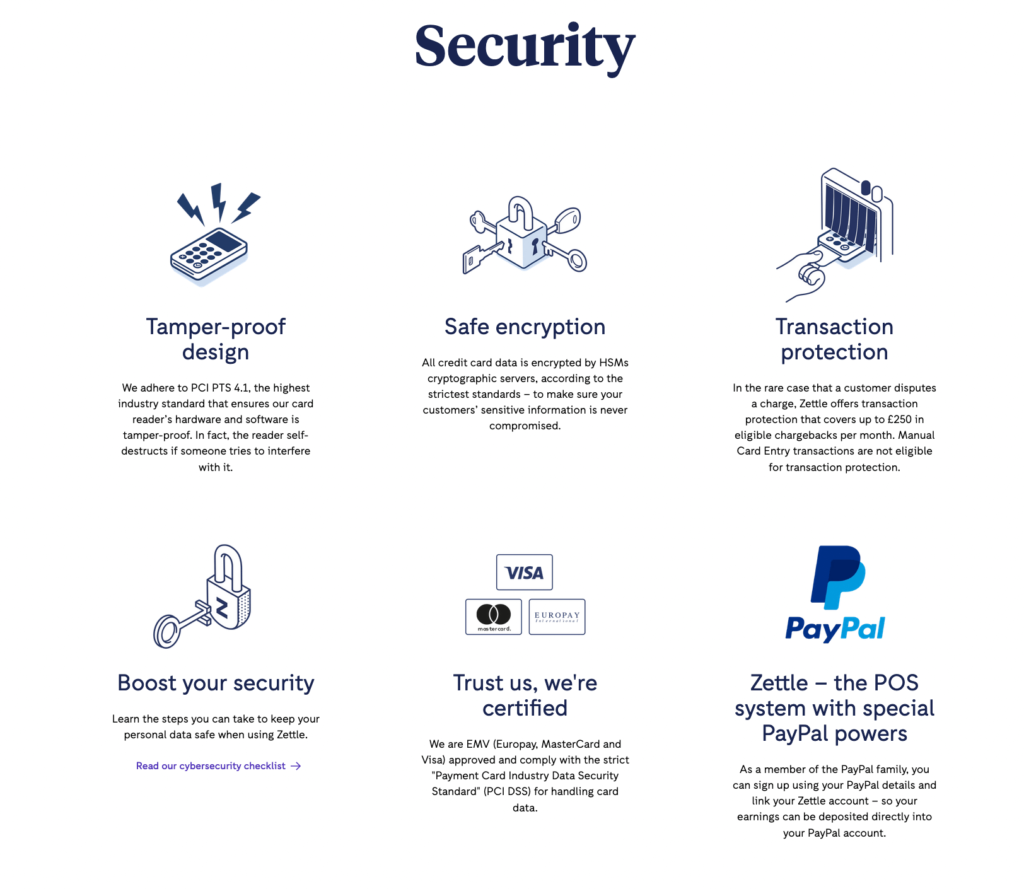 Square takes security very seriously. The company's software is PCI-compliant, with all data transfers encrypted end to end. Square also fights fraud on your behalf and manages disputes without a fee.
Reporting
Both brands are neck and neck when it comes to the number of insights and reports they offer customers.
Zettle makes it easy to get the reports you need to grow your business. Through the app and online at my.zettle.com, you'll find the following reports:
Sales data
Top selling products
Daily, weekly and monthly sales summaries
Sales by hour
Payments and fees
Sales by channel
VAT
Staff sales
Square's dashboard will quickly become your new business headquarters. Accessed online or via the app on your smartphone and tablet, the dashboard gives you all of the reports and insights you need to grow your business. Reports include:
Key Statistics
Sales Summary
Payment Methods
Item Sales
Category Sales
Team Member Sales
Discounts
Modifier Sales
Taxes
Customer Support
You won't want for support with either of these card readers. But Square just edges it thanks to their seller community.
Zettle boasts a pretty comprehensive help centre covering the most common questions about their products. They also offer additional support by phone, email and live chat every weekday between 9 am and 5 pm.
Square offers even more support channels. Like Zettle, there is a comprehensive support centre and a seller community where you can ask other merchants for help. Support is also offered via the app, on social media (@SqSupportUK), by email and by phone. Phone lines are Monday to Friday, 9.00 to 17.00.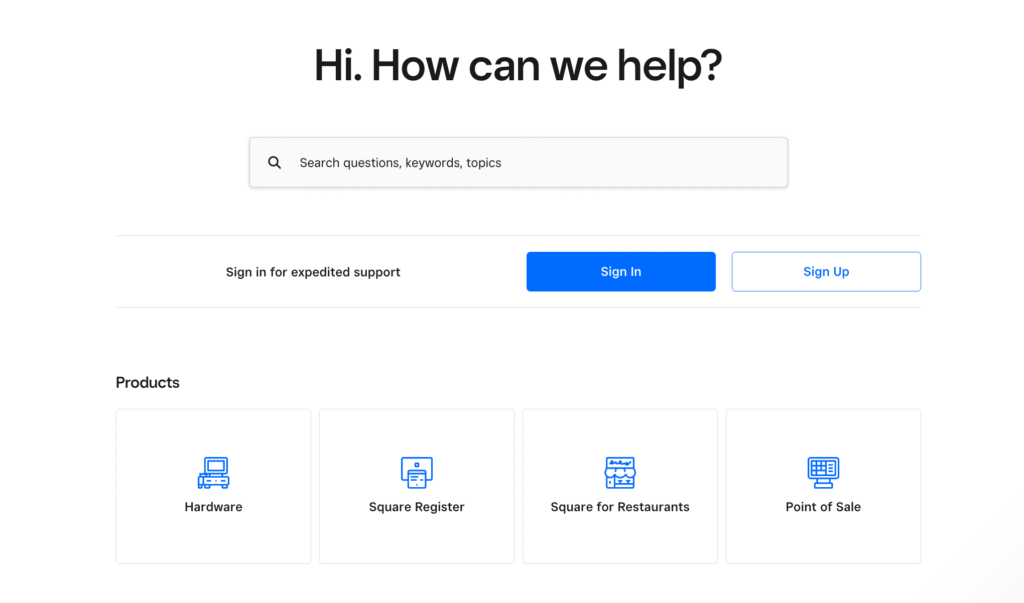 And the Winner Is…
Both Zettle and Square come highly recommended.
Zettle scores 3.1/5 on TrustPilot and 4.6/5 on Capterra.
Square scores 4.0/5 on TrustPilot and 4.7/5 on Capterra.
Overall, we think Square offers merchants a better experience and better products. Their readers are cheaper to get started with and transaction fees are the same. Square offers better support, however, and faster payout times. They'll also fight fraudulent payments on your behalf.

£19 (+VAT) Square Card Reader
Buy a Square Card Reader For Just £19 + VAT.
Take chip and PIN and contactless...Show More
Buy a Square Card Reader For Just £19 + VAT.
Take chip and PIN and contactless payments for one flat rate: 1.75%.
Accept all major credit cards including American Express and mobile payments.
Receive funds next business day
Show Less
That's not to say Zettle is bad, far from it. You won't be disappointed if you choose them, either.
Please note: Merchant Machine has an affiliate agreement with Zettle and Square that pays us a commission if you buy a card reader via any of the links on this page. We still think they're great, but we thought you should know.