Square is one of the most popular payment processors in the market. But it is far from the only one. If you're looking to switch from Square or you're simply weighing up your options, this article is here to help.
Below, we take a closer look at five equally great choices and why they might be the perfect fit for your UK business.
Related: 11 Best Card Machines For UK Small Business
1. Worldpay
Worldpay is a payment processor growing in popularity and already has customers in 81 countries — even though names like Paypal and Square continue to dominate the market.

This established UK-based processor is one of the longest-running online payment platforms in the world. In fact, it was founded in 1997. Worldpay works for both in-store and online shopping payments, offering several beneficial services to help you along the way.
Worldpay is a solid choice for newer, smaller businesses because it accepts almost all forms of payment. It is safe and straightforward for merchants to use while also being user-friendly for consumers. Having a tenured company in control of your payments can keep you ahead of the competition and keep your customers happy and payments going through easily.
Worldpay comes with a wide range of advantages and benefits. First, with Worldpay, you can process transactions securely and quickly. All payment information is encrypted and stored in their secure servers, so businesses can ensure that their customer's data is safe.
Additionally, Worldpay offers businesses the ability to accept payments from more than 81 countries in more than 126 currencies, making it easier to process payments from international customers. Finally, Worldpay also offers its merchants advanced analytics and reporting abilities.
2. Braintree
Braintree is a fast-growing online platform and is actually owned by Paypal. They already have some of the most significant global merchants out there using their systems, like Uber, Airbnb, and Poshmark.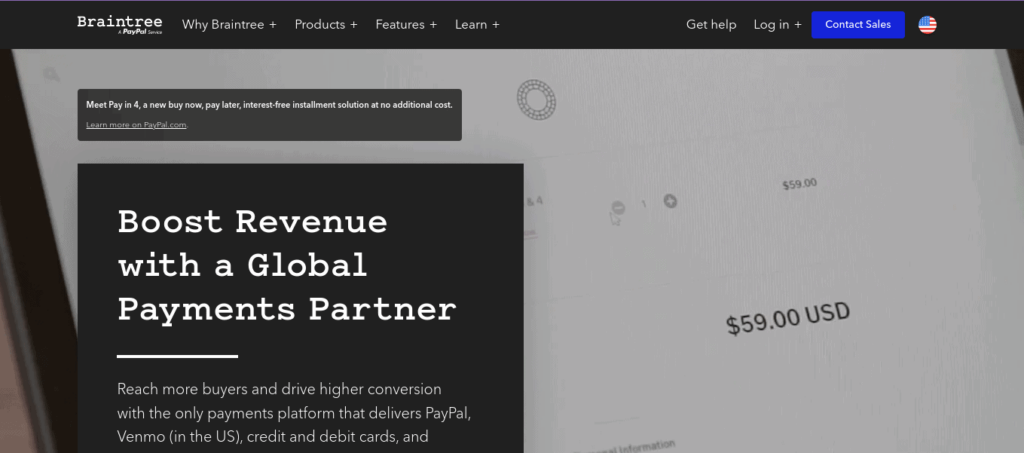 One of the best things about Braintree is that there are NO monthly fees! You pay when you use the service only. MasterCard, Visa, Discover, American Express, JCB, UnionPay and Diner's Club cards are all included for the same rate.
You might wonder if it is the same as Paypal; however, Braintree operates as its own fully integrated ecosystem within theirs, and each of these online platforms has different possible benefits for your company.
Braintree customers say they are best for online payment security, their increasing conversion rate, and the company offers nonprofit credit card processing. They are giving options to accept ACH and bank transfers and scheduled donations.
Furthermore, Braintree is a great choice for businesses looking to make online payments secure and easy. In addition to offering businesses the ability to accept payments from over 81 countries in 126 currencies, Braintree also provides advanced analytics and reporting capabilities, giving them greater insight into their transactions.
3. Amazon Pay
The experience of using Amazon Pay over Square is perfect if you have customers who happen to have already paired their Amazon Prime account with an Alexa-enabled smart device. No more need to take out handfuls of credit cards or lose the contents of your bags all over the floor. They can easily purchase items using Amazon Pay's UPI (unified payment interface).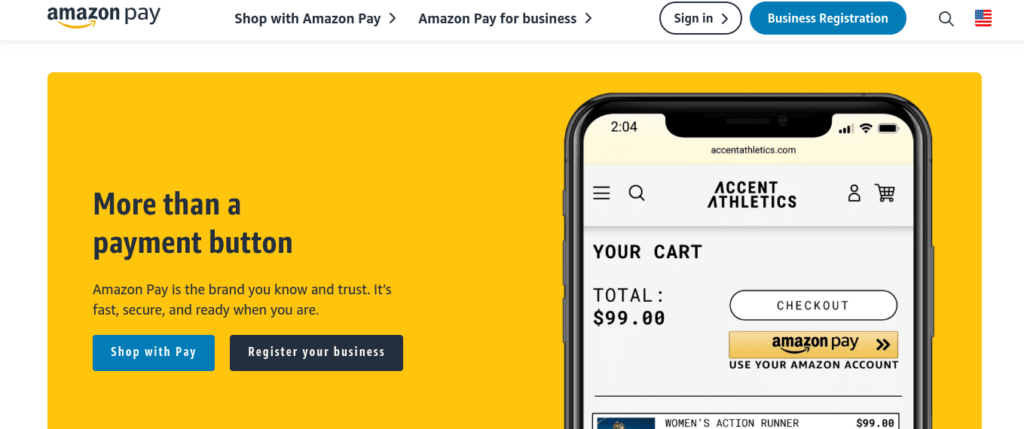 Amazon is a trusted company worldwide, and its customers love that the service is easy to use and makes purchasing quick and safe. Consumers prefer to avoid handing out their credit card or bank information to every site they frequent, and Amazon is like a secure hub where you can spend and receive money everywhere without as much worry
Any merchant or seller accepting Amazon Pay will be required to pay a portioned fee for every transaction. There are no recurring monthly fees or contracts, and it will cost 2.7% plus 30p for almost all domestic U.K. transactions.
Using Amazon Pay offers numerous benefits to businesses. For starters, Amazon Pay simplifies the checkout process for customers, offering a secure, one-click payment system across multiple devices. This streamlined solution allows customers to pay quickly and easily when shopping online or in stores without entering their financial information every time they make a purchase.
Additionally, Amazon Pay's fraud detection and protection system ensures that customer information is safe, so businesses don't have to worry about losing customers due to security issues. Amazon Pay also offers a variety of payment options, including debit cards, credit cards, bank transfers, and more.
4. Opayo by Elavon
Formally referred to as Sage Pay, Opayo by Elavon is a service owned by the Elavon company (a well-known name in the banking world) and operates out of parts of Ireland and the U.K. They provide in-person, telephone, and online payment transactions.
Trusted by many, they have a five-star service rating and operate with 24/7 customer service support available. Merchants can't afford to lose money due to fraud and payment transfer issues. Security is a top priority for every business, so it is good to know that they invest heavily in the newest testing and technology working against online fraud.
Fees and tariffs recently have increased, but so have the payment solution options. They offer packages fit for every business type– service packages like Flex, Plus, and Bespoke (most of them available for under 50p). If you also subscribe to Elavon Merchant Services, you benefit from loads of other potential cost-saving deals.  
5. Stripe
Two recognisable merchant services on the market are Square and Stripe. Thousands of people globally use these payment sites at least once a week. Although these merchants are both incredibly similar services, they have some stark differences.
Stripe offers a service called Stripe Terminal for face-to-face transactions, which works like a handheld point-of-sale device. Credit card readers are available for a low flat rate. Online payments are offered that are built to elevate your brand and give the customer a complete checkout experience.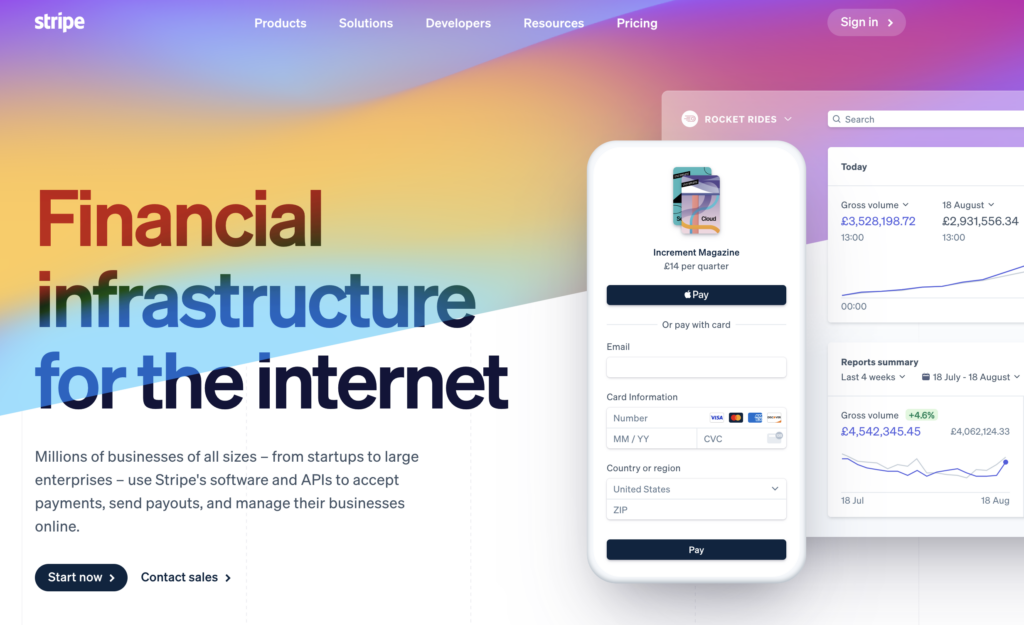 A notable feature they offer merchants is their almost completely universal payment option. Stripe takes many forms of currency, from credit cards to ACH payments, with built-in unified financial reporting and customer statistics.
Fees for Stripe can become confusing, but it is a pay-as-you-use-it service plan, and this allows for no additional costs when using apps like Google or Apple Pay. Another bonus is that the site is developer-friendly and explicitly designed for tech-savvy business owners.
Stripe offers businesses a secure, effective, and efficient alternative to Square for their payment processing needs. Stripe allows businesses to accept payments online, in-store easily, or using mobile devices. With Stripe, businesses can quickly set up an online store and begin taking payments without the hassle of setting up merchant accounts or dealing with complicated integration.
Stripe also provides tools to help businesses manage their payment processing and fraud prevention, as well as integrated analytics and reporting. With Stripe's simple user interface, businesses can quickly add payment options to their website and mobile apps.
Stripe's fraud protection technology helps ensure that all transactions are secure. Businesses can also take advantage of Stripe's advanced analytics features to gain insights into customer spending patterns and trends.
Conclusion
When searching for the perfect payment processor for your online business, one of the critical factors to look for is value. Next, security protocols and fraud protection can save you thousands of dollars in the long run. Lastly, ease of access should provide your customers with no issues when shopping for your products. If you find all the things you are looking for in one service, you know it is the 'perfect fit for your business.