Founded in 2009, Stripe is a technology company focused on building the economic infrastructure for every business on the web. 
Offering financial and Software as a Service (SaaS), Stripe is trusted by companies including Amazon, Asos, Docusign, Deliveroo, JohnLewis and Monzo. There is a long list of tools available to businesses working with Stripe with everything from payment processing to data analysis offered by the brand. 
Prices/Fees 
The Pricing at Stripe is built for businesses of all sizes with an integrated payment platform offered with pay-as-you-go pricing.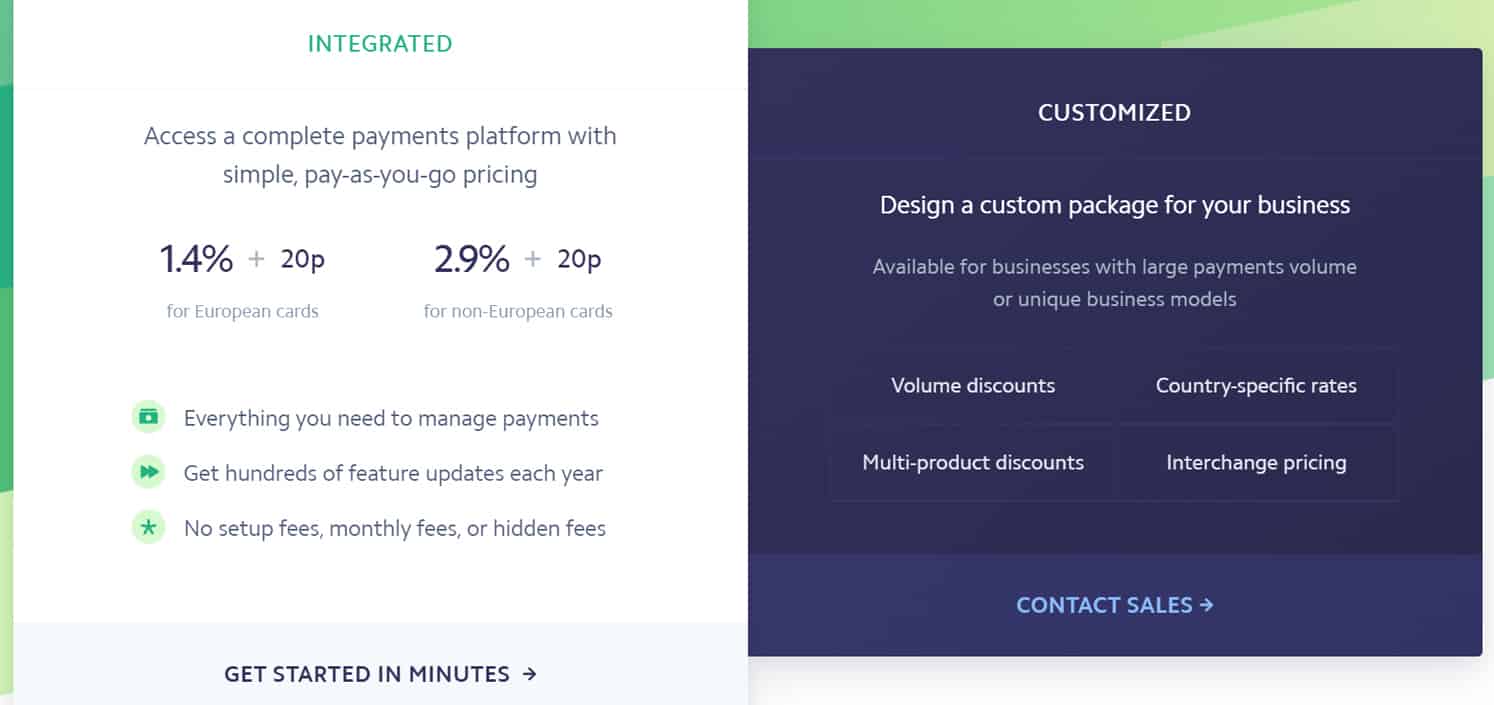 Businesses with a large volume of payments that use unique business models are able to create a custom pricing package by contacting the sales team at Stripe. Here they are able to customise their plan with volume discounts, country-specific rates, multi-product discounts and interchange pricing.
Alternatively, a full breakdown of the standard plan payments can be found both below and under "pricing" at the Stripe site. 
Payments
For European cards, users should expect a consistent fee of 1.4% + 20p and for non-European cards, users should find a fee of 2.9% + 20p. 
Businesses can choose to settle any payments in additional currencies and will find a 1% fee with a processing fee based on the settlement currency. 
The Adaptive Acceptance service offered by Stripe allows businesses to use Machine learning models. These works to build the revenue of businesses, improving real-time authorisation rates and bettering the overall customer experience. Businesses should expect a fee of 0.08% per successful card charge. 
There are no setup fees or monthly bills to organise with the payment including 3D Secure Authentication and a Card Account Updater as standard. 
Billing 
Billing is charged at the rate of 0.5% and allows businesses to grow their recurring revenue with subscriptions in a pre-built customer portal. 
Invoicing 
Invoicing is charged at 0.4% per invoice with the first 25 invoices of the month free for business users. 
Connect 
The standard version of Stripe's Connect is included with the out-of-the-box service.
Custom or Express packages, making use of all features that Stripe can offer, start at 0.25% of account volume. 
Tax 
Tax calculations are built into Stripe and can be used to automatically calculate and collect tax in over 30 countries at the rate of 0.5% per transaction. 
Revenue Recognition
Stripe's Revenue Recognition can be accessed from 0.25% of volume, allowing businesses to simplify their accounting with automated revenue reports. 
Radar 
The machine learning package, Radar, from Stripe offers fraud protection from 4p per screen transaction with the fee waived for accounts with standard 1.4% + 20p pricing.
Radar for fraud teams can be accessed at the rate of 6p per screened transaction or 2p for those customer accounts with standard 1.4% + 20p pricing. 
Chargeback protection can be accessed at a rate of 0.4% per transaction. 
Identity 
Identity verification can be used on Stripe from the rate of £1.25 per verification. For ID number look-ups, Stripe charges 40p per lookup.
Terminal 
In-person card processing from a terminal can be achieved with Stripe at the rate of 1.4% + £0.10 per successful charge for European cards and 2.9% + £0.10 for non-European cards
Card readers can be purchased from Stripe for £49 excl. VAT for the BBPOS WisePad 3 and £179 excl. VAT for the BBPOS WisePOS E. 
Sigma 
Businesses using Sigma can find all of their business data through the Stripe dashboard with fees starting at 1.5p per charge.
Atlas 
Businesses looking to make use of Atlas to turn their business into a startup can access the tools with a one-time payment of $500 (USD). 
Issuing 
New physical cards issued by Stripe are charged at the flat rate of £3 per card with the first £500,000 in card transactions included. After this threshold, a rate of 0.2% + £0.15 is charged per transaction.
Dispute transactions on any issued cards are charged at £15 per lost dispute. International payments, for international cards and currency conversion, are charged at 1% + £0.30. 
Premium support
Premium support at Stripe, starting at £1,400 per month, offers businesses a custom support plan designed for rapidly growing and complex businesses models. 
The premium support gives business access to emergency support for any critical issues, a dedicated support manager to help where possible, faster priority responses and personalised optimisations created for a tailored plan. 
Product/Service overview
From start-ups to some of the worlds largest companies, Stripe works with millions of businesses across more than 120 countries to offer their wide range of services.
Payments 
Stripe is best known as a payment service and offers businesses a range of services ranging from collecting payments and checkout options to invoicing and terminals. 
A comprehensive payment platform that's geared towards the growth of businesses is one of the most popular areas of the service. This allows companies to receive payments online to scale globally and optimise their revenue streams.
Checkout 
Receiving payments via an online checkout is taken care of with Stripe thanks to a pre-built checkout page that is optimised for customer conversion.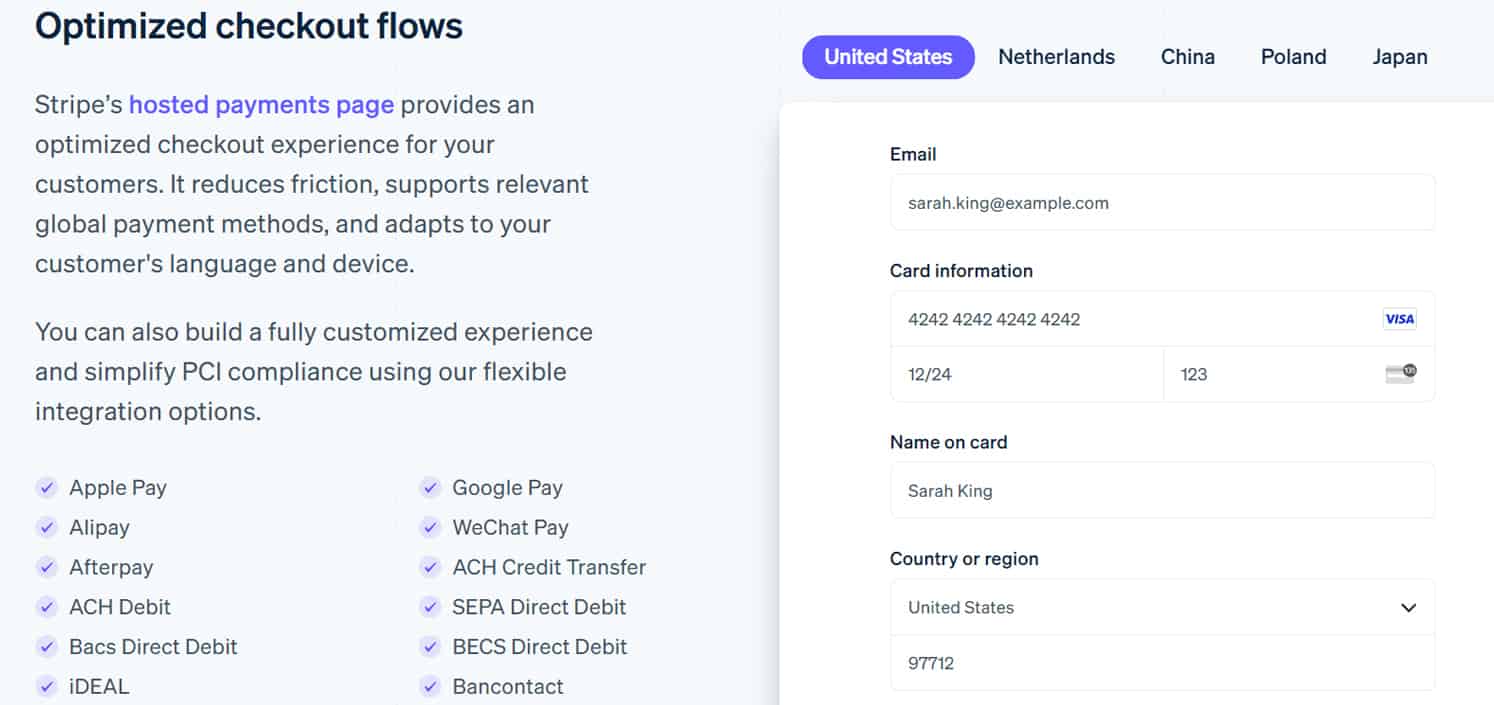 There's a real focus on the user experience, streamlining the payment and reducing friction to maximise sales. The checkout is optimised for all devices and uses features including address auto-complete, 1-click payment, third-party autofill and more. 
Checkouts can also be customised to match the branding of the site, giving a personal shopping experience that doesn't compromise on quality.
Elements 
Similar to the prebuilt checkouts, Stripe also utilises Elements, allowing businesses to add elements to control every aspect of the payment experience.
There are countless options for creating the perfect payment experience with Stripe Elements and Stripe Checkout. 
Payment links 
Stripe's Payment Links are an innovative solution that allows for businesses without a website to get paid online. 
A full payment landing page can be created with just a few clicks with customers able to click the link created to access and make their payments.
Connect 
Stripe Connect is the quickest way in the arsenal of tools to integrate payments into a dedicated marketplace or software platform. 
This allows developers to build custom end-to-end solutions that can scale globally. Stripe takes care of the KYC, allowing businesses to get up and running as quickly and efficiently as possible. 
Invoicing and billing 
Businesses looking to invoice can access invoicing and billing from Stripe, offering a global invoicing system that can create invoices in minutes. 
The invoices and billing software can be used to get paid faster with an out of the box solution for over 135 currencies with support for more than 25 languages. More than 70% of Stripe invoices are paid within 24 hours, offering a simple and effective invoicing partner. 
Terminal 
Stripe doesn't just have to be used for online payments and businesses can extend the sales to in-person premises with the option of two different terminals. 
Businesses can choose from the BBPOS WisePad 3, a mobile card reader featuring a built-in PIN pad and a colour display and the BBPOS WisePOS E, a smart reader that's perfect for both handheld and countertop use, featuring a 5" touchscreen display.
Business operations
Stripe isn't just for taking, processing and making payments – the company has evolved to offer a range of valuable business operations designed to streamline and maximise the data available.
Radar 
Radar is one of Stripe's biggest assets, allowing businesses to fight against fraud with accurate fraud detection software based on machine learning. 
With hundreds of billions of data points used to train the AI, Radar prevents fraud without blocking legitimate customers from completing purchases. Where necessary, Radar can also apply the Dynamic 3D Secure, allowing for an extra level of security to high-risk payments.
Radar is built in to Stripe and does not require any additional setup for businesses to gain access. However, businesses that do require customised protection plans are able to do so with shifting algorithms that can be retrained to suit. 
Sigma 
Sigma from Stripe gives businesses access to all of their data, allowing for a more efficient business.
With Sigma, data from business operations, finance, product management can be accessed with data analysis used to gain insights on every facet of the business. Data can be quickly accessed with the most commonly requested figures and information inbuilt to the software. 
Data can be shared with the team members and used to propel businesses confidently in the right direction.
Atlas 
Atlas is one of the most exciting features of Stripe and allows for ideas to transform into start-ups.
Users can open a US bank account through the software, form an LLC or C Corporation, issue stock to C Corporation founder and access invite-only founder forums with the one-off payment. 
Climate 
Steering businesses into a greener future has never been more important and with Stripe Climate, atmospheric carbon can be removed as the business grows. 
Businesses can opt-in for a fraction of the business revenue to be used to remove carbon from the atmosphere with investment into emerging technologies. The full contribution is 100% used to contribute to the removal of carbon with an overview of the goals and scientific documentation available at the Stripe site. 
Tax 
Tax can be one of the most frustrating areas of business, but Stripe Tax helps to automate the process – streamlining it as much as possible. 
The software helps businesses calculate and collect sales tax, VAT, and GST. It's as simple as adding a single line of code or clicking a button with additional information supplied on finding exactly where to register, automatically collecting tax and granting access to reports for file returns. 
Stripe Tax can be used both in all US states and in over 35 different countries, ensuring that businesses are able to access the exact information and support that they require. 
Identity 
Stripe Identity is a convenient way to verify the customers making purchases with your business, preventing fraud and chargebacks. 
Identity can help streamline the onboarding Know Your Customer (KYC) compliance requirement, catering for one of the trickiest areas of conversion. This is not only great for reducing fraud losses with the legitimacy checks but can reduce the overall number of scammers to build your industry credibility. 
Revenue recognition
Stripe's Revenue Recognition dashboard helps businesses gain better insights into their business performance with a handful of useful tools.
Businesses are able to access a revenue dashboard, giving a clear picture of the revenue earned with transactions and terms. Users are then able to efficiently generate accounting reports with no need to dedicate additional resources. 
Rules and automation can be customised within the dashboard, allowing for revenue to be categorised in accordance with any required specific accountancy practices. This can be done alongside real-time audits, produced to trace revenue and find underlying customers and transactions.
Company background
Founded in 2009, Stripe is a dual-headquartered financial and SaaS payment company based in both Dublin, Ireland and San Francisco, USA.
The company received early investment from PayPal founders Peter Theil and Elon Musk and launched publicly in late 2011. The company has quickly grown from this early investment seed round of investment to a recent valuation of $95 billion.
In 2021, Stripe acquired three companies, allowing the growth of the financial/SaaS company to grow at a rapid rate. Paystack, a Nigerian-based payment processor with the goal of expansion into Africa. Recko, an accountancy platform added to the list of tools available in Stripe. TaxJar, a Massachusetts-based tax service operating in the cloud-based. 
User reviews from around the web 
There are a large number of reviews available on the web for Stripe, painting a picture by the users of the payment company.
Trustpilot – 3.2 / 5 (based on 6,909 reviews)

G2 – 4.4 / 5 (based on 154 review)

Capterra – 4.7 / 5 (based on 2,163 reviews)

Sitejabber – 1.2 / 5 (based on 188 reviews)
Taking all reviews into account, Stripe manages to achieve a score of 3.5 / 5 out of a total of 9,414 reviews.
User Reviews
Review Summary
0.0 out of 5 stars (based on 0 reviews)
Recent Reviews
There are no reviews yet. Be the first one to write one.
Submit a Review