The good news is that most new credit card machines sold in the UK include the ability to accept contactless payments. However, not all contactless card payment readers are created equal.
Which is why we've compared 7 popular options below to help find you the cheapest option. You can also compare options by requesting a free quote using the form above.
Contactless Card Reader Costs Compared
| Supplier | Reader Cost | Buy vs Rental | Debit Card Rates | Credit Card Rates |
| --- | --- | --- | --- | --- |
| Square Reader | £19 (+ VAT) | Buy | 1.75% | 1.75% |
| SumUp | £29 (+ VAT) | Buy | 1.69% | 1.69% |
| Zettle | £29 (+ VAT) | Buy | 1.75% | 1.75% |
| Paypal Here | £35 (inc VAT) | Buy | 2.75% | 2.75% |
| Barclaycard | £15.00+ | Monthly Rental | varies by volume | varies by volume |
| WorldPay* | £17.45 | Monthly Rental | varies by volume | varies by volume |
Note comparisons are based on rates published on suppliers own websites and were believed to be accurate at the time of publication (1 July 2022). Debit and credit card fees are based on a business doing £1,000 per month worth of transactions and are subject to change without notice. Moreover, the costs and fees listed above may not include all possible charges (e.g. set-up fees, interchange fees, etc.)
* WorldPay's card reader cost is based on their standard plan, this and other plans may have additional costs.

Here what each company has to say about their contactless readers.
1. Zetttle
Zettle is currently among cheapest contactless card reader on the market at just £29 +VAT and offers the lowest debit and credit card rates for a machine you can buy outright.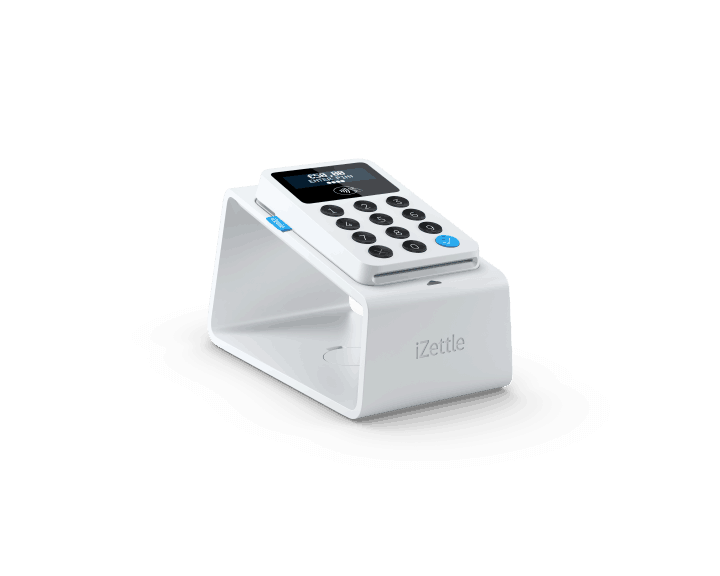 In terms of contactless functionality it offers the following:
Accepts contactless (tap) payments including Apple Pay and Samsung Pay.
Contactless card payments and transactions under £30 are approved in seconds.
Business Accounts can process up to £500,000 per 24 hours, including contactless payments.
Battery lasts for roughly 8 hours or 100 transactions.
Requires smartphone/tablet but works with all smartphones and tablets that have Bluetooth and an internet connection, running operating Apple iOS 9 and higher or Android 4.4 and higher.
You can read our full Zettle review here.
2. Square Reader
While the Square Reader has been a massive success in America, it's still a relatively recent entrant to the UK contactless card machine market. However, their fees for contactless transactions are tied with Zettle's, and are among lowest among purchased card readers.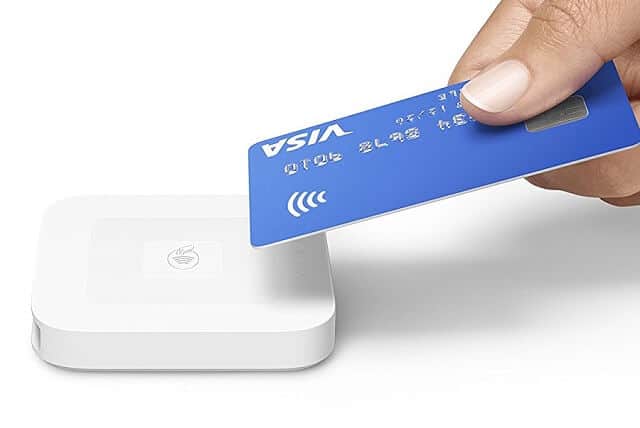 In terms of contactless functionality they offer:
Accept contactless cards and devices with Apple Pay and Android Pay and and other NFC-enabled smartphones and watches.
Works with the free Square app.
Connect wirelessly to iOS or Android devices with Bluetooth LE.
Backup magnetic stripe reader included.
You can purchase your Square Reader on the Square Website or read our review here.
3. SumUp
SumUp is another very solid option option for businesses looking to get started with contactless card payments. While the card reader and fees are not the lowest, they do offer a full POS option.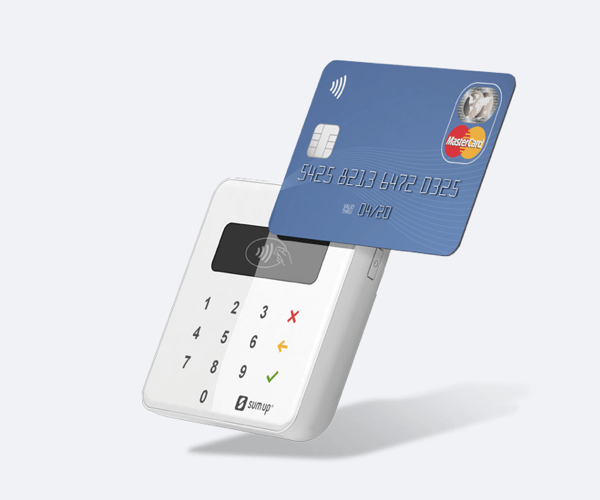 In terms of contactless features they offer:
SumUp Air Card Reader accepts NFC payments via card, Android and Apple Pay.
To accept a contactless transaction just tap the card for 1-2 seconds flat in front of the display of the reader.
Conactless transactions can be up to £30.00 each.
Battery lasts up to 500 transactions.
You can visit their website to learn more or read our complete SumUp review here.
4. PayPal Here
Paypal Here is the online payment behemoth's card reader. While it's introductory rates are the highest in the industry, they do operate on a sliding scale and decline, based on volume, reaching as low as 1.5% (0.25% below Zettle or Square). Plus, it's the only card reader that sends payments direct to your Paypal account.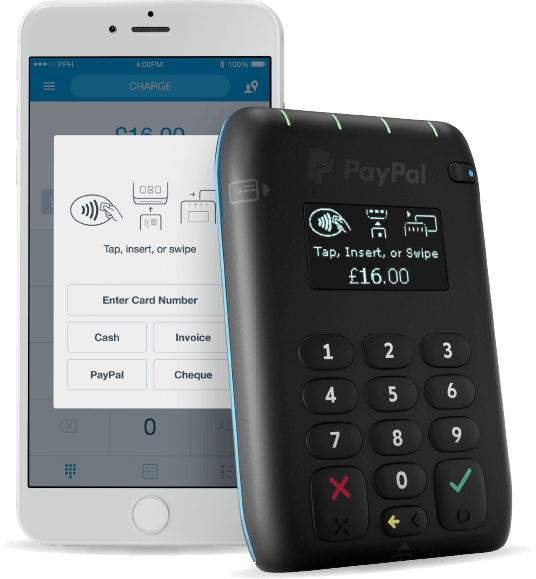 In terms of contactless options they offer:
Accept all types of contactless payment including Apple Pay and Android Pay.
Works with your smartphone via Bluetooth and compatible with iOS and most Android smartphones and tablets.
Payments reach your PayPal account in seconds.
You can get a card reader now for only £35 (inc VAT) or learn more on the PayPal Here website.
5. Barclaycard
Barclaycard offers a range of dedicated contactless card terminals depending on what your business requirements are.
In terms of contactless options they offer:
A range of desktop, portable and mobile card machines for a range of monthly prices.
18 month contracts.
Transaction costs that vary based on volume and value
Also have the Barclaycard Anywhere card reader which can accepts contactless payments.
6. Worldpay
WorldPay is by far the UK's largest merchant account and card machine provider. If you're in the market for a proper contactless card reader, you're likely going to want to talk to them at some point, just to see what they can do for your business.
In terms of accepting contactless payments they offer:
Fast, secure payments up to £30
Straightforward to get started
Offer more ways to pay with Apple Pay
Flexible pricing plans (Pay As You Go, Fixed Monthly, Standard)
Require 18 month terminal hire agreement
You can learn more at the WorldPay website.
Why Your Business Needs a Contactless Card Reader
If you already have a credit card machine and are not sure about upgrading it to a new contactless model, here are just a few statistics from the UK Card Association that you may want to consider:
There are currently 108.4m contactless cards in circulation in the UK (72.6m debit and 35.8m credit cards)
£3.9 billion a month is spent in the UK using a contactless card (£3.4 billion on debit and £500 million on credit).
The average contactless transaction is for £9.40.
There are 416.3m contactless transactions per month in the UK.
There are already 491,084 bank-owned terminals in the UK that can accept contactless payments.
Data from April 2017
For other types of card machine have a look at our guides:
Disclaimer: This website has affiliate agreements in place with Zettle, Square, Worldpay and Amazon. They pay us a commission if your purchase any products via our links. This does not in any way affect increase the price you pay, we just feel you should know.