The SumUp Air card reader is one of the the top credit card machines for small businesses in the UK. It offers low fees of just 1.69% per transactions, with no fixed costs or complicated pricing structures.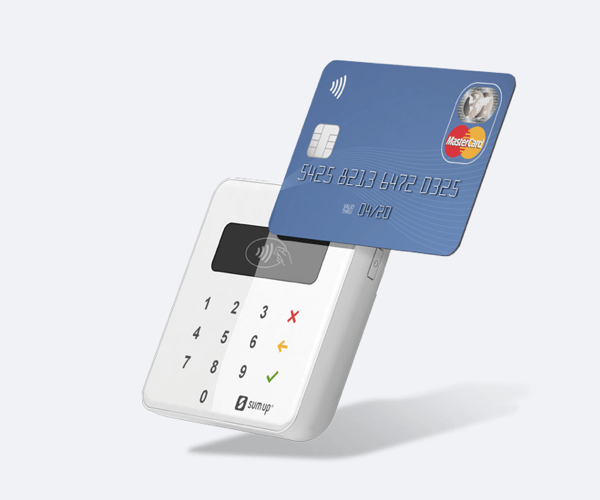 SumUp Air Card Reader
The SumUp Air card reader is one of several innovative new mobile credit card machines available to UK businesses. Similar to the Zettle card reader, the SumUp Air works in conjunction with the SumUp App on your smartphone. or tablet.
And unlike more traditional PDQ machines, there's no need to sign up with a separate merchant account provider or pay any additional credit card processing fees above their standard fee of 1.69%.
Here are some of the key features and benefits of the SumUp card machine:
Accept payments via contactless, Chip & PIN or magnetic swipe.
Equipped with NFC, Bluetooth
Rechargeable integrated Li-ion battery god for 500+ transactions per charge.
Micro-USB charging port
Accepted Cards
Accept any credit or debit card (including international cards) that displays the following logos:
Visa
VPay
MasterCard
Maestro
American Express
How Taking Payment Works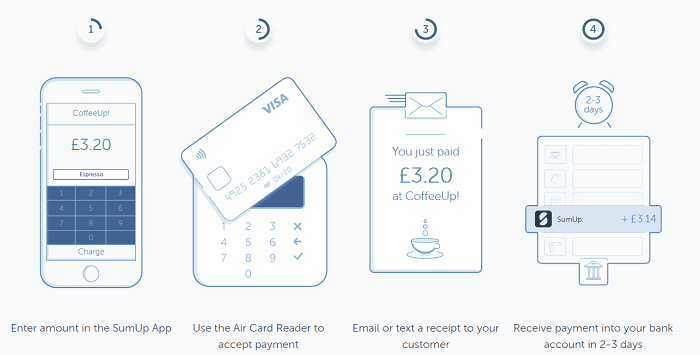 Simple, 4 step process:
Enter amount in the SumUp App
Use the Air Card Reader to accept payment
Email or text a receipt to your customer
Receive payment into your bank account in 2-3 days
Card Reader Security
SumUp operates under the following card payment industry security standards:
PCI-DSS (Payment Card Industry Data Security Standard)
SSL (Secure Sockets Layer) and TLS (Transport Layer Security)
PGP (Pretty Good Privacy)
SumUp Card Reader Score: 4/5, the SumUp card reader accepts fewer cards than the Zettle reader but besides that offers exactly the same functionality.
SumUp Fees, Charges & Pricing
SumUp offers very clear and easy to understand fees and pricing. They are:
Reader Cost: Normally £59 (+VAT) but currently only £39 (+VAT)
Transaction Fees: Flat 1.69%
Monthly Costs: £0
Delivery: Free
iOS / Android app: Free
Dashboard and reporting: Free
Telephone & email support: Free
Payouts to your bank account: 2-3 days
Minimum card payment: £1
Transaction fees compared
SumUp is very cheap to set-up, but how do their transaction fess stack-up?
SumUp has a very clear pricing structure, you pay 1.69% for all transactions (both credit card and debit), whether you process £1 or £100,000 in a month.
This is lower than Zettle's flat fee of 1.75%.
However, both solutions have higher transaction fees than many merchant accounts. Most credit card processing solutions will charge around 2% to handle credit cards, but many merchant accounts will charge 0.75% of less to process debit cards, due to the lower risk.
Therefore, if half your card transactions are debit rather than credit cards you could be paying way over the odds.
To learn more have a look at our UK Merchant Account & Credit Card Processing Fee Comparison.
Also keep in mind most merchant accounts come with other hidden fess, for example PDQ machine rental can sometimes run over £20/month, nearly the same as the one-time price of the SumUp Air reader.
Reader Cost Score: 4.5/5 – Currently among the cheapest options on the market.
Ongoing Cost Score: 5/5 – no ongoing monthly costs, what's not to like?
Transaction Fee Score: 3.5/5 – Clear, easy to understand pricing is nice to see. Plus their fees are lower than Zettle. However, both of these can be far higher than merchant accounts for businesses that handle substantial volumes of transactions.
SumUp Pro & Cons
SumUp Pros
No monthly contract or fee
Low 1.69% transaction fee
3 machines to choose from
100% online application with no contract and no paperwork
Accept Visa, VPay, Mastercard, Maestro, American Express, Diners Club, Discover, and Union Pay
SumUp Cons
SumUp Air is twice the price of Square
Limited number of addons
SumUp App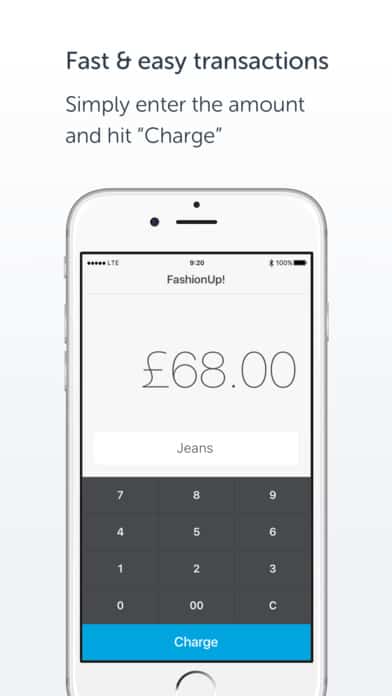 For the SumUp Air card reader to work you'll also need to install the App on a compatible smartphone and/or tablet. You can download the Android App on Google Play and the iOS App on the Apple App Store.
The requirements are:
Bluetooth 4.0 to connect wirelessly with the reader
Apple/iOS devices: operating system iOS 7.0 or higher
Android devices: operating system Android 4.4 or higher
For iPhones this means anything newer than the iPhone 5s without an iOS update or anything newer than the iPhone 4s with an iOS update. For iPad's you can use anything newer than the iPad Air or iPad Mini 2 without an iOS update or anything newer than the iPad (3rd generation) / iPad Mini with an iOs update.
For Android devices you'll have to check if they have Android 4.4 and Bluetooth 4.0 or higher installed.
App Features:
Activate your account
Manage your manage your products
Create custom shelves
Send a receipt via email or text message.
Easily resend receipts
Optional ability to connect a printer and print receipts (see below)
Sales history
Custom Tax/VAT Rates
Android App Score: 4.2/5
iOS App Score: 4.5/5
Other SumUp models
In addtion to the SumUp Air they also offer a standalone Solo device and a 3G printer model. See how they all compare below:
Model
Price (buy)
Price (buy)
£39 + VAT
£79 + VAT
£139 + VAT
Fees (In person)
Fees (In person)
1.69%
1.69%
1.69%
Fees (Manually entered)
Fees (Manually entered)
2.5%
2.5%
2.5%
Mobile Phone Required
Mobile Phone Required
Yes
No
No
Built-In Printer
No
No
Yes
SumUp Printer
The new version of the app currently allows you to print receipts using one of the following printers:
Star Micronics TSP143LAN
Star TSP654IIBI Bluetooth Printer
Star SM-L200 Mobile Bluetooth Printer
Star Micronics TSP 650 (Not USB version!)
SumUp Point of Sale (POS)
If you're looking for something a bit more professional than just a card reader, SumUp also offers a complete Point of Sale (POS) solution that can include: tablets, printers, scanners – all compatible and pre-configured right out of the box.
A few of the benefits and options include:
Integrated Card-Payments
Cloud-based
Reporting & Analytics
Offline-capability
CRM & Loyalty programs
Inventory management
Layaway management
eCommerce connectivity
Online booking
Appointment management
Swarm / handheld ordering
Tipping
Multi-printer
Table management
Cost: Starting from €999 excl. VAT
To learn more you'll have to get a quote from the SumUp POS website.
SumUp POS score: 5/5 – all the features most businesses will need at a very competitive price.
SumUp Restricted Businesses
SumUp has quite a few restrictions when it comes to what sorts of businesses will be accepted.
The following high-risk businesses will need to seek special approval before using the SumUp card reader.
Future business: where the delay between processing a card transaction and handing out the product/service is longer than 7 days.
Adult entertainment / Pornography
Airlines
Business seminars – like real estate seminars, investment programs, business opportunities/strategies, self-help books, etc.
Collection agencies, refinancing of debt / factoring, mortgage, brokers/reduction services/refinancing, Payday loans
Cosmetic surgery
Non-licensed Counselling centers (for example: debt and financial counselling, marriage and family counselling, alcohol and drug abuse counselling, and other personal counselling)
Detective agencies, protective agencies, security services including armored cars, guard dogs
Door-to-door sales
Drug paraphernalia
Employment agencies, temporary help services
Escort services
File sharing services
Fortune tellers
Gambling
Guns, firearms, munitions sale & distribution
Illegal or legally questionable businesses or products
Investor services/investment clubs. Sale of stocks, securities, options, binary options, Forex, and other investments
Male/Female enhancers
Membership fees
Modelling/talent agencies
Not-for-profit organisations
Pawn shops
Political organisations
Products with doubtful efficiency: may include but not limited to weight loss products, hair growth products, products to boost, physical performance.
Protection services: protection, insurance, or registration, service against things such as identity theft, Internet, fraud, credit card theft or fraud, etc.
Pyramid sales/multi-level marketing
Religious organisations & goods stores
Sexual encounter firms
Stamp and coin stores
Telecommunication services including but not limited to prepaid phone services and recurring phone services
Used cars
If in doubt, visit the speak the SumUp customer service team.
SumUp Alternatives and Competitors
For a full comparison see:
SumUp User Reviews
Review Summary
5.0 out of 5 stars (based on 1 review)
Recent Reviews
Good customer service
Good customer service! Quick response via email, helpful and understanding over the phone. Managed to solve complicated issue with money I had stuck with sumup… easy to switch accounts with one card reader etc
Submit a Review
Learn more: Visit the SumUp website
Please note: Merchant Machine has an affiliate agreement with SumUp and Square.