SumUp and Zettle are both popular mobile card readers and payment processors. Thousands of UK businesses use their portable readers rather than a traditional POS machine every day. But which one is right for you?
Product
Price
Price
£39 + VAT
£29 + VAT
Transaction fee
Transaction fee
1.69%
1.75%
Monthly Fee
Payout to Bank Account
Payout to Bank Account
1-3 Business Days
Within 2 Business Days
This SumUp vs Zettle review compares two of the most popular credit card processors, looking at their fees, features, accepted cards, and more.
By the end of the article, you'll know for sure which is best for you.
| | SumUp | Zettle |
| --- | --- | --- |
| Reader Price | From £39 + VAT | From £29 + VAT |
| Transaction fees | 1.69% | 1.75% |
| Monthly Fee | None | None |
| Supported Cards | Visa, Mastercard, American Express, Apple Pay, Google Pay, Diners Club, Discover, UnionPay | Visa, Mastercard, American Express, Maestro, JCB, UnionPay, Discover, Diners Club, V Pay, Apple Pay, Google Pay, Samsung Pay |
| Contactless | Yes | Yes |
| Settlement Delay | 1-3 days | 1-2 working days |
| Receipts | Yes | Yes |
| Operating Systems | iOS and Android | iOS and Android |
Terminals and Features
Both SumUp and Zettle offer a range of card readers and POS terminals suitable for businesses of all sizes.
SumUp has three readers businesses can choose from:
SumUp Air
SumUp Solo
SumUp 3G and Printer
The SumUp Air is the cheapest option and comes with or without a cradle that keeps the reader upright and fully charged. It uses Bluetooth to connect with your smartphone or tablet and can make up to 500 transactions on a single charge.
The SumUp Solo is a standalone device with a touch-screen interface. It uses WiFi and also has free unlimited mobile data thanks to a built-in SIM card. An included Charging Station keeps the Solo charged.
The SumUp 3G and Printer is the only SumUp device that works without a smartphone. It comes with a built-in SIM card for unlimited mobile data and WiFi connectivity. It can process 50 transactions in a single charge. The printer prints receipts and charges the device at the same time.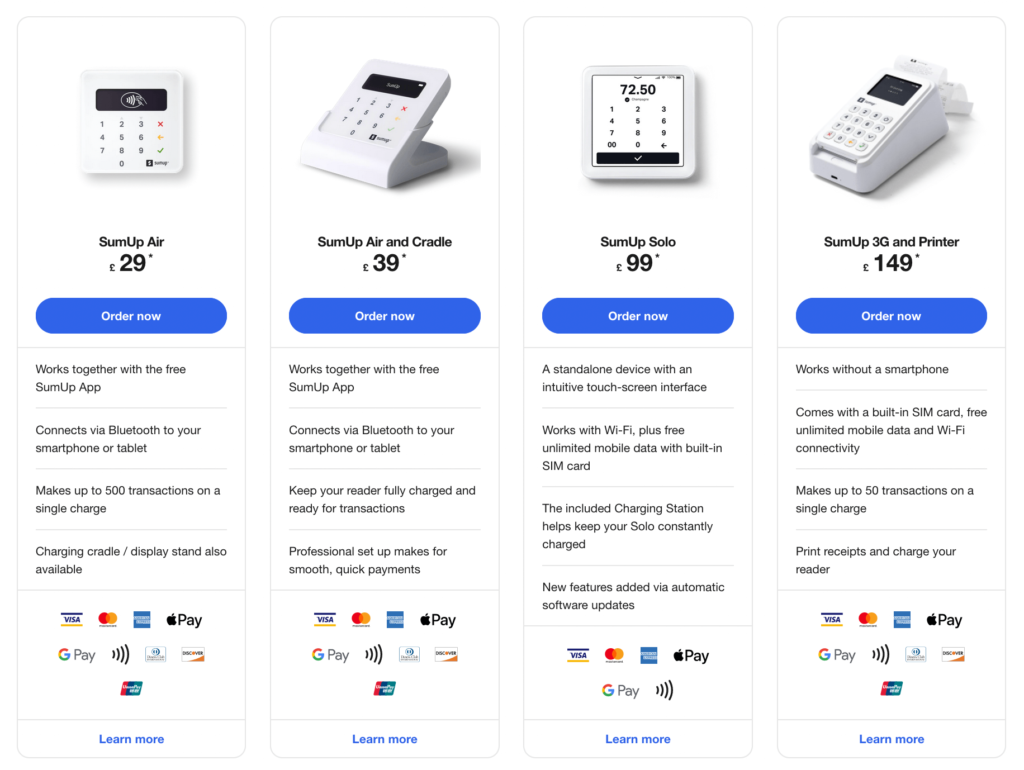 Zettle also has three product offerings:
The Reader
The Terminal
The Store Kit
The Zettle Reader 2 offers an affordable way to make payments using a card reader and your iOS or Android smartphone or tablet. It connects via Bluetooth or WiFi and can be ready to go in minutes. Payments can be made contactless or using Chip and PIN. One charge is enough for 100 transactions
The Terminal is an all-in-one payment processor. It doesn't require a smartphone and can be used by your staff to sell on the go, thanks to a pre-loaded SIM card. Both a printer and a docking station are available as optional extras. The Terminal also boasts in-built POS software that lets business owners manage inventory and view detailed reports directly on the device.
The Store Kit is a comprehensive POS and payment system, complete with a large screen, a card reader and a printer.
The App
Both SumUp and Zettle offer a free POS app to get you started. Zettle's terminals also integrate with a range of POS platforms, but SumUp's app makes it possible to take payments directly through your phone.
The SumUp app facilitates transactions with the Air Card reader, but it's also full of great features to help you run your business. Perhaps best of all is the ability to take payment directly on your smartphone using SumUp's new Tap on Phone technology. Using your phone's NFC reader, the app makes it possible to collect contactless payments on your phone without a card reader.
The Zettle Go app is an easy way to manage your store and take payments. It connects with the Zettle Reader to facilitate credit card, debit card and mobile wallet payments. It also lets you send receipts, collect customer data and run reports.
Pricing & Fees
SumUp is slightly cheaper than Zettle for both the hardware and transaction fees.
SumUp offers business owners a range of price points, depending on the device they choose:
The SumUp Air is currently available for 319 + VAT
The SumUp Solo is available for £79 + VAT
The SumUp 3G and Printer is available for £139 + VAT
There is no monthly cost with any SumUp device. Each transaction costs 1.69%, regardless of payment type.
Card not present payments, whether online or remote, incur a 2.5% transaction fee.
Each device also comes with a 30-day money-back guarantee and a one-year warranty.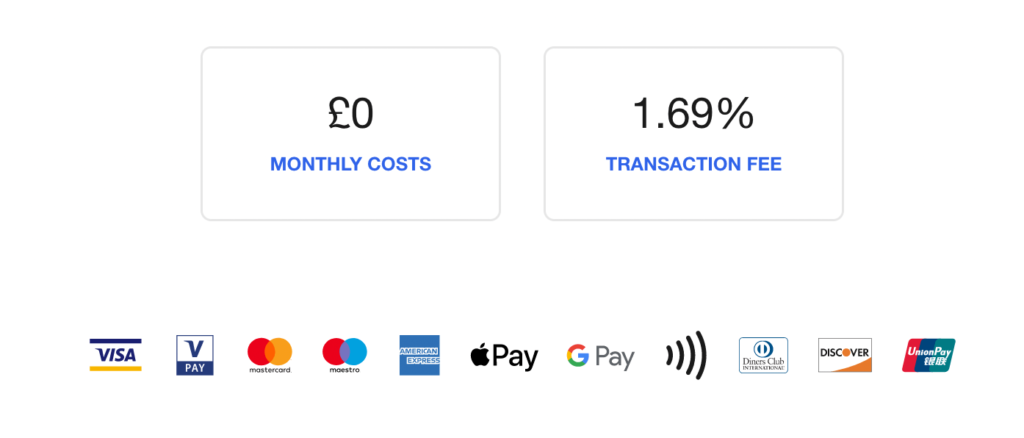 Zettle devices aren't quite as cheap as those from SumUp.
The Card Reader 2 costs £29 + VAT
The Terminal costs £149 + VAT
The Store Kit starts at £189 + VAT
Zettle Go, the company's POS app, is free to use with no monthly fee. All card transactions incur a 1.75% fee. Additional payment methods cost 2.5%.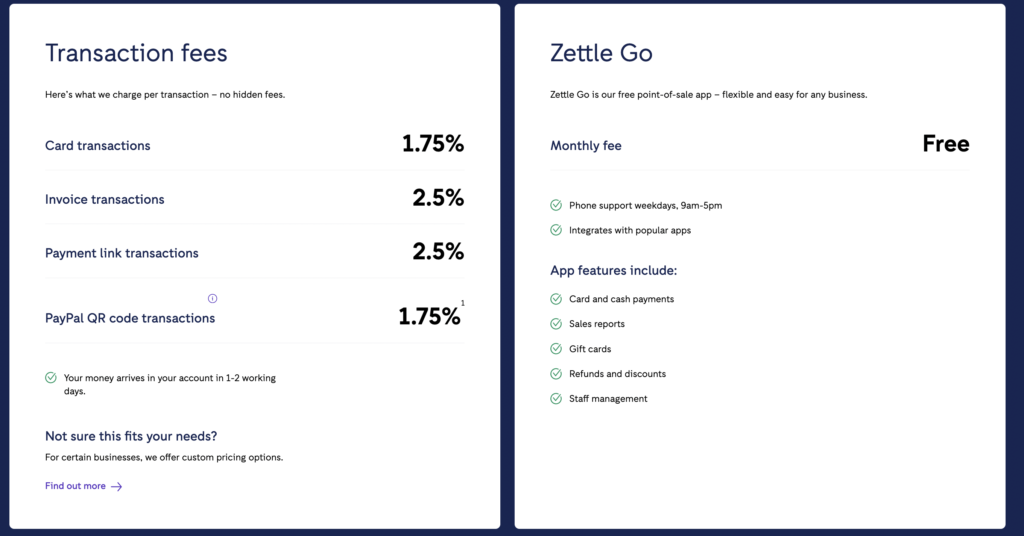 Accepted Cards
Both SumUp and Zettle accept most major credit and debit cards as well as popular digital wallets. Zettle does accept slightly more payment methods, however.
SumUp devices accept the vast amount of major credit and debit cards, as well as popular digital wallets, including Visa, Mastercard, American Express, Apple Pay, Google Pay. Contactless purchases are available.
In addition, the SumUp Air and SumUp 3G also accept Discover, Diners Club and UnionPay.
All three of Zettle's devices accept the same payment methods. These are Visa, Mastercard, American Express, Maestro, JCB, UnionPay, Discover, Diners Club, V Pay, Apple Pay, Google Pay, Samsung Pay.
Other Ways to Get Paid
Both SumUp and Zettle offer several additional payment features on top of their card readers.
SumUp offers multiple payment methods in addition to its card readers. These include:
SumUp offers an easy-to-use online store builder that lets business owners create their own online store without knowing how to design or code. There are no setup costs and transactions are charged at 2.5%.
They also provide an all-in-one POS system, which includes everything you need to process orders and manage your business.
Zettle offers a similar range of payment solutions. These include:
Zettle doesn't have an eCommerce store builder, but it does integrate with major platforms, including Shopify, BigCommerce, PrestaShop and WooCommerce. It also integrates with Zero and Quickbooks accounting platforms.
Payout Times
Zettle processes payment slightly faster than SumUp.
SumUp processes transactions and transfers funds, minus their transaction fee, to your bank account. The process takes 1-3 business days for local cards. American Express and international cards may take an additional 2-3 days.
Payouts can be tracked using the SumUp App. Payouts are set to daily by default.
Zettle processes transactions and deposits them, minus transaction fees, into your bank account within one to two working days.
Receipts
Both SumUp and Zettle let stores email and print receipts.
SumUp provides multiple ways to offer receipts. The easiest way is using the SumUp 3G and Printer terminal. It will print receipts automatically if you enable auto-print functionality.
You can send receipts using any device with the SumUp App by entering the customer's contact details on the confirmation screen of the App. The app will email or text the receipt to the customer. You can print these receipts by connecting a Bluetooth printer.
Zettle also sends receipts by text, email or by printing them out. The app and Zettle's terminal have text and SMS receipt functionality baked in.
The company also has its own printer (sold separately). Both the Terminal and Store Kit can be connected to third-party printers.
Security
Both brands take security very seriously.
SumUp puts an emphasis on security. All data is automatically encrypted and sent securely to the company's servers, regardless of whether you use private or public Wi-Fi. All software and hardware meet and often exceed PCI-DSS standards.
Zettle is also PCI compliant and uses advanced encryption to keep your data secure. In addition, the card reader and terminal are both tamper-proof and will shut down automatically if they detect any signs of tampering.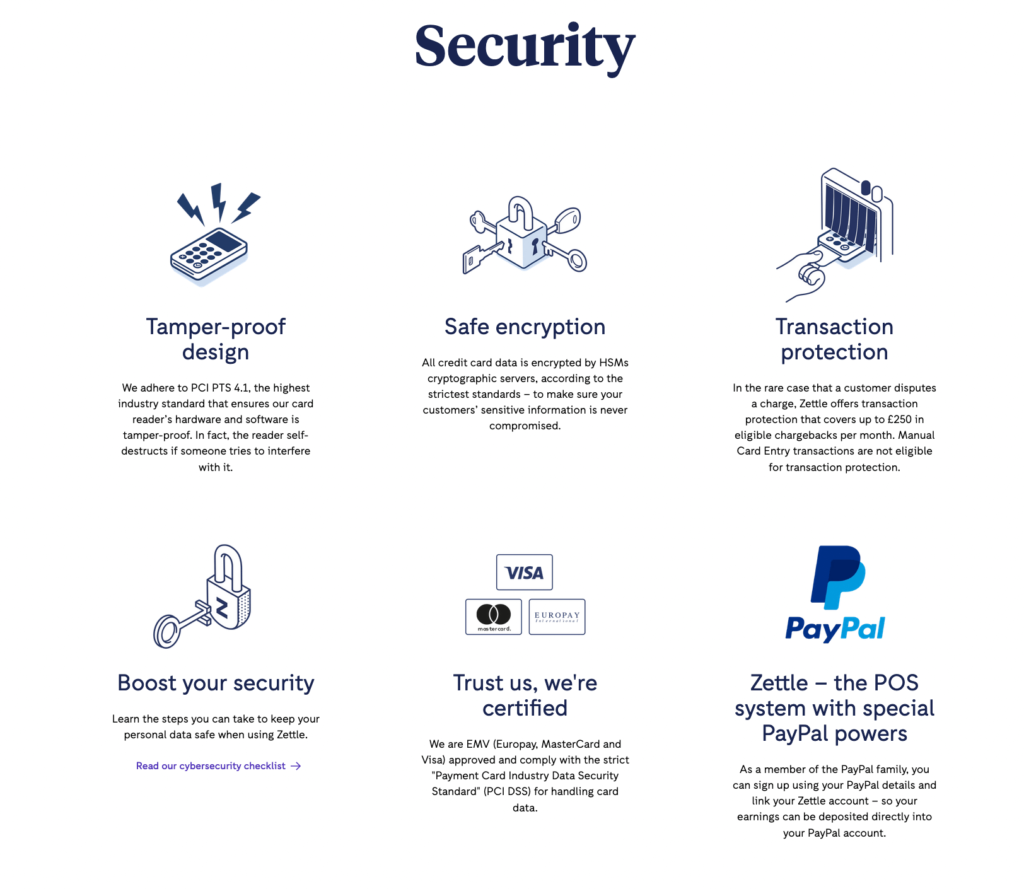 Reporting
Both companies give store owners access to a wealth of reports.
SumUp gives business owners a list of reports to help them monitor and grow their stores. These reports are available on your SumUp profile and include:
Sales reports
Revenue reports
Payout reports
Fee invoices
Transaction reports
Online store reports
Zettle has a reports hub that offers daily and monthly insights. Reports include:
Sales data
Top selling products
Daily, weekly and monthly sales summaries
Sales by hour
Payments and fees
Sales by channel
VAT
Staff sales
Customer Support
Whichever card reader you choose, you're sure to get the support you need.
SumUp offers a wealth of support for its customers. The online support centre has articles on just about every topic imaginable. If that's not enough, they also offer email and phone support. Lines are open 8 am to 7 pm on weekdays and 8 am to 5 pm on Saturdays.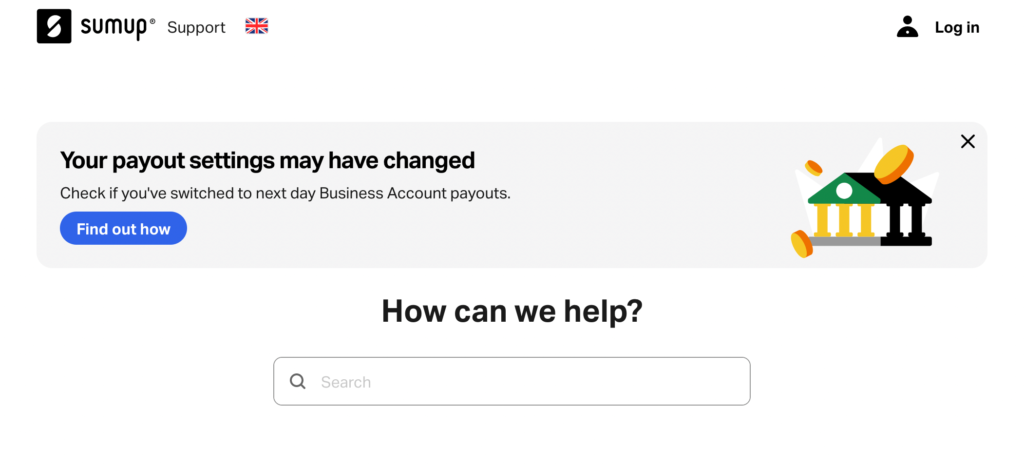 Zettle also has a comprehensive help centre with articles on everything to do with their products and software. In addition, customers can chat to support staff by phone, email or live chat on weekdays between 9 am and 5 pm.
And the Winner Is…
Both SumUp and Zettle are highly recommended by their customers.
SumUp scores 3.3/5 on TrustPilot and 4.9/5 on Capterra.
Zettle scores 3.1/5 on TrustPilot and 4.6/5 on Capterra.
We're going to side with the review scores on this one. With both companies offering broadly the same functionality, SumUp wins because it's a cheaper option both in terms of hardware costs and transaction fees. It also offers slightly better pay out times, even if it doesn't accept Samsung Pay.
That being said, if you choose Zettle you definitely won't be disappointed!