If you're a business owner or entrepreneur, then you know that having a reliable payment system is crucial to your budding business's success. Shopify is a great payment platform for businesses, but its built-in system may not be the best fit for every brand.
In this blog post, we will take a look and highlight some of the best alternatives to Shopify Payments so that you can find and determine which payment solution is perfect for your particular business.
Reasons Why Shopify Might Not be the Right Choice
While Shopify is an incredible platform for many businesses, there are some downsides to using its built-in payment system. Here are a few reasons why Shopify Payments may not be the best fit:
High Fees

 – One of the most significant downsides to using Shopify Payments is the high fees that come into play. Shopify charges a 1.5 – 2% + plus a flat rate of 25p per transaction fee, which can add up quickly if you have a lot of sales that month.
Limited Payment Methods

– Another downside to Shopify Payments is that it only accepts a limited number of payment methods. These limits can be a problem if your customers want to pay with a payment method that Shopify Payments don't support.
Restrictions on Volume

 – If your business grows rapidly, you may hit some limits on volume when using Shopify Payments. These restrictions mean you may need to find a different payment solution if your business exceeds certain limits or pay extra fees.
Lack of Customer Service

 – One of the most significant downsides to using Shopify Payments is the lack of customer service. If you have any questions or problems with your payment processing, you'll need to contact Shopify directly. This process can be a major inconvenience if you cannot resolve the issue yourself.
The 5 Best Alternatives to Shopify
1. PayPal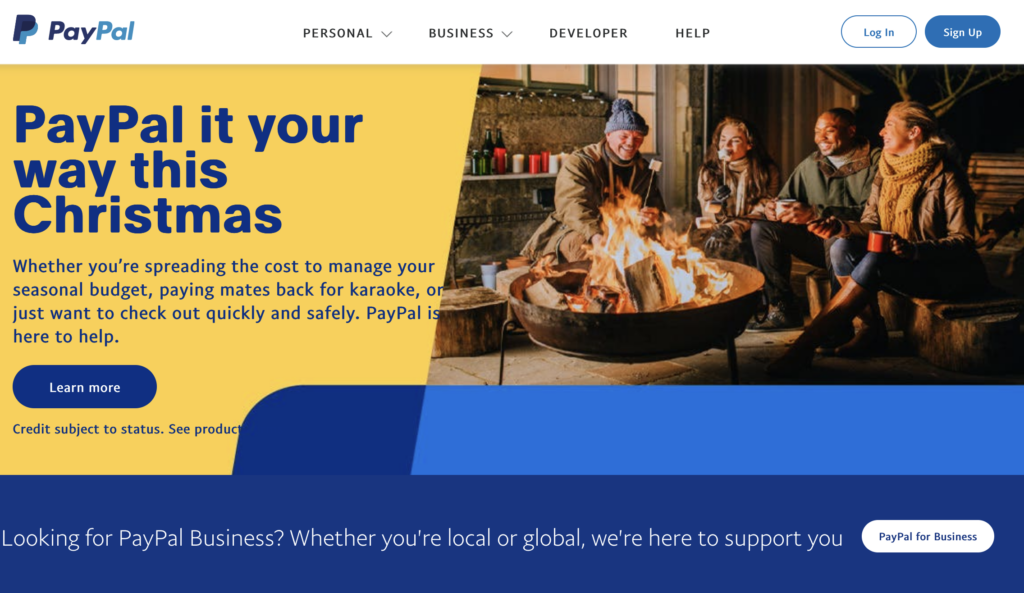 PayPal  is, hands down, one of the most popular payment processors in the world. They have definitely earned that title. It's easy to use, accepts many payment types, and is available in over 200 countries.
PayPal also has low transaction fees, which makes it an excellent choice for smaller independent businesses or freelancers.
Transactions where both the recipient and the sender are registered by PayPal as a current resident in the United Kingdom, Guernsey, Jersey, Isle of Man, are treated as domestic transactions. PayPal  is great for sending and receiving money within the UK; however, it can become expensive when other fees come into play.
PayPal's processing fees can range drastically from 1.5% to 3.5% of each and every transaction. Then there is usually an additional fixed rate that is also applied on top of that. Luckily for customers, PayPal is free to use unless it involves the conversion of other currencies.
In 2022, customisation and branding are crucial elements, and an intelligent entrepreneur knows what to look for. Another downside to using PayPal is that it doesn't have as many customisation features as some of the other options on this list.
2. Square

Square  is a popular payment processor offering a wide range of business features. It has low transaction fees, and supports multiple currencies. Square also offers invoicing and accounting software integrations, which makes it an excellent choice for businesses that need an all-in-one solution.
The only downside to Square is that it's only available in some countries.
Processing fees are around 1.9% for UK/EEA cards and 2.9% for non-UK cards. After November 2022, the rates may change permanently to an amount equaling 2.5% plus 25p for each UK transaction.
A definite benefit is that the Square Point of Sale software is entirely free to use. Furthermore, no setup fees or bills are coming in every month, and you will only pay when you take and receive payment.
Square works well with UK-issued and international credit cards with a Visa, MasterCard, American Express, Maestro, Visa Electron, or Vpay logo.
Also see: Shopify vs Square
3. GoCardless

GoCardless  is a UK-based payment processor specialising in direct debit payments, and this specialisation makes it a great choice for businesses that need to bill customers repeatedly. GoCardless has low transaction fees and offers various accounting and invoicing software integrations.
Although GoCardless is yet to be available to all countries, it is available to more than 30 countries and counting. They offer a new way to pay and receive payments directly from your customer's bank account into yours. This puts a stopper on late payments, reduces stress waiting for payments, and reduces expensive fees.
GoCardless makes fees simple to understand. They will charge yu a generous domestic transaction fee of only 1% plus 20p, with no extra setup costs. All your funds are paid out within three working days, and there is no total transaction limit.
4. Stripe
Stripe  is another payment processor that offers a wide range of features for businesses. It has low transaction fees, and supports multiple currencies. Stripe also offers invoicing and accounting software integrations, which makes it a great choice for businesses that need an all-in-one solution.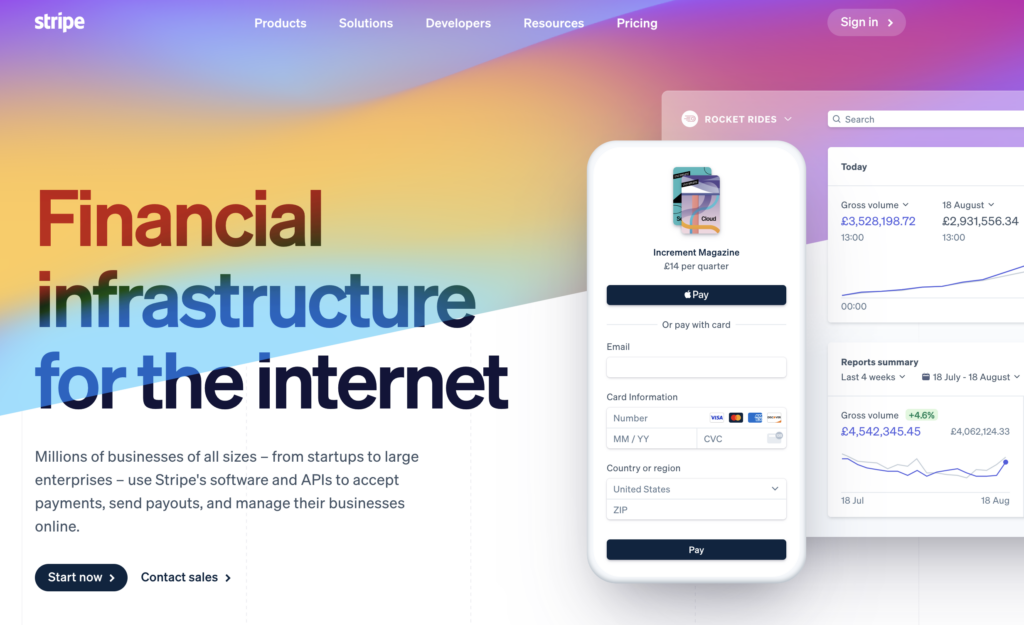 They combine website building and payment apps to allow your business to promote and send payouts globally. Stripe can also help your company with things like fraud control, getting financing, managing spending and sending out invoices.
One of the only downsides to Stripe is that it's yet to be available to everyone around the globe. Stripe customers and merchants usually are located in countries in North America and Europe.
Stripe charges a flat rate of 1.4 % + 20p for UK cards and 2.9% + 20p for international ones. You can even design a customised package to fit your business and personal needs.
5. Klarna
Klarna  is a Swedish payment processor that offers financing options for shoppers. It's a great choice for businesses that sell high-ticket items or need to provide financing options for their customers. Klarna has low transaction fees and offers various integrations with accounting and invoicing software.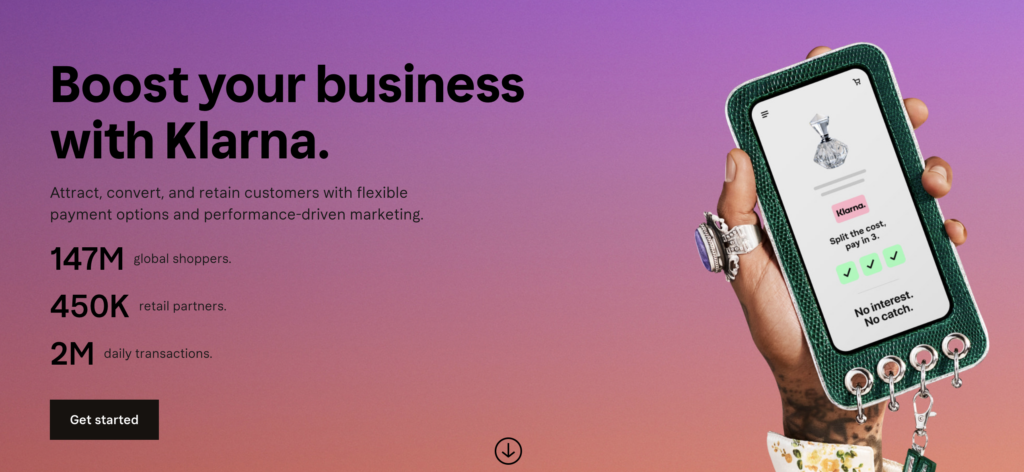 Klarna is incredibly consumer-friendly. While you'll have to pay a fee to use the payment processor, your customers aren't charged a thing. There are no upfront costs or annual fees for using Klarna, but special services may incur additional expenses later. There are no fees when you use the app, make payments, or pay within 30 days. However, fees ensure customers are responsible with monthly financing and using the Klarna Card.
How to Choose the Best Payment System for Your Business
With so many different payment systems, knowing which is right for your newly booming business can take time. You need a system that is secure, efficient, and easy to use. Below are some helpful tips on choosing the right payment system designed specifically for your business.
Consider your Needs
The first step in choosing a payment system is to consider your needs. What are you looking for in a payment system? Do you need a system that can accept credit cards? Do you need a system that can accept multiple currencies? Do you need an extra secure system? Once you know what you need, you can start to narrow down your options
Compare Features
Once you have an idea of what you need, you can start to compare features. Look at different payment systems and see which ones offer the required features. Make sure to read reviews to get an idea of how user-friendly the system is.
Consider Ease of Use
You also need to consider the simplicity of use when choosing a payment system. The last thing you want is a system that is too difficult to navigate or takes too long to process payments. Look for a system that is easy to set up and has a user-friendly interface.
Compare Costs Carefully
Finally, it would be best to compare costs when choosing a payment system. Some payment systems charge monthly fees, while others take a percentage of each sale. Choose the option that is best for your business model and budget.
Conclusion
Shopify is a good online payment processor, but it isn't right for everyone. It's not ideal if you aren't an eCommerce store and you may find it's payment options restrictive.
If that's the case, then any of the five Shopify alternatives we've listed above are suitable. Whether you want more functionality, lower fees or something else entirely, you're sure to find one of them that works for your business.
Just remember that when choosing an online payment processor for your business, it's essential to consider your and your audience's needs and select the option that best suits your business model.