Founded in 2005 in Stockholm, Sweden, Klarna has taken the online payments world by storm in recent years.
With an effective pay in 30 days and a 36-month finance option, Klarna gives flexibility to customers in a range of different shopping experiences. The payment company has partnered with huge household names to offer their services with companies including Samsung, Adidas, Asos, Gymshark, RayBan and more all utilising the Klarna tools. 
With more than 147,000,000 active consumers and over 2,000,000 transactions per day, it's no surprise that over 400,000 merchants choose Klarna over the competition. 
Prices/Fees 
Unfortunately, Klarna has not published its pricing information online and businesses are required to create a Klarna business account to contact the customer service team. 
Creating a Klarna business account is quick and easy with users able to answer a handful of simple questions about the business. Information including the country of registration, company email address, stakeholders and more is required to give the best possible services.
Once an account has been created, the tailored prices can be viewed.
Product/service overview
Despite the common customer recall recognising Klarna as a flexible financing company, the company spans a range of different solutions. 
The services offered by Klarna can be split into two main categories, payment solutions and marketing and ad solutions. Each of these is split further into specific products that offer real businesses value to both small and large companies around the world.
Payment solutions
Klarna offers a range of payment solutions that help businesses not only to accept payment but to grow their revenue streams.
A brief overview of the payment solutions, ranging from payment methods and custom checkouts to subscriptions and Klara open banking, and the features associated can be found below. 
Payment methods 
The available payment methods offered by Klarna is one of the unique aspects of the payment solution company.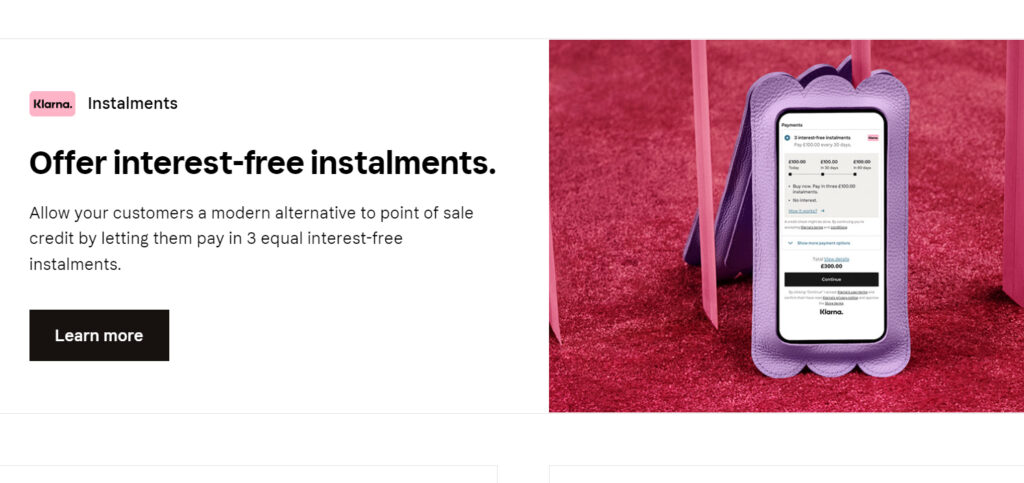 When buying via Klarna, customers are able to choose flexible options that can lead to additional conversions. The choice of 3 equal interest-free instalments is the most popular unique payment offered by Klarna and is the option that most customers know the brand for.
Klarna offers additional flexible options for businesses with 30 days to pay solution and a 36-month financing option for payments. The choice of these flexible methods is one that customers appreciate and with additional options to pay the full amount, the choice is in the hands of the customer. 
The Klarna payment methods are compatible with popular site tools including WooCommerce, Shopify, BigCommerce and Magneto. 
Checkout 
A carefully crafted online checkout is vital to increasing the conversion rate of a website and Klarna Checkout is offered with everything needed for a seamless approach. 
Businesses are able to offer a streamlined shopping experience with an intuitive checkout that covers all of the top payment methods. Additionally, seamless identification of the customer can be achieved in the checkout, minimising any risk of fraud. 
The checkouts work in three main parts, the first of which is via on-site messaging – alerting potential customers of the 3 interest-free instalments option. Next, customers are treated as return customers with an address automatically saved for billing and shipping pre-filled for convenience. 
Next, customers are able to choose how to pay with all major payment methods covered with the checkout. A huge 99% of transactions are reported to be seamless without a single hitch and a total of 85% of customers say that the Klarna checkout is better than others found online. 
In-store shopping 
Although once an online-only service, Klarna has now been expanded to offer a new way for customers to pay in-store. 
The service, as used by top UK brands including Halfords, New Look, Schuh and H&M, to offer Klarna in-store with a quick and easy process. 
First, when Klarna is chosen as the payment method, customers are sent a link by a store associate via SMS, email, or QR code. Next, customers are able to complete their purchases from their mobile devices. The process is quick, safe and contactless and will trigger a confirmation both for customer and store associates instantly. Finally, the customer will be able to access a clear post-purchase overview in which they can manage any orders placed. 
On-site messaging 
The on-site messaging supported with Klarna is one of the most important tools available for boosting the awareness of the payment method.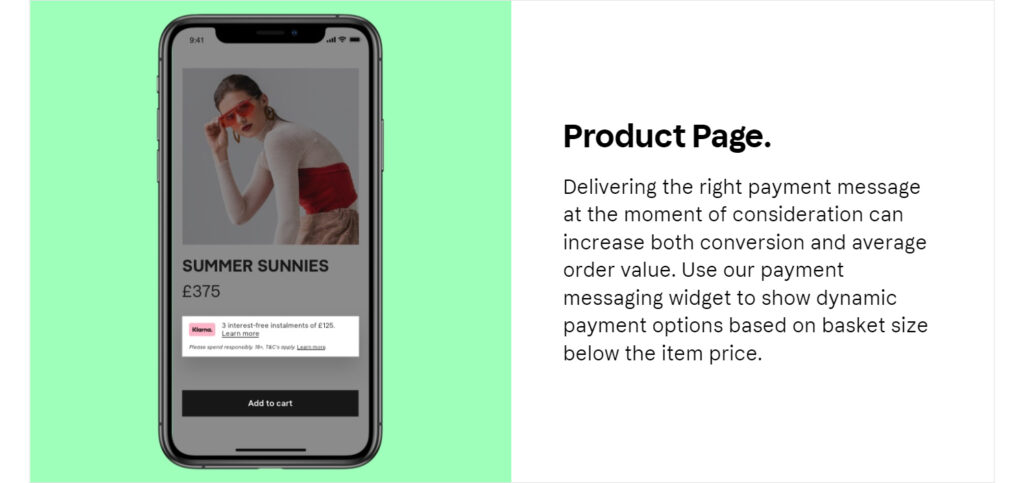 A small banner showing the "3 interest-free instalments of £x" is a proven way to increase the average order value at an online store. These signs are shown throughout the shopping process, not just at the checkout, allowing customers to know of the flexible payments whilst browsing. 
The messaging can be used in four different locations throughout a website, boosting awareness of the payments. A sitewide option, highlighting Klarna information on the top-strip and footer. A product page message featured below the price of the chosen. A shopping cart message, highlighted in the checkout phase of product purchase. And finally, an FAQ message, informing of how exactly Klarna works.
Businesses are completely in control of how these messages are shown with the font, text & link colour, padding and more able to be customised to match company branding. 
Express buttons 
An express shopping experience is also offered by Klarna, allowing businesses to use pre-filled data for all potential Klarna shoppers – even those shopping for the first time. 
By pressing the "Klara" button in the checkout, customers are able to skip the traditional process, entering personal information and purchasing with a single click. As with all other Klarna purchases, customers will also find a clear overview of their purchase in the post-purchase dashboard. 
As with the Klarna messaging, businesses are able to alter the look and feel of the buttons to fit their branding. 
Subscriptions 
With a 47% increase in signup conversion and a 31% decrease of involuntary churn, Klarna's subscription capabilities are another of the top services offered by the company. 
Businesses are simply required to decide with the customer both how and when the automatic payments should be made and Klarna looks after the rest. 
Customers looking to pay for a subscription via Klarna will be asked to sign-up with the payment automatically paid in accordance with the plan. The customer is then able to choose a convenient payment method with choices of a bank, debit card etc. Once decided, customers are just one click away from signing up with information saved and ready to be pre-filled at any time. 
Klarna Open Banking 
One of the most recent developments in the Klarna business model is the offer of Klarna Open Banking. 
The service is still in its early stages, but proves to be promising with what is reportedly marked as "Europe's most scalable and proven open banking platform". The Open Banking system covers more than 6,000 banks spanning 20 European countries with over 90 million people trusting the bank.
The system offers top financial services including investments, business loans and robo-advisors, offering top features found at a traditional bank. Open Banking also allows for secure, safe and smooth connections to customer bank accounts with a simple-to-use interface that customers love. 
Marketing and Ad solutions
Alongside the payment solutions, Klarna also works to offer a range of marketing and ad solutions for businesses to utilise. 
The marketing and solutions offered by Klarna range from virtual shoppers to influencer marketing assistance, solving common sticking points for companies. 
Marketing solutions 
There is a range of marketing solutions offered by Klarna, allowing businesses to utilise performance-driven material to boost their revenue.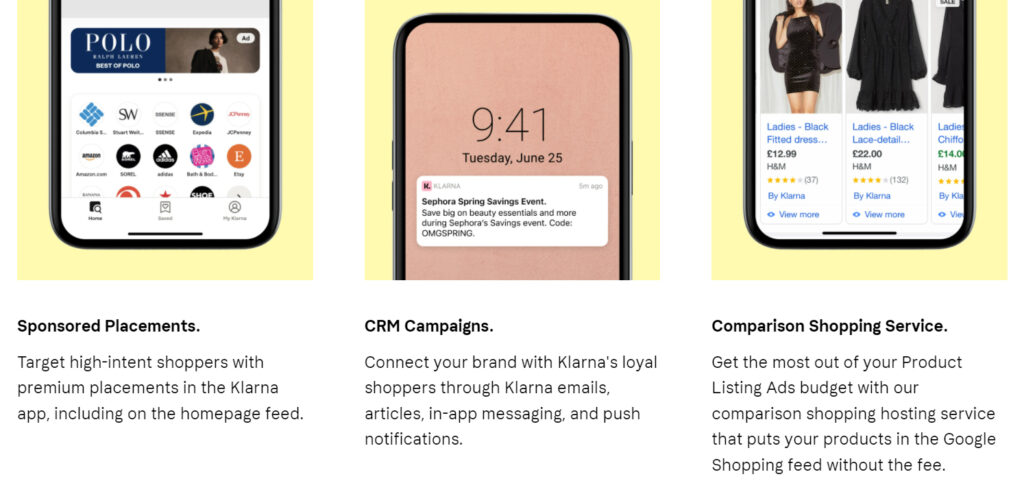 Brands that take advantage of the marketing tools offered by Klarna are reported to engage more than 15 million UK shoppers, see a revenue increase of up to 70% and find a 25% increase in return on their ad spend. 
The marketing capabilities of Klarna is all about engaging ready-to-purchase customers with relevant products. Businesses are able to choose from sponsored placements, CRM campaigns and the Google comparison shopping service when using Klarna. 
Virtual shopper 
One of the most interesting features offered by Klarna is the online virtual shopper, allowing customers to buy with confidence with the use of virtual shopping tools.
Customers are able to connect with in-store experts via video, gaining invaluable access to product information, advice and inspiration. This takes the typical, ineffective chatbot to a whole other level, allowing genuine connection with experts to make online purchasing a breeze. 
Companies are also able to create a pre-recorded video, solving any issues and giving a truly human experience to online shopping. Customers can find product walkarounds, view items up close and gain a better feeling from traditional online tools.
Influencer marketing 
The rise of the influencer marketing program helps businesses connect with the best influencer partners for them. 
Klarna then allows businesses to craft relationships, collaborate on projects and track relationships with genuinely useful insights and performance metrics. Businesses that use Klarna's influencer marketing can see as much as a 3x increase in sales from influencers and a huge 80% reduction in influencer management time. 
The platform solves a number of the prominent problems of influencer marketing, including the discovery of relevant influencers to specific products. With over 500,000 different creators available globally in the system, businesses won't have any trouble finding value in different influencers' reach. 
Campaigns can also be tracked, allowing metrics to be tracked and approaches tweaked to find the optimum results. 
Comparison shopping service
Comparison shopping is one of the major Google updates in recent years that has transformed the way that customers find and buy from businesses. 
By changing the product listing ad hosting to the Klarna Comparison Shopping Service, businesses can find countless benefits. A 20% saving on CPC spend, a boosted reach with additional customer acquisition and improved ROAS with a self-serve solution offering full control to the businesses are just some of the pros associated. 
Additionally, customers are able to use product listing ads (PLAs) when working through Klarna. These give access to the top in-market customers, offering some of the top ROI when compared with other channels. 
The system focuses on simplicity for the user, preventing the need for any confusing dashboards or databases and allowing full control of the business marketing. 
Company background
Klarna was founded in 2005 in Stockholm, Sweden and has managed to secure the title of the leading global payments and shopping service.
The company has amassed over 147,000,000 active consumers from more than 400,000 merchants in over 45 different countries across the globe. Additionally, the company is responsible for more than 2,000,000 transactions per day – a huge number that scrapes the surface of the success accrued by Klarna. 
The company did, however, start with humble beginnings with the three founders (Sebastian Siemiatkowski, Niklas Adalberth and Victor Jacobsson) entering Klarna into the Stockholm School of Economics annual entrepreneurship award. Despite the now successful company, the idea ranked towards the bottom of the pack. 
Despite this, the team pressed forward, founding Klarna in the same year and with angel investor Jane Walerud, a comprehensive product was created. By the end of 2010, Klarna had offered their services to Norway, Finland and Denmark alongside operations in both Germany and the Netherlands.
In 2011, Klarna made its first acquisition in Analyzd, an Israeli company specialising in both risk management and online payments. Two years later, Klarna merged with German giant SOFORT AG, in a deal that saw the pair of companies continue to operate separately. 
User reviews from around the web 
Klarna is one of the most reviewed payment solution companies on the web with over 100,000 individual customer reviews with the following scores found on popular review sites.
Trustpilot – 4.3 / 5 (based on 143,527 reviews) 

G2 – 4.1 / 5 (based on 31 review) 

Capterra – 5 / 5 (based on 3 reviews) 
Overall, Klarna has amassed an overall score, heavily influencer by a wealth of Trustpilot reviews, of 3.3 / 5 from a total of 143,561 reviews.
Klarna User Reviews
Review Summary
5.0 out of 5 stars (based on 1 review)
Recent Reviews
Katelyn
I needed help the other day with my account, a young lady be the name of Katelyn helped me, she was very knowledgeable and friendly.
Submit a Review
Also see: