Founded in 1967, Global Payments is one of the oldest companies providing payment solutions to merchants, issuers and consumers.
Global Payments is used and trusted by more than 3 million companies, over 1,300 financial institutions, and in excess of 4,000 tech partners in over 100 different verticals. Big-name brands include Burger King, 7-Eleven, Starbucks, Brewdog, Taco Bell, Volkswagen, Ironman and more. 
With more than 50 billion transactions annually, Global Payments is one of the largest payment processors globally. In 2021, the company was named in the Forbes Fortune 500.
Prices/fees
The specific pricing and fees offered by Global Payments are not strictly published on their site and although information about the brand can be identified, businesses should sign up to get a direct quote from the company. 
Despite this, Global Payments does publish some pricing information, allowing businesses to build a picture of the pricing before creating their account with Global Payments. The pricing of services can be split into two categories, the card machines and the eCommerce portions of the products offered.
Card machine
The card machines offered by Global Payments allows businesses to receive payments via POS or TEF. 
There are a range of benefits offered with the card machines provided by Global Payments including free rent for the first 3 months and a free chip and data plan offered. Additionally, businesses can expect free delivery, free maintenance and replacement, free paper receipts and customer service from 8h to 20h. 
| | | | | |
| --- | --- | --- | --- | --- |
| | Debt | Cash credit amount  | Instalments 2 to 6x | Instalments 7 to 12x  |
| From  | 1.80% | 2.50% | 2.87% | 3.28% |
| Receipt | 1 business day | Within 30 days  | 1 instalment in 30 days, too much every 30 days | 1 instalment in 30 days, too much every 30 days |
Table: Fees for card machines offered by Global Payments
The card machines available to businesses include the S920, featuring a touchscreen keyboard, 4G, 3G, WiFi and Bluetooth, the A910, again with a touchscreen keyboard as well as 4G, WiFi and Bluetooth and the simpler Move 2500, offering 20 embossed keys 3G, GPRS and Bluetooth.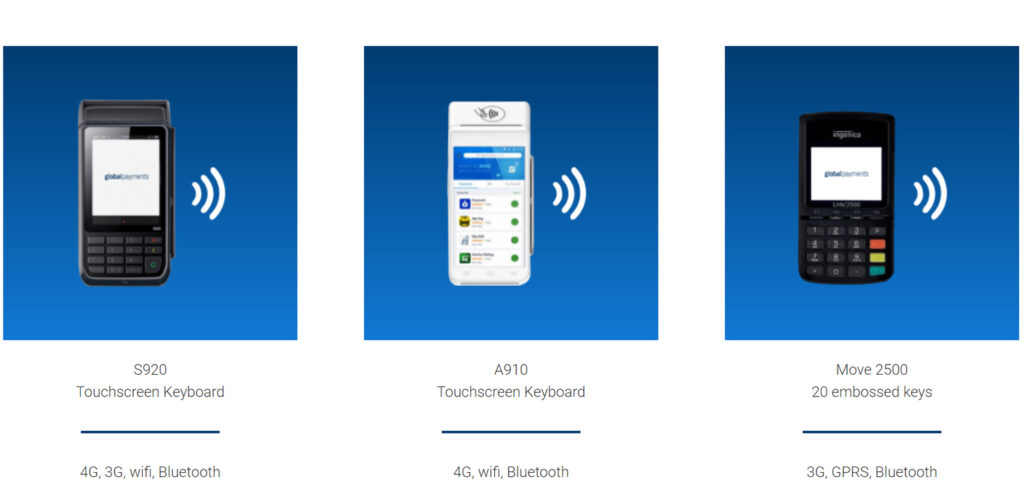 eCommerce 
The pricing of the services offered by Global Payments are not clearly published online, although a simplistic base rate can be found. 
The eCommerce fees at Global Payments are quoted on a bespoke basis, achieved when requesting a quote directly. The below fees are the minimum administration fees based on the Visa and Mastercard card schemes.
| | | | | |
| --- | --- | --- | --- | --- |
| | Debt | Cash credit amount  | Instalments 2 to 6x | Instalments 7 to 12x  |
| From  | 1.80% | 2.50% | 2.87% | 3.28% |
| Received  | 1 business day | Within 30 days  | 1 instalment in 30 days, too much every 30 days | 1 instalment in 30 days, too much every 30 days |
Table: Pricing/fees for eCommerce offered by Global Payments
In addition to the competitive base rates, businesses will find a range of additional pricing benefits including a lack of setup fee, no monthly fees and the payment for approved transactions only. 
Product/service overview
Global Payments is a payment company specialising in both point of sale (POS) and eCommerce transactions for businesses and financial institutions of all sizes. 
The bulk of the services offered by Global Payments is related to the acceptance of payments and is the key feature that has earned the company the trust of over three million companies. Payments can be accepted online, by mobile, in-person and more with the services offered by Global Payments. 
In addition to payment processing, Global Payments also focuses on the growth of both online and brick-and-mortar businesses. This is done with the cloud-based Merchant Portal, an online hub used to access data, customer disputes and key performance information of a business. 
Accept payments 
The ability to accept payments is the single most important factor in operating a business and Global Payments focuses on allowing customers to pay the way in which they want to.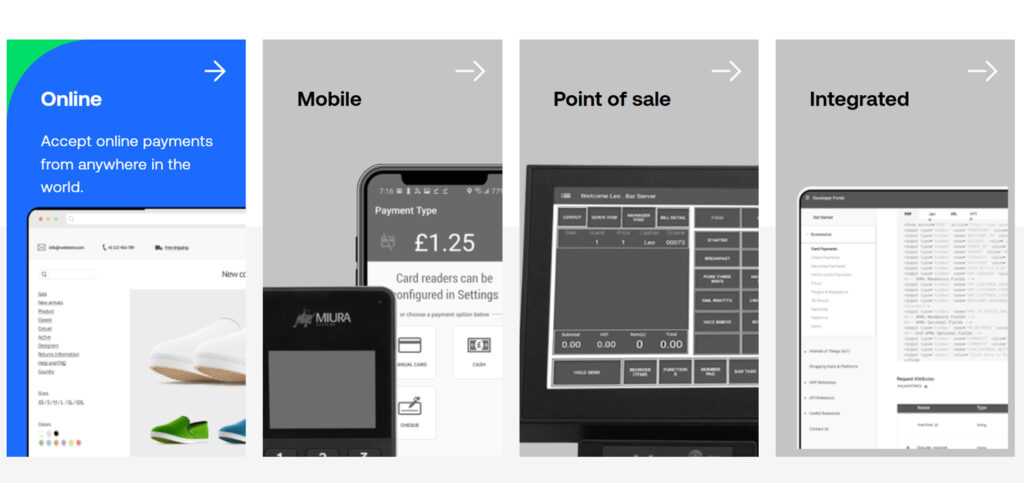 The company is focused on making payments as streamlined as possible, preventing customers from finding sticking points when purchasing. With online, mobile, point-of-sale and integrated payment options available from Global Payments, businesses will find a single solution or a full omnichannel approach that's great for them. 
There is a huge customer support base at Global Payments, offering the ability to guide businesses and find the best solutions for them. 
Online 
The ability to accept payments online is huge for all businesses, but especially those focused on eCommerce. 
Global Payments knows that "online" is a very big place and the opportunities for online transactions are just as large. With the ability to accept and process payments globally, businesses can grow around the world with checkout options to suit.
There are three main ways in which the payment options can be used on a company website. 
A ready-made option offers a simple payment page, complete for web and app usage. Building blocks can also be used, allowing businesses to build their own payment fields with pre-made blocks. Finally, full development options can be used with APIs and SDKs, making a simple payment page exactly how businesses want.
Mobile 
With an incredibly powerful device held in the pocket at most, if not all times, the ability to run a business from a mobile device is invaluable. 
Both solo entrepreneurs and large businesses alike can benefit from Global Payments' Mobile Pay solution. There is a huge number of associated benefits with the service. Transactions can be managed with full control from portable devices with the ability to set prices, apply discounts, calculate taxes and accept tips.
In-person contactless payments can also be made from a mobile device. Users are able to make payments with Apple Pay, Samsung Pay, Google Pay and more. This gives another quick and easy payment solution that customers can use without the need for touch. 
Businesses are, most importantly, able to access the range of cloud-based tools offered by Global Payments with the ability to view real-time sales dashboards from anywhere in the world. This allows users to travel without concern, allowing access to the business dashboards whenever needed. 
Unified payments 
The ability to offer unified payments is one of the most sought-after features in the shopping experience.
Customers, when using a unified payment experience, can find the simplest buying process possible. This allows a standard payment procedure, regardless of the way that a customer chooses to pay. Whether purchases are made in-store, via mobile or online, costumes can receive a smooth and simple experience with each purchase. 
There are over 140 different payment types supported globally by Global Payments, giving businesses the ability to offer local payment methods with region-specific payment support. 
In addition to the unification of the payment experience, businesses are also able to unify their data. This lumps together and categorises data from all areas of the business, in a single dashboard for efficient information digestion. 
This data can be used for business growth, giving businesses the opportunity to predict shopping behaviour, adapt customer preferences in line with buying behaviour, create loyalty programs, track demand and offer convenient buying and delivery options to customers.
Point of sale 
Global Payments excels in the point of sales (POS) systems offered with a large range of services specifically targeting the in-person and the traditional brick-and-mortar businesses. 
The POS services from Global Payment do much more than allowing for payments to be accepted in person. The cloud-based POS systems give users the ability to control their inventory, timesheets, reporting, and more from the cloud-based dashboards. 
The EPOS is the most sophisticated system offered by the company, focused on the hospitality and retail sectors. The large unit features an intuitive touchscreen interface, the ability to take contactless payments alongside swipe and chip, before issuing a quick and quiet thermal receipt.
Terminals are among the most popular POS products offered by Global Payments, offering "do-business-anywhere" connectivity. These units are perfect for accepting payments behind the counter, on the go or on the business floor. The terminals have the ability to accept chip & PIN, or contactless payments, print thermal receipts and connect to 4G when WiFi is low. 
The mobile pay POS solution allows users to transform any smartphone into a POS unit. The product, perfect for small businesses and entrepreneurs, is not only small and practical but affordable – offering top quality from an inexpensive and easy-to-use unit. 
Integrated 
The final payment solution service offered by Global Payments in the integrated payment systems.
Partners choosing the integrated payment solutions will find exceptional service as the business works together with Global Payments to create the perfect solution. Integration can be achieved in four simple steps: 
Step 1 arrives in the form of technical discovery calls, exchanging information and highlighting valuable tools for integration. 

Step 2 is concerned with on-hand assistance with Global Payments offering an integration specialist to get everything up and running smoothly. 

Step 3 is the integration certification, ensuring bug-free code when onboarding merchants and certification of features and workflows. 

Step 4 is the solution design, in which Global Payments works to document the product for both support and implementation teams.
Businesses are able to trust Global Payments for countless aspects of their business from onsite visits and consultations and strategic partner managers to UI/UX support for coaching and design and an enterprise sales team.
Grow your business
Alongside the ability to accept payments, Global Payments has grown to allow businesses to focus on revenue increases. 
Payments are simply the start of the services offered and with Global Payments' Merchant Portal, businesses are able to streamline their performance, targeting growth.
Merchant Portal
The Merchant Portal, in the simplest sense, is an easy-to-use hub based in the cloud that stores all the available payment, marketing, and customer information harvesting by your business.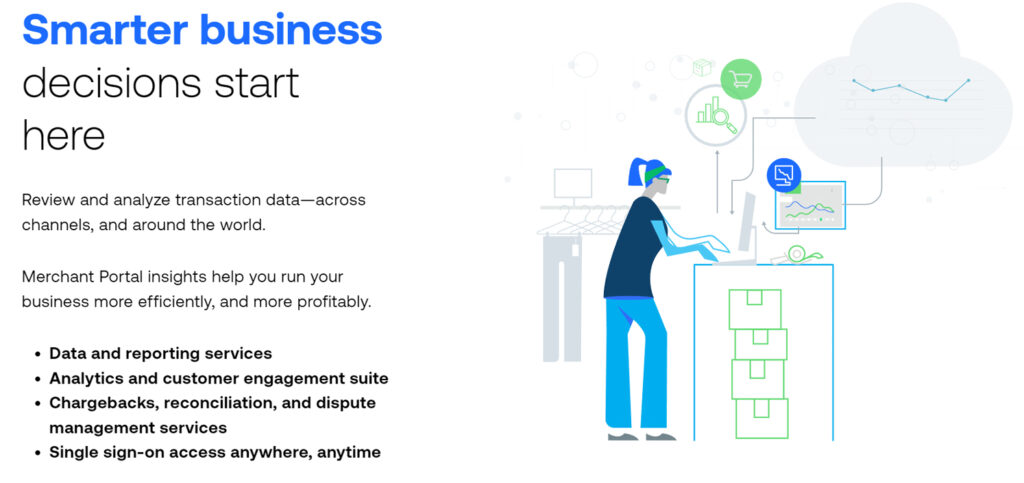 This data hub is a valuable tool for businesses of all sizes, allowing information with real business value to be viewed and addressed to encourage growth. Everything from analytics and customer engagement to transaction troubleshooting and dispute management can be viewed and investigated in the cloud. 
It's the data and reporting capabilities of the Merchant Portal that is the most valuable tool offered for business growth. Businesses can find actionable insights in the cloud-based data hub to better understand and build a business. 
Disputes can also be managed from the Merchant Portal with a useful dashboard offering information on chargebacks. Queue management allows for the organisation of the disputes, clearly labelling those pending and complete in chronological order. This is all complimented with a probability score, giving a quantifiable figure for the win/loss of any scenario. 
Company background
Global Payments has a history dating back to 1967, boasting one of the longest-reigning payment solutions companies globally. 
Early achievements include the first company to market with a multi-bank balance reporting system and the delivery of MasterCharge authorization for 50% of all banks in both the USA and Canada. In the 1980s, the company was quick to strike with POS authorization terminals and introduced a new electronic Data Capture System.
In 2009, Global Payments purchased United Card Service, the largest payment processor for credit cards in Russia before expanding once more in 2011 with the purchase of Alfa-Bank's processing unit, also targeting credit cards. 
The pair of company acquisitions triggered the first of several company purchases with Accelerated Payment Technologies, Ezidebit and Payment Processing, in 2012, 2014 and 2015, respectively. Additional noteworthy acquisitions include Heartland Payment Systems in a deal reportedly worth $4.3 billion in 2016, alongside AdvancedMD and Sentral Education in 2018. 
In mid-May 2019, Global Payments announced a merger with Total System Services, Inc. (TSYS), in a deal reportedly worth $21.5 billion, allowing Global Payments to offer the additional service to manage the credit and debit card portfolios of banks.
User reviews from around the web 
Global Payments may be a popular service, but the number of reviews on different independent sites does lack (with the exception of Trustpilot). 
Trustpilot – 4.3 / 5 (based on 1,691 reviews) 

G2 – 4.5 / 5 (based on 3 reviews) 
Thanks to a large number of Trustpilot reviews, Global Payments earns an overall score of 4.3 / 5 from a total of 1,694 reviews.
User Reviews
Review Summary
0.0 out of 5 stars (based on 0 reviews)
Recent Reviews
There are no reviews yet. Be the first one to write one.
Submit a Review