Buy Now, Pay Later (BNPL) has fast become a vital part of online checkouts everywhere. If you haven't already added a BNPL service to your site, you need to do so quickly.
But which should you choose? There are several different payment providers out there. In this article, we compare two of the biggest: Klarna and PayPal Credit.
We'll look at how these two goliaths compare on things like the customer experience, fees, integrations and support. By the end, you'll know exactly who to choose.
| | Klarna | PayPal Credit |
| --- | --- | --- |
| Payment type | 3 instalments or pay after 30 days | 4 months 0% |
| Late fees | No | Yes + 21.9% p.a interest |
| In-store purchases | Yes | No |
| Fees | Between 1.9% and 2.9% plus a flat rate of 20p | 1.2% + 30p |
| Merchant protection | Yes | Yes |
| Cross-border commerce | Yes (over 20 countries) | Yes |
| Integrations | Yes | Yes |
| Support | Help centre, email, live chat, phone | Help centre, email, text, live chat, phone |
| Trustpilot score | 4.8 | 1.2 |
Klarna vs PayPal Credit: At a Glance
Klarna has quickly become the de facto leader in the Buy Now, Pay Later (BNPL) market. Founded by three Swedish students in 2005, it now has almost 100 million customers and works with a quarter of a million merchants across the globe. With Klarna, your customers will have three ways to pay:
Three instalments spread over 60 days
A 30-day delay on the entire amount
Long-term financing options for up to 36 months
In addition, Klarna also offers an express checkout service that works like Apple Pay and on-site messaging proven to improve conversion rates. Customers can also pay in-store using a physical credit card.
You won't be alone in offering Klarna at checkout. Some of the country's biggest brands like ASOS, adidas and PrettyLittleThing use Klarna.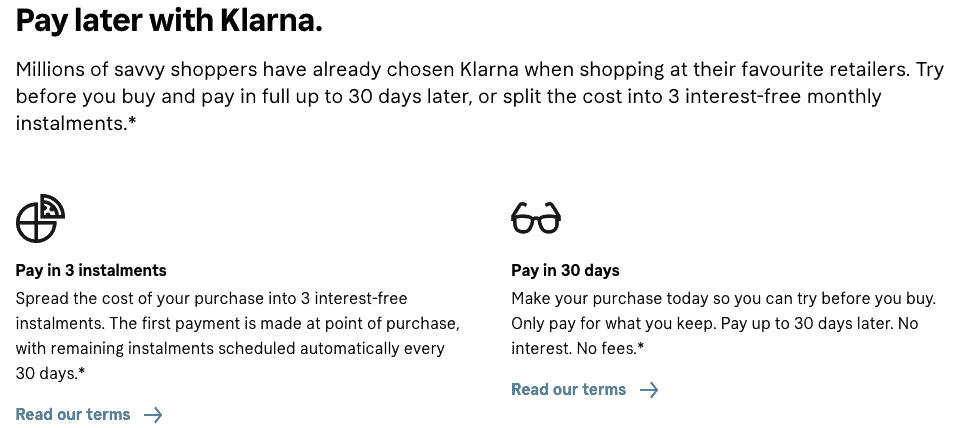 PayPal Credit is one of PayPal's Buy Now, Pay Later offerings, alongside PayPal Pay in 3. PayPal Credit acts like a virtual credit card, offering 0% interest on four months on purchases worth £99 or more.
This isn't a one-off interest-free offer, however. Customers automatically get 0% interest for four months every time they make a purchase. There's no need to apply!
Because it's offered by one of the world's leading payment providers, customers are able to use PayPal Credit on almost every major store, including popular UK brands like ASOS and B&Q. Naturally, it comes as part of PayPal's payment gateways by default and can be integrated with every major e-commerce platform.

What Does the Customer Experience Look Like?
Customer experience is critical for any e-commerce store, especially at checkout. It can be the difference between an abandoned cart and a high conversion rate. As such, the first thing we'll look at for Klarna vs PayPal credit is how both BNPL providers treat customers. How can they pay? Do they charge late fees? And how many people can use the service?
How do customers pay?
Klarna is the clear winner. It offers considerably more ways for consumers to pay.
Klarna gives customers loads of ways to use its services. They can shop directly from Klarna's app (available on the App Store and Google Play), by choosing the Klarna option on your checkout page or by using their Klarna card in-store.
In any of the above scenarios, consumers can choose to split the purchase over three interest-free instalments or pay in full a month later. For larger purchases, they can also get a 36-month financing option.
If you offer subscription payments, customers can also use Klarna to pay for these. You'll get the full payment immediately and customers will get to delay their payment as usual.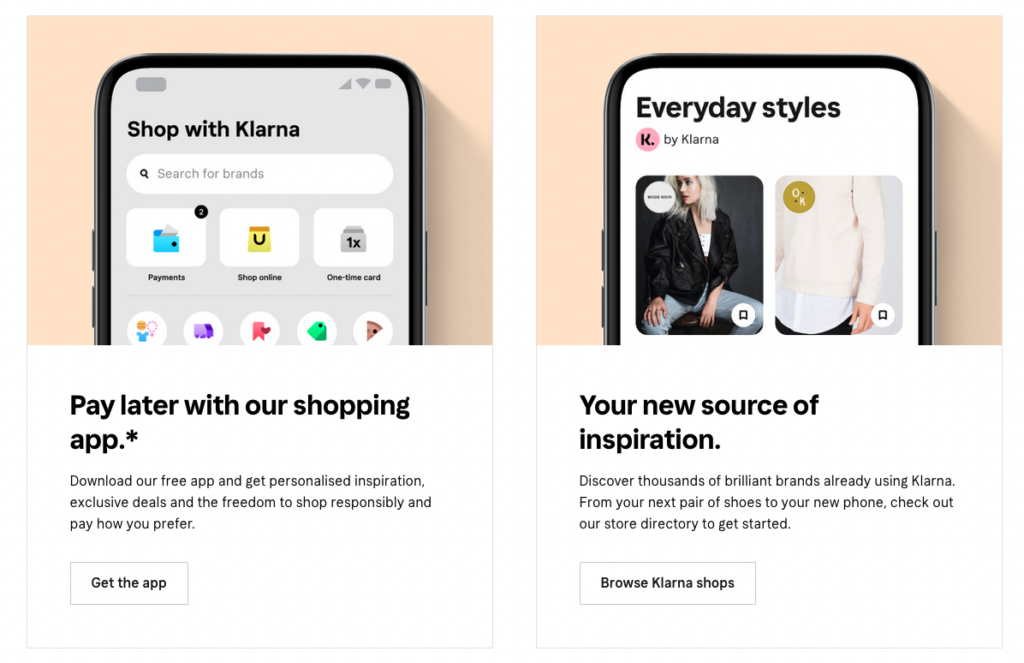 PayPal Credit is a unique BNPL offering. Unlike other providers that let customers delay or split payments of any size into interest-free instalments, PayPal Credit only lets customers delay payments worth £99 or more.
The benefit is that customers can delay those payments for much longer with PayPal Credit than other BNPL providers. PayPal Credit gives customers 0% interest for four months on every single purchase they make worth £99 or more. Payments are easy to manage on a browser or through PayPal's app, and the company sends regular payment reminders so customers never forget to pay.

Do they charge interest or late fees?
PayPal Credit charges interest on outstanding balances, but Klarna does not.
Klarna makes explicit promises not to charge interest or late fees on both of their major payment offerings. They may refer outstanding accounts to a debt collection agency if debts haven't been paid for several months, however.
PayPal Credit charges interest on any remaining balance after the four-month interest-free period. At the time of writing, that interest rate is 21.9% p.a. Minimum payments may also need to be made over the four-month period and you may be charged a late payment fee of £12.
Who can be a customer and do they run credit checks?
Most consumers will be able to use Klarna and PayPal Credit.
Klarna makes it very clear who can use their service. Customers must live in the UK, be 19 or over and have a positive credit history. Credit searches may be performed but these will not affect a customer's credit score.
PayPal Credit is available to most UK residents who have an active PayPal account. It's easy to apply, and you'll get an instant decision. If approved, you'll be able to use PayPal Credit immediately.
Can Customers Use Klarna or PayPal Credit in Physical Stores?
Only Klarna can be used in-store. It can also be used without the need for an additional card reader.
Klarna offers two in-store payment solutions to customers. One is a physical payment card that can be used anywhere Visa is accepted. The second is a payment link that integrates with your store's POS system and allows customers to make payments via a link sent by email, SMS or QR code.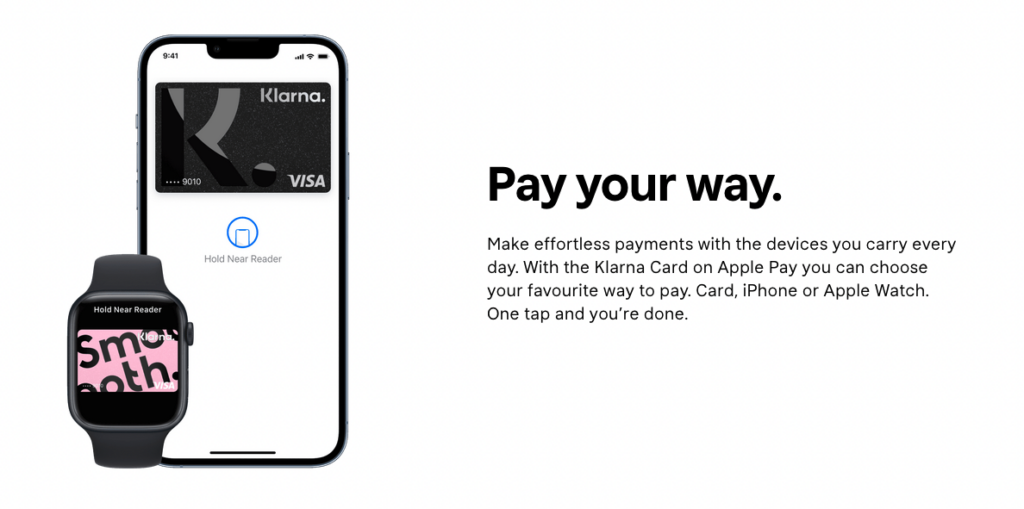 PayPal Credit can only be used at online stores.
How Much Do Klarna and PayPal Credit Charge Merchants?
PayPal offers merchants a much better deal on fees. They are also very clear about their fee structure, unlike Klarna, which does not openly display merchant fees on its website. Please contact both Klarna and PayPal for confirmation on fees.
Klarna charges between 1.9% and 2.9%, plus a flat rate of 20p per transaction.
PayPal Credit charges a standard rate of 1.2% + 30p
There may be additional setup fees and monthly costs charged by both providers.
Do Klarna and PayPal Credit Protect Merchants? 
A huge selling point of BNPL solutions for merchants is the additional payment protection they provide. Both Klarna and PayPal Credit take several steps to protect merchants and minimise missed payments.
Klarna gives merchants full protection from chargebacks and other forms of fraud as long as they comply with their Shipping Policy. The additional credit and identity checks that Klarna performs on consumers provide added protection, as does Klarna's in-house risk engine.
PayPal Credit takes merchant protection seriously. Merchants get all of the same protections they get as a PayPal Checkout customer and get the full payment as soon as the transaction has been completed.
Global Payments: Can Clearpay or Klarna Help You Sell Abroad?
Both Klarna and PayPal Credit can open up your store to an international audience.
Klarna currently operates in over 20 international markets, and customers in any of them can use Klarna to shop your store.
PayPal Credit is available in several countries in Europe, as well as the U.S. and Canada. Customers in these countries can use PayPal Credit to shop your store.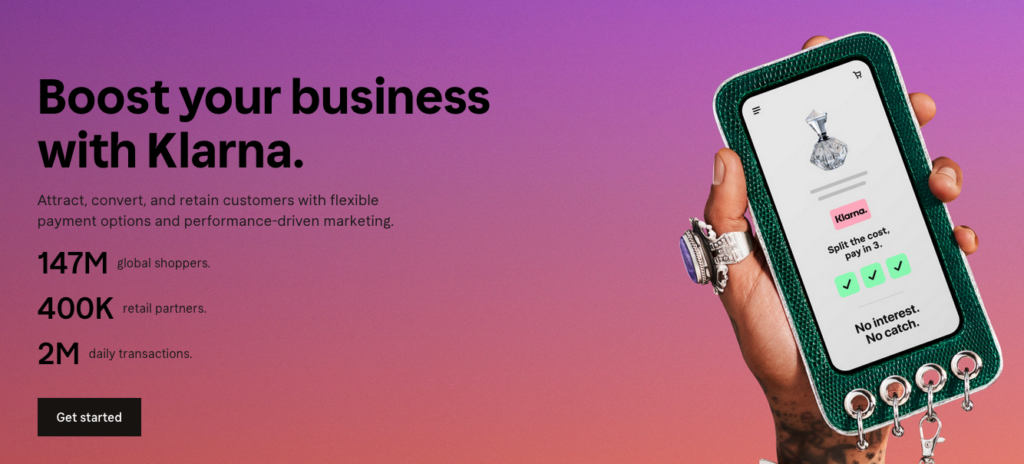 Integrations: What Platforms and Payment Processors Do They Integrate With?
You shouldn't have a problem using either BNPL provider. Both Klarna and PayPal Credit integrate with almost all e-commerce platforms and payment gateways.
Klarna works with the vast majority of platforms automatically, including Shopify, BigCommerce, Magento and WooCommerce. A full list of integrations can be found here.
PayPal Credit integrates with slightly fewer e-commerce platforms than Klarna, but it includes all of the major ones. This includes WooCommerce, BigCommerce and Magento. It also integrates with Shopify as standard.
Support: What Customer Support Is Available?
Both BNPL providers support merchants, but Klarna just edges it in terms of the support offered.
Klarna gives users a comprehensive online support resource and an FAQ so merchants can help themselves. In addition, the company offers online chat, email and phone support. The support centre is open between 8.00 and 17.00 Monday to Friday, 10.00 to 18.00 on Saturday and 10.00 to 16.00 on Sunday.
PayPal Credit also provides support in the form of PayPal's Help Centre. There is also a community forum, a resolution centre and a customer support centre that provides text, live chat and phone support. Helplines are open 8 am to 6.30 pm Monday to Sunday.
Reviews: How Are Clearpay and Klarna Rated?
Klarna scores significantly higher than Paypal on Trustpilot.
Klarna scores 4.5/5 from over 20,000 reviews.
PayPal only scores 1.2/5 from over 4,000 reviews.
Note: these are reviews for PayPal as a whole and not just PayPal Credit.
Summing It Up
In the matter of Klarna vs PayPal Credit, we give the title to Klarna.
Klarna is a better-known brand in the BNPL space and provides users with a broader range of payment options. The lack of late fees is also a huge positive for consumers, who may prefer it over PayPal Credit.
That's not to say PayPal Credit is a bad choice, however. Because it's baked into PayPal Checkout, it's easy for merchants to offer a BNPL solution without having to sign up for another payment provider.
Of course, you don't have to choose. It's possible (and common) to have more than one BNPL service on your checkout to increase conversion rates even more.