Buy now, pay later has been around for a long time in various forms, but ecommerce platforms offering fast buy now, pay later approval is one of the newest ways to spread the cost of a purchase.
You've probably noticed the option on various payment pages, offering pay in 3 or pay in 4 deals with no extra fees or interest if the customer pays the balance on time.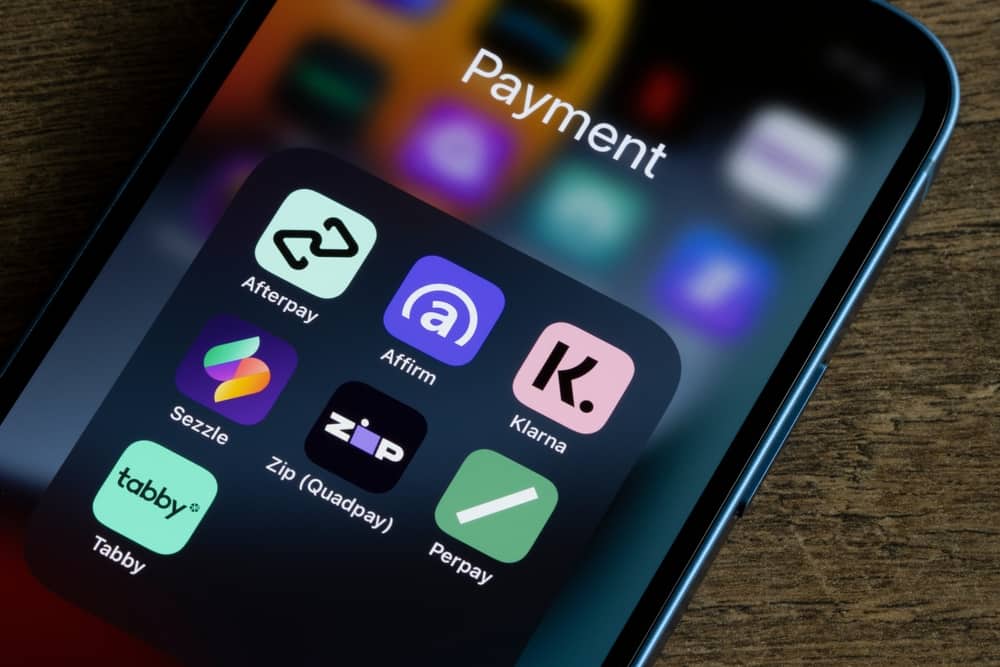 Unlike credit cards, which involve an application process, buy now, pay later is a faster, online process which can be completed at checkout.
If your ecommerce site or bricks-and-mortar shop doesn't offer buy now, pay it later, you might be missing out on higher profits, bigger average purchases and new customers.
Why are customers using buy now, pay later?
Online shopping was essential to many people during COVID-19, giving them the option to buy pretty much whatever they needed without leaving their home. A third of UK adults choose to pay in installments, and 51% of surveyed US-based customers used a buy now, pay later service, commonly spending on clothes, electronics, furniture, and appliances.
Some of these items are big purchases which are expensive to buy up front, but an increasing number of customers are using buy now, pay later to spread this out over a longer period.
Buy now, pay later has been a particularly popular option during the pandemic and on the run up to Christmas, with 1 in 10 using these services for the first time to do their Christmas shopping according to Equifax.
Black Friday and Cyber Monday are also popular periods, with 27% of 18- to 34-year-olds most likely to buy now, pay later to take advantage of seasonal deals.
How much are customers spending using buy now, pay later?
For US customers during the pandemic, the average amount of a buy now, pay later purchase was $689.
In the UK, open banking statistics from Equifax show customers were making £125.32 in monthly repayments in October 2021, a £5 rise compared to December 2020.
The average number of monthly transactions was 5.02 in 2021, demonstrating this is a regular habit for many shoppers who want to spread the cost.
Who's using buy now, pay later
The most common buy now, pay later customers are aged 25 to 35 – over 20% use buy now, pay later. The statistics drop off dramatically for the over 55s though, and very few people of retirement age are using the service.
Households with an income above £50k were the most likely to say they were planning to use buy now, pay later over Christmas 2021. A quarter of people say they would find Christmas difficult to afford without it.
Why accept buy now, pay later through your ecommerce site
There are many benefits to accepting buy now, pay later payments through your ecommerce site and in-person, including higher revenue, better relationships with customers, and easy admin.
Customers spend more when they can spread the cost
Buy now, pay later gives customers the option to pay in instalments, which can make purchases easier to afford. This isn't just a win for customers on a budget, it's great for anyone who wants to spread the cost without extra interest or fees. All the big buy now, pay later platforms advertise your business' ability to increase overall revenue and average order values with buy now, pay later.
Customers prefer using buy now, pay later to their credit cards
56% of people surveyed say they prefer using buy now, pay later to a credit card, because it's easier to make payments, more flexible, the interest rates are lower, and it's easier to get approved. 38% think buy now, pay later will completely replace their credit card eventually.
If customers can spread the cost through your website without having to apply separately for a credit card and pay extra fees, they're much more likely to add to basket and go straight to checkout.
Some demographics are less likely to shop with you if you don't offer buy now, pay later
50% of generation Z and 54% of millennials are using buy now, pay later. Younger generations born after 1981 are comfortable spreading the cost and want to be able to choose that option when they shop online. If your in-person or online business isn't offering it right now you could be turning them away.
You receive the payment upfront and don't have to deal with debt collection
It's a common question for online and in-person merchants – what if the customer doesn't pay? If this happens, the buy now, pay later platform will take care of it. The leading platforms incentivise online and in-person merchants to accept installment payments by giving them none of the liability.
When a customer buys through one of these options, your business gets the full amount up front and it's owed from the customer to the lender. You don't have to deal with the late payments or chase anyone to pay up, that's the lender's job.
What would buy now, pay later regulation mean for your business?
Services like Clearpay and Klarna have been criticised for making it easier for people to get into debt they can't manage.
Just like any other loan or credit agreement, buy now, pay later can be a helpful way to spread cost when used responsibly, but the increasing number of younger users has caused concern. In response, there have been calls to regulate these services in a similar way to other lenders, such as credit card companies and short-term lenders.
What would regulation mean for your business? At the moment it's unclear, but the buy now, pay later services would have to adapt their services to meet regulatory requirements and make borrowing more affordable.
This could mean higher fees for your business, so it's important to stay up to date with how the industry changes and to be ready to move to a different service, or scrap it altogether, if it's no longer profitable for your business and beneficial to your customers.
6 buy now, pay later providers to consider
There are a variety of online and in-person platforms that are easy to set up and give your business the ability to accept buy now, pay later options easily.
1. Stripe
Designed for ecommerce sites, Stripe's payments API makes it easy to accept global payments from a range of buy now, pay later providers. Your site will be able to accept Affirm, Afterpay, Clearpay, Klarna, and more.
Every payment that goes through your site, whether it's in full or buy now, pay later, will be visible in one simple dashboard. This will help you and your team keep track of payments, as well as stock, shipping, and customer support, all in one location.
Ideal for: Ecommerce businesses accepting international payments.
How much? From 1.4% + 20p for UK cards and 2.9% + 20p for international cards. Customised packages are available for high volume businesses.
2. Pay in 3 from PayPal
Pay in 3 adds the option of flexible payments to PayPal Checkout, giving your customers interest-free payments and your business full payment upfront. There are no extra costs for your business, it's all included in your existing PayPal rate. This varies depending on where in the world a transaction originates and if the customer pays through a QR code or not.
It's apparently easy to add the promotional messaging to your product pages too. And according to PayPal, adding a Pay in 3 option increases customer engagement by 57%.
Ideal for: Online businesses that want to use a trusted payment name, or are already using PayPal checkout.
How much? Pay in 3 is included in your existing PayPal merchant fees which start at 1.2% + fixed fee for UK based card payments.
3. Klarna
One of the biggest names in buy now, pay later, Klarna offers several payment options including pay in 3, 30 days to pay, and financing which gives customers up to 36 months to pay. Klarna will pay your business the full amount when a customer buys and they then collect the payments from them when they're due.
It's available across virtual and real checkouts too, so businesses with a physical site can accept pay in 3 in person and through their online store.
Klarna integrates with WooCommerce, Shopify, Magento, and more. Various big online retailers are already using Klarna, and ecommerce sites of all sizes can reportedly increase their revenue by 70% by using them.
Ideal for: Ecommerce sites and/or bricks-and-mortar shops that want to give customers different buy now, pay later options.
How much? Unhelpfully, Klarna UK doesn't seem to want to reveal its fees until after you sign up. They say all fees are visible in the Merchant Portal and are deducted from every purchase. The US version charges $0.20 per transaction plus 5.99% for pay in three.
4. Clearpay
Just like Klarna, Clearpay is available in person at the checkout as well as online. Your customers can pay 4 installments over 6 weeks with no fees, which can reportedly increase your average purchase amount by 50% and boost your profit margin by 15%. As always, your business gets paid in full upfront when the customer buys.
Ideal for: Spreading customer payments out a little bit further.
How much? Clearpay charge 4-6% per transaction and a flat fee.
5. Payl8r
Your customers can spread a purchase over 30 days to 18 months with Payl8r, and they claim to accept more customers for finance than other platforms. This platform is also regulated by the Financial Conduct Authority, which most buy now, pay later platforms aren't, and they describe themselves as 'champions of fair and ethical Buy Now Pay Later'.
You can integrate Payl8r with lots of different ecommerce platforms and it works in-store too.
Ideal for: Offering a variety of payment periods.
How much? There's no pricing or fee information on the Payl8r site. You'll need to get in touch for a quote.
6. Splitit
This platform is an Installments-as-a-Service platform, meaning it works automatically with Visa, Mastercard, Discover and Union Pay credit cards. There are no extra credit checks and customers can keep earning credit card rewards when they spend. When buying, the customer will pay an installment from their credit card every month until the transaction is repaid.
It's easy to integrate into your website because of Splitit's white-label experience. You can brand it up for your website and make it blend seamlessly with your site's checkout process. And at $1000, the average order value is also reportedly four times higher than many buy now, pay later platforms.
Ideal for: Businesses that want to integrate installments into their checkout.
How much? From 1.5% + $1.50 per installment paid.
Some final things to consider before you set up buy now, pay later
There are lots of potential benefits to giving your customers the option to pay in installments. Ready to get it set up? Here are some things to think about before you do.
Merchants can receive complaints from customers when buy now, pay later goes wrong, even when it's nothing to do with them. Buy now, pay later fraud is relatively common, and when a customer's account is taken over and payments are made in their name fraudulently, they sometimes want to hold the merchant (you) responsible. It's a good idea to do some extra screenings for potential fraud when you receive a buy now, pay later order, including logins from different devices, unusual buying behaviour, and shipping address changes.
It's not worth it for every business. If your average order value is small and you deal with high volumes, buy now, pay later probably isn't worth it for your business because customers aren't as interested in splitting their payments, or the platforms won't split such a small amount. The per transaction fees might even erode your profits. Do the maths to find out if it will really improve your profits.
The costs and fees vary. Some platforms are upfront about how much it costs to use their service, but others require you to get in touch before they'll tell you what they charge. These fees will vary between services and some are more expensive than others. Always do a comparison and check you're getting a good deal before you commit.