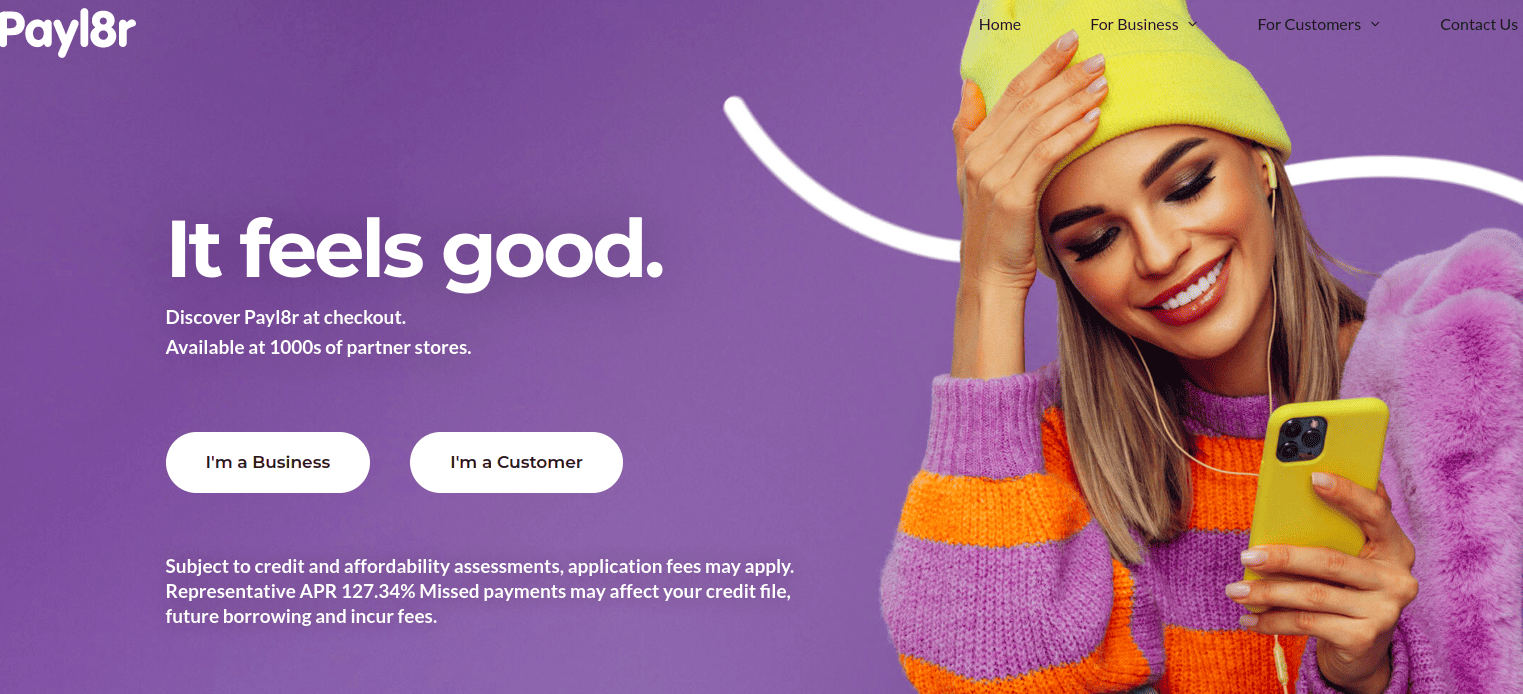 Payl8r is a fin-tech company offering flexible payment plans and online financial services that allow consumers to purchase products online immediately, even if they don't have the necessary resources.
This type of short-term credit is called Buy Now Pay Later, and we won't exaggerate if we say that Payl8r is one of the BNPL industry's current leaders.
The company is registered in the UK and its services are also available in the Republic of Ireland. It offers information about the way they do business, possible benefits and shortcomings of taking short-term credit completely transparently. 
Here's an overview of their offer, business operations, and user reviews.
Prices/Fees
Payl8r offers two types of plans for consumers: interest-free and interest-bearing plans. 
If the consumer chooses the interest-free plan, Payl8r's services will be free, as long as they repay their debt on time. 
In the case of the interest-bearing plan, a fee will be defined in the loan agreement.
Whichever plan the consumer chooses to go with, if they repay their debt within 30 days, they will remain free of interest. In case of an interest-bearing plan and a failure to settle the debt within 30 days, interest will be charged as defined in the loan agreement. It is unclear what the exact financial consequences are in case of late payment with an interest-free plan.
However, missed payments, in any case, can affect the consumer's future credit file and borrowing as well as incur fees.
On top of the interest, users need to pay a £2 credit check fee. This fee is refunded upon their account approval.
The application fee for Payl8r costs £4.95.
Product/Service Overview
Payl8r's main focus is the Buy Now Pay Later service for consumers. Let's see what this service is comprised of and how it works.
Payl8r Loans
Payl8r offers loans to consumers that allow them to make purchases now and repay them over a specified period of time.
If the consumers succeed in repaying Payl8r within 30 days, they get to repay their loan with a 0% interest rate, as explained in the previous section.
To become eligible for the Pal8r loan, users must be at least 18 years of age, have a regular source of income, and have a bank account. The bank account needs to be registered in the UK, have online banking, and be capable of accepting Direct Debits. Payl8r will run a credit check on the interested consumer to ensure 
The company takes into consideration all types of credit, however, in some cases, users might be asked to complete an affordability assessment. To figure out whether they qualify to use Payl8r or their particular types of credit, users can complete the company's Eligibility Checker.
Using Payl8r has benefits for consumers that go beyond making instant purchases. Since Payl8r is connected to their bank accounts, users who pay their debt to Payl8r on time can even improve their credit scores.
The team behind Payl8r puts great effort into helping their users stay responsible with their payments. Here is an overview of the actions they take to make that happen.
Payment Reminders
To ensure that their users are not late with their payments, Payl8r sends them text messages and emails to remind them about the upcoming instalment. This way, consumers are always up-to-date with their payment plans.
Repaying Early
Repaying debt early doesn't feature any penalties or charges. It may only positively impact the consumer's credit score.
Autopay
To prevent users from missing out on their payments, Payl8r takes monthly payments from their bank accounts automatically.
Missed Payments
Missed payments can negatively impact consumers' credit scores in their banks, but also their future loans from Payl8r. Consumers are strongly advised to be careful when taking loans, and Payl8r transparently warns about the possible consequences of falling behind with repayment.
Payl8r gives users who have missed a payment 28 days to get back on track with their payments before they charge them any fees. During this "buffer period", consumers can either start repaying their debt again or contact Payl8r's support team to help them in case they are financially struggling.
Interest and Fees
While repayments within 30 days are not subject to any interest or fees, there are other types of Payl8r loans that can include interest charges. The interest rate the user might receive depends on factors such as credit history and loan amount. To display the interest rate, Payl8r uses a representative Annual Percentage Rate (APR) which gives consumers an indication of the cost of borrowing the money.
For Merchants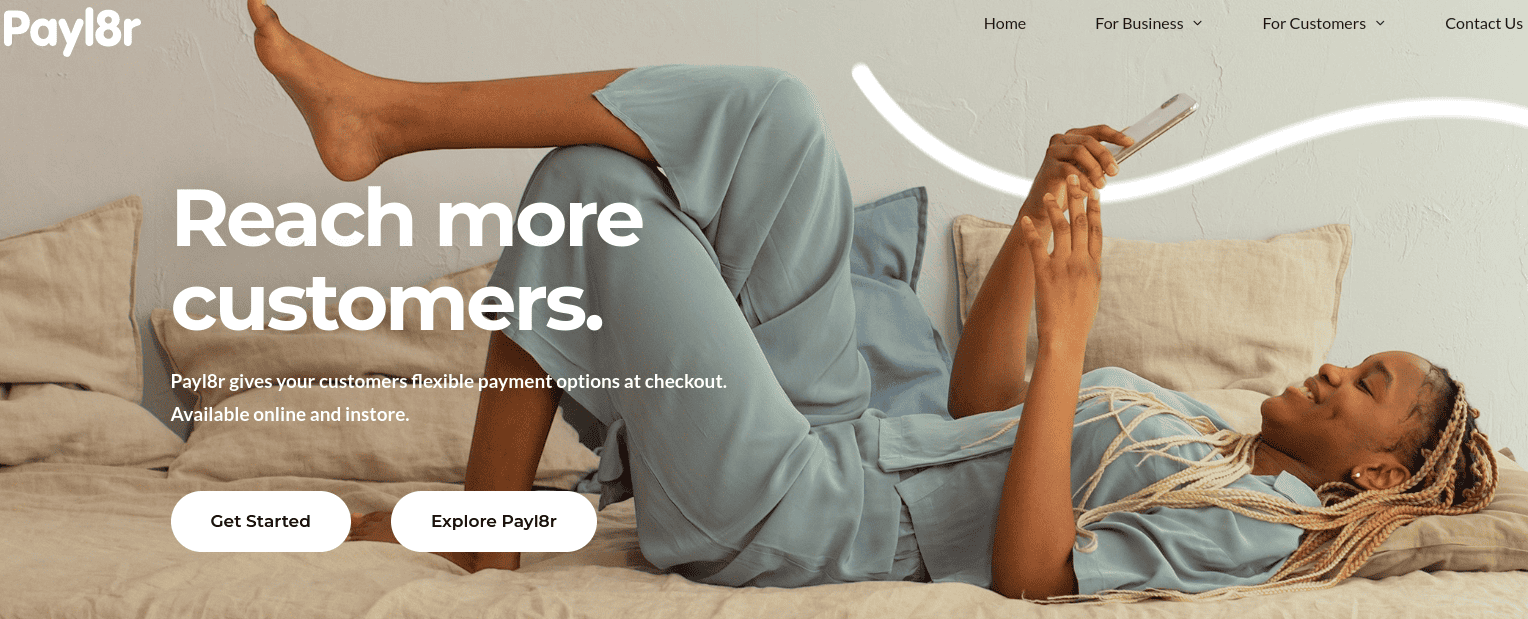 Merchants who wish to integrate Payl8r and provide their customers with the possibility of delayed payment can benefit from this in various ways.
Here's how the service works and how it benefits merchants.
Attract Customers
The possibility to extend their payments makes purchases more attractive to customers, which is how merchants can increase their customer base and improve their conversion rates.
This also reduces abandoned carts and increases the average cart value at checkout, as many consumers feel more confident about spending their money if they can split the payment into instalments.
Tailored Finance Solutions
Payl8r offers three types of ready-made plans:
Payl8r Zero, allows customers to spread their payments over 30, 60, or 90 days while paying no interest.

Payl8r Plans gives customers the possibility of a 0-18 month payment plan, however, this plan is interest-bearing.

Payl8r Store Credit plan allows businesses to offer customers a credit facility that they can use to spend money at their store repeatedly.
Merchants who wish to create a more personalised plan with Payl8r can reach out to their support service and speak to them about Enterprise Bespoke Builds.
Integrations
Payl8r offers integration solutions for all eCommerce platforms in the form of a plugin. If the merchant has their own website and wants to integrate Payl8r, they will create a bespoke system for the particular merchant.
Regulatory Status
Merchants who haven't yet acquired their FCA permissions can request Payl8r to provide them with the Introducer Appointed Representative status under Payl8r's permission. This means that merchants will be able to introduce customers to all existing loan products.
Payl8r offers full support along the way in this process and takes full responsibility for providing reports and updates to the FCA. Payl8r also provides business monitoring and feedback regarding areas that might need additional support.
Business Operations
To ensure high-quality service to both merchants and consumers, Payl8r engages in business operations that help them stay on top of their game.
Help Team

Consumers who realise that they are unable to repay their debt to Payl8r by the agreed-upon deadline due to financial distress can reach out to Payl8r's help team and seek support. The professional team from Payl8r will help them assess the situation and redefine their repayment conditions.
This, however, may affect the consumer's credit score and interest rate.
Company Background
Payl8r is a fin-tech company based in the United Kingdom. It was founded in 2014 and has since strived to make the money-borrowing experience seamless and user-friendly for consumers nationwide.
One of the company's strong sides is its commitment to responsible lending practices and high transparency regarding its policies and the possible consequences of irresponsible lending.
User Reviews From Around the Web
There are not many reviews left by Payl8r's users on the web. Here are some of the ratings we were able to find.
User Reviews
Review Summary
0.0 out of 5 stars (based on 0 reviews)
Recent Reviews
There are no reviews yet. Be the first one to write one.
Submit a Review