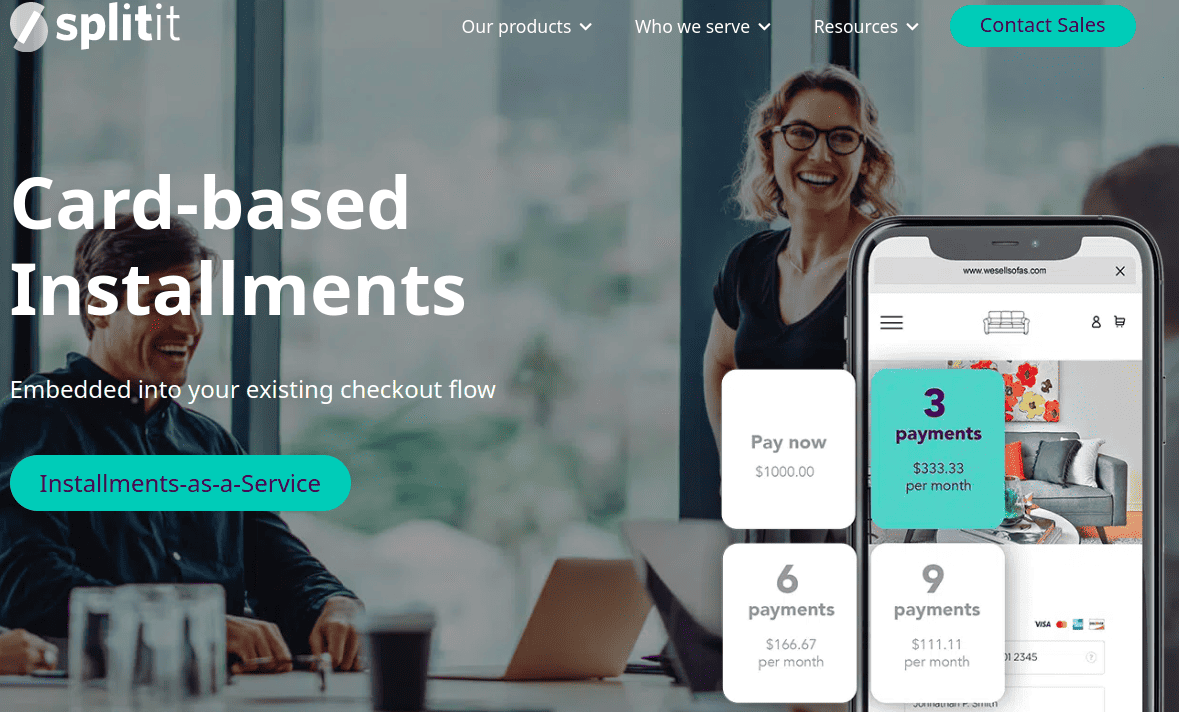 Splitit is a company that developed a novel way to make payments that takes the "Buy Now Pay Later" model to a new level. This solution is meticulously designed to make people's lives easier by allowing them to leverage their existing credit in such a way that it maximally benefits them.
Splitit is a great option for responsible consumers who are diligent payers and don't want additional loans. By using Splitit, consumers can earn credit card rewards, choose the number of instalments to repay their loan, and have full control over the process.   
Price/Fees
Splitit doesn't have any prices or fees listed on their website. Users can choose the number of instalments that will be paid monthly. 
Here's an example of a payment plan if the purchase price is £3,000 and the repayment is distributed over six instalments.
Immediate payment: £500; the amount of money held on the user's credit card: £2,500

Second payment: £500; the amount of money held on the user's credit card: £2,000

Third payment: £500; the amount of money held on the user's credit card: £1,500

Fourth payment: £500; the amount of money held on the user's credit card: £1,000

Fifth payment: £500; the amount of money held on the user's credit card: £500

Sixth payment: £500; the amount of money held on the user's credit card: /
Product/Service Overview
Splitit offers a buy-now-pay-later (BNPL) solution that allows customers to split the cost of their purchases into interest-free monthly instalments. Businesses that integrate Splitit's payment solution can offer their customers the flexibility of delayed payment without the risk of incurring debt, fees, or ruining their credit score.
Splitit for Shoppers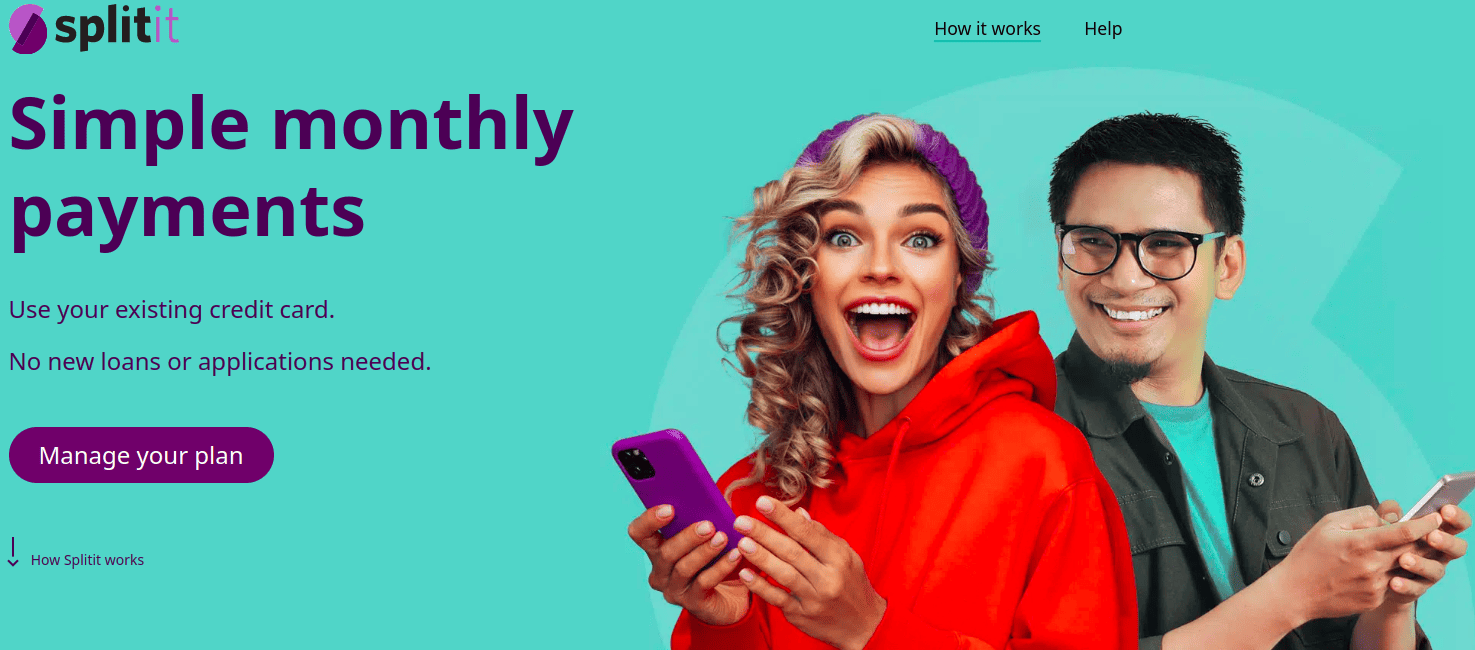 Splitit for shoppers works quite simply.
Consumers who wish to use Splitit to split the payments for their purchases should start by making an account on the Splitit website.
Once they are in, they should carefully pick the instalment plan. This refers to choosing how many monthly payments they wish to make that will optimally suit them and their budget.
The consumer makes a purchase of a product or service they'd like to have. Splitit guarantees the purchase to the consumers and places a hold on their credit card. This hold is not equivalent to a payment. It's rather a pre-authorisation, thanks to which consumers can actually pay off their balances over time so they can avoid interest. 
The consumers simply need to pay as they go, and Splitit will take care of the re-authorisation of the hold and a reduction of the amount of money each month. Splitit will also make sure that the consumer's credit card is charged each month until the completion of the repayment.
On top of all that, consumers get all the perks of credit card payments, such as rewards, fraud protection, and transaction insurance.
Finally, Splitit is the only BNPL service that allows shoppers to use the credit cards they already have at checkout without enlarging their existing debt.
Splitit for Businesses
On the shopper's end, things are quite simple – all the consumer needs to do is relax and buy the things he or she needs.
Now, let's discuss Splitit from the business's point of view.
E-Commerce Instalments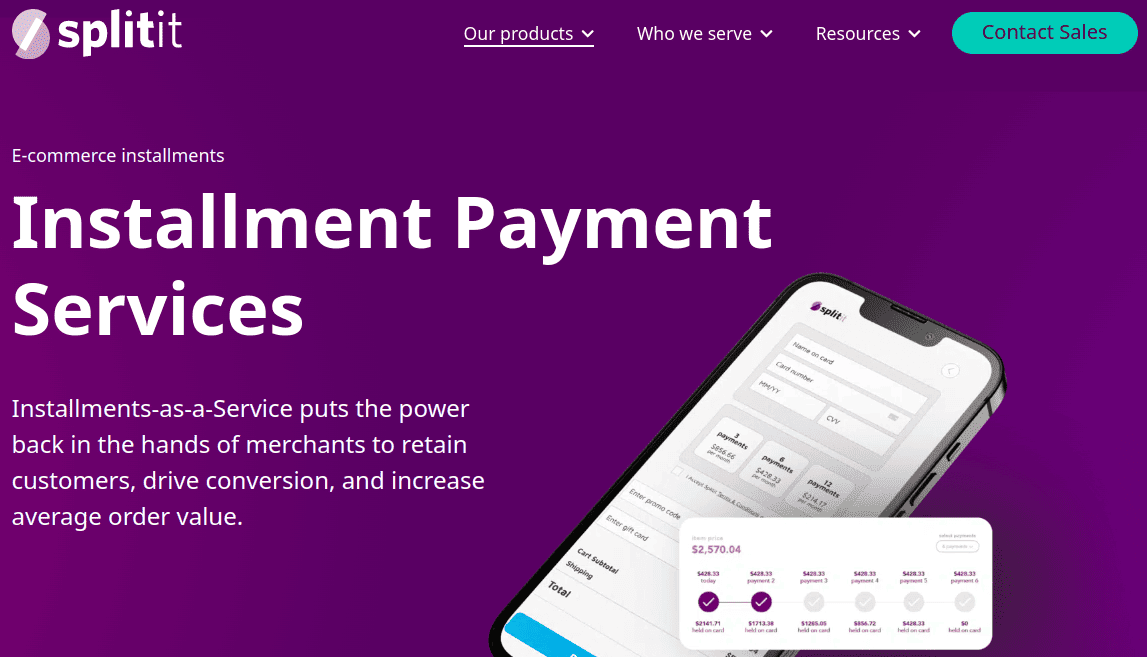 Merchants who opt-in to integrate Splitit's instalments-as-a-service system can benefit from gaining more control regarding customer retention, driving conversions, and increasing the average order value.
To help merchants deliver outstanding and authentic service to their customers, Splitit ensured a white-label instalments-as-a-service platform.
This way, customers are not redirected to Splitit and confused with another company's logo during checkout. At the checkout, they will see the merchant's logo, and the success of guiding the consumer towards the checkout will entirely depend on the merchant's brand and marketing strategy.
Why Is White-Label Important?
By choosing a white white-label payment platform, merchants are investing in a number of benefits that can positively impact their business.
Customer trust

: direct interaction with the brand and a seamless checkout experience help customers build trust in the brand they're purchasing from.

Easy checkout

: integrating Splitit makes an organic, clean, and streamlined checkout experience. This is particularly important for merchants who are also using other BNPL providers' services. The whole checkout journey is smooth and simple as there are no distractions or confusion in the process.

Minimalistic brand design

: merchants who integrate Splitit as a white-label BNPL platform can naturally cut down on additional elements on their websites. This way, Splitit supports clean, simple, and minimal design on their websites.

Clear communication of brand values

: brands who integrate a white-label BNPL gain full control over their audience's shopping experience. They can also tie the BNPL to their special promotions, campaigns, and value props.

Competitiveness

: merchants who offer BNPL service as part of their brand have a chance to stand out from the competitors. Payment flexibility is something customers highly appreciate. 

Customisation of white-label instalments

: merchants have a lot of flexibility with their BNPL offering. They offer customers monthly or biweekly payments, down payments, or payments upon the delivery of goods.
In-Store Instalments
Besides the BNPL service for e-commerce, Splitit also offers the possibility of in-store instalments that are embedded into the physical point-of-sale. Splitit's solution is the first ever single-step BNPL functionality built into a POS terminal.
The functionality is embedded within Ingenico's platform and merchants can easily activate the service on their Ingenico terminals and enable delayed payments to their customers in a matter of a few clicks.
To use this service, shoppers don't need to put in any effort. They don't need to apply, register, or have their credit card checked. Anyone who has available credit on their credit card is eligible to use Splitit for the purchase value that matches their available credit.
Business Operations
What helps Splitit maintain its high position in the BNPL fin-tech market? Besides its excellent and flexible service, they also have a number of valuable partnerships that helped them access a huge pool of clients from a myriad of industries.
Splitit Partnerships
Splitit encourages other service providers to partner up with them so they can together build a friendlier and more empowering environment for consumers to make purchases. 
E-Commerce Platforms
Splitit's current partners from the e-commerce sector are:
Payment Network Partners
Splitit also partners with some of the leading card network providers:
American Express

Union Pay

Mastercard

Discover Global Network (Discover, Diners Club International, and network alliance)

Visa
Payment Service Providers
From resellers to referral relationships, Splitit has its users covered with flexible offers designed to drive revenue streams from various novel resources while keeping the bottom line in sight.
These are Splitit's partners from the payment service sector: 
Tech Providers
To ensure their customer-centric solution, Splitit partnered up with these tech solutions providers:
Tabby

CredCompare

4Gives

Bridger

FeatherPay.
They also encourage independent software vendors and independent sales organisations to partner up with them so that together they can give merchants the flexibility they need.
Covered Industries
A truly huge number of merchants decided to give their trust to Splitit. Here's an overview of industries that Splitit caters to:
Home and furniture

Sport and Outdoor

Jewellery

Luxury

Education

Automotive

Services

and many others
Company Background
Splitit is a global payment solutions company founded in 2008 in Israel. It was initially known as PayItSimple and later rebranded as Splitit in 2012. The company's headquarters are in New York, with offices in London, Australia, Brazil, and Israel. 
Splitit offers an instalment payment solution that allows customers to split the cost of purchases into interest-free monthly payments using their existing credit cards. 
The company's services are integrated with e-commerce platforms, enabling merchants to offer instalment payments seamlessly. Splitit also provides a point-of-sale solution for in-store purchases. 
With a presence in over 30 countries, Splitit aims to provide consumers with flexible payment options and help merchants increase conversion rates and average order values, and run their overall businesses with more flexibility and enjoyment.
User Reviews From Around the Web
Now, let's look at the users' point of view. How did Splitit's users rate their services?
User Reviews
Review Summary
0.0 out of 5 stars (based on 0 reviews)
Recent Reviews
There are no reviews yet. Be the first one to write one.
Submit a Review