Founded in 2002 under the original name of Plimus, BlueSnap is a financial services company with more than two decades of experience. 
The company was originally formed in Israel, allowing Israeli merchants to receive payments from global sales. Following 10 years of success, Plimus was acquired by Great Hill Partners for a $115 million sum in 2012. 
Following the rebrand of Plimus to BlueSnap, the company has expanded its products and services, offering invoicing as part of its online merchant services. 
Prices/Fees
The pricing options available at BlueSnap are split into two main options – a quick start pricing setup and a customised pricing setup. 
Customised pricing
The customised pricing option available at BlueSnap allows companies to receive a tailored pricing solution that works specifically for their business.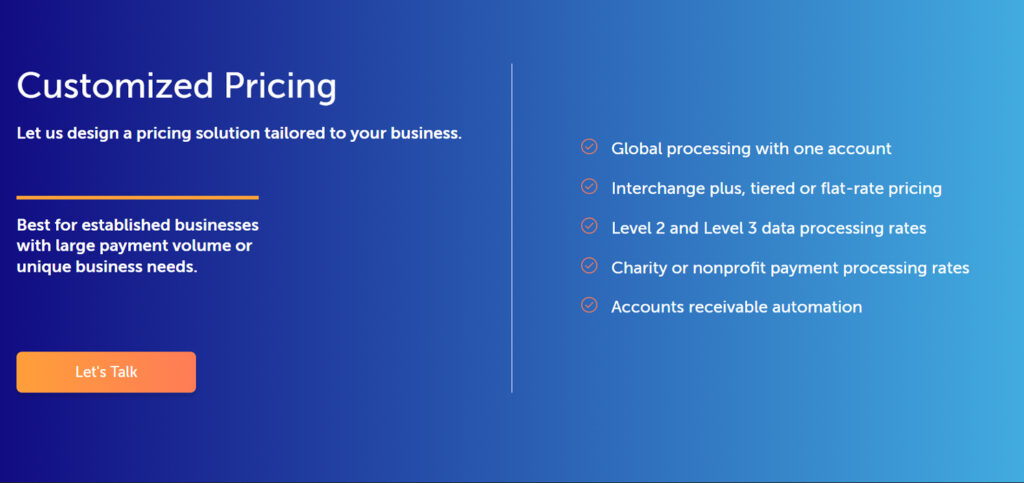 The custom pricing models are best for both established businesses requiring a solution for a large payment volume and unique business needs. Each of these custom plans includes global processing from a single account, interchange plus, tiered or flat-rate pricing, both level 2 and level 3 data processing rates and the option of charity/nonprofit payment processing rates.
Merchants should reach out to the BlueSnap team if they are interested in a custom, tailored plan. 
Quick start pricing
The quick start pricing option is the best choice for both fast-growing businesses and those with prior payment processing history or statements.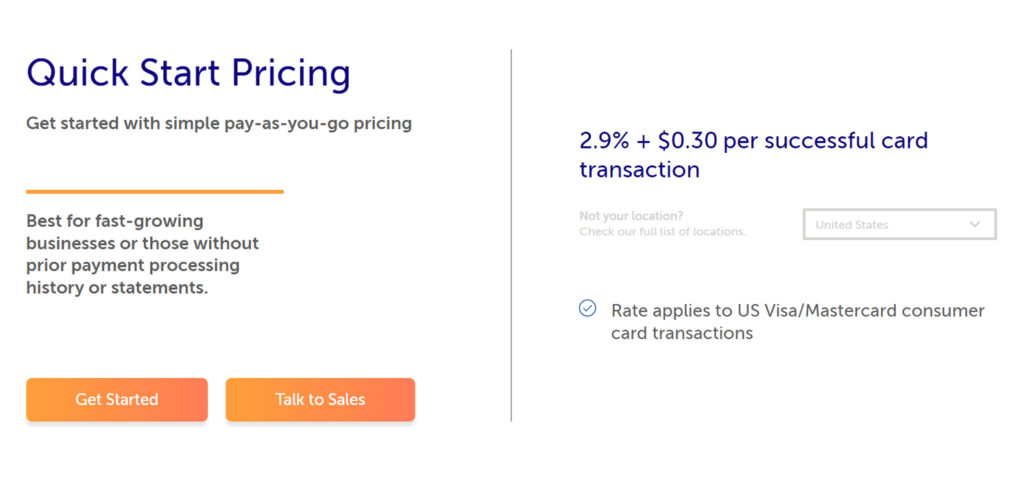 In the UK, the BlueSnap service is offered with a simple pay-as-you-go pricing with a fee of 1,4% + £0.20 per successful card transaction. 
Merchants are able to sign-up for the quick start pricing option easily from the BlueSnap site. 
Whenever merchants are required to issue a refund, BlueSnap supports both full and partial refunds with no fee. 
Product/Service Overview
As an all-in-one payment orchestration platform, BlueSnap offers a range of different products and services suited to both small and large businesses. 
With online and mobile checkout, subscriptions, POS payments and unified commerce all offered by the brand – it's a true one-stop-shop for merchants. 
Online and mobile checkout 
Merchants that are looking to process both online and mobile payments are able to do so with a frictionless approach taken by BlueSnap.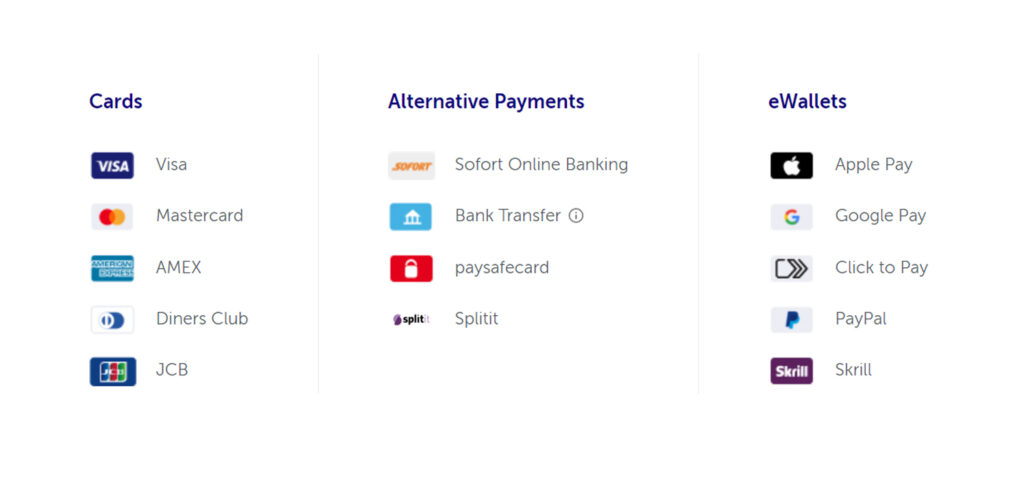 The company offers all of the tools that merchants require for online and mobile checkouts, including the ability to reach multiple global audiences. BlueSnap allows customers in different countries to pay in their local currencies and payment types, increasing not only the ease of payment but the trust, too. 
Merchants are able to use BlueSnap's API to accept cards, eWallets, ACH, SEPA, and more from customers purchasing online. The APIs are easy to integrate and merchants can find a library of SDKs available for both web and mobile applications. 
BlueSnap also offers a range of quick and simple eCommerce plug-ins, allowing merchants to accept payments from the word go. This can be integrated with the systems that are already used by businesses.
These features can ultimately increase the number of repeat buyers expected by a business with shoppers also able to pay with a one-click checkout for maximum efficiency. 
Subscriptions 
BlueSnap is not a one-trick pony and alongside stand mobile and online payments, merchants can be empowered to offer subscription services. 
The BlueSnap billing engine can offer subscriptions to customers around the world with a single, simple integration used to set up payments. 
A flexible subscription plan can be created, allowing merchants to offer a dynamic, custom-built plan that is perfect for their business. These plans can be managed directly by the merchant, offering a tiered plan with promotional offers and much more. 
Accounts that do encounter failed subscription charges don't necessarily mean lost business and BlueSnap will ensure that an automatic grace period is used to increase the conversion rate. Similarly, an automatic account updater can update customer payment information, preventing any missed subscription payments. 
Accounts receivable automation
BlueSnap allows for businesses to be boosted with accounts receivable automation.
The AR Automation Software streamlines the quote-to-cash process in a bid to improve cash flow, increase customer satisfaction, boost productivity and enhance forecasting and planning. The all-in-one AR Automation Software includes the following: 
ERP & CRM Integration

Proposals & eSign

Billing & Subscription Management

Create, Manage & Automate Invoices

Integrated Payments

Customer Portal 
These systems can be integrated with a number of different software options including Intuit Quickbooks, Sage Intacct, Xero, HubSpot, FreshBooks and more.
Virtual terminal 
A virtual terminal is one of the top offerings from a payment processor, allowing payments to be taken by phone, fax or email. 
Although the majority of payments are typically now made online, businesses that offer additional options can avoid missing out on additional potential payments from customers. There's no integration necessary for companies to onboard with the BlueSnap virtual terminal and the browser-based terminal can be used to take a range of different payments. 
Merchants can either access the payment gateway themselves, entering the customer information as it is received or send a unique link to a customer. This allows the customer to enter their personal information themselves.
The virtual terminal payments are covered by the BlueSnap Global Fraud Prevention, ensuring that all payments are made with the protection of the customer.  
Marketplaces
Merchants that are looking to build their own marketplace can find support from BlueSnap with the ability to offer a PSD2 compliant marketplace. 
Merchants are able to create a unique marketplace that boasts global functionality with more than 30 banks connected with BlueSnap globally. This translates to more eyes on the products and more customers for the business. 
Vendor onboarding is also taken care of by BlueSnap, offering an efficient setup that covers underwriting. Vendors are all verified by the company, ensuring only genuine sellers can access the marketplace. 
Businesses are able to benefit from the robust reporting offered by BlueSnap, gaining valuable insights into vendor and buyer activity. This is in addition to real-time split payments, all cleaned up with the customisable service offered by BlueSnap. 
Embedded payments and Payfac-as-a-service
BlueSnap can also allow merchants to facilitate global embedded payments in their platform with embedded payments and Payfac-as-a-service.
Merchants are able to create a customised payment experience, offering an increase in revenue and software platforms boasting up to a 5x increase in customer value. A personalised experience for payments can be achieved with BlueSnap's Payment API. With customisation options, tailored branding and unique flow capabilities, merchants are able to create the best possible checkout experience. 
There are a handful of ways in which a merchant can complete the process with BlueSnap offering three main solutions for facilitating payments:
BlueSnap Dash:

A hosted turnkey service that offers the shortest time to market for an embedded Payments solution.

BlueSnap Relay:

An efficient, white-label Payfac-as-a-Service, allowing merchants to brand the payments for their best business interest whilst minimising risk.

BlueSnap Flex:

A branded Payfac-as-a-Service solution taking advantage of the BlueSnap API, offering total control to the merchant.
POS payments
BlueSnap has partnered with Clover for the POS service and allows merchants to take in-person payments wherever they may be.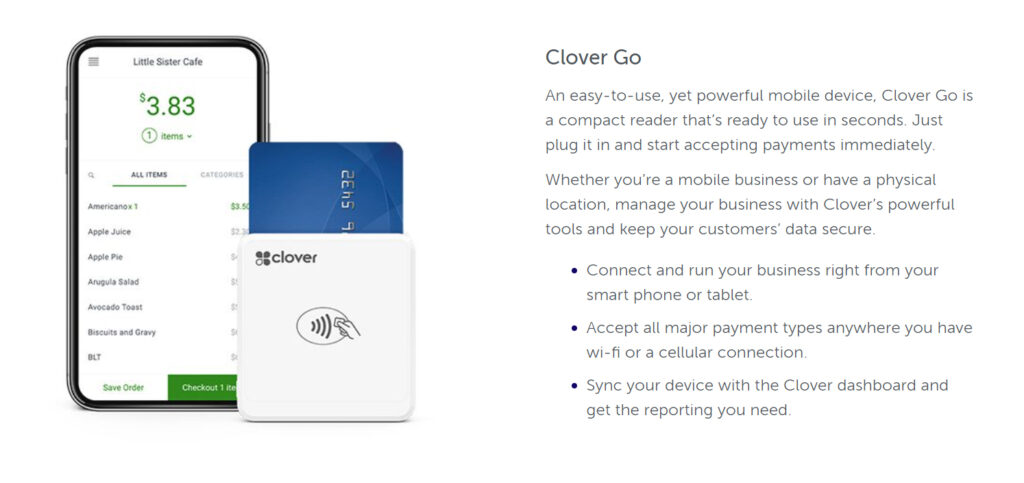 The POS payment systems are powered by Clover and both the Clover Flex and the Clover Go are available from BlueSnap. The Clover hardware is some of the best available and a range of customisable software options can be used to efficiently manage the business.
Major payment types can be accepted with the terminals with credit, debit, chip cards, Apple Pay, Samsung Pay, Google Pay and more all catered for. A single integration is all that is needed to get started with the BlueSnap POS service. 
The POS systems can also be synced to an online dashboard, allowing for a range of reports to be generated and used to view valuable business data. 
Company background
Originally founded in 2002 under the name Plimus, BlueSnap was acquired in 2012 by Great Hill Partners. 
Plimus was originally created in Israel and allowed Israeli merchants to sell goods globally. In 2008, the company managed to raise a total of $18 million from Susquehanna Growth Equity. In 2012, the company was acquired by Great Hill Partners for a $115 million sum. 
The following year, in 2013, Plimus underwent major changes including a new CEO and management team, and the rebranding to BlueSnap. This was shortly followed by a $50 million investment in 2014, focusing on both scale and growth by Great Hill Partners. 
In 2016, BlueSnap obtained a European payment institution license and opened a London office. 
In 2019, BlueSnap acquired Armatic, allowing the company to expand to include both accounts receivable and invoicing services. 
User reviews from around the web 
There are numerous independent Bluesnap reviews available on the web scattered across Trustpilot, G2 and Capterra. 
Trustpilot

  – 3.4 / 5 (based on 103 reviews)

G2

– 4 / 5 (based on 82 reviews)

Capterra

– 4.6 / 5 (based on 23 reviews) 
Bluesnap boasts a good user rating with an overall score of 3.8 / 5 from a total of 208 reviews. 
User Reviews
Review Summary
0.0 out of 5 stars (based on 0 reviews)
Recent Reviews
There are no reviews yet. Be the first one to write one.
Submit a Review