Founded in France, 1980 by Jean-Jacques Poutrel and Michel Malhouitre, Ingenico has earned over 4 decades of experience in the payment service business. 
The company focuses on a range of services ranging from smart terminals to mobile solutions with a focus on creating tailored plans for SMBs. Ingenico is recognised as an industry leader in Europe and, as a result, gained attention from the French payment and transactional company, Worldline. 
In late October 2020, Ingenico was acquired by Worldline, the largest payment services company in Europe, in a bid to add POS to their long list of valuable financial services. 
Prices/Fees 
Fees are, unfortunately, not currently displayed on the website and, due to the bespoke nature of the services, a quote should be requested to generate a reliable picture.
Product/Service overview
Ingenico is one of the leading payment solutions providers, creating tailored solutions to large retailers, SMB's, global eCommerce and banks and acquirers.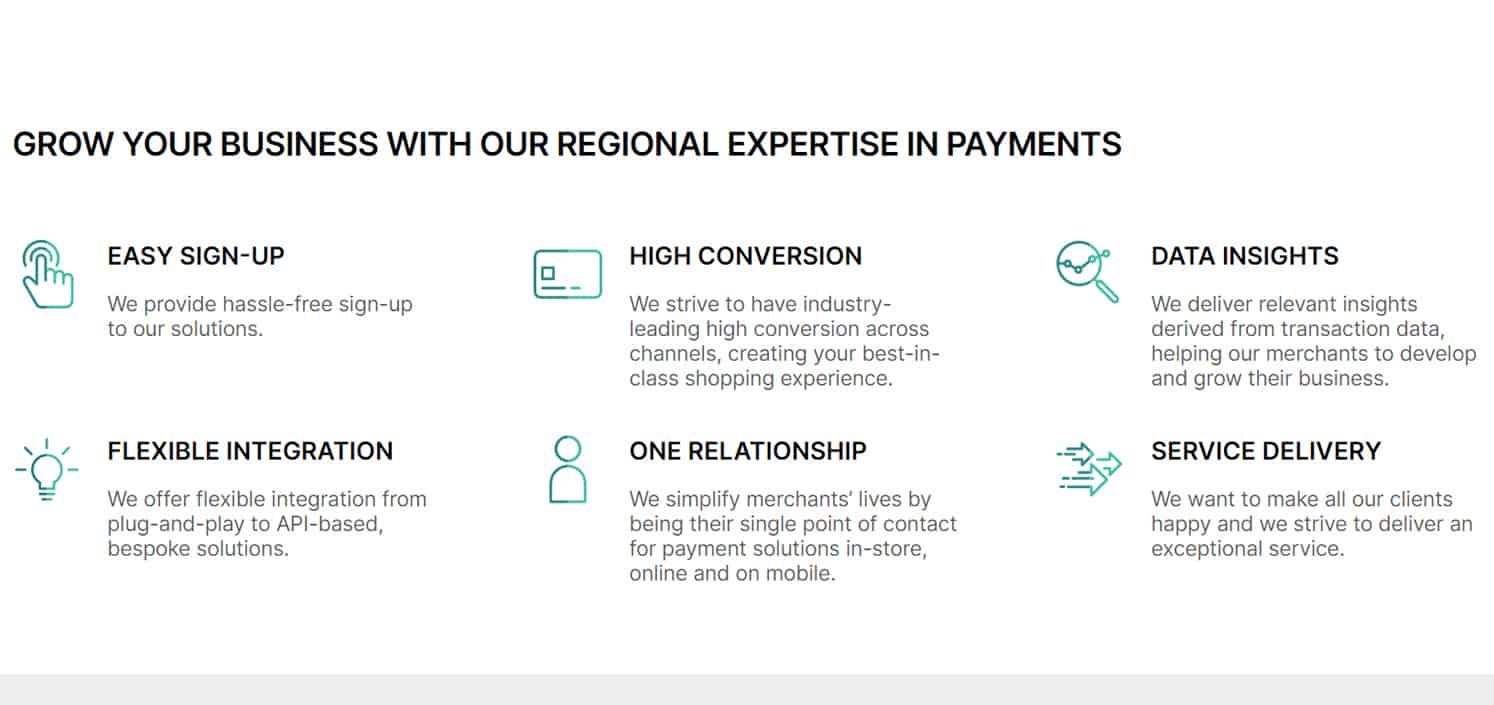 The solutions offered by the company can be tailored to the customer and include the following payment services:
Smart terminals 

SMB payments 

Omnichannel 

Mobile solutions
Smart terminals 
Ingenico has paved the way in the payment terminal industry with over 40 years of supplying a range of different POS technologies. 
Saliently, Ingenico ensures that all POS services are compliant with local regulations, allowing for cashless transactions across every industry. Customer experience is put at the forefront of the business with applications in retail, hospitality, vending, banks & acquirers and transportation. 
Payment terminals
Ingenico offers a range of payment terminal solutions as an industry leader including: 
Android ECR POS

Android Smart POS

Desktop terminals

Mobile Payment Solutions

Portable and Wireless terminals

Retail terminals

Self-service
Ingenico Payment Terminal Models
Desk 1600
Desk 2600
Desk 3000
Desk 5000
Link 2500
Link/2500i
Move 2500
Move 3500
AXIUM EX6000
AXIUM EX8000
AXIUM DX8000
AXIUM RX7000
Lane 3000
Lane 3600
Lane 5000
Lane 7000 & 8000
Moby 5500
Moby 6500
Moby 8500
Operating System (OS)
Ingenico has also developed an Operating System for managing over 2500 payment applicaritons, once again designed with user experience as the priority. 
The latest OS, designed for Telium TETRA payment terminals, is open to apps worldwide and showcases their best-in-class security. Care has been taken to ensure the OS is future-proofed with innovative security mechanisms designed to bridge secure payments.
Estate Manager 
The Ingenico Estate Manager helps customers get the most out of their estate with the maximisation of the payment offers at the point of sale. 
Customers are able to ensure that the terminal uptime is maximised, manage the full collection of Ingenico devices, ensure a controlled life cycle with maximum usage and accelerate the time-to-market. This is achieved with the following features:
Advanced remote maintenance

Terminal life cycle management

Software & merchant provisioning

Enhanced connectivity and security
Payment applications
Ingenico has the ability to handle over 300 different payment methods with the expertise extending into e-wallets, QR code solutions, EMV standard, closed-loop payment networks and contactless or NFC technologies.
Thanks to a geographic coverage stretching over more than 125 different countries, Ingenico is uniquely positioned to both support and accept payments from everything from standardised schemes to the latest innovations. 
SMB payments 
There are 3 different plans available for SMB looking to work with Ingenico with "Go", "Premium" and "Tailored". 
These solutions allow for businesses to begin taking payments via eCommerce and can be linked with Shopify, Magneto, PrestaShop and more. This allows for businesses to expand internationally and checkout conversion and user experience. 
There are over 150 different supported payment types supported including:
Mastercard

Visa

iDeal

Bancontact 

Cartes Bancaires

S€PA
Omnichannel 
With a worldwide presence, Ingenico can offer an omnichannel solution that caters to every merchant's needs. 
The omnichannel option offers a modular solution that builds a unified experience, including everything from acceptance to payment gateway and acquiring. This helps businesses improve their user experience, build consumer knowledge of products, and increase both sales and conversion rates.
An omnichannel solution from Ingenico allows businesses to effectively process all transactions, regardless of the channel and manage all omnichannel use cases.
Advanced acquiring services
As a component of the omnichannel solution, Ingenico is able to offer advanced acquiring as a service to full-service customers. 
This is of huge value to SMB's, unlocking global acquisition and opening the door to additional profitability, control and information with top-quality analytics. 
Security & Nexo standards
Security is a vital component of any payment service and the omnichannel solution is compliant with all relevant security protocols. This is reinforced with the most secure payment options: 
PCI DSS compliant

First PCI P2PE certified 

Point-to-point encryption
Alongside the emphasis on the latest security protocols, Ingenico has performed an instrumental role both in the development of nexo standards and nexo-compliant solutions.
Mobile solutions
An innovative mobile payment solution (mPOS) is imperative to building an engaging and personalised retail experience for customers in any industry, particularly so in Hospitality and Transportation. 
Ingenico offers two solutions for a mPOS to form a key differentiator in business with the iSMP4 and the Link/2500 Companion. 
Ingenico Card Machines Overview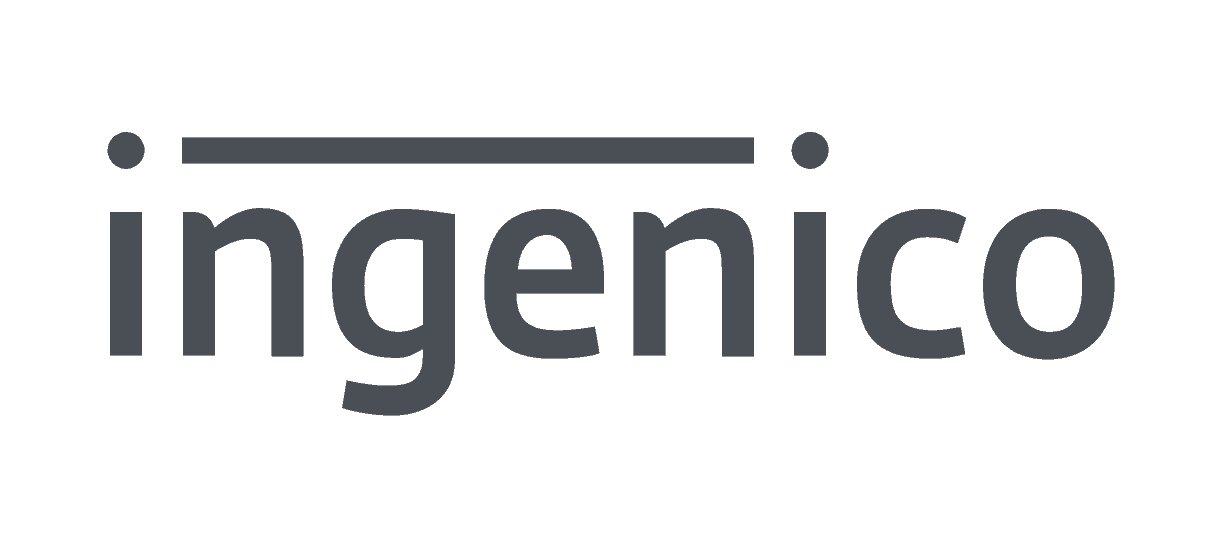 Ingenico is a French company that provides merchants and businesses with a range of services to make payments easier. Their services and products are geared toward helping merchants make the consumer purchasing experience smoother, more secure, and more convenient.
The company offers various mobile hardware and POS machines, from simple card machines to fully integrable devices.
Their current focus is on providing a cloud-based payments platform, smart terminals, and innovative terminal management.
Furthermore, Ingenico also has a PPaaS (Payment Platform as a Service) solution as part of their business enablement offering. The point is to centralize payment systems, commerce activities, and terminal management in one place.
Other than that, when it comes to payment terminals and card machines, Ingenico has a range of offerings. The following is a summary of their offerings.
Portable Devices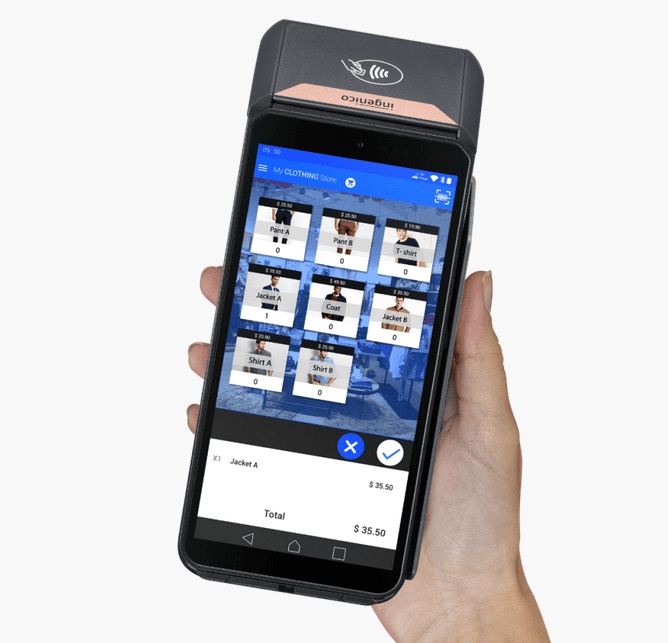 Ingenico's range of portable devices are designed to be used both indoors and outdoors, depending on the business. The devices have several options for connectivity, are lightweight, and have assisting apps to help merchants keep track of transactions.
The company offers the following card machines in their portable offerings:
AXIUM DX8000 Series – This machine has a 6-inch screen, a large battery, and cameras on both sides. On top of that, it supports Android 10 apps.
AXIUM EX6000 – This is an Android 10 device that offers Android-level security and PCI PTS V6 compliancy. It has a 5-inch touchscreen, and rear camera, and a scanner.
Link 2500 Series – A relatively simpler design, the device supports Apple Pay, Samsung Pay, and NFC. It has a large battery and has PCI PTS compliancy.
Move 2500 Series – Similar to the Link series, it focuses on NFC payments and has backup power to allow you to make transactions even if networks and power fail. The device has an integrated printer and a huge battery.
Move 3500 – This is an upgraded version of the Move 2500 series and includes a 3.2-inch touchscreen and an even larger battery.
Move 5000 – This device combines the features of the Move 3500 with a large 3.5-inch touchscreen.
These devices are ideal for businesses that don't have a single POS like restaurants.
Countertop and PIN Pad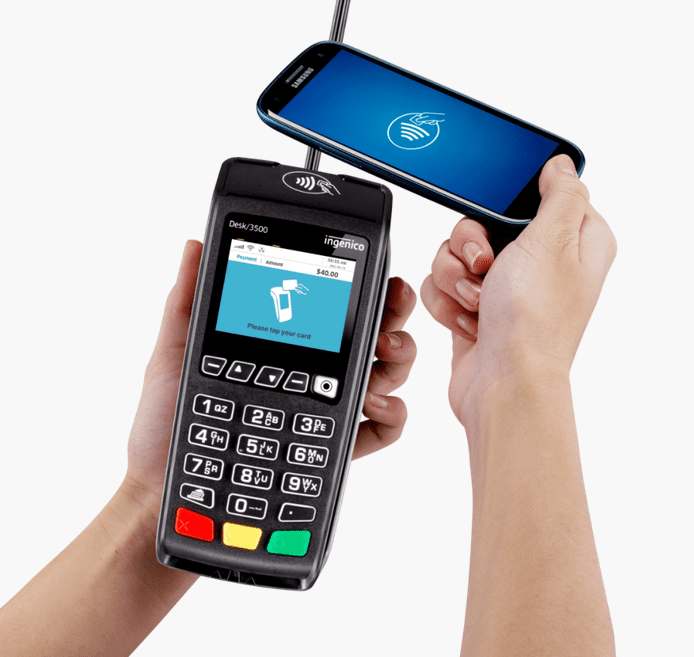 These payment terminals focus on integrable devices and maximised network availability. They also offer self-checkout if they are paired with the Desk 1600.
They accept all payment methods, including instant payment through NFC. Furthermore, they offer various connectivity options, including WiFi, Ethernet, and 4G.
Ingenico offers the following machines in this offering:
Desk 1600 – This customer-facing PIN pad is ideal for self-checkout lines as it accepts all payment types and integrates will all types of counter spaces.
Desk 2600 – This device has a larger keypad and display, along with a longer-lasting battery.
Desk 3000 Series – This device makes NFC payments simpler and complies with most security requirements.
Desk 5000 – The highest-level offering in this category, the device has a larger screen and an intuitive user interface.
These payment terminals are ideal for fixed POS terminals.
Retail PIN Pad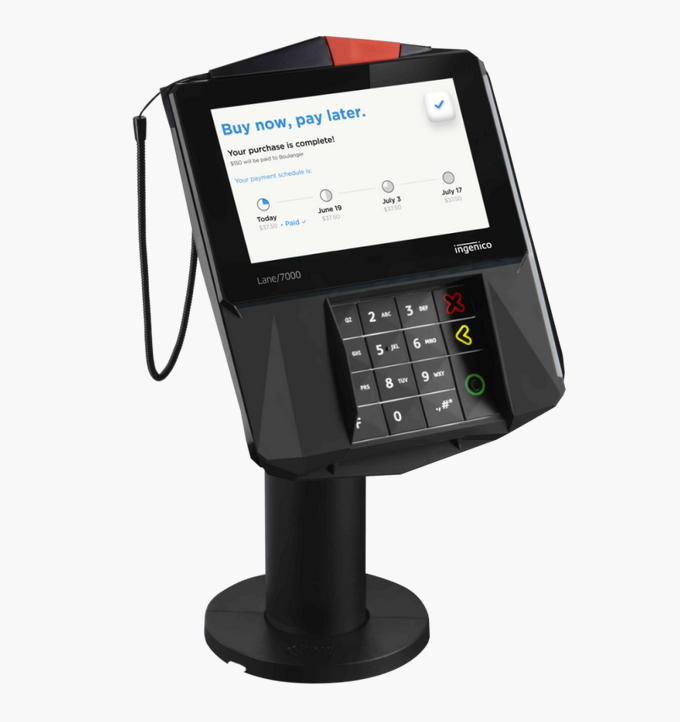 Retail PIN pads are designed to be set up in retail checkouts for faster customer service. They help reduce checkout times while improving customer engagement and satisfaction.
Ingenico's retail machines also allow for self-checkout while providing some value-added services, along with a user-friendly interface. On top of that, they are easy to integrate with existing retail infrastructure.
Currently, Ingenico offers the following machines in this offering:
Lane 3000 – This is a high-end keypad device that's easily integrable with most retail kiosks and systems.
Lane 3600 – Designed to make transactions contactless and smooth, this device is geared for self-checkout terminals. It has a QR code reader camera in the back.
Lane 5000 – This device is designed to offer a smooth NFC experience. It has a large touchscreen display, electronic signature capabilities, and an internal QR-enabled camera.
Lane 7000 & 8000 – These devices have a larger multimedia touchscreen that supports an HTML5 interface. It can be integrated into any retail environment and supports all payment options.
These card machines are ideal for retail businesses, especially ones where self-checkouts are useful.
Other than that, Ingenico also offers options for retail mobility devices when you need to carry card machines around. For that purpose, they offer two devices:
AXIUM EX8000 – Designed for quick mobile payments in large retail stores, the device has enterprise-level features, accessories, and apps to make any POS terminal more efficient.
Link 2500i – This device is designed to accept all forms of payments, including NFC, Samsung Pay, and Apple Pay. It utilizes TELIUM applications to make transactions more efficient and facilitates integration with third-party devices.
These devices are Android-ready and can be paired with your smartphone.
Card Readers and Self-Service Machines
Ingenico's card readers are relatively simple multi-purpose devices that can be paired with most smart devices to create mobile POS terminals.
They support NFC and EMV transactions, have native support for international transactions, and are backed by an embedded worldwide payment app.
Currently, Ingenico offers the following card readers:
Moby 5500 – It's a simple device that supports EMV, NFC, and magstripe payments. It's PIN-on-Mobile ready for SPOC and PCI SCRP solutions and can be used as an extension on smartphones for mobility.
Moby 6500 – Designed for micro-merchants, the mobile PIN pad device accepts all card-based payments and is compatible with over 500 different devices.
Moby 8500 – As a lightweight and user-friendly device, it has all the relevant features and can also connect to Windows-based devices.
Other than card readers, Ingenico offers a few self-service machines too, including the following:
Open Readers – These are simple devices that are ideal in transport scenarios and they support all payment types.
Self All-in-One – This is ideal for indoor and outdoor kiosks. The device has a colour screen, camera, sound alerts, and accepts all payment types.
Self Modular – Designed for rugged use, this device is ideal for the outdoor user. It's modular so it can fit into any existing kiosk and gas PCI PTS v6 security.
These payment terminals are ideal for businesses that want no staff interaction.
Ingenico Card Machines Review
As an internationally renowned company, Ingenico is well-received in the industry with its products being used by major retailers, vendors, and businesses.
With its wide variety of card machine offerings, Ingenico provides users with plenty of choices based on their requirements. That said, too many offerings means less focus on individual products which is where their lack of customer support comes in.
That is why a lot of people complain about the lack of support on forums and in reviews. On top of that, Ingenico doesn't provide all the necessary information online, including details of the contracts and fees.
There are a lot of hidden fees when you use Ingenico devices. For example, some Ingenico machines automatically call premium numbers to install regular software updates. These premium numbers can cost several hundred pounds per year.
Therefore, regular (and necessary) updates are locked behind fees that you cannot opt-out of. Similar to this, there are other instances of hidden fees which may seem irrelevant to larger businesses, but can end up costing a lot to small business owners, especially when these costs compound.
That said, the devices themselves are top-of-the-line. Each Ingenico device is primed to receive all payment types and most of them support NFC, EMV, and magnetic stripe payments.
The devices are reliable, there are several connection options for continuous up-time, and each device is reprogrammable so you're not stuck if you're changing some aspects of your business.
Furthermore, all the Android-supported devices are fully integrable card machines that can work in tandem with your systems. They support Android 10 apps and above, and some have the capability to run any custom apps you have developed for your business.
Pros
The following are some major pros of using Ingenico card machines and payment terminals.
They work with all merchant accounts and cards
There's support for NFC, EMV, and magnetic stripe payments
Lots of card machine options for different kinds of businesses
Android-supported devices are regularly updated
Some devices can be used for both mobile and fixed POSs
All devices are designed to be easy to handle and have full connectivity support
Ingenico also offers other value-added services such as a cloud-based payments platform that can be integrated with their card machines.
Cons
The following are some of the drawbacks of Ingenico card machines and payment terminals.
The pricing and fees are not transparent and require you to contact them
There are hidden charges that are not disclosed once you start using Ingenico devices
Customer support is not reliable
Some devices require a smartphone to work to their full capacity
Device installation may be a hassle
There isn't much information on contract lengths
Compared to other card machine providers, Ingenico doesn't do a good job of showcasing contract specifications.
User Reviews
Currently, Ingenico has a 1.6 rating on Trustpilot which is considered a 'Bad' rating. 94% of the reviews have a one-star rating while 6% of the reviews have a five-star rating.
Here's an example of a positive review.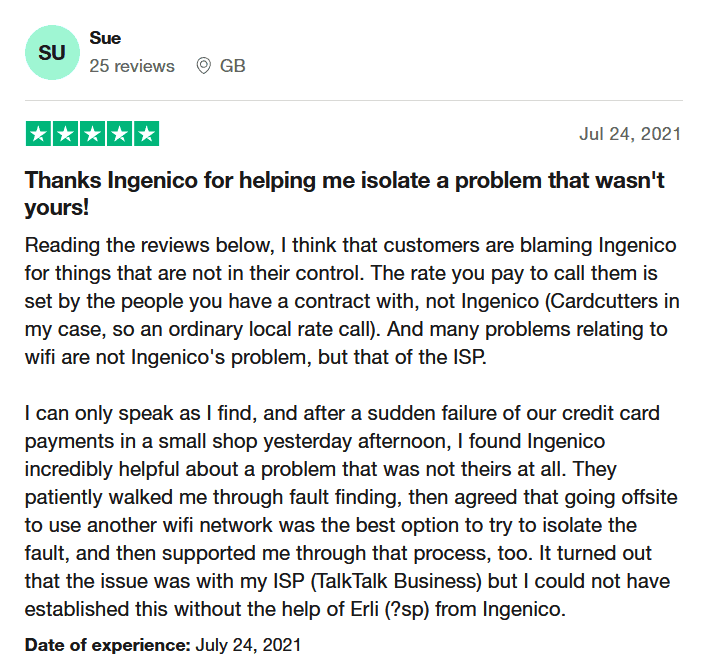 Customers often appreciate the lengths that the company goes to solve a customer's problem. That includes issues that may be beyond the company's domain.
That said, most customers have complaints regarding Ingenico's customer support with one customer claiming that you have to call a premium paid number to get actual support.
In any case, here's a negative review of Ingenico.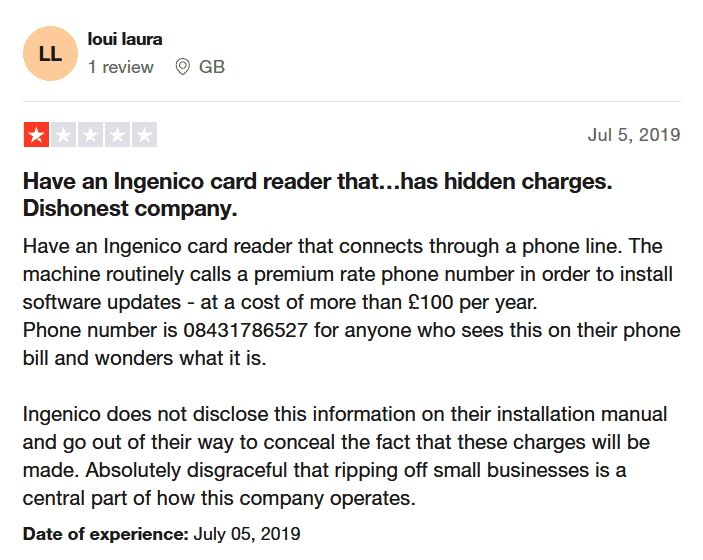 There are also complaints about Ingenico's card machines that have hidden charges. These hidden charges accumulate throughout the year and often are not disclosed when you install Ingenico's card machines.
Other than that, Ingenico has a 4-star rating on G2; however, this is based on only four reviews.
Ingenico Card Machines Pricing and Fees
Ingenico doesn't provide information on their pricing and fees on their website. Usually, when you choose a device, they reroute you to a reseller. At that point, they analyse your requirements and provide you with a customised package.
However, most of Ingenico's devices need to be bought. However, if you have a merchant account with them, you can get them for free.
In any case, the average PIN and screen device can cost £200-£300, with the touchscreen and Android devices becoming even more expensive.
That said, keep in mind that there can be a lot of hidden fees with Ingenico devices. The company doesn't provide a complete outlook of all the fees you'll be paying when you buy their devices.
However, current customers complain a lot about hidden fees that weren't apparent when they started their contract. Therefore, it's a good idea to contact someone who's using the same device you want and ask them about hidden fees.
Based on the reviews from all customers, Ingenico scores an average of 2.1 stars from 29 different reviews. 
User Reviews
Review Summary
0.0 out of 5 stars (based on 0 reviews)
Recent Reviews
There are no reviews yet. Be the first one to write one.
Submit a Review