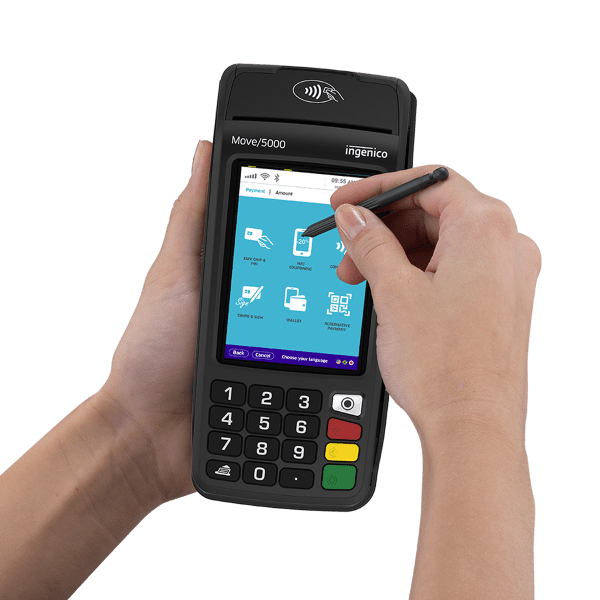 The Ingenico Move 5000 Card Machine is power by their Tetra technology. It is designed for mobile businesses that want to take payments anywhere.
Below we look at it's main features, example pricing, how to set one up and finally user reviews.
Ingenico Move 5000 Features
3.5″ colour touchscreen and ergonomic interface
Payments anywhere using: 4G, 3G, GPRS, Dual SIM, Bluetooth and WiFi
Can accept payments via EMV Chip & PIN, contactless, magstripe or digital wallets and QR-code based payments
Fast integrated built-in printer
Long-lasting battery for the lengthy working day (2900mAh)
Security with PCI PTS compliancy
Optional: 1D/2D barcode scanner
Optional 5MP rear camera (up to 8MP)
Ingenico Move 5000 Card Machine Prices
Your transaction fees for using the Move 5000 will vary based on your payment processing company, your card based revenue and your contract terms.
Below we look at some sample pricing for the Move 5000 Card Machine itself:
Machine Rental Charge: £15 – £29 per month
PCI Charges: 0 – £4.99 per month
Setup Charges: 0 – £25.00
Authorisation Fees: 0 – 4p
Minimum Monthly Service Charge: 0 – £25 per month
Refunds: 0 – 30p per transaction
Ingenico Move 5000 Set-up
The vide below by Ingenico shows the general installation instructions:
Ingenico Move 5000 User Reviews
Review Summary
0.0 out of 5 stars (based on 0 reviews)
Recent Reviews
There are no reviews yet. Be the first one to write one.
Submit a Review
Learn more: Ingenico Move 5000 website
Also see: The Best Ingenico Card Machines