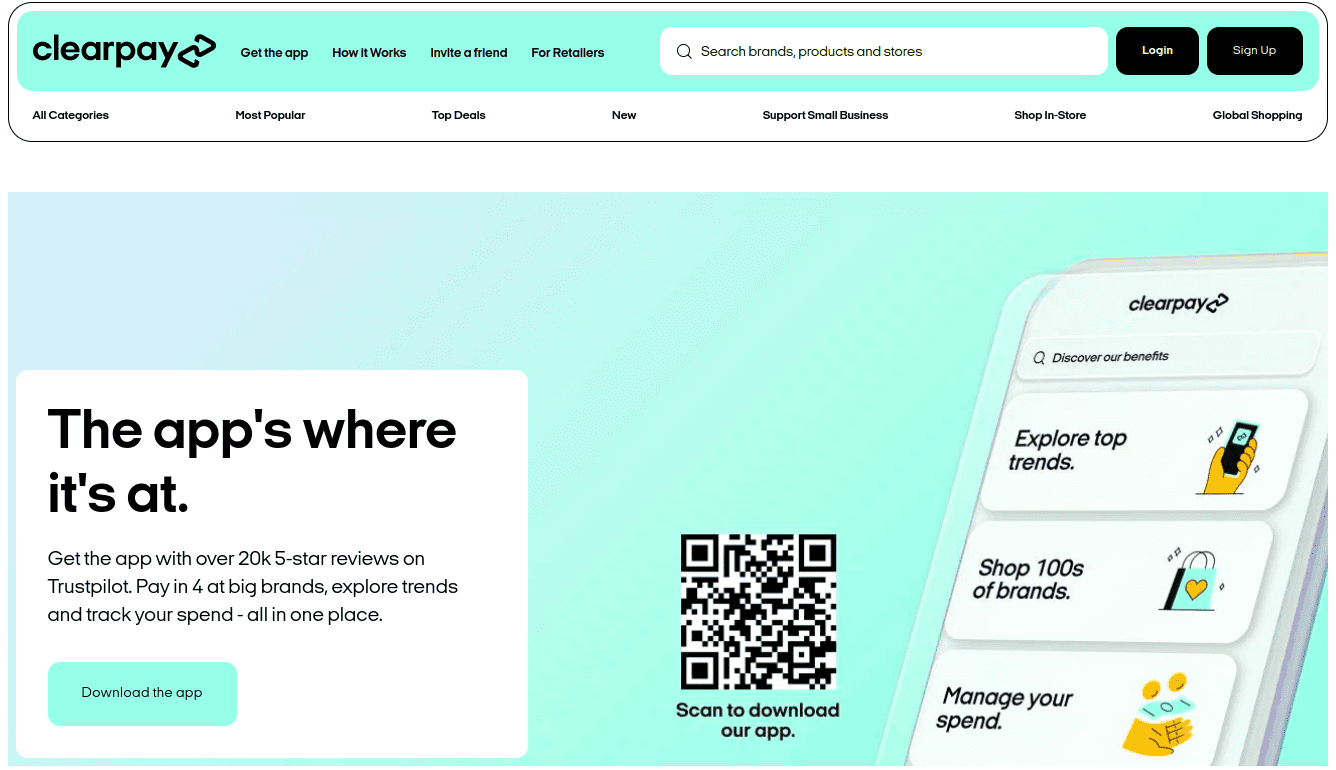 Founded in 2015, Clearpay quickly established itself as one of the leaders in the financial services market. The company's main aim is to provide consumers with a flexible and interest-free payment solution for their online purchases.
Clearpay first became popular in Australia, but they quickly expanded their services to the United Kingdom in 2016. Since then, they've been growing their customer base and developing their buy now, pay later services according to the changing times and needs of their users.
Prices/Fees
Exact prices and fees for using Clearpay's services are not outlined on their company website. The website only mentions the following charges:
The company chargers a £6 fee for every late instalment

If the instalment remains unpaid one week later, the company will charge another £6

Late fees on orders cheaper than £24 cost £6

Late fees on orders above £25 cost 25% of the order value
Product/Service Overview
Clearpay's main service is providing credit to shoppers who need to purchase products from various businesses that are paid in 4 interest-free instalments over six weeks.
Let's zoom in on how this works and cover additional perks and features of Clearpay's services.
Buy Now, Pay Later
Clearpay's primary service is lending customers credit so they can shop either in-store or online and splitting their fees into instalments. 
The company lends users a fixed amount of money so they can pay for their purchases. Customers then need to pay the debt back in four instalments – one every two weeks. The first payment is made at the time of purchase, and the remaining three payments are dedicated automatically from the customer's chosen payment method every two weeks. If users are late with their payments, the fees mentioned above apply.
To use Clearpay's credit service, customers need to choose Clearpay as a payment option during checkout, regardless of whether they're paying online or in-store. 
Offer for Retailers

Here are all the benefits retailers can expect if they decide to start collaborating with Clearpay.
Conversion Rates
Clearpay's main goal is to help its users improve their business and increase their sales. The company helps retailers increase their conversion rates by allowing them to offer 4-instalment payments with no interest fees to their customers for any purchase. This flexibility encourages many customers to complete their orders, which reduces the probability of an abandoned shopping cart.
Customer Base
Retailers who decide to integrate Clearpay into their online stores will be granted access to Clearpay's large and growing customer base.
Order Value Increase
Clearpay reports that retailers who use Clearpay have typically seen a rise in their average order value. Customers who are allowed to spread their payments over time tend to make larger purchases.
Risk Management and Fraud Protection
Thanks to Clearpay's sophisticated risk management and fraud prevention systems, retailers can rest assured that they are protected. Clearpay's measures include real-time monitoring, data analysis, and transaction-level insights to help identify and prevent fraudulent activity.
Marketing and Promotion
Clearpay offers marketing and promotional support to retailers to help them attract customers and drive engagement. This includes access to promotional materials, co-marketing opportunities, and campaign collaboration.
Online Shopping
Customers who wish to use Clearpay's credit service can shop at a wide range of online retailers across various industries like fashion, beauty, home products, electronics, and so much more.
Clearpay's website allows customers to navigate through various categories such as "Top Deals", "Support Small Business", or "Global Shopping".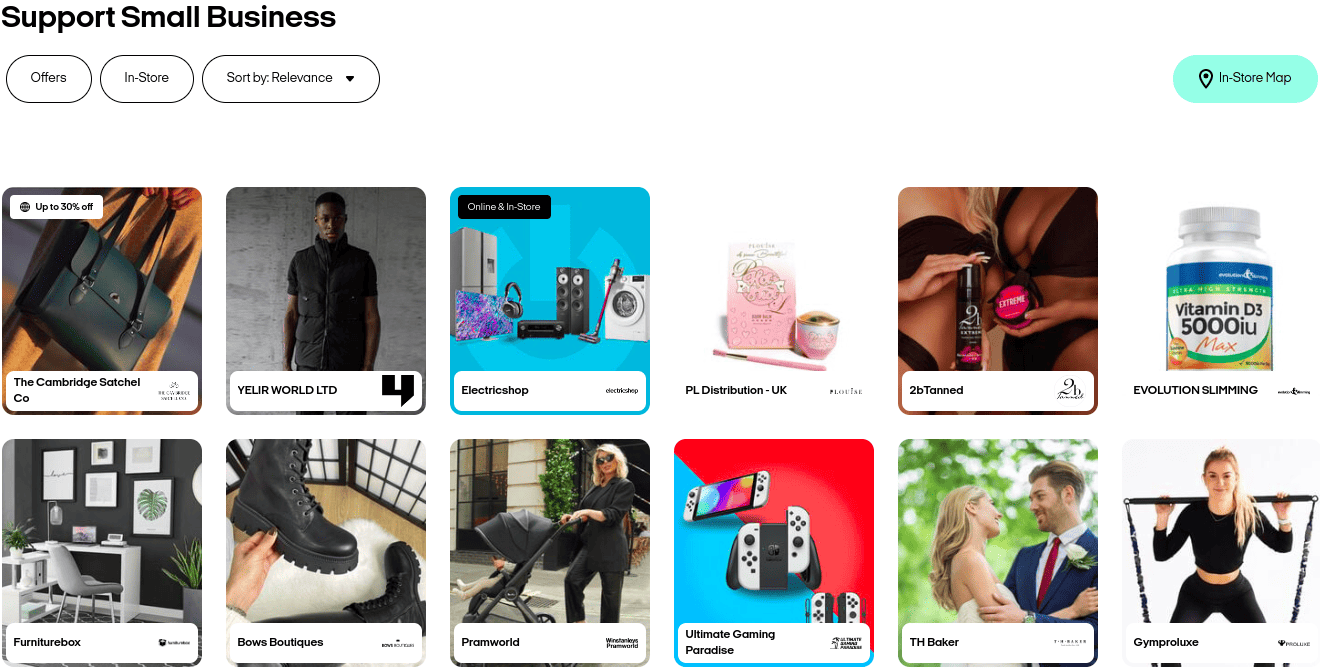 The Top Deals category is designed to showcase special offers and promotions from various retailers that use Clearpay as a payment method. These deals are typically time-sensitive and may change periodically, so it's worth checking back regularly for updated promotions.
The Support Small Business category is made for customers who find it important to make ethical consumer choices and wish to support small businesses in their efforts. Clearpay, therefore, allows them to narrow down their product selection to products offered by small businesses only.
For people who wish to shop from the most popular international brands, Clearpay has rounded up the Global Shopping category which narrows down the currently hottest international brands from various industries in one place.
In-Store Shopping
Clearpay started as an online shopping service, but due to the great popularity they've seen, they've expanded their offer to in-store shopping too. To use Clearpay's services for in-store shopping, customers can use the Clearpay app to generate a barcode at participating retailers, which can be scanned at the checkout to split the payment into instalments.
Clearpay Card
Clearpay's customers can opt-in for a virtual card that they can add to their digital wallets. The Clearpay Card allows users to shop online and in-store at any retailer that accepts Mastercard, even if they don't offer Clearpay as a payment option.
Business Operations
Besides the credit service and online & in-store shopping solutions, Clearpay is also engaged in business operations that help them take their services to the next level.
Account Management
Clearpay offers a user-friendly mobile app and website that customers can use to manage their purchases, payments, and account settings. They can also keep track of their upcoming payments, view transaction history, and update their payment methods.
Late Payment Assistance
As mentioned in the prices/fees section, if a customer misses a payment, Clearpay may charge a late payment fee and restrict the customer's ability to use the service until the completion of the payment.
However, if customers are aware that they will be late with their payment due to financial difficulties, Clearpay offers helpful assistance programs.
Company Background
Founded in Australia in 2015 by Nick Molnar and Anthony Eisen, Clearpay is a fin-tech company that has quickly experienced huge success and dominated both the Australian and UK market.
Clearpay offers interest-free instalment payment services to consumers, allowing them to split their purchases into four payments. In the beginning, they operated under the name "Afterpay", but after their 2021 global expansion, they rebranded to Clearpay.
Today, they are partners with numerous retailers and have a huge customer base, making them one of the most prominent players in this industry. In 2021, they were acquired by Square, a leading fin-tech company, however, they still operate under the same brand.
User Reviews From Around the Web
Unfortunately, there are not many user reviews of Clearpay on the web that would help us form a more complete image of this company. Here are the limited results that we found:
User Reviews
Review Summary
0.0 out of 5 stars (based on 0 reviews)
Recent Reviews
There are no reviews yet. Be the first one to write one.
Submit a Review