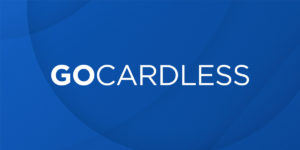 GoCardless offers a simple way to accept direct debit payments.  The company processes £2.9 billion worth of transactions each year.  It has over 30,000 organisations which use its expertise, including Thomas Cook, TripAdviser and the Guardian newspaper.
GoCardless Direct Debit Processing & Payment Services
GoCardless Core Features
Customer Setup and Payments
Invite customers to sign up online via email or web link
Secure online payment pages co-branded with your logo
Flexible payments: collect on any day of the week
Take one off payments, setup plans or subscriptions
Payment Essentials and Security
Take payments across UK (Bacs), Eurozone (SEPA) and Sweden (Autogiro)
Access to GoCardless' API including webhooks and client libraries
Connect using pre-built integrations including billing and accounting software
Automatic bank account verification checks to reduce failure rates
Bacs approved and ISO27001 certified. FCA compliant.
Reporting and Reconciliation
Pay only for successful transactions
Real-time notification of failed or cancelled payments
Ability to retry failed payments
Filter and export data by CSV
GoCardless Pricing & Fees
GoCardless has a range of pricing plans to suit small, medium and large businesses.
Standard Plan
All Core features
Quick and simple setup
1% per transaction – maximum £2, minimum 20p
No monthly fee
Plus Plan
All Core features
Your name on your customers' bank statements
Improve customer experience with consistent branding
1% per transaction – maximum £2, minimum 20p
£50 per month
Pro Plan
All Core features
Your name on your customers' bank statements
Volume-based scalable pricing
Option to build your own branded payment pages
Option to send your own email notifications to customers
Collect customer details by phone, paper and online
Volume based pricing
+£200 per month
Source: GoCardless Pricing
To see how that compares have a look at: UK Merchant Account and Debit Card Processing Fee Comparison.
Company Background
GoCardless was founded in September 2011 by Matt Robinson, Hiroki Takeuchi and Tom Blomfield.  GoCardless wanted to offer a solution to the high costs charged to SMEs by credit card companies.  At their launch, GoCardless was the only company in Europe to offer such a solution and, only one of two that wasn't built on an existing card network.  By May 2012, the company had more than 2,000 merchants.
GoCardless is backed by companies such as Accel, Balderton, Notion, Passion and YCombinator.   In 2017, the company processed £2.9 billion in transactions for over 30,000 businesses.   GoCardless is London based and has a large presence in the UK, France, Germany, Sweden and Spain and is hoping to open up more markets in the near future.
GoCardless Pros & Cons
The following pros and cons are based on information available from reviews on Trustpilot, and Review Centre.
Pros:
Excellent technical team
Lack of bureaucracy
Positive transformation of fee collection – less debtors
Great value
Good customer service
Cons:
Customer service has deteriorated over the last 7 years
No new services being introduced
Serious glitches with SAGE integration
Delays in account setup
Communication between departments is sadly lacking
GoCardless Reviews
Trustpilot: 4.5 out of 5 based on 745 reviews
Review Centre: 2.1 out of 5 based on 9 reviews
GoCardless Merchant Machine score is 6.6 out of 10 (average of 2 sites above).
Website:  www.gocardless.com