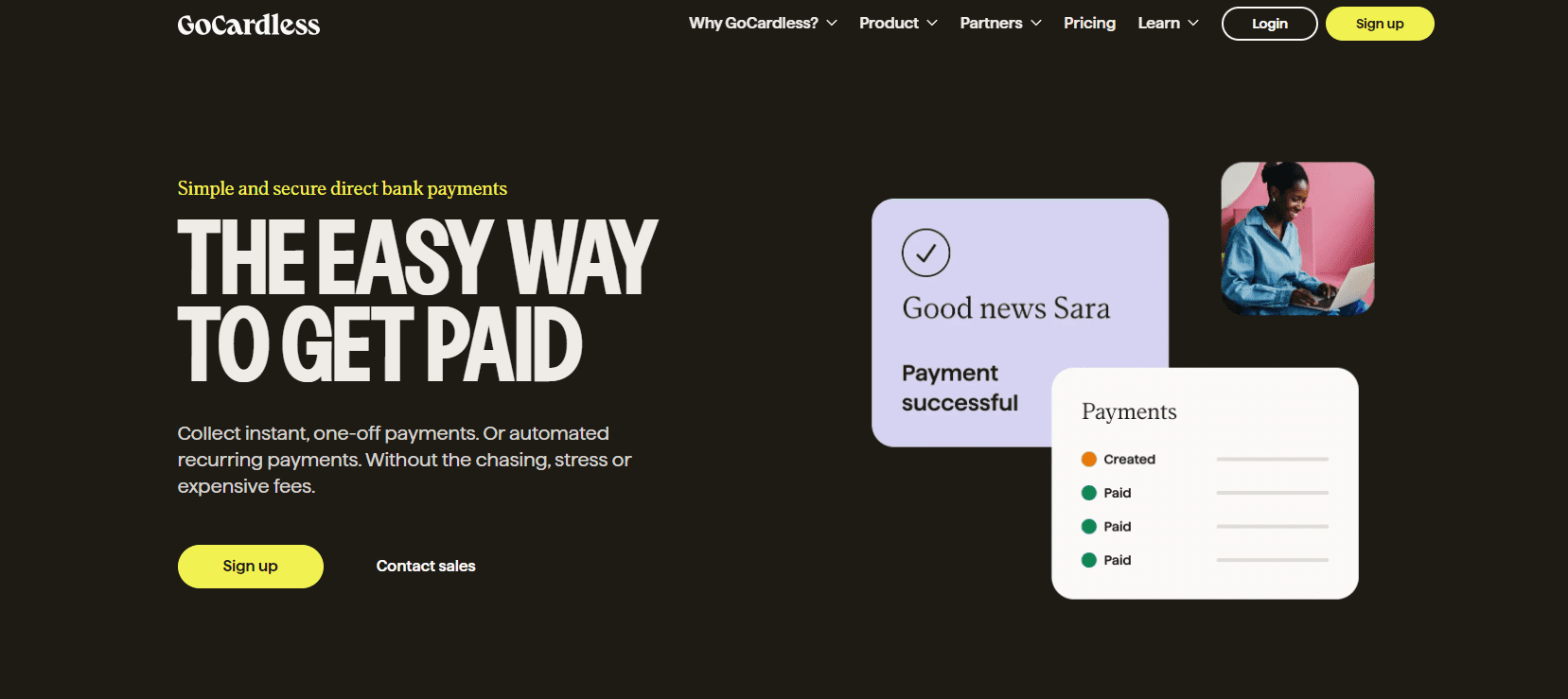 Founded in 2011, Go Cardless Ltd is a leading Direct Debit provider servicing mainly the e-commerce industry. It's a payment gateway used to receive customers' invoice payments.
This provider is partnered with several trusted SaaS-s like Xero, QuickBooks, Sage, and Chargebee, meaning you can easily integrate GoCardless with many apps and programs you're already using.
Moreover, GoCardless has plenty of features and integrations that make business operations smoother and easier.
Prices/Fees
GoCardless pricing packages are built for businesses of various needs and sizes. Besides the three leading bundles, there is also the possibility for custom, volume-based pricing.
Standard Bundle
The Standard bundle comes with no monthly fee, and users can "pay-as-they-go", meaning they'll be charged only per payment – no other hidden costs are included. In addition, the standard bundle allows users to collect recurring, variable, one-off, and international payments. Finally, it helps them maximise their payment success by activating the Success + feature, which will be explained in more detail later in the text.
With the standard bundle, businesses can integrate the gateway with partner software or use it through a dashboard or custom integration. They can also design a payment page with their company's logo.
Go Cardless gateway ensures high financial and data security on all price tiers.
Plus Bundle
Businesses subscribing to the Plus bundle pay £50 per month and enjoy extra customisation options for their payment page. Along with all of the Standard features, the Plus bundle also offers adding brand colours to payment pages and emails, as well as a name on customers' bank statements.
Pro Bundle
Finally, for £200 per month, companies can upgrade to the Pro Bundle and use additional features designed to maximise user experience. Along with all the features listed in the previous two packages, businesses subscribing to the Pro bundle can create fully customised payment pages and email notifications and invite customers to set up a gateway over the phone or in person.
Custom (Volume-Based) Pricing
Businesses with a large transaction volume are able to create a custom plan supporting their unique business models. However, interested companies need to contact the GoCardless sales team for the options available in the custom package.
Some advantages of having a custom, volume-based pricing plan include using country-specific rates, priority support, and pre-sale solutions engineering.
Payment Fees
Another relevant aspect of costs is the transaction fees. In the UK and Eurozone, the fees are 1% +  £/€0.20 (maximum: £/€4 per transaction).
For payments bigger than £/€ 2,000, users will have to pay an additional fee of 0.3%.
For international payments, the fees are 2% + £0.20 per transaction, with the currency conversion included.
Handling Tax
As instructed by the relevant authorities, GoCardless has introduced tax charges on its fees. These tax fees are relevant for merchants with a GB or FR country code.
The company conducted research to discover the best UX/UI practice when it comes to showing tax in payment. According to them, the merchants should make the tax price visible on both the payment and payout detail view.
Credit and Debit Card Merchant Fees
Merchant fees for accepting credit cards can include monthly payments, one-off expenses, and transaction charges. There are also costs concerning the physical shop's credit card machine and different processing fees.
Merchant Service Charge
Most of the charges result from the MSC (merchant service charge). The MSC is a fee charged as a percentage of every sale. For debit cards, the fee ranges from 0.25% to 0.6%. For credit cards, it's from 0.3% to 0.9%, and for commercial credit cards, it's from 1.5% to 2.5%.
Terminal Charges
If a merchant meets clients face-to-face, terminal charges fall on the merchant. This includes chip and PIN machine charges. The prices for this vary depending on the type and quality of the terminal.
Fixed countertop terminal costs between £14 and £20. Portable terminals are slightly more expensive, from £16 to £25. Finally, mobile terminals cost between £20 to £35.
Longer rental contracts (more than five years) usually mean lower monthly rental fees. 
Gateway Fee
Businesses that operate online need to think about gateway fees. The gateway fee covers the costs of transaction processing. Transaction fees are between 6 and 10 p. Fixed fees can be between £10 and £20 per month. Another option is to opt for a fixed rate that includes some transactions. For example, a merchant could pay £25 each month for 1000 transactions included in the price.
Authorisation Fee
The authorisation is another cost topped to those mentioned above. Authorisation is a process of testing the validity of the card. It costs between 1 and 6p per transaction.
PCI Compliance
Every business that takes credit card payments is held responsible for complying with the data security standards of the card payment industry, also known as PCI DSS. This compliance costs between £2 and £20 per month.
Administrative Fees
Depending on the payment processor the merchant will choose, they might be charged additional fees such as a set-up fee or a chargeback fee. These can cost up to £20 per chargeback request.
Product/Service Overview
GoCardless provides its services to many industries, from small businesses to charities to large corporations. Some of their most important products and services include recurring payments, instant bank pay, and international payments.
Recurring Payments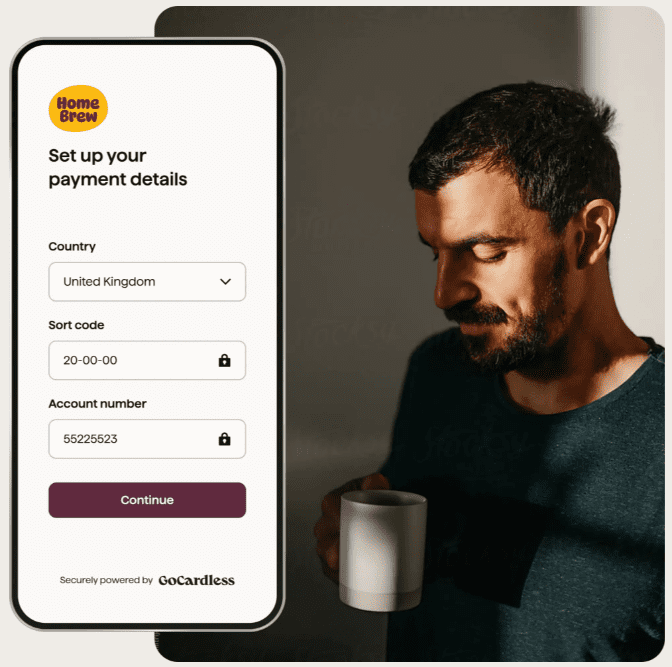 GoCardless' global bank payment network allows companies to collect bank-to-bank payments from customers worldwide. The best use cases for collecting recurring payments include subscription and invoice payments.
Subscription and Membership Payments
Here's how subscription and membership payments work at GoCardless.
For Small Businesses
First, small business clients must choose the payment type they want to collect. Then, they should set up an instant bank payment or a flexible Direct Debit (or both at once!). Once this step is completed, they can edit, pause, upgrade, or downgrade their subscriptions within a few clicks.
For Enterprises
Setting up subscription and membership payments can significantly reduce churn, boost conversions, and help enterprises go global faster. The set-up procedure is the same as the one described for small businesses.
Invoice Payments
Invoice payment services can also be separated based on industry size.
For Small Businesses
Automatical collection and reconciliation of invoices at GoCardless help clients receive timely payments by letting their customers automate the payment process.
The clients first need to go through a one-time set-up, where the customer authorises the client's company to collect payments by Direct Debit. After that, clients can schedule payments through the GoCardless link, in the dashboard, or by integrating GoCardless with their existing invoicing software.
According to data published on the GoCard website, this invoicing method should help clients can successfully collect more than 97% of payments. In case of a failed payment, GoCardless will retry to collect it. For this to work, the client must activate the Success + feature.
For Enterprises
For enterprises, automating payment collection decreases the collection costs and helps companies expand to more markets faster.
The setup works the same as with small businesses.
Instant Bank Pay
This feature allows users to collect one-off payments from their customers instantly. Instant Bank is an excellent solution for businesses that work mainly with recurring payments but also need to collect one-off payments.
Direct Debit is not optimised for one-off payments, bank transfers offer a poor customer experience, and card payments are expensive. On the other hand, Instant Bank lets companies maintain a good customer experience while receiving their money immediately.
International Payments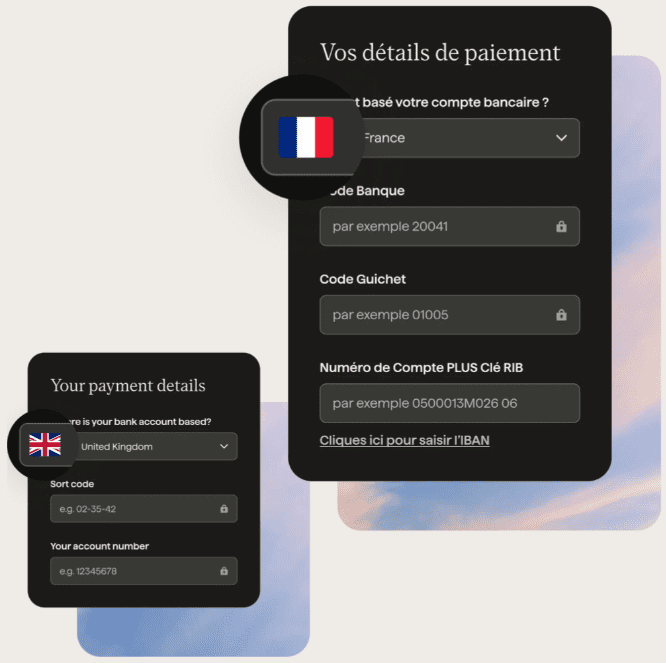 GoCardless debit payments are present in more than 30 countries. Specifically, they are available in the U.K., Eurozone, USA, Canada, Australia, and New Zealand.
International payments raise an essential question, "How much will users be charged for conversions?"
GoCardless powers their currency conversion through Wise, which ensures their customers' money is exchanged at the fairest possible rate ("real exchange rate"). This way, their users receive the best possible value, with minimum losses from their international payments.
Business Operations
GoCardless is more than a payment gateway. This company offers a range of business operations, making their community a better place and maximising user and customer experience.
Climate and Health
GoCardless is fully committed to reducing its environmental impact. In 2021, they co-founded the Tech Zero coalition, a group of businesses whose primary mission is to make climate action a part of the NFCC Race to Zero.
Besides reducing their environmental impact, GoCardless is committed to making positive change by challenging their employees to walk, run, push, cycle, and swim the accumulated distance of 15,000 kilometres. After reaching this target, they will plant 3000 trees, invest in protecting rainforest elephants, train ten teachers to deliver a course about climate change-related innovations in schools and restore five kelp forests.
Finally, their product aims to eliminate disposable plastic cards and migrate finance into the digital world.
Success +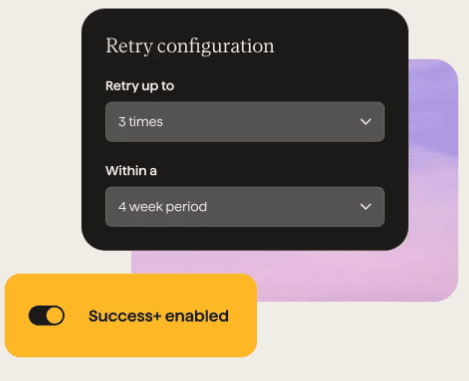 Success + is one of GoCardless' more recent features. It uses payment intelligence to reduce payment failures. The estimates are that it can reduce at least 70% of failed payments.
Success + collects the payment on the day best suited for the customer if a payment failure occurs. This way, they have the smoothest possible payment experience, and companies can avoid bad debt.
Success + can be activated from API or dashboard by selecting the number of payment retries and the optimal time frame for collections.
Users can then track their recovered revenue and pending payments through the dashboard.
Protect +
The primary purpose of Protect Plus is fraud detection. By using payment intelligence, Protect + is able to identify, prevent, and monitor payers who might be attempting fraud without complicating users' customer's checkout.
Even if someone manages to slip through all of the preventative layers and attempts a fraudulent payment, GoCardless Protect + will try to recover the money.
Google Cloud
GoCardless has immigrated its infrastructure to Google Cloud, as Google has offered support in implementing more robust security measures. This move allowed engineers to focus on development and optimisations, made the environment replication and fault-checking faster, reduced infrastructure costs by 24%, and made it easier to implement security procedures.
Company Background
Founded in London in 2011 by Hiroki Takeuchi and Tom Blomfield, GoCardless started as an online direct debit provider whose main goal was to help businesses settle their payments from and to anywhere in the currency of their choice.
The company's current value is £1.7 billion, after they raised around £180 million in their Series G of venture funding led by Permira, making them one of the U.K. tech unicorns.
GoCardless processes around £20 billion in transactions annually, and outside of London. The company also has offices in New York, Paris, San Francisco, Melbourne, and Munich.
User Reviews From Around the Web
There are many reviews on GoCardless available online that can help you make up your mind about this product.
GetApp:4.0/5 (Based on 45 reviews)

Value for money: 4.0/5

Ease of use: 4.0/5

Features: 4.0/5

Customer support: 3.5/5

Likelihood to recommend: 8.5/10

Trust Pilot: 3.4/5 (based on 1577 reviews)

Featured Customers: 4.8/5 (based on 1410 reviews)

Appvizer: 4.0/5 (based on 64 reviews)
Zettle User Reviews
Review Summary
0.0 out of 5 stars (based on 0 reviews)
Recent Reviews
There are no reviews yet. Be the first one to write one.
Submit a Review
Also see: