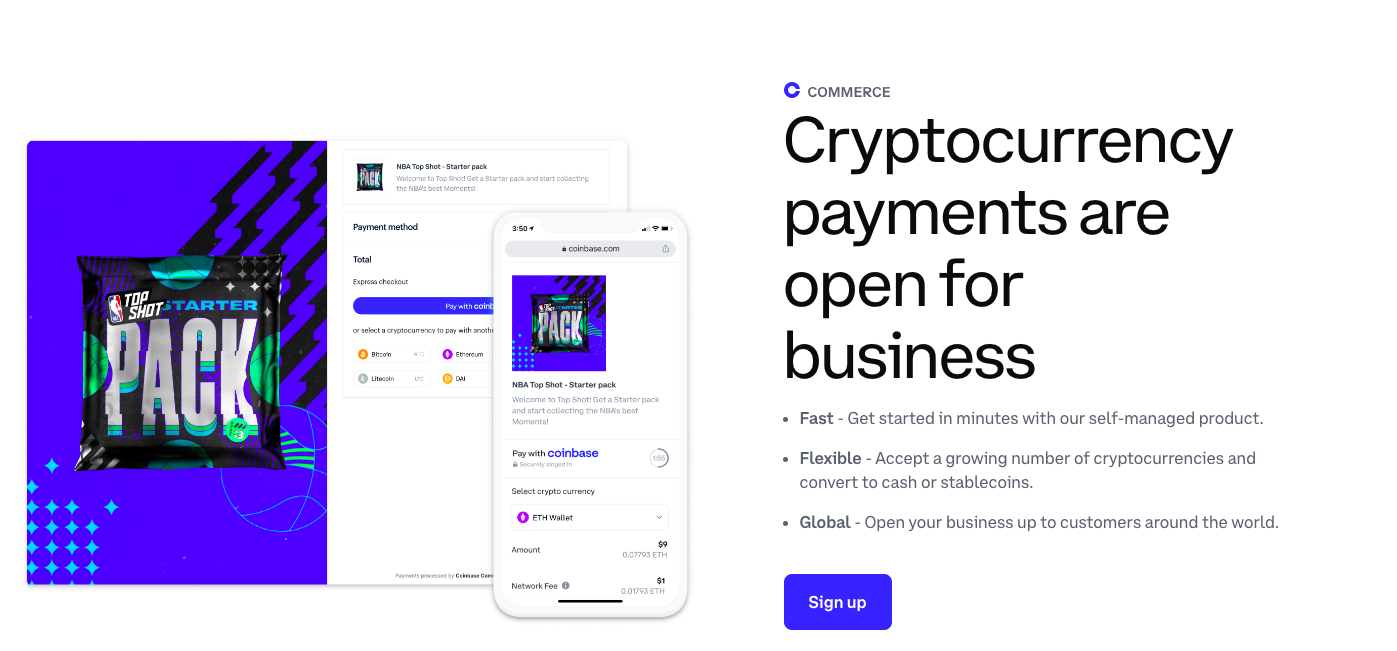 Cryptocurrency is revolutionizing the way businesses transact with customers. Coinbase is a company that started off as a crypto trading platform. Today, their services extend to businesses, institutions, brokers, and more.
CoinbaseCommerce is a platform that allows merchants worldwide to accept cryptocurrency payments in a fully decentralized way. It offers several features that make it an ideal choice for businesses looking to expand their payment options.
In this review, we will take a closer look at Coinbase Commerce's pricing, services, and features to help you determine if it's the right fit for your business.
Prices/Rates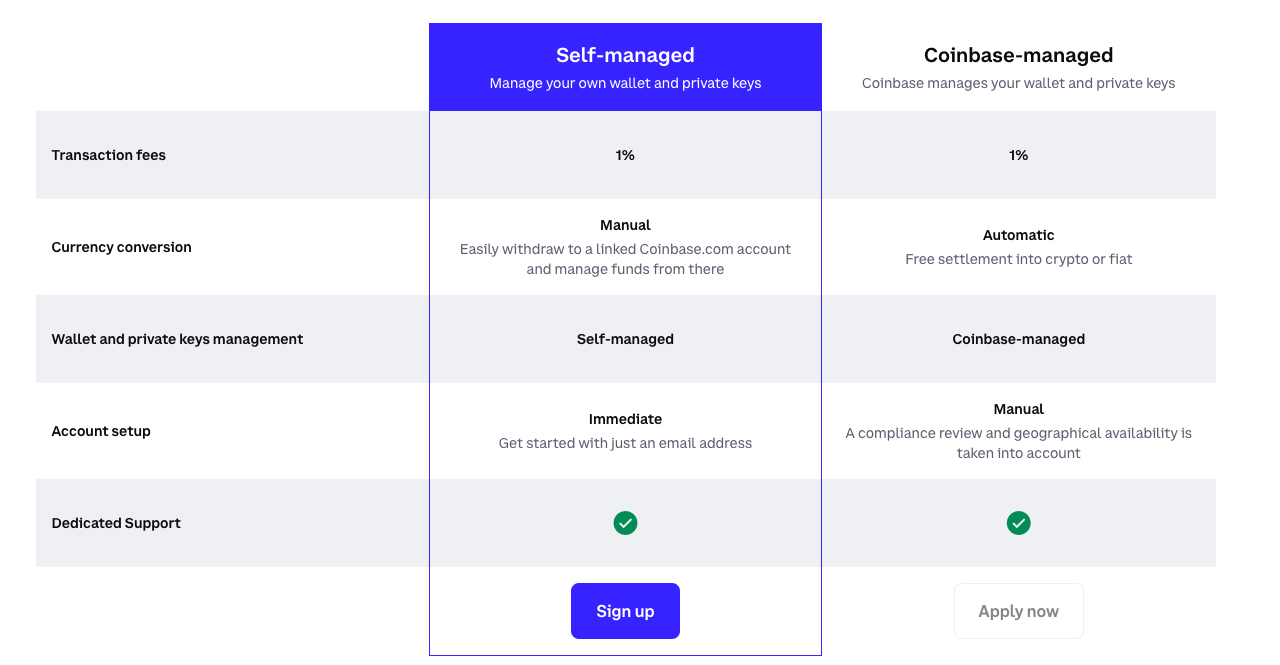 Coinbase Commerce offers two paths for businesses to accept crypto payments – self-managed and Coinbase-managed.
Self-Managed
This path allows you to manage your own wallet and private keys, giving you complete control over your funds. The transaction fees for this path are 1%. Currency conversion is manual, and you can easily withdraw to a linked Coinbase.com account and manage your funds from there. Account setup is immediate, and you can get started with just an email address. However, there is no dedicated support available for this path.
Coinbase-Managed
This path allows Coinbase to manage your wallet and private keys, giving you more convenience and ease of use. The transaction fees for this path are also 1%. Currency conversion is automatic, with free settlement into crypto or fiat. Account setup for this path requires a compliance review and takes your geographical availability into account. Additionally, there is dedicated support available for Coinbase-managed accounts.
One of the most significant advantages of using Coinbase Commerce is its low fees compared to traditional payment methods and the fact that there are no chargebacks. This reduction in operational costs can help businesses save money in the long run.
Services Overview
Coinbase Commerce offers a growing number of services to cater to the different needs of businesses.
Custom Checkouts
Coinbase Commerce allows you to choose from a growing list of supported crypto assets and select the ones you want to accept. This means you have more flexibility to accept payments in the currencies that matter most to you and your customers.
Flexible Invoices 
Coinbase Commerce allows you to easily bill and invoice your customers in crypto. This feature can be useful if you need to invoice customers for services or products.
Turnkey API
Coinbase Commerce's flexible API allows you to create custom workflows and experiences for your customers. This feature can be particularly useful for businesses that need more advanced functionality.
Business Reporting
The payment service also offers transaction reporting tools for accounting and reconciliation. This can help businesses track their payments more efficiently and accurately.
Integration With eCommerce Platforms
Coinbase Commerce is integrated with popular eCommerce platforms like Jumpseller, Primer, Shopify, WooCommerce, and more. This integration makes it easy for merchants to start accepting crypto payments on their existing platforms.
Self-Managed Commerce Merchants
Coinbase Commerce is a decentralized platform that enables merchants worldwide to accept cryptocurrency payments and retain complete control of their funds. Coinbase Commerce does not have access to them. However, it's important to note that losing your 12-word seed phrase means losing access to your funds, as Coinbase cannot help recover it.
Coinbase Commerce offers several features that cater to different needs of users:
For users who want to sell a few products, there are simple Hosted Checkout and payment option buttons available. For users who already have an eCommerce store, there are quick integrations available for 12 of the most popular eCommerce services. And for those who need more advanced functionality, there's a flexible API.
Accepted Cryptocurrencies
Coinbase Commerce supports a variety of popular cryptocurrencies, including Bitcoin (BTC), Bitcoin Cash (BCH), Ethereum (ETH), Litecoin (LTC), and Tether (USDT). The platform also supports DAI, Dogecoin (DOGE), SHIBA INU (SHIBA), ApeCoin (APE), USD Coin (USDC), and Wrapped Ether (WETH) on Polygon.
Crypto Withdrawals
If you're using Coinbase Commerce, you can withdraw your crypto to an external crypto address or a linked Coinbase.com account. Keep in mind, though, that withdrawing ERC20 tokens like USDC and USDT requires ETH to pay network fees. And if you're withdrawing USDC and WETH on Polygon, MATIC is needed to pay network fees.
Unfortunately, withdrawals in fiat to a business bank account aren't currently available with a Self-managed plan. But if you need this functionality, you can apply for a Coinbase-managed plan.
Auto Convert and Fee Collection
Coinbase Managed Commerce recently introduced some critical upgrades to its product, which enables a more user-friendly experience and creates more value for businesses adopting crypto payment solutions.
Auto Conversions is a feature offered by Coinbase Commerce that allows you to automatically convert your incoming Bitcoin, Ethereum, and USDC payments to USD. This feature can help you reduce your exposure to crypto price volatility and conveniently retain the value of the payments you receive.
When a payer sends a payment, their crypto funds are transferred to a Coinbase Commerce account. The funds are then diverted into other accounts based on the instructions set for the transaction. If the merchant has enabled auto-conversions, the crypto funds will first automatically convert into fiat (cash) before being deposited to the merchant's exchange account.
Automated Conversions to USD
Coinbase Managed Commerce allows you to manage risk against crypto price volatility by automatically converting all incoming crypto payments to USD.
Automated Fee Collection
Coinbase Managed Commerce makes the process for paying transaction fees to Coinbase more seamless by automatically deducting the standard 1% transaction fee for all incoming payments from your customers before delivering funds to your merchant exchange account.
Coinbase Managed Commerce Merchants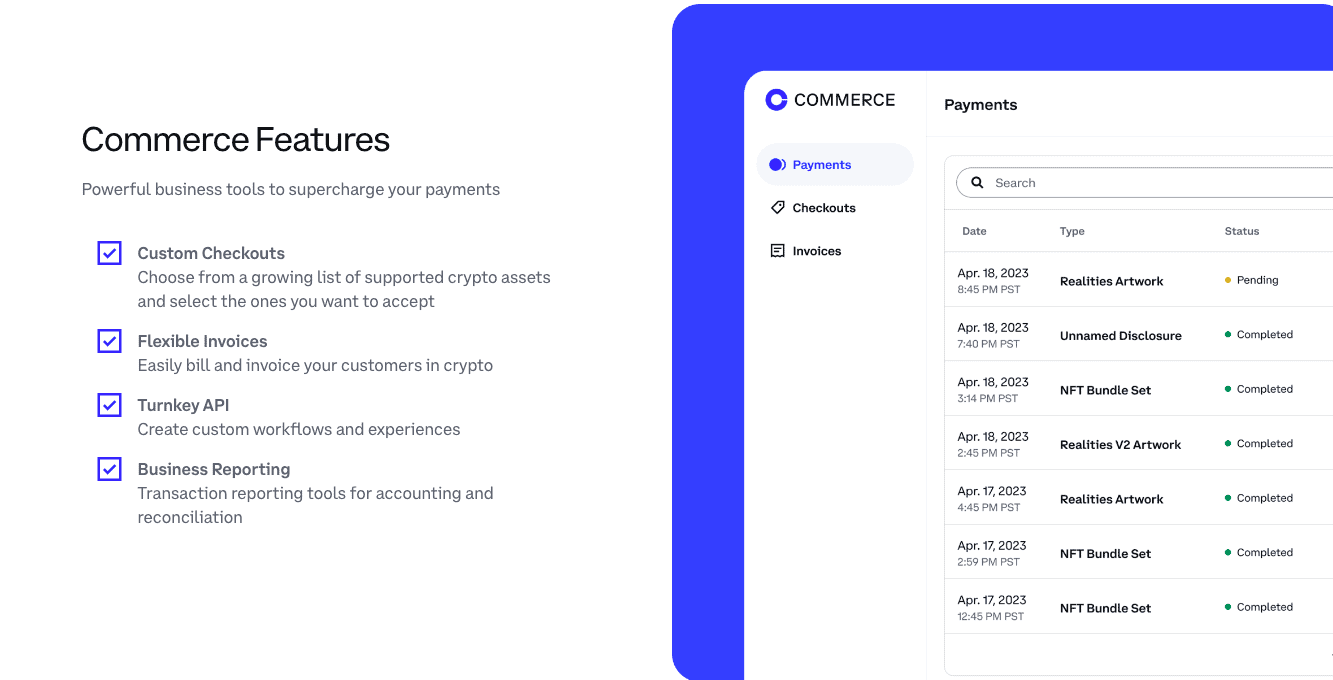 For businesses that need more advanced functionality, Coinbase Managed Commerce is an option. With a Coinbase Managed Commerce account, you can convert your crypto payments to cash more conveniently. You can also manage your funds and trade on the Coinbase exchange more efficiently.
The Coinbase-managed account consists of two separate interfaces: Coinbase Exchange and the merchant dashboard. 
Coinbase Exchange
This is used for payment settlement, withdrawals to a linked bank account, and refunds to customers. 
Merchant Dashboard
The merchant dashboard is used to create invoices/checkouts, view customer payments, and generate transaction reports.
Accepted Cryptocurrencies
Coinbase Commerce currently supports a variety of options, including ApeCoin, Bitcoin, Bitcoin Cash, DAI, Dogecoin, Ethereum, Litecoin, SHIBA INU, Tether, and USD Coin. Additionally, you can also accept MATIC, USD Coin, and Wrapped Ether (WETH) on Polygon.
Refunds
To initiate a refund, the merchant needs to withdraw crypto to the customer's specified receiving address. It's important to ensure that the address is accurate because any mistake can lead to loss of funds.
For customers who have a Coinbase account, merchants can move funds from Coinbase Exchange to their Coinbase retail account, then initiate the refund by entering the customer's Coinbase email address. This method avoids incurring network fees for refunding directly to a Coinbase account.
In situations where you only hold USD or a currency that wasn't used for the original payment, you need to initiate a buy order for the payment currency before initiating the refund.
Company Background
Coinbase, a reliable and user-friendly platform, provides access to the broader crypto economy. Established in 2012, the company's groundbreaking vision was to enable people everywhere to securely and effortlessly send and receive Bitcoin. Since its inception, Coinbase has been cultivating the crypto economy, which promotes a fairer, more accessible, efficient, and transparent financial system powered by cryptocurrencies.
The platform serves as a gateway for users worldwide to explore and embark on their cryptocurrency journeys. Boasting about 110 million verified users and 245,000 ecosystem partners across more than 100 countries, Coinbase is trusted for its secure and straightforward methods to invest, spend, save, earn, and utilize crypto. The platform records a quarterly trading volume of $145 billion and houses assets worth $80 billion.
Coinbase is constantly growing and expanding.
User Reviews From Around The Web
Trustpilot – 3.1 / 5 (based on 4 reviews)

G2 – 4 / 5 (based on 16 reviews)

Capterra – 4.4 / 5 (based on 90 reviews)
Overall, Coinbase Commerce scores 4.25 out of 5.
User Reviews
Review Summary
0.0 out of 5 stars (based on 0 reviews)
Recent Reviews
There are no reviews yet. Be the first one to write one.
Submit a Review