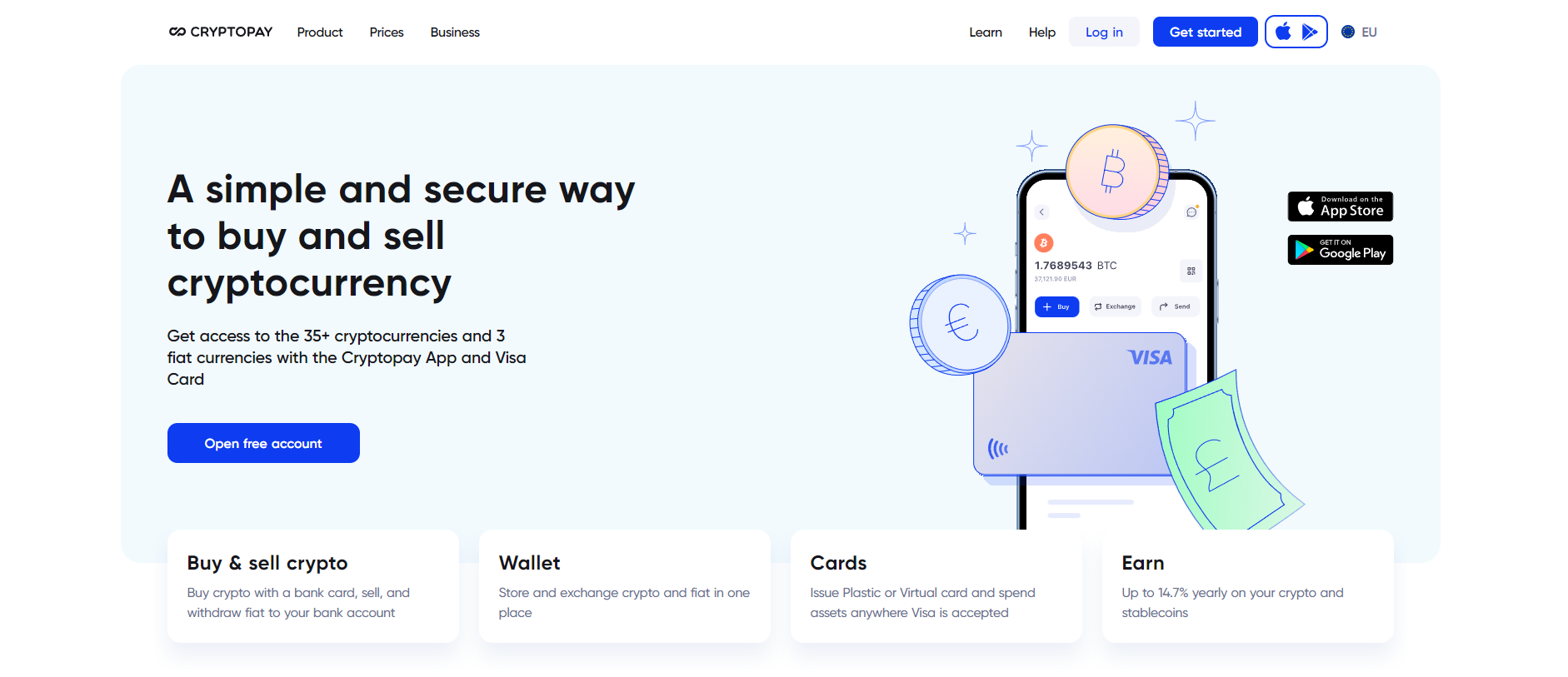 Cryptopay is a digital wallet and exchange platform where crypto users can easily and securely store, buy, sell, and trade cryptocurrency. Businesses that decide to use this platform gain access to more than 35 cryptocurrencies and up to 3 fiat currencies.
Their main products are crypto exchange, card issuance, wallet, and earning through interest.
Cryptopay also provides a solution for businesses interested in accepting payments in crypto, but more on that later on.
Let's explore Cryptopay in more detail, starting with the costs.
Price/Fees
There are no clear pricing packages outlined on the Cryptopay website, however, the company is quite transparent about its fees.
Opening an account is completely free for individuals and businesses alike. Besides that, here is the latest info about fees and card limits, valid as of February 2023.
Card Fees ad Limits
Here are the specific fees and limitations that come with the Cryptopay VISA card.
Fees
Users are not charged any fees for owning a virtual GBP or EUR card. For a plastic card, however, they will be charged a £5 fee for a GBP card or €5 for a EUR card. The fee is the same for upgrading from a virtual to a plastic card and in case of card loss and replacement.
Standard delivery of the plastic card to the user's home address is free, but those who want their card delivered by express delivery will be expected to pay a fee of £15 for a GBP card or €15 for a EUR card.
The recurring monthly service for the card is charged  £/€1 starting from the date of card activation.
In case of 365 days of card inactivity, the user will be charged a £/€5 fee.
All transactions in the card's currency are free of charge, while foreign currency transaction fees are 3%, regardless of the currency. This doesn't include the vendor's payment processor's fees.
In case of withdrawal in the card currency, the fee is £/€2.50, while money withdrawal in the foreign currency costs £/€3.50 + 3%.
Card load and unload from the account are charged 1% of the transaction size each.
The highest fee is charged for the rejected chargeback and it's £/€35.
Limits
The maximum balance that's possible to have on the Cryptopay VISA card is £45,000 or €50,000. The largest possible single transaction is £27,000 or €30,000.
There is also a daily ATM withdrawal limit of £400 or €450. The number of daily ATM withdrawals is limited to 5. These apply only to plastic cards.
Users should also be mindful of how they load their cards, as the maximum monthly load is £/€ 15,000.
The smallest possible load is £/€1.01 and the minimum unload is £/€0.25. The biggest possible single load is no more than £8,000 or €8,800. The same numbers apply to the daily load limit.
Users can load the card up to 5 times per day and make a total amount of £/€150 of contactless payments. If this limit is reached, they will need to enter the PIN to proceed with contactless payments. The maximum value of the contactless payment is £30 or €50 and users can make a total of 5 contactless payments before having to enter their PIN and reset the limit.
Cryptopay Fees and Commissions
Making transactions in cryptocurrency comes with transaction fees. When making a transaction, users can look up exactly how much their fee will be.
Buying
Users who purchase one of the supported cryptocurrencies with a credit or bank card will be charged a 4% fee. 
Exchanging
For every exchange from crypto to fiat currencies (GBP/EUR/USD) and the other way around, users will be charged a 1% fee. This fee is irreversible (e.g. converting from BTC to GBP and back means that the fee will be charged twice, not that it will be reversed).
Sending and Receiving

Users who want to send funds to an external account will be charged 0.0001 LTC if they are sending funds in Litecoin, or in 0.00001 XRP if they are sending them in Ripple.
There are no fixed fees for Bitcoins, Ethereum, and other cryptocurrencies that are available for withdrawal. Their fees change based on the current busyness of the network.
Users who want to send or receive funds in any of these cryptocurrencies can check the current fee in the left corner of the transaction pop-up window.
No fee is charged for crypto deposits made from third-party wallets.
Withdrawal and Deposit of Fiat Money
Users who want to send funds to their SEPA bank accounts will be charged a fee of £/€0.09, but SEPA bank deposits are completely free.
Storage Fee
If a user doesn't make a transaction using Cryptopay for more than 365 days, the account will be considered inactive, and a monthly storage fee will be initiated. This fee won't be initiated if the account balance is zero.
Transactions refer to depositing either crypto or fiat currency, exchanging, buying, receiving, sending crypto, or withdrawing funds.
Before charging users with storage funds, Cryptopay will provide them with a 30 days notice by email.
Within-Cryptopay Transfers Commissions
Another important thing to mention is that all transactions made between Cryptopay accounts are completely free of charge! The only charge that could occur is the exchange rate of 1%.
Transfers between Cryptopay accounts are processed immediately, and recipients can exchange them right away for fiat currencies or load their Cryptopay cards.
Product/Service
As mentioned in the introduction, there are four main products offered by Cryptopay. Here's an overview of each.
Buy Crypto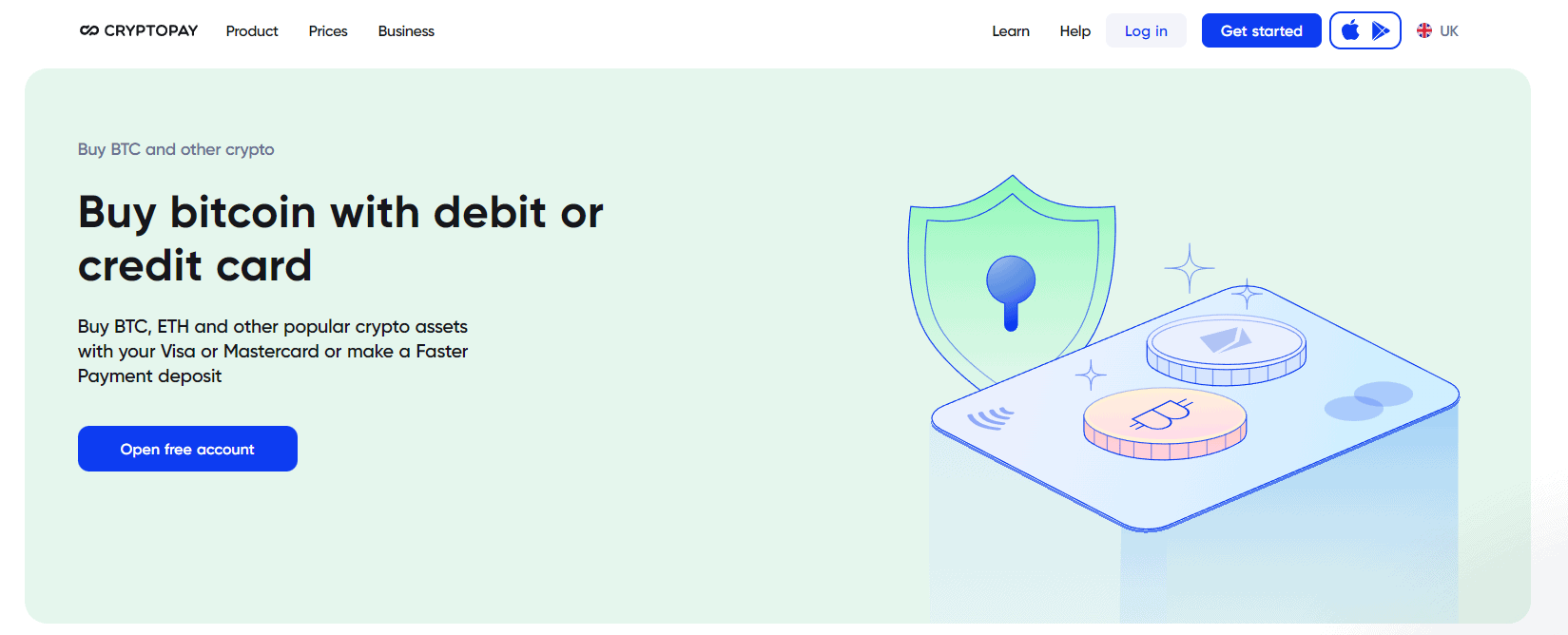 Cryptopay offers a straightforward, fast, and safe way for its users to purchase cryptocurrencies. Their users can safely trade with and store Bitcoin, Ethereum, and any of the well-known crypto assets using their Visa or Mastercard. Alternatively, they can make a Faster Payment deposit.
Parties interested in purchasing crypto via Cryptopay can choose among 35+ best-performing assets on the crypto market.
Cards
There are two types of Cryptopay cards: physical and virtual.
Physical Card
A physical card is a huge convenience that allows users to make online and offline payments or withdraw cash wherever they are. Cryptopay Visa card makes payments possible anywhere around the globe.
All fees related to purchasing and using the physical card are listed in the section on price and fees above.
Virtual Card
Besides being completely free of charge, there are other perks that come with the virtual card, such as safe online purchases and subscriptions, as well as one-time transactions. For one-time transactions, users can simply create a card, make a purchase, and then create another card for another one-time transaction.
The card can be created, topped up, and used immediately after signing up.
Wallet

Wallet is another amazing product by Cryptopay that allows their users to buy crypto assets and make earnings on them. Inside the wallet, users can exchange crypto for fiat currencies and the other way around whenever they please.
Wallet allows users to make almost instant payments with virtually any bank card. Selling and exchanging are also possible as well as depositing and withdrawing the most popular cryptocurrencies.
Earn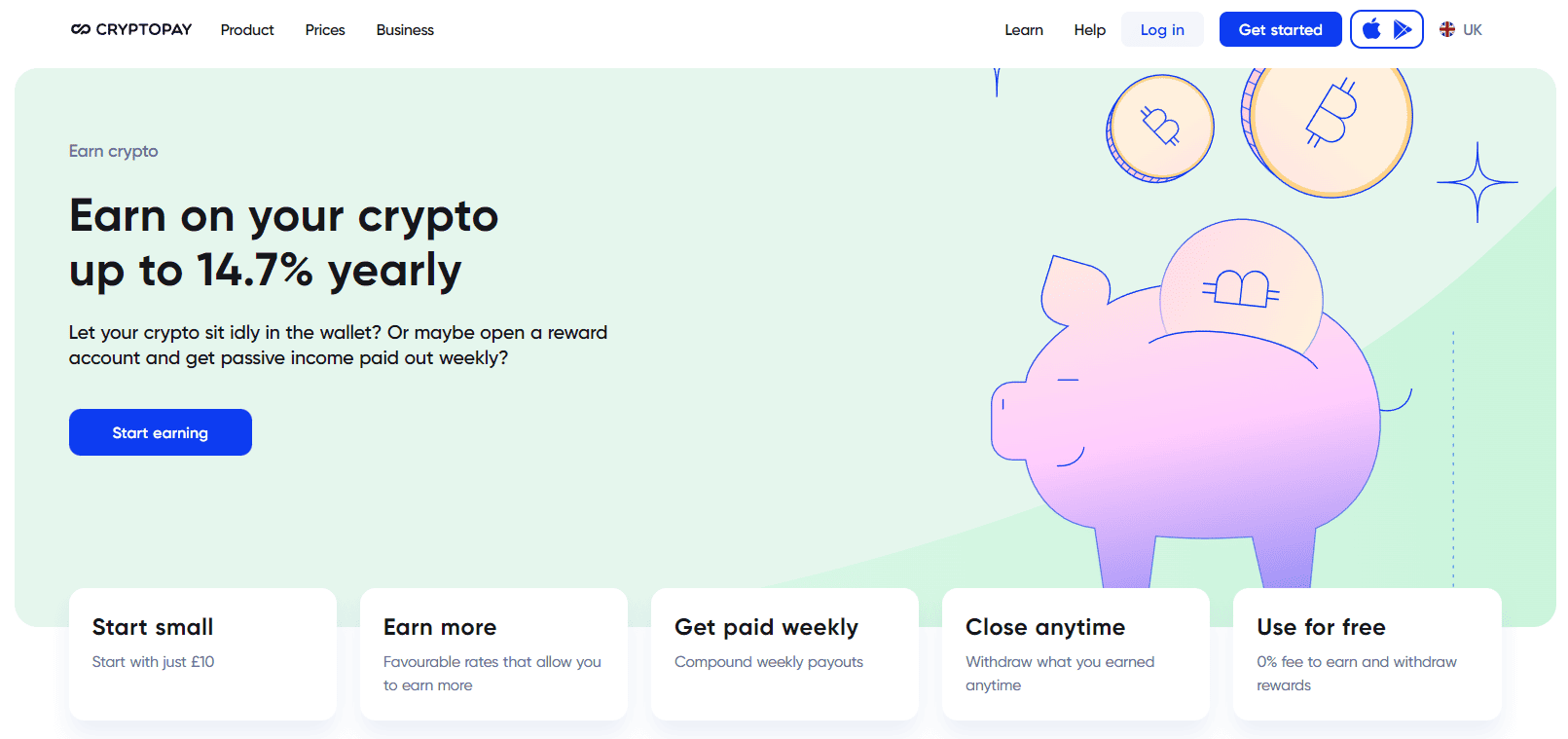 Cryptopay users have the opportunity to earn as much as 14.7% on their crypto assets if they let them sit in their wallets.
Another option is to open a reward account and receive passive income each week.
The whole procedure goes through a simple funnel: the user needs to start somewhere. It can be a humble start, let's say a £10 investment that will sit in the wallet. Then, thanks to favourable rates, the user will have an opportunity to earn more money.
Those who want can receive compound weekly payouts with the possibility to withdraw their assets and close their accounts for free any time they want. Earning and withdrawing rewards is completely free and there are no hidden fees.
Business Operations
Cryptopay is so much more than the cold-blooded processing of transactions. This company offers much more to their users thanks to a range of business operations designed to make cryptocurrency transactions safe, simple, and efficient.
Cryptopay Business
Businesses that want to receive payments in crypto have nothing to worry about, as Cryptopay has a special program dedicated just to them.
For starters, opening an account is completely free of charge. There are no hidden fees; only a 1% processing fee.
Businesses can accept crypto payments, exchange them into fiat currencies, and then store fiats in multiple wallets. They also get a suite of payment products fully equipped for integration and a transparent, easy-to-use platform and reporting system.
API and other premade solutions can be tailored to the individual needs of businesses with quick and easy customisation. The product also comes with an e-Commerce plugin, meaning that online businesses can also enjoy crypto payments that take only a few taps from their and their customer's side.
Unfortunately, not all countries can enjoy Cryptopay services, at least not yet, but the list of those who can is quite long, and available here.
Also, there is a list of businesses that Cryptopay doesn't support and therefore doesn't do business with. Those are child pornography, counterfeit merchandise, medical devices, telemedicine, pharmaceuticals, adult services and content, intellectual property infringements, charities, government, drugs, discriminatory services or products, hazardous products, weapons, pyramid schemes, investment services, remote technical support services and computer virus software, crowdfunding, and psychic services. More information on this is available here.
Safety
Since 2013, Cryptopay has been making sure that their clients' accounts and funds are safe. They are dedicated to returning their investments and delivering rewards.
They are, however, open about the fact that investing in crypto comes with a certain risk of devaluation and volatility. This risk is the same regardless of whether the users are keeping their funds in the wallet or earning on them via an Earn account.
Businesses that decide to accept crypto payments via Cryptopay can count on Cryptopay using screening tools for monitoring and tagging illicit cryptocurrency addresses. This helps them be certain that the transactions they process are in no way connected to terrorism, dark marketplace activities, trafficking, etc.
Company Background
Cryptopay was founded in 2013 by Dmitry Gunyashov and George Basiladze. The company itself is based in the UK and has offices in Estonia and Russia. However, they operate globally with a myriad of businesses from various industries and also with individuals.
Although the company is registered in the UK, they are not yet registered on the Financial Conduct Authority's crypto asset register, which ensures that firms are passing check-ups for anti-money laundering and anti-terrorism activities.
Users Reviews From Around the Web
There is a large number of user reviews of Cryptopay on the Internet, helping to build a more complete picture of this company.
Trust Pilot: 3.7/5 (917 reviews)

66% rated Cryptopay with 5 stars

10% rated with 4 stars

3% rated with 3 and 2 stars

18% rated with 1 star

G2: 4.0/5 (10 reviews)

Foxy Rating: 14th place on the cryptocurrency exchange/trading platforms rating

Scam Adviser: 86/100 legitimacy score

3.6/5 (914 reviews)

170 reviewers rated them with 1 star

31 rated with 2 stars

30 rated with 3 stars

87 rated with 4 stars

596 rated with 5 stars
User Reviews
Review Summary
0.0 out of 5 stars (based on 0 reviews)
Recent Reviews
There are no reviews yet. Be the first one to write one.
Submit a Review