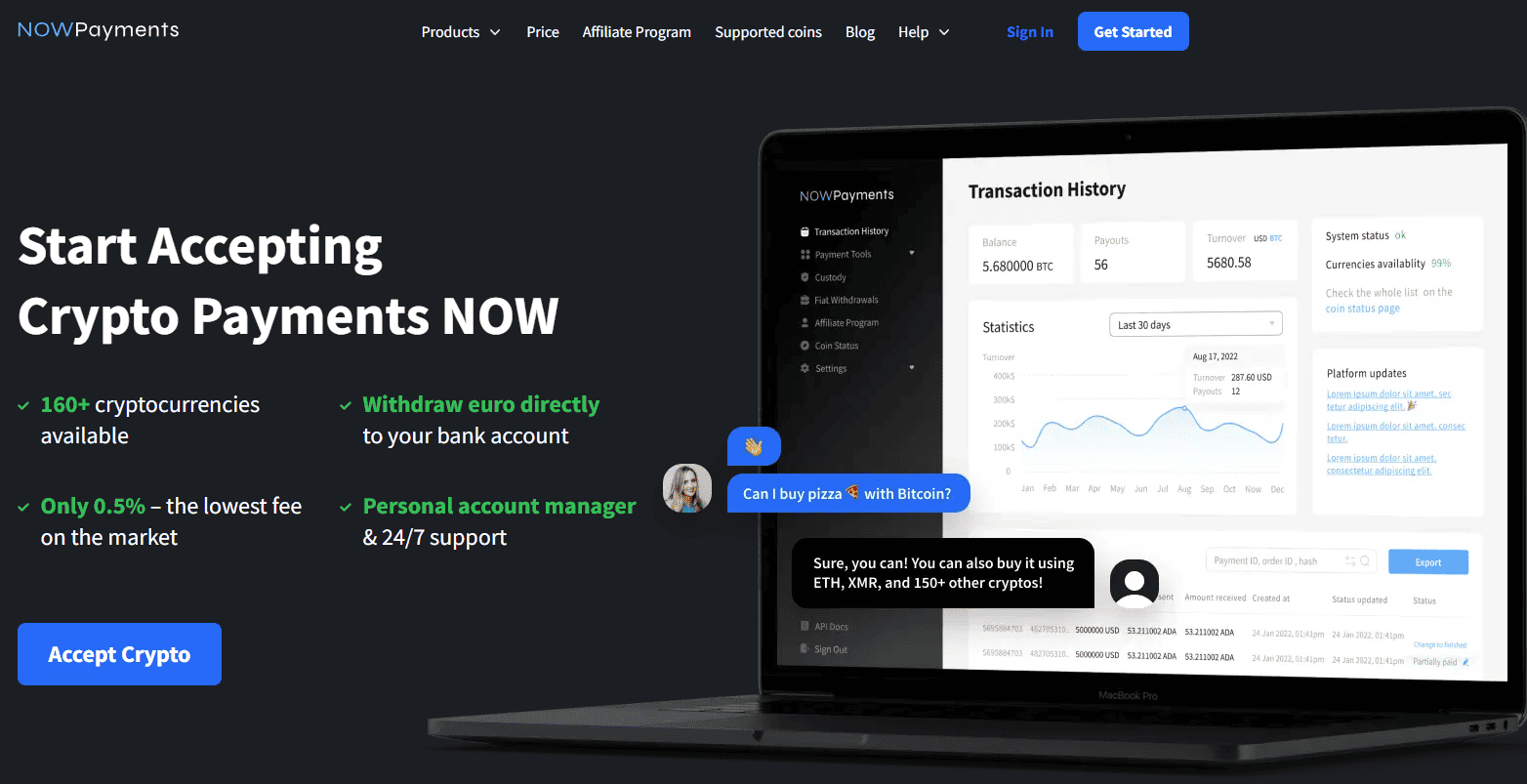 NOWPayments is a payment solution that offers a seamless platform for crypto transactions for both individuals and businesses. In this review article, we'll examine its pricing, services, and features so you can make an informed decision about whether NOWPayments is the right payment processing partner for your business requirements.
Prices/Rates
NOWPayments offers a competitive pricing structure for cryptocurrency transactions.
For a monthly asset flow of 0-49 BTC, the transaction fee is 0.5%. 
If the flow reaches 50 BTC, the fee lowers to 0.45%.
At 100 BTC, the fee decreases to 0.4%.
A special offer is available for flows exceeding 200 BTC, for which users are advised to contact NOWPayments directly.
When accepting payments in the same cryptocurrency as the customer's, the transaction fee starts from 0.4%.
An additional 0.5% exchange fee applies if different currencies are involved, leading to a total fee of 1%. This fee enables instant exchange between cryptocurrencies.
For registered NOWPayments users, conversions within the Custody feature incur a 0.5% service fee.
Mass payouts do not come with a service fee. However, the network fee set by the blockchain applies.
A fixed-rate exchange option is available for protection against crypto volatility, and it standardizes the transaction fee to 1%, regardless of transaction volume.
Crypto-to-fiat and fiat-to-crypto conversions are also available, with pricing details to be checked directly from the NOWPayments website.

Services Overview
Payment Tools
Payment Gateway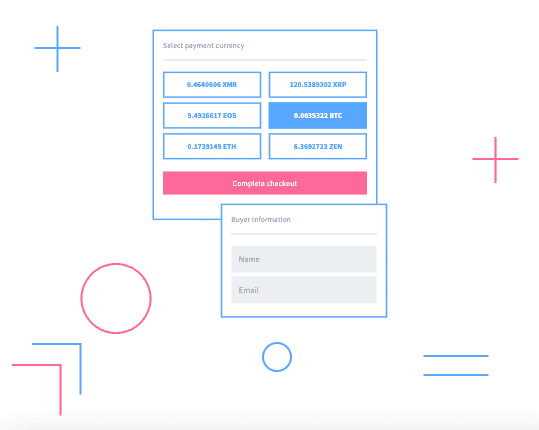 NOWPayments provides a secure and user-friendly payment gateway that allows merchants to accept various cryptocurrencies, including Bitcoin, Ethereum, and many others.
Payment Button
NOWPayments' payment button allows you to easily accept cryptocurrency payments on your website. The button is customizable and can be embedded on any website or social media platform.
Payment Links
Payment links are an easy way to request payment from potential customers. These links can be shared via email, social media, or messaging apps.
API 
NOWPayments' API is designed for developers who want to integrate cryptocurrency payments into their platforms, sites, and applications. The API supports a wide range of programming languages and is easy to use.
The platform supports popular e-commerce platforms like WooCommerce, Shopify, and more, making it easy for merchants to integrate crypto payments into their online stores.
Invoice Generator
Invoice generator allows merchants to create and send invoices to their customers. Invoices can be paid using a range of cryptocurrencies.
Invoices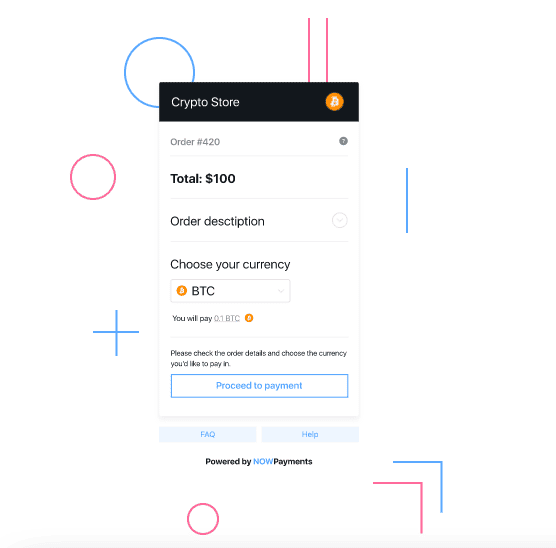 NOWPayments offers a customizable invoicing system, enabling merchants to create professional invoices that can be paid using cryptocurrencies.
Online Casino Industry
NOWPayment provides a range of services to online casinos, including instant cryptocurrency payments, a user-friendly interface, and the ability to receive payments in multiple cryptocurrencies. By integrating NOWPayment's API, online casinos can accept payments in Bitcoin, Ethereum, Litecoin, and other major cryptocurrencies.
One of the key advantages of NOWPayment's services for online casinos is the ability to process payments instantly. This allows for a seamless user experience and ensures that players can quickly and easily deposit funds into their accounts. Additionally, the platform makes it easy for online casinos to manage and track payments, providing real-time updates on transaction statuses and balances.
NOWPayment's services also offer flexibility in terms of receiving payments. Online casinos can choose to receive payments in a single cryptocurrency or multiple cryptocurrencies, depending on their preferences. This can be particularly beneficial for casinos that operate in multiple regions where different cryptocurrencies may be more commonly used.
Mass Payments
If you often need to make multiple payments at once, this service might be a good fit for your business. It's particularly useful for businesses that need to regularly pay a large number of employees or vendors.
You can make payments in multiple cryptocurrencies, including Bitcoin, Ethereum, Litecoin, and many others. This means that you can pay their recipients in the cryptocurrency of their choice, which can be particularly beneficial for international payments where different cryptocurrencies may be more commonly used.
You can also customize payment schedules and set up recurring payments, which can help to streamline your payment processes even further.
Integrations
Plugins
NOWPayments offers various payment integration plugins, enabling you to integrate their crypto payment solutions into your existing e-commerce platforms. 
WooCommerce

Shopify

Magento 2

PrestaShop

Ecwid

Zen Cart

Shopware

OpenCart

WHMCS
Donation Tools
Donation Button
NOWPayments allows your business and organization to accept cryptocurrency donations by integrating a customizable donation button on your website.
Donation Widget
The platform also offers a donation widget that can be easily embedded on websites or blogs, providing a convenient way for supporters to contribute using cryptocurrencies.
Fiat Conversion
You can choose to automatically convert your received cryptocurrency payments into your preferred fiat currency, minimizing exposure to market volatility.
Company Background
Founded in 2019, NOWPayments is a non-custodial crypto payment gateway designed to provide businesses and individuals with a seamless way to process cryptocurrency transactions. The company's mission is to make cryptocurrency payments as simple and accessible as possible, promoting the widespread adoption of digital currencies across the globe.
The platform is built on principles of simplicity, security, and reliability, ensuring a smooth user experience while prioritizing the safety of its users. As a non-custodial service, NOWPayments doesn't store or manage user funds, providing an additional layer of security and autonomy for its customers.
Since its inception, NOWPayments has continually evolved and expanded its range of services, catering to the diverse needs of businesses and individuals within the rapidly growing cryptocurrency market. With a strong focus on user satisfaction and innovative solutions, NOWPayments aims to remain at the forefront of the crypto payment processing industry.
User Reviews From Around the Web
The scores suggest that NOWPayments services have generally been well-received, but there may be some variability in the experiences of different customers.
Trustpilot – 4 / 5 (based on 138 reviews)

G2 – 4.6 / 5 (based on 8 reviews)

Producthunt – 4.5 / 5 (based on 14 reviews)
User Reviews
Review Summary
0.0 out of 5 stars (based on 0 reviews)
Recent Reviews
There are no reviews yet. Be the first one to write one.
Submit a Review