You've probably used PayPal if you've made or received an online transaction. After all, it's one of the most popular payment processors and is used by people all over the world.
So you probably know that Paypal lets consumers in 203 global markets safely make purchases without worrying about converting to their local currency.  
But you may not know that there are plenty of other options out there that can be just as good (or even better) for you and your business. If you're looking to make the switch from PayPal, here are some of the best alternatives to Paypal you might have yet to hear about.
What Can Go Wrong With Paypal?
There's no doubt that PayPal is convenient. However, it is far from the only option available. In fact, there are some significant drawbacks to using Paypal. Which include:
Paypal freezing accounts

 temporarily for up to half a year, without proper warning.

Did you know? Many of the alternatives to PayPal charge much lower fees.

It can sometimes take up to 5 days or longer to withdraw your money or put it in your bank account.

Paypal offers protection. However, they do NOT provide protection when selling digital products or other related virtual services.
The Best Alternatives to PayPal
Below you can find a list of the best alternatives to PayPal.
1. Google Pay
Google Pay is almost as popular as PayPal and is an excellent alternative — and the site is just as safe and secure.
Furthermore, Google Pay is just as quick and straightforward to use too. Plus, it's integrated with all of Google's other products, so if you're already using Gmail, Google Calendar, etc., then Google Pay will be a natural fit.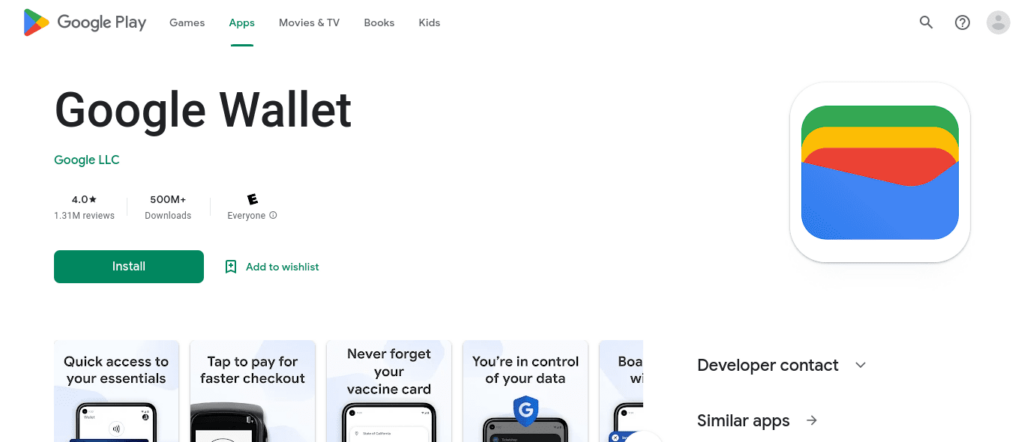 Another bonus is that there are no fees for domestic transactions. ( However, there is a 2.9% fee for international transactions.)
Google Pay is a new way for businesses to streamline the payment process for their customers. Companies also can use Google Pay to send exclusive mobile offers and awards.
Top Advantage: Using Google's payment solution is mostly free for businesses and customers. All debit cards and bank transfers are absolutely free. However, credit cards are charged 2.9% of the entire transaction.
2. Amazon Pay
If you're already an Amazon customer, then you might want to consider using Amazon Pay for your business transactions. Amazon Payments is convenient because it uses the information from your Amazon account (such as your shipping address and payment method).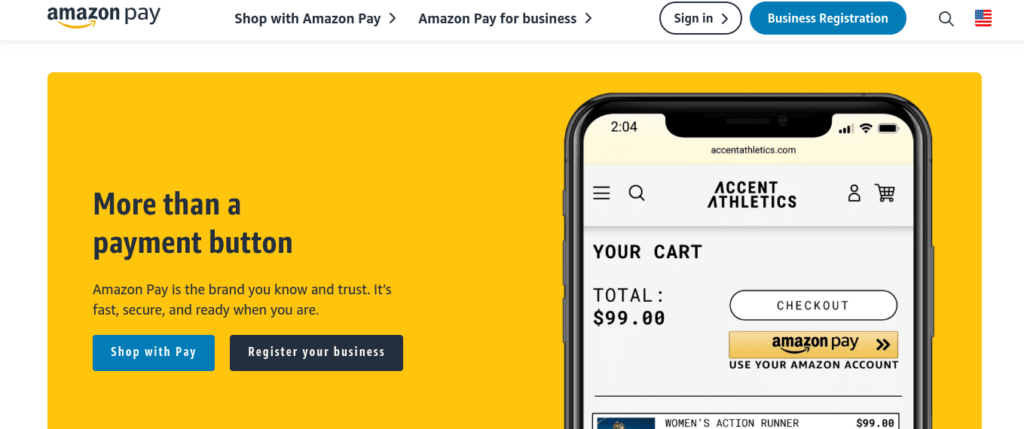 Customers can easily enter their Amazon accounts, save their payment details, and expedite the payment process while improving their conversion rate.
Not only is Amazon Pay available on all smart devices with complete fraud protection, but consumers themselves have also boasted an over 80% best security rating.
Fees may be the biggest downside to using Amazon Pay. Amazon Pay charges 2.9% plus an additional 30 cents in the US. However, to accept Amazon Pay, you must pay a fee for every transaction in the UK. However, there are no monthly fees or contracts. But it costs a fixed rate of 2.7% plus 30p for domestic UK transactions if your monthly turnover is less than £50,000.
3. Stripe
Stripe is another excellent option for businesses because it has no monthly fees or minimum balance requirements. Plus, it offers a simple pricing structure that makes it easy to understand how much you'll be paying in fees.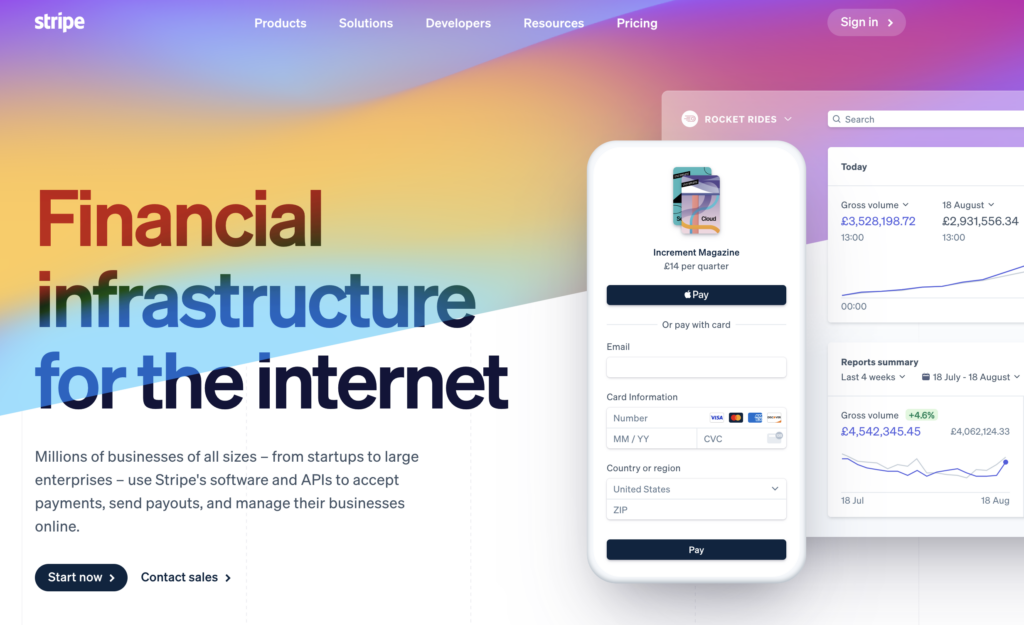 Stripe is well-suited for businesses benefiting from a flexible application programming interface (API). The service is easy to integrate and customise using their API. It is no surprise that Stripe is one of the most popular PayPal alternatives for thriving online businesses.
In terms of fees, you get access to a complete payment platform by paying 1.4% + 20p for UK cards (+1.1% for European Economic Area) and 2.9% + 20p for international cards. Plus, you pay nothing for failed charges!
4. Square
Available to iOS and Android, Square is a unique payment platform and great for business types whose primary focus is selling face-to-face. Square involves mobile point-of-sale type transactions but can also be utilised as a means of online payment.

Square's point-of-sale service allows you to accept all cards and even gift cards as currency. Printing or sending invoice receipts is made to be super easy. Simply sign up and receive a free reader to get you started.
Learn more about how they provide invoicing, organised payments, real-time inventory management and payroll tools. This original platform alternative to Paypal will even allow cards to be swiped without needing a Wi-Fi or internet connection.
The Square Card Reader costs just £19, and a standard point-of-sale transaction will be charged the amount of 2.75% (with other fees for different forms of transactions).
See: Square vs Paypal
5. GoCardless
GoCardless charges a preferred fee of 1% plus 20p with no extra hidden fees or additional setup costs. Gocardless can be a cheaper option for businesses in the UK, and with Direct Debit, you can obtain more revenue faster.
Built for small businesses to thrive, GoCardless is leading in speed and ease of management. What's more, this system's simplicity is designed to be a breeze to navigate.
The company is one of the top Direct Debit providers, and they process billions in payments yearly for over 50,000 organisations around the globe.  
6. Apple Pay
Apple Pay is an excellent option for businesses that have customers who already use Apple products (such as iPhones and iPads). That's because Apple Pay uses the same security features as Apple's other products (such as Touch ID and Face ID).

Apple Pay is another convenient way to pay, and it can completely replace your need for cards and money on hand. The site is simple to set up. Just simply add your credit or debit card to the Wallet app on your phone or smart device.
They use tokenisation and advanced encryption technology to secure their payment methods. Both consumers and the businesses they buy from can use their contactless mobile system by using an iPhone, iPad, or Apple watch.
Your consumers can use Apple Pay for free. Aside from a small processing fee you might encounter when upgrading. Even businesses can use this payment option for absolutely no additional costs!
7. QuickBooks Payments
QuickBooks Payments can save you time by setting up recurring payment plans. After processing any payment through the system, they will put the money directly in your bank account. The time it takes to receive that money depends significantly on the product purchased and the type of payment plan.

This service requires a lesser fee of 1% in addition to standard rates for invoiced, swiped, keyed, and ACH transactions. However, that 1% charge will not be applied to deposits going into a QuickBooks Checking account.
The exact cost of international payments fluctuates with every transaction, and the price per transaction generally falls between 2% to 5% of the total amount.
Why You Should Use Alternative Payment Platforms
Customers worldwide have changed how they pay for items and services they love and need. Over the past two years, alternative payment platforms have become a solution to a big problem, and consumers have adapted this way.
There are some significant advantages to using these platforms for businesses and customers. To name just a few:
Convenience

Security

Speed

Simplification of payments
We might have thought credit cards were commonplace, but under 4 billion people don't even have bank accounts anymore. Customers are changing their shopping habits and no longer feel restricted by card transactions.
What is the Best Online Payment Method?
The best online payment method is the one built for your business needs. These payment processors will make the most of your type of business and the products or services you sell. For example, Amazon Pay has excellent pay-as-you-go pricing, while Stripe surpasses them in API customisation options.
A balance between simplicity, overall costs, support availability, and functionality is best for your business. First, you should look closely at the volume of your monthly transactions to determine which model is suitable for you.
Ask questions like, "Do I sell online and in-person? Do I require additional hardware to operate?" Asking these types of questions reminds you of how you will determine the perfect fit for your business style.
Conclusion
There are many different options available when it comes to online payment processors. And while Paypal is undoubtedly the most recognised option out there, there are better options for some businesses.