Please note First Data no longer trades under the name First Data, they were bought by Fiserv and also sell under the Clover brand. This page is no longer being updated.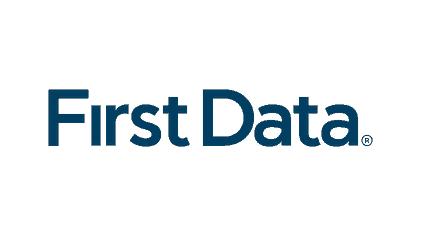 First Data began finding payment solutions for businesses in 1971 from its offices in Omaha, Nebraska. In 1976 it became the first processor of Visa and MasterCard bank issued credit cards. Today, First Data serves 6 million merchants around the globe, processing around 2,800 transactions per second.
First Data Credit Card Processing & Payment Services
First Data provides credit card and payment solutions for every type of business, from SMEs to multinationals and financial institutions, whether in store, online, by telephone or email. First data accepts every credit and debit card option, including: –
MasterCard
Visa
Diners Club International
American Express
Discover Network
PIN-based and signature debit cards
The company encourages their customers to tell them if there is a card which the company does not accept, so they can include it.
Other First Data Products and Services
First date offer their customers an exceptionally wide variety of products and services, including many add-ons to standard contracts.
Clover Station – comes with integrated loyalty and reward scheme apps, ideal for restaurants
Clover Mobile – for selling on the move
Clover Mini – Fulfils multiple rolls without taking up counter space
Clover Station – Retail EPOS system
Google Wallet – allowing business owners to accept mobile payments
First Data Pricing & Fees
First Data doesn't supply pricing and fees on their website. Some reviews consider them to be expensive, but they do offer an incredible service, with many add-ons that other service providers cannot offer. It's advised to check contacts very carefully to see what is actually included in your package.  
Some reviews have also suggested that First Data are more suited to bigger organisations who can afford the hefty price tag.
To see how that compares have a look at: UK Merchant Account and Credit Card Processing Fee Comparison.
First Data Features
Fraud screening
Accepts all major credit and debit cards
Transaction approval in 1.9 seconds or less
Compliance with PCI standards
Transaction data and analytics
Chargeback dispute resolution
Receive e-deposits directly to your bank account
Seamless integration with point of sale software
Ability to offer cash back with a debit card purchase
Virtual gift cards
POS terminal options that can securely and quickly accept any card payment type
Streamlined account management with Business Track
Company Background
First Data began its life in Omaha, Nabraska in 1971 by providing processing services to the Mid-America Bankcard Association (MABA). The company grew over the next decade and in 1980, American Express bought 80% of the company, purchasing the remaining 20% over the next 4 years. First Data was incorporated in 1989 and went public in 1992.
The company now has a worldwide presence across 118 countries, serving 4000 financial institutions and six million merchants. They have award winning technology which is powered by 23,000 owner-associates worldwide, allowing them to process over 2,800 transactions per second. Over $1.9 trillion goes through them every year and they process 28% of the world's eCommerce volume.
First Data claims it simplifies the connections that make commerce possible. They help merchants, financial institutions and consumers to perform complex tasks in the simplest form with streamlined solutions.
First Data offers its customers a wide range of resources and tools such as assistance with PCI compliance, fraud prevention, transaction data and analytics. They recently partnered with Google Wallet which gives businesses the ability to accept mobile payments. The services they offer are excellent, but they do come at a price, which is why many people believe First Data is more suited to larger established businesses.
First Data's Clover hardware and software is compulsory for all First Data users. The system works well but, should a business wish to change to another provider, it would have to completely overhaul its system.
Another draw back is First Data's cancellation fee which would be your monthly fee multiplied by the remaining months on your contract. In many cases First Data will waive the early termination fee when you take out your initial contract.
First Data Pros & Cons
The following pros and cons are based on information available on First Data's website and reviews from Trustpilot and BBB.
Pros:
Good customer service with knowledgeable staff
Everything is handled inhouse
They offer many resources and tools
Many complementary services
Cons:
High fees
Withholding funds and account terminations
Heavy early termination fees
Expensive equipment leases
First Data Reviews
Trustpilot: 3.2 out of 10 based on 15 reviews
BBB: 3.71 out of 5 based on 60 reviews
First Data
Merchant Machine
Score:
5.31 out of 10
(average of sites above)
Website: www.firstdata.com
How Does First Data Compare?
First Data doesn't give pricing and fee information on its website, so it isn't easy to compare directly with other payment gateways and merchant accounts. Go to the company's request a quote page for a direct quote. You can also read more on our merchant account comparison page.
Also see: NetPay Merchant Services