Founded in 1984, Fiserv is an American financial services company and one of the Fortune 500 companies listed on the S&P 500.
The American giant has amassed more than 30 company acquisitions within the last 20 years.  The purchase of the payment processor First Data in 2019, showcases one of the largest deals ever recorded in the financial services sector. 
In the UK, Fiserv offers financial services and payment processing to SMBs and Enterprises under the respective names of Clover and Carat. For the majority of our review, we'll be looking at Clover from Fiserv and the products and services that are offered by this arm of the company. 
Prices/Fees
At the time of writing, Fiserv and Clover do not currently post their fees online. To find an accurate quote, businesses are required to reach out to the Clover sales team.
Merchants that do decide to switch to Clover from their current payment processor are able to have all cancellation costs covered and earn up to £150 for switching.
Product/Service Overview
As one of the largest financial service companies, Fiserv serves four main industries in business and merchant, financial institution, fintech and the public sector. 
We're going to focus on the business and merchant branch of Fiserv for our product and services overview. This section is categorised by Fiserv into two: large enterprises and small businesses with dedicated products are services for each. 
Small Business
Small businesses are able to find a range of all-in-one merchant systems available from Fiserv thanks to Clover. 
Clover is operated by Fiserv and allows small businesses to accept payments, run the business smoothly and sell more, ultimately generating more revenue. 
Accept payments 
Taking a look at the first section of services offered by Fiserv to small businesses, it's clear to see that the company makes it as painless as possible to take payments. 
Merchants are able to take payments in a range of different ways, whether that's in person with a POS system, over the phone or online in an eCommerce store. 
Point of sale system 
The Clover POS is one of the top-performing and can cover everything from taking payments from customers to organising stock and managing employees.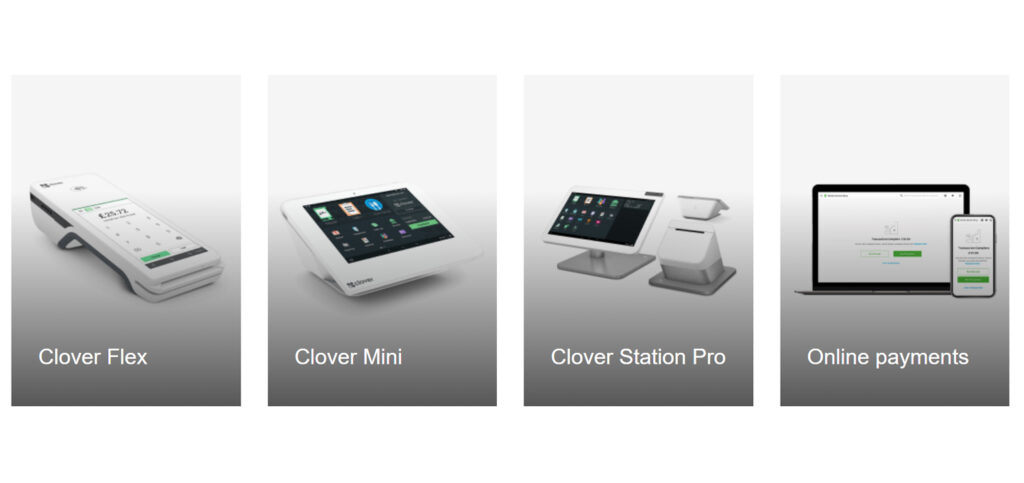 The point of sale system is completely customisable, allowing businesses to tailor their card machines and screens to their specific businesses. There is a range of different POS terminals to choose from, each offering something a little different to complement the way merchants work. 
Clover Mini
The Clover Mini is one of the popular options for UK businesses requiring a POS terminal. 
The Mini is one of the smallest countertop POS systems available and allows businesses to offer chip & PIN, contactless, and swipe payments from the word "go". It doesn't need to be complicated and the Mini works out of the box, exactly as you would hope. 
However, if a little customisation to tailor the terminal to your business's needs, more POS components can be added as required. With accounting, inventory, marketing, gift cards and so much more all covered by the Mini, it's one of the top small POS systems available. 
In addition to all of the above, the Clover Mini can even print paper receipts to keep the customer flow moving efficiently. 
Clover Flex
The Clover Flex offers a flexible (hence the name) approach to a POS system, offering the best of both worlds of a countertop and on-the-go system. 
All types of payments can be accepted by the Clover Flex with credit and debit, chip & PIN, contactless, Apple Pay and Google Pay, gift cards and even cash all supported by the POS terminal. All sales are tracked in real-time, allowing merchants to get to grips with exactly how their business is performing and when. 
The Flex can print receipts, just like the Mini, but can also work to keep track of inventory thanks to an inbuilt camera barcode scanner. 
Clover Station Pro
The largest POS system available from Clover is the Station Pro, one of the top Fiserv products available for the UK market. 
The Station Pro offers a large 14" touchscreen, a customer smart terminal, a printer for receipts and countless more features. As with the other terminals available, customers are able to use any payment that they may like when purchasing in store. 
This POS is designed to be the foundation of a business, companies are then able to invest in additional terminals where necessary for the best possible experience. 
Payment processing 
Clover systems allow for all forms of payments to be accepted with credit and debit cards, gift cards and contactless all accepted on the terminals. 
These payments can be made safely and securely with Fiserv encrypting the data of every online transaction and offers support around the clock if things aren't going as smoothly as expected. 
Alongside in-person transactions, Clover also supports businesses looking to take payments on businesses' websites, apps, email, text and even social media. 
Run your business 
Fiserv and Clover make it as easy as possible for businesses to run, offering impressive POS software that takes care of every facet of a company. 
POS software
There is a huge number of different apps that can be used in conjunction with the POS systems when using Clover from Fiserv.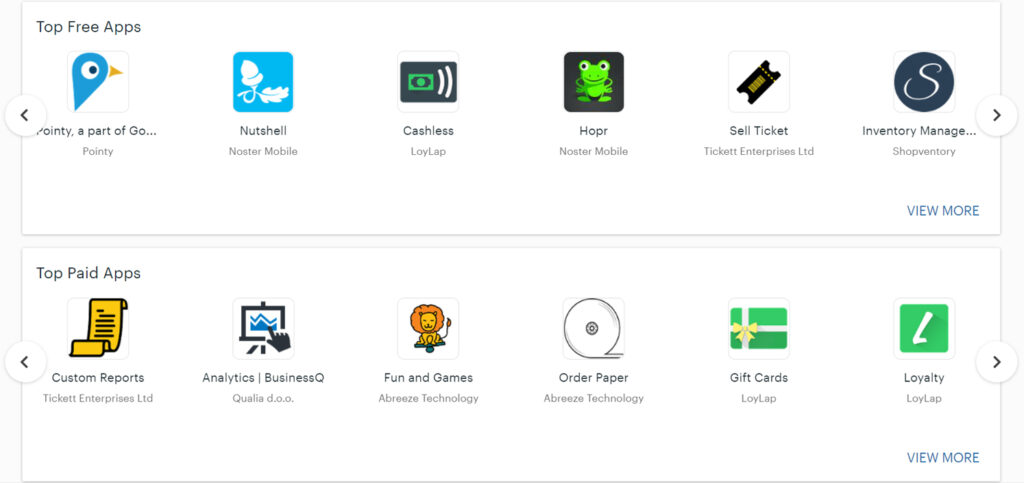 A full app market can be viewed at the Clover site and offers more than 100 different apps, covering every need of every business. In addition to a wide range of applications, businesses can also find their data saved on an online dashboard. 
The online dashboard can be accessed to view all the business data, wherever a merchant may be. The cloud-based data can be viewed on either desktop/laptop or on mobile with an iOS and an Android app available to all users. 
Sell more
An increase in revenue is one of the top benefits of Clover from Fiserv with the brand offering two main ways to boost sales.
Customer engagement 
Clover allows businesses to put data on their customer engagement, understanding which customers keep on returning. 
By targeting repeat customers, businesses can double down on the customers that are already familiar with the brand. 
The software also allows businesses to keep an ordered customer list. This is great not only for viewing purchasing habits but for learning marketing preferences before initiating new campaigns. 
Clover online ordering
For the restaurant business, Clover's online ordering from Fiserv is one of the top innovative features offered by the company. 
Businesses can simply automate their orders from customers in their restaurants. Businesses can simply upload their menu to the system and customers are able to order exactly what they would like from their smartphones. 
The kitchen can watch the orders fly in and the customers can be satisfied and content with a pain-free ordering system that works. 
Large Enterprise 
For large enterprises, Fiserv offers an omnichannel approach to commerce, payment and billing solutions for both large merchants and corporations. 
Carat is the name given to Fiserv's omnichannel ecosystem and it enables some of the largest merchants globally to securely take payments with any payment method available. 
Company background
Fiserv was founded in 1984 and quickly found traction in the financial services industry. 
Within just two years, the company had grown large enough to be listed on the NASDAQ stock exchange, in part due to the number of acquisitions completed in this time. 
Of the early acquisitions, it was Citicorp Information Resources in 1991 that grew the company most substantially. The acquisition allowed Fiserv to offer services in commercial banking alongside internal and credit union core account processing. Four years later, in 1995, Fiserv acquired Information Technology, Inc. (ITI), multiplying the number of payment processing clients held by the company. 
The company has continued to acquire a large number of businesses throughout the 2000s with more than 30 different companies acquired by Fiserv in a two-decade period. Examples of additional acquired companies include General American Corporation (GAC), JW Hutton, CareGain, Inc., CheckFree, AdviceAmerica, NetPay and more. 
One of the most important acquisitions completed by Fiserv arrived in 2019 with the purchase of the payment processor First Data. The deal, worth $22 billion, is one of the largest acquisitions in the financial services industry. 
Most recently, in 2022, Fiserv acquired Finxact, a cloud banking software company dubbed as the future of core banking. 
User reviews from around the web 
Fiserv, formally known as First Data in the UK (hence the Capterra review), has amassed a large number of user reviews from sites around the web. 
Trustpilot

  – 4.8 / 5 (based on 2,131 reviews) 

Capterra

– 4.2 / 5 (based on 19 reviews)

G2

– 4.3 / 5 (based on 14 reviews) 
Taking into account all of the independent reviews from Trustpilot, Capterra and G2, Fiserv earns a rating of 4.8 / 5 from a total of 2,164 reviews. 
User Reviews
Review Summary
0.0 out of 5 stars (based on 0 reviews)
Recent Reviews
There are no reviews yet. Be the first one to write one.
Submit a Review