Founded in 2006, Handepay is a Merseyside-based merchant service company focused on both simplifying and making card payments affordable.
The merchant services company was acquired in 2021 by PayPoint plc., one of the leading payment processing companies globally. Handepay continues to offer the same merchant services following the merger with the additional backing of the PayPoint team. 
Find out everything you need to know about Handepay from the pricing and fees to the products and services offered by the company below. 
Prices/Fees
For accurate pricing information, merchants should contact the Handepay team via either the online submission form or by telephone.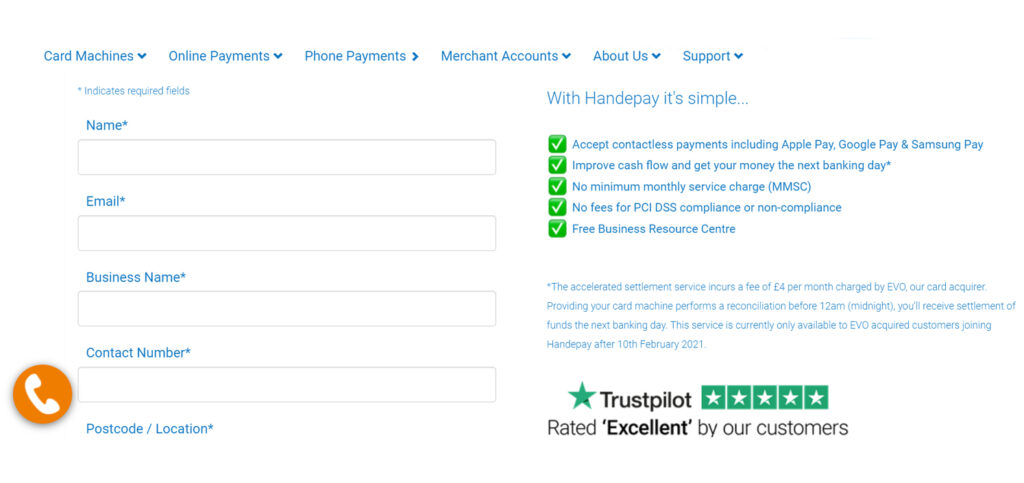 The service offered can be tailored to each individual business, offering different services at different price points in accordance with both the size and the nature of the company. However, Handepay does publish transparent pricing for some of the basic services offered by the company. 
Online payment gateway – £19.99
The online payment gateway, featured at Handepay, allows merchants to accept online payments from their business website. 
The online payment gateway service, priced at £19.99 PCM, offers the following benefits to merchants:
400 monthly transactions 

Merchant account and secure payment gateway

Virtual terminal 

Dedicated customer support team

3D secure and additional security checks

Business management dashboard offering real-time reporting
Virtual terminal – £9.99
The virtual terminal, used by merchants to accept payments over the phone or by mail, is priced at £9.99 PCM for the individual service.
For this fee, merchants are able to find the following benefits included in the service: 
200 monthly transactions

Online merchant account 

Dedicated customer support team 

Security checks and integrations assistance 
Product/service overview
Handepay offers a range of services designed to suit small and medium businesses with everything from physical card machines to merchant accounts catered for.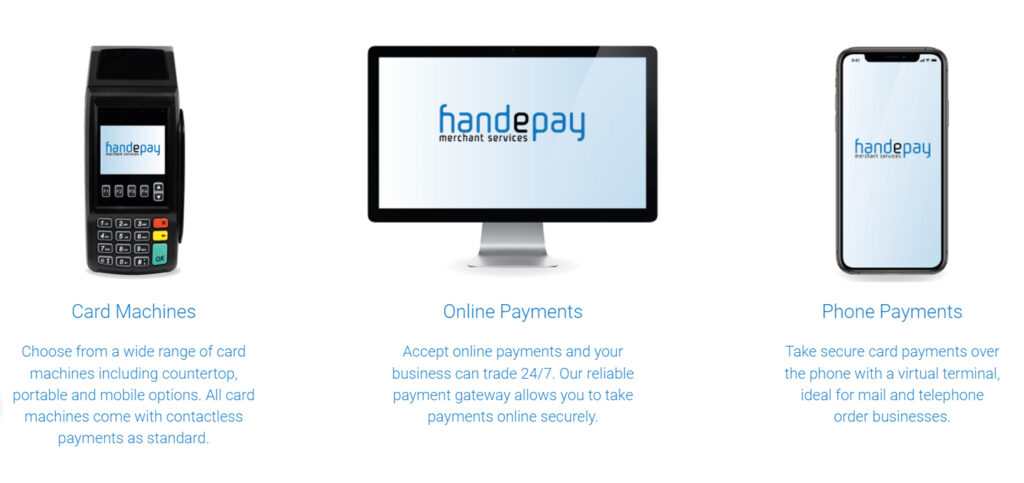 Card machines
Traditional brick-and-mortar businesses can rely on Handepay to source good-quality POS terminals when accepting payments. 
The available card machines can be categorised into four main options countertop, portable, mobile and contactless card machines all offered. 
Countertop card machines
A countertop card machine is a great option for merchants looking for a terminal in a dedicated location such as in a typical store. 
The countertop card machine from Handepay allows for payments to be taken from a fixed location and is available as dial-up or IP. The machine is simple and easy to use with a small footprint that can fit on any countertop or work surface. 
Customers are able to pay with Chip & Pin, Magnetic Strip or with contactless with support for Apple, Samsung and Google Pay included. There's a colour screen with a clear, optimal display allowing for the top customer experience.
Portable card machines
Portable card machines share much of the same benefits as a countertop card machine without the constraints of a fixed location. 
A portable machine can instead be taken around a building with a range that can reach customers within the office, restaurant or store. The card machine can be connected to Wi-Fi, allowing payments to be taken wherever there is a connection with an approximate range of 50m.
The extra-long battery life is great for those businesses with busy shifts, reducing the amount of time the card machine needs to be charging. Contactless support is also offered on the portable Handepay card machine, allowing customers not only to be able to easily pay with debit/credit card but with Apple, Samsung and Google Pay, too.
Mobile card machines
The Handepay mobile card machines are a great way to accept payments from outside of the workplace – utilising mobile technology to connect anywhere.
By using GPRS, mobile card machines can process payments with a roaming SIM for ultimate flexibility. As with all other Handepay card machines, merchants are able to accept payments via contactless, Apple, Samsung and Google Pay alongside the standard Chip & Pin method.
There's an extra-long battery life that's great for the most demanding of environments and a colour screen with a backlight allows for the customer to clearly view any charges.
Online payments 
Merchants looking to accept payments online are able to build their toolkit with a range of online payment solutions from Handepay.
By offering an online payment gateway and virtual terminal to pay by link options and recurring payments, Handepay can help with all online payment options. 
Payment gateway
An online payment gateway is required anytime a customer is looking to complete a purchase online. 
These can be thought of asPOS terminals for online purchases – acting as the tool used to accept online payments. The Handepay online terminal allows sales to be made not only at any time, but from any place with a safe and reliable service that both customers and merchants can rely on.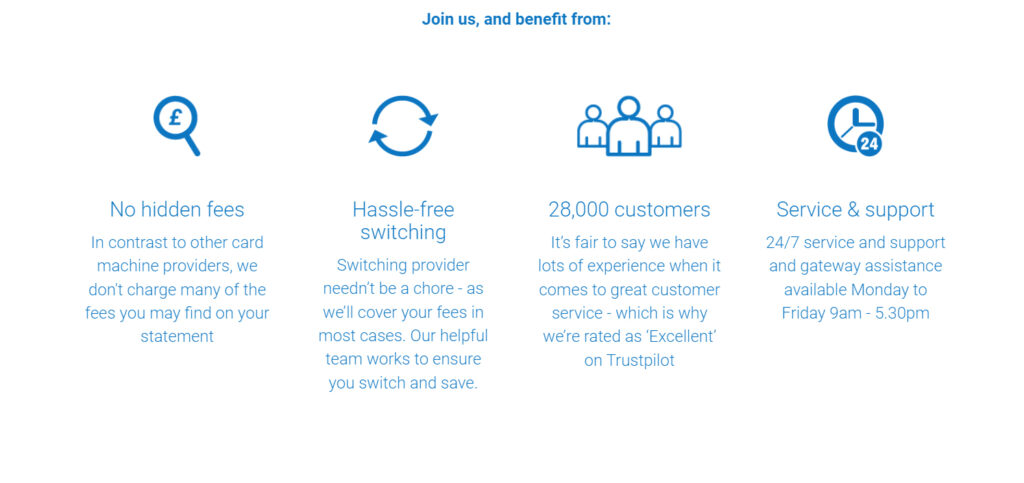 The Handepay payment gateway is offered with transparent pricing at £19.99 PCM for the following service: 
400 monthly transactions 

Merchant account and secure payment gateway

Virtual terminal 

Dedicated customer support team

3D secure and additional security checks

Business management dashboard offering real-time reporting
Merchants looking to sign-up to Handepay to claim the transparent offer are able to do so by requesting the free quote online or by calling 0800 377 7382.
Virtual terminal 
A virtual terminal is a great tool that allows businesses to accept payments either via telephone or by mail order. 
The terminal does not require merchants to invest in any additional hardware. Instead, merchants can simply access the virtual terminal via their existing device internet browsers. A virtual terminal can be used on desktop PCs, tablets or even mobile devices, allowing for remote payments to be accepted from anywhere at any time. 
There are no set-up or joining fees for the virtual terminal and those merchants interested can find the transparent pricing of £9.99 per month for the following service: 
200 monthly transactions

Online merchant account 

Dedicated customer support team 

Security checks and integrations assistance 
The monthly virtual terminal subscription also allows businesses to claim a bonus pay by link function at no extra cost. 
Pay by link 
The online pay by link function offered by Handepay is a useful feature that allows businesses to send a payment link for a seamless payment option.
The dedicated links are a fantastic alternative to a traditional invoice, allowing payment options to be shared via email, social media or SMS message. This not only offers a quick turnaround time for invoices to be paid but a simple way for customers to pay. 
There are no joining or set-up fees for the service and merchants are simply able to sign-up and send links with the tool. 
Recurring payments
Alongside standard payments, merchants are also able to receive recurring payments when creating subscription-based services. 
This form of payment is a great way to improve the cash flow of businesses by both offering scheduled subscription payments or by spreading payments over a timeframe for large, one-off sums. 
Full automation in the process can be achieved with Handepay, offering an impressive service to all small and medium businesses.  
Phone payments 
Phone payments can easily be achieved with the virtual terminal offered by Handepay. 
The virtual terminal supports both telephone and mail-order payments, offering additional payment options for customers to choose from. Merchants are not required to invest any further funds into hardware to use the software as the terminal can be accessed from any device via the internet browser. 
The pricing of the virtual terminal is transparent, offering the full service with no set-up fees attached for just £9.99 per month. 
Merchant accounts 
In addition to other payment services, merchants are also able to use Handepay when setting up their merchant accounts. 
Handepay offers simple pricing with no hidden fees, the option of flexible contracts and month-to-month rollers and safe and reliable service. 
Merchant accounts allow for quick and secure payment processing and ensure maximum protection with PCI DSS compliance. 
Company background
Founded in 2006, Handepay entered the merchant services industry with the goal of making card payments both affordable and easy to understand.
Based in Merseyside, Handepay has grown to a business comprised of more than 180 employees working with over 28,000 businesses in the UK.
The largest change in the recent history of Handepay came in February 2021 with the acquisition of both Handepay and Merchant Rentals by PayPoint plc. 
PayPoint is a natural fit for Handepay with the company recognised as one of the leading providers of both digital payment solutions and in-store payment technology. With millions of customers served each week, Handepay is in good company with the recent acquisition. 
User reviews from around the web 
Handepay merchant services boast a huge number of user reviews from around the web with a great reputation held by the company. 
Taking the Trustpilot reviews as our base, Handepay has earned an overall score of 4.9 / 5 from a total of 8,942 reviews. 
User Reviews
Review Summary
0.0 out of 5 stars (based on 0 reviews)
Recent Reviews
There are no reviews yet. Be the first one to write one.
Submit a Review