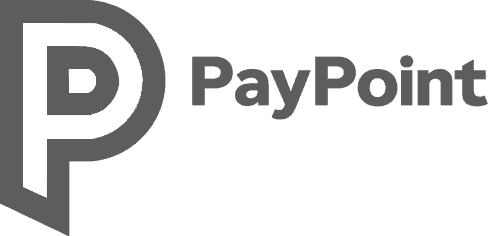 Paypoint is an international group that has been simplifying the payments business since 1997. It offers its clients simple, convenient payment options and now handles 740 million transactions per year for over 6,000 businesses.
PayPoint Credit Card Processing & Payment Services
PayPoint Payments
PayPoint has a variety of simple solutions for accepting payments face to face, online or by phone. The company also accepts payments in many currencies.
Mastercard
Visa
American Express
Apple Pay
Android Pay
Contactless
Other PayPoint Products and Services
Consumers: Customers can pay bills, transfer money, top up their mobiles, pick online shopping, buy lottery tickets and pay for parking at one of the thousands of PayPoint outlets.
PayPoint One App: Offers stores PayPoint One app with EPoS Pro which allows you to manager your store from anywhere, with real-time back office management, sales reports and product maintenance.
PayByPhone App: PayPoint created the PayByPhone app to pay for car park tickets on your phone. PayByPhone became a world leader in its field and is now used for a wide range of transport solutions.
CollectPlus: PayPoint is also part of the Click and Collect solution to easy shopping. Their CollectPlus services allows consumers to send and receive goods through their local store
PayPoint Pricing & Fees
PayPoint reveals very few of its prices on its website. It does state that Lloyds Cardnet handles the pricing for merchant accounts.
Base Package – existing merchants
One terminal – £10 per week
Includes PayPoint's business services
POS tablet
Integrated card payments
Cloud-based back office tools
Base Package – news merchants
One terminal – £15 per week
Includes Base Package services plus EPOS Core
Product storage for quick scanning
Custom promotions
Shelf label creation
Free cash drawer
Core Package – new merchants
One terminal – £20 per week
To see how that compares have a look at: UK Merchant Account and Credit Card Processing Fee Comparison.
PayPoint Features
Fraud screening
Debit and credit card processing
Tablet POS system
Mobile payment app
24/7 UK based support
Customisable payment pages
Mobile Card machine
Portable Card machine
Countertop Card machine
Card machine integrates with your Point of Sale
Early termination fee
PCI compliance fee
Company Background
Payment was originally set up in 1996 to assist people to load gas and electricity onto their prepaid meters at their local convenience. It was listed on the LSE in 2004 and is now a merchant account provider which services businesses in the UK, Ireland and Romania. PayPoint offers retail, mobile and e-commerce payment solutions for consumers and businesses. PayPoint utility bill partner is Barclays but its acquiring bank for merchant services is Lloyds Bank CardNet.
Lloyds Bank Cardnet is part of the Lloyds Bank Group. This card processing arm of Lloyds partnered with First Data to provide businesses with merchant account services. It processed 1.1 billion card transactions through 75,000 card terminals in 2016, totally £64 billion worth of card sales for the year.
PayPoint Pros & Cons
The following pros and cons are based on information available from Review Centre and Trustpilot. These are mostly negative reviews which probably doesn't give a true reflection of the company but positive reviews of PayPoint are rare which could point to the fact that most clients are satisfied with the company.
Pros:
Good customer service
Customers report no downtime – as much as four years in a row
Simple set up
Technicians help solve problems which are nothing to do with PayPoint's module
Cons:
Many complaints about bad customer service
Employees don't seem to have had adequate training
Accounting errors
Long contracts
Large Cancellation fees
PayPoint Reviews
Trustpilot: 4.5 out of 10 based on 11 reviews
Review Centre: 1.3 out of 5 based on 12 reviews
PayPoint Merchant Machine score is 3.6 out of 10 (average of 2 sites above).
Website: www.paypoint.com