Founded in 1997, Lloyds Bank Cardnet is a partnership between Lloyds Bank and First Point Data.
The company aims to offer merchant services to large and small businesses in the UK with a range of payment services available for merchants to use. Lloyds Bank Cardnet offers simple POS terminals for in-store payments, an online payment gateway for purchasing online and a virtual card machine for over-the-phone payments. 
Find out everything you need to know about the pricing and services offered by Lloyds Bank Cardnet in our review below. 
Prices/Fees
The pricing and fees are not available for all services at Lloyds Bank Cardnet. For an accurate, tailored quote, merchants should apply online to contact the customer service team.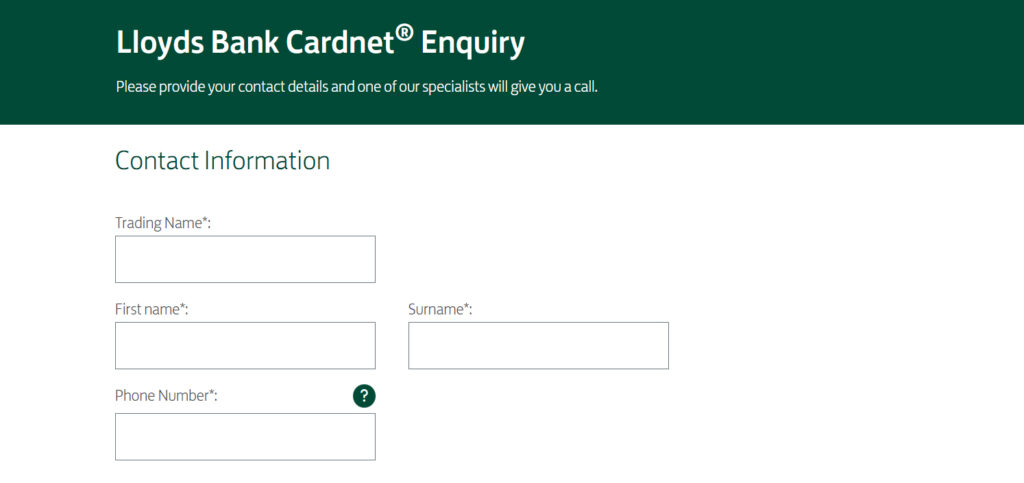 The pricing and fees of the mPOS service are published on the site, with a £49 one-off joining fee and a fee of 1.75% for each card payment made.
Product/Service Overview
Lloyds Cardnet allows businesses both large and small to accept payments in-store, online or over the phone with a range of services tailored to merchants.
The company offers solutions for almost every merchant, whether they operate a large or small business, with the option to tailor the services offered. An overview of the different products and services offered by the company can be found below.
Card readers
Lloyds Cardnet offers merchants a range of different card readers, allowing for payments to be accepted in person from stores, restaurants and other in-person businesses. 
The card readers offered can be separated into three main categories in mobile, portable and countertop solutions. These card readers can allow merchants to accept payments with Chip & Pin, contactless, magnetic strips and cash. With the ability to print customer receipts, the card readers can form the perfect package for merchants with an in-person business.  
Mobile 
A mobile card machine is perfect for merchants that do not have one fixed location of sale, allowing for maximum flexibility. 
These card machines, depending on the type, are connected via Bluetooth or a GPRS sim that can be used to gain an internet connection on the road. At Lloyds Bank Cardnet, merchants are able to use the following mobile POS terminals: 
Portable 
A portable card machine is a good choice for those merchants looking to accept payments from a single location.
These POS card machines are connected by either Bluetooth, WiFi or Ethernet to ensure that the connection to accept online payments is rarely interrupted. At Lloyds Bank Cardnet, merchants are able to use the following portable POS terminals: 
Clover Flex WiFi

Ingenico® Move3500 Portable

Verifone V240M Portable
Countertop 
The last of the card machines available to Lloyd Bank Cardnet customers is the countertop solution, offering a single dedicated POS terminal. 
Depending on the model chosen, these countertop devices are connected with either ethernet, WiFi and/or GPRS, again ensuring that connections are maximised. At Lloyds Bank Cardnet, merchants are able to use the following countertop POS terminals: 
Clover Station Pro 

Clover Mini

Ingenico Desk3500 Desktop

Verifone V200C Desktop
Online payments 
In order for any business to accept payments online, they must use an online payment gateway.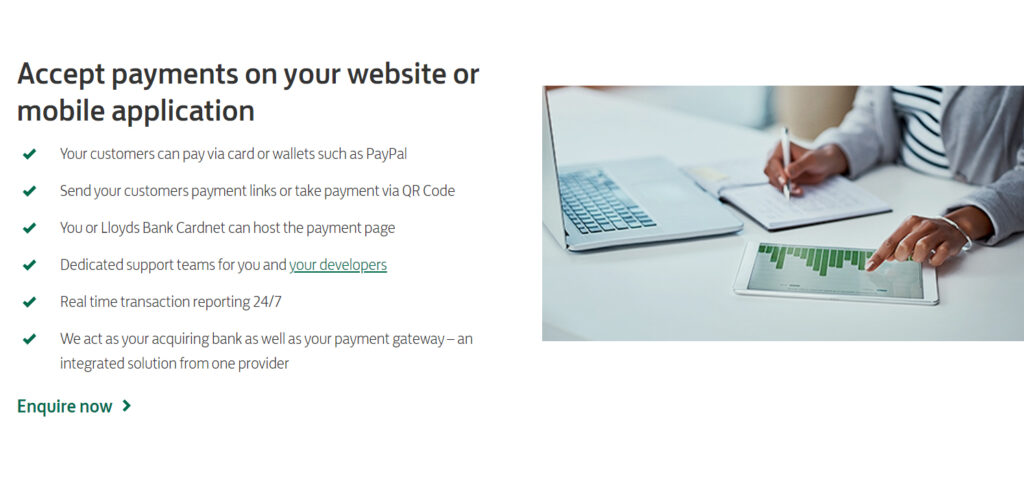 An online payment gateway works much in the same way that a business requires a POS terminal to accept them in a brick-and-mortar store. Lloyds Bank Cardnet offers a payment gateway that can be used to accept those online payments either by integrating them into a business website or through other digital channels. 
Customers are able to pay in the way that they want – whether that be a simple credit/debit card or with an eWallet such as PayPal. Merchants using the Lloyd Bank Cardnet payment gateway are then able to track the payment data before analysing and extracting real business value from the results. 
In addition to the acceptance of payments made online via a website, merchants are also able to use a "Pay By URL" service. This allows businesses to send a simple link which allows for customers to pay in the way that they want, reducing the number of invoices chased at any one time. 
Over the phone 
Businesses looking to accept payments over the phone are able to do so with the "Virtual Card Machine" offered by Lloyds Bank Cardnet.
The virtual card machine can be used by any employee to note the payment details of customers over the phone, allowing for an increase in the number of potential sales. There is no need to invest in any additional hardware and merchants can simply log in to the virtual card machine from any internet-enabled device via their browser. 
This terminal can then be used to accept a wide range of different payment methods including credit/debit cards, commercial purchasing cards and American Express.
Card payments on the go 
Merchants looking to accept card payments on the go are able to take advantage of the mPOS (Mobile Point of Sale) service from Lloyd Bank Cardnet. 
The pricing of the service is transparent, with a single £49 one-off joining fee and a following pay-as-you-go fee of 1.75% for each card payment. 
Clover card machines 
Founded in 2010, Clover is a financial company focused on creating Android-powered POS terminals utilising cloud-based software.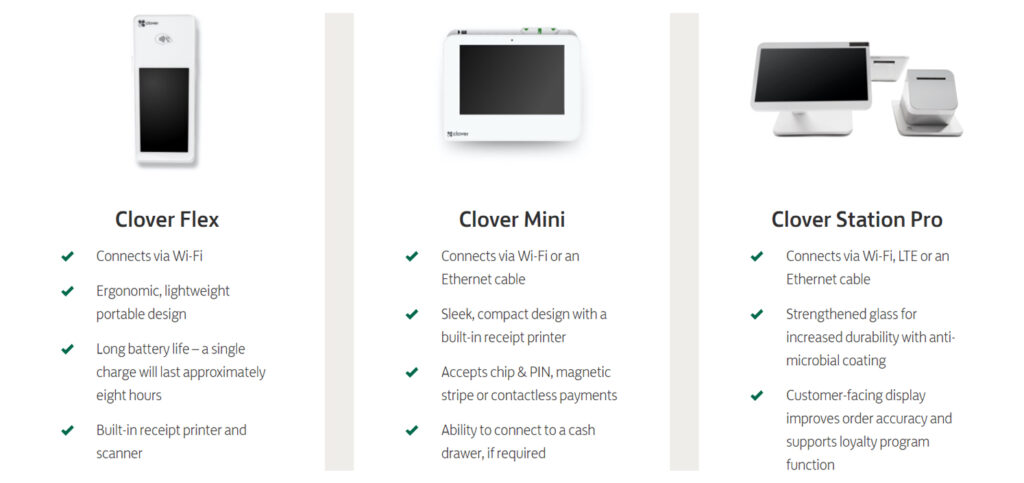 There are three main Clover card machines that businesses are able to take advantage of in their business with the Flex, Mini and Station Pro all offered by Lloyd Bank Cardnet.  
Clover Flex 
The Clover Flex is the most versatile of the POS terminals offered by the company, allowing for payments to be taken from anywhere on the premises. 
The Flex can connect via Wi-Fi to process payments and with a long battery life allowing for approximately 8 hours of use from a single charge. The stylish design is lightweight, portable and ergonomic and comes with a built-in receipt printer and scanner.
Clover Mini
The Clover Mini is another great option for business, allowing for connection in either a mobile or fixed position. 
The Mini can both connect via Wi-Fi or with an Ethernet cable, ensuring that coverage is never interrupted. The signature sleek and stylish Clover design offers an impressive terminal complete with a built-in printer for receipts.
The Clover Mini can accept payments with a trio of different methods with Chip & PIN, magnetic stripe and contactless payments all available. If required, the Mini can also be connected to a cash drawer to support cash payments. 
Clover Station Pro 
The Clover Station Pro is the most advanced of the offerings from the POS company with a full sophisticated system highlighting the full potential of the cloud-based software.
The Station Pro can be connected with Wi-Fi, LTE or an Ethernet cable, again ensuring that the system can always connect to the internet. The sleek Clover design is complemented with strengthened glass, increasing the durability of the device and an anti-microbial coating, promoting a more hygienic way to pay. 
The customer-facing display is great for improving the customer experience and improving the accuracy of orders and purchases made. The system also allows for a loyalty scheme to be added, allowing for additional marketing options for in-store purchases. 
Employees are able to log in with either a secure fingerprint or an NFC employee login card, offering a seamless service for all. 
Other services 
In addition to payment acceptance, Lloyds Bank Cardnet offers a range of additional services that merchants may benefit from. 
These additional services, found under the "Other Services" tab of the website, include everything from a website builder to cash advice and digital ordering solutions. To learn more about the services offered by Lloyds Bank Cardnet, merchants should contact the customer service team available between 8 am to 9 pm Monday to Saturday. 
Company background
Lloyds Bank Cardnet was founded in 1997, allowing businesses to take payments in-person with merchant services designed to suit both small and large companies. 
Lloyds Bank is one of the oldest banks in the world, considered one of the original "Big Four" clearing banks. The bank dates back to 1765, originally offering banking and insurance with merchant services offered much later with the Lloyds Bank Cardnet services offered are a joint effort between Lloyds Bank and First Data.
By 2016, the Cardnet service reported more than 1 billion individual transactions from more than 75,000 card terminals. The total value of these transactions was reported to have reached more than £64 billion in the year.
User reviews from around the web 
Although there are few user reviews online for Lloyds Bank Cardnet, there are thousands of independent reviews published online for the bank, included below: 
Based on the Trustpilot reviews from both Lloyds Bank Cardnet and Lloyds Bank, the company scored an overall rating of 1.6 / 5 from a total of 2,757 reviews. 
Lloyds Bank Cardnet User Reviews
Review Summary
0.0 out of 5 stars (based on 0 reviews)
Recent Reviews
There are no reviews yet. Be the first one to write one.
Submit a Review