Founded in Hawaii in 1981, Verifone is one of the top US-based multinational corporations in the financial technology and point of sale (POS) sector.
The company offers merchant machines to a range of industries including retail, online shopping, cafes, bars, restaurants and small businesses. The products produced by Verifone utilise the company's own certified payment software, security and encryption and operating system. 
There's everything from an omnichannel system, a safe and secure payment gateway and advanced reporting and analytics offered by the brand. Below we'll take a closer look at the products and services offered by Verifone, the pricing/fees associated and the independent reviews surrounding the company. 
Prices/Fees
Unfortunately, the details surrounding the pricing and fees charged on the services offered by Verifone are not published online.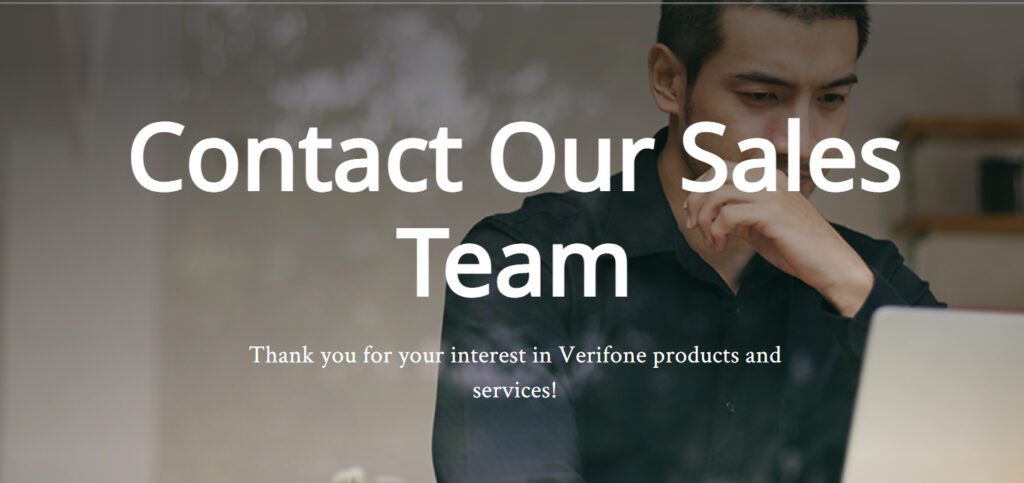 To find bespoke solutions for a business, merchants should contact the Verifone sales team directly via the contact page on their site. 
Product/Service Overview
The list of products and services offered by Verifone is extensive, spanning numerous industries ranging from retail and online shopping to cafes, bars and restaurants. 
Payment services
Merchants in the UK are able to benefit from a long list of payment services that make running their business a breeze. 
With the ability to accept payments in-store, online and in a company app – an omnichannel approach can be taken, there's plenty for merchants to dissect. A brief overview of the payment services offered by Verifone can be found below. 
In-Store Payments
A fast, efficient and seamless approach can be taken when merchants are looking to accept payments in-store.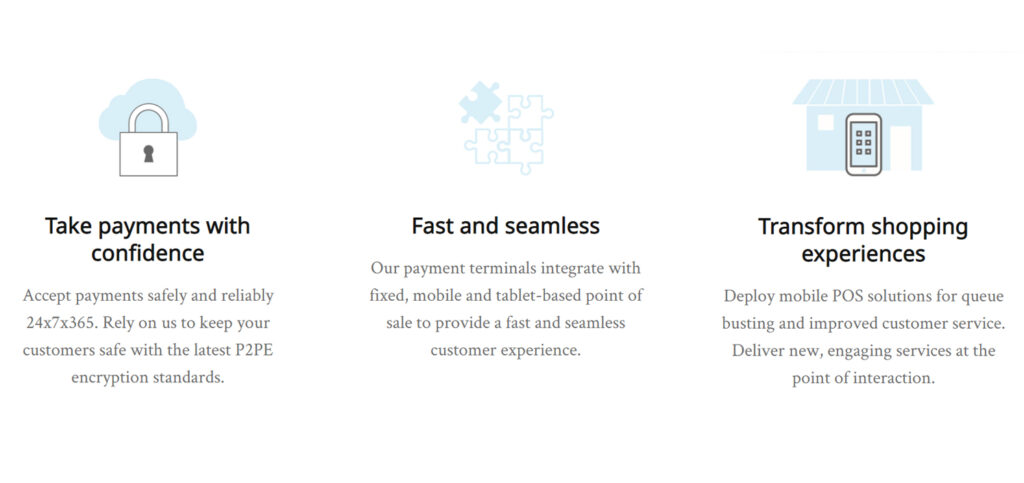 A range of point of sale (POS) systems is available for a seamless in-store experience. Merchants are able to opt for industry-specific devices, making light work of long queues and busy tables in the real world. 
Verifone ensures the latest P2PE encryption standards are adhered to, making for a safe and secure shopping experience for all in-person customers. 
One of the most impressive benefits of using Verifone in-store is the ability to offer Klarna to in-person shoppers. Verifone is the payment provider permitted to enable in-store Klarna capabilities on a PED with shoppers simply required to scan a QR code and access the monthly payments app.
Online & App Payments
Alongside the ability to take payments in-store, merchants will also find the option to accept a secure payment both online and via their business app.
A full suite of tools is offered to businesses with a trio of integration options making it as easy as possible to get to grips with Verifone. 
A hosted option is the first of the choices available, offering merchants the opportunity to accept payments via a redirect to a secure Verifone payment page. This is great for businesses looking for an out-of-the-box solution that works efficiently from the word "go". 
The second integration option is the component option, offering merchants an embedded Javascript payment component within an app or website. Merchants are able to customise the features in this method, allowing for an on-brand page display. 
The final option available to merchants looking to integrate the Verifone payment options is with an API. This is the most advanced option, but also offers the most customisation, allowing merchants to benefit from utmost control of the payment process. 
Omnichannel
Verifone is recognised as the market-leading omnichannel payment service provider and offers a range of solutions that cover all channels under the same digital umbrella. 
The Verifone omnichannel service gives merchants access to everything that they need to accept all payments in-store, online and on with a virtual terminal, allowing consumer phone transitions. 
The omnichannel approach takes advantage of a token system that is great for allowing a frictionless payment experience. One-click and click-and-collect payment options can be introduced with the system, alongside additional digital shopping experiences.
As well as offering a seamless experience for customers, businesses are also able to view valuable business insights with the Omnichannel process. Merchants can gain access to key points along the customer journey and extract true business value with in-depth insights across numerous channels.
Reporting & Analytics
One of the most important features offered by Verifone is the ability for merchants to access insights in real-time with powerful reporting tools.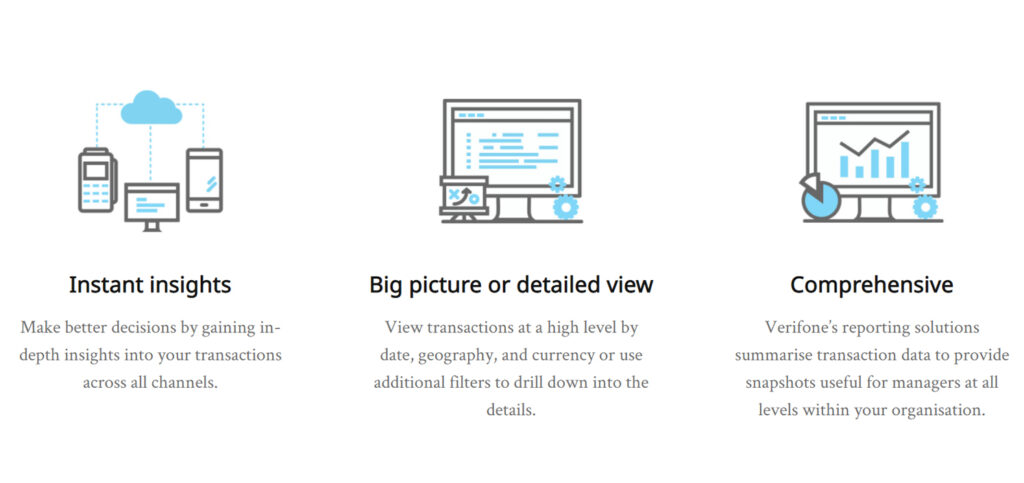 The ability to both monitor and analyse transactions allows merchants to identify both strong and weak areas of the business. With instant insights available at all times, businesses can make informed decisions following analytics of real, relevant data. 
The level of detail can be specified by the merchant with Verifone's ability to zoom out and look at the big picture or zoom in to the details and individual transactions made. The comprehensive service is a fantastic addition for managers to use when analysing company performance and viewing snapshots of the business. 
Advanced Payments
Alongside the traditional payment methods, businesses can also benefit from a range of advanced payment options offered by Verifone. 
Merchants are able to choose to implement Klarna in-store, WeChat Pay in-store and AliPay in-store. These additional payment methods are a great way to boost the payment options for traditional brick-and-mortar businesses with Klarna, in particular, proving an incredibly popular payment method. 
As well as the advanced payment methods offered, merchants are also able to use the latest Verifone terminals to take payments. The V240m, Carbon Mobile 5 and P400 are all offered by the company with further information on each model available at the site. 
Payment Gateway
Finally, the payment gateway offered by Verifone is trusted by thousands of merchants on a daily basis. 
The secure payment gateway allows businesses to make both in-person and online payments with customers safe in the knowledge that an industry leader is looking after the payment processing. The payment gateway can accept any payment method from any acquirer with all channels catered for. 
The payment gateway perfectly complements the omnichannel system available from Verifone. The products and services are all fully concerned with streamlining the customer experience, offering a top-quality service regardless of where the payment is made. 
Payment devices
Alongside the long list of payment services offered by Verifone, a range of payment devices are also offered by the company. 
The available payment devices include everything from countertop devices to Android-powered mobile devices and mPOS. A list of the payment devices offered by Verifone can be found in the bulleted list below:
PIN Entry (PED)

Countertop

Portable and Mobile

Android POS

mPOS

Unattended

Kiosks

Device Management
To find out more about any of these individual payment devices, merchants should head over to the Verifone website. With a thorough resource available for each payment device, merchants can quickly learn everything that they need to know to get up and running. 
Company background
Founded in 1981 in Hawaii, Verifone is a multinational company focused on providing payment transaction products to a global market. 
Over its history, spanning more than four decades, the company has acquired a long list of companies, assisting Verifone in its growth. The first of these company acquisitions was in early 1989 with the acquisition of LCOT Corp., a company focused on technology for transaction automation for an undisclosed sum.
Following this first acquisition, Verifone progressed by going public in the following year, raising more than $50 million. During the '90s, Verifone was instrumental in the expansion of the credit card industry, pushing the technology into new markets with restaurants, taxis and movie theatres targetted by the brand. 
Towards the middle of the decade, in 1995, the company acquired two more brands, CyberCash Inc. (for a sum of $4 million in stock) and Enterprise Integration Technologies, a company focused on eCommerce software and consulting services for $28 million. The two organisations together gave Verifone strength in the eCommerce industry, allowing the company to grow in the online sector. 
Verifone was acquired shortly after this pivotal decision in 1997 by Hewlett-Packard in a stock-swap deal worth $1.18 billion. The company was then sold to Gores Technology Group four years later, in 2001. 
The company continued a string of acquisitions throughout the 2000s with the purchases of Dione in 2004 for an undisclosed sum and Trintech and Lipman Technologies in 2006, for the respective sums of $12.1 million and $793 million. 
The list of acquired companies tripled between 2010 and 2012 with a streak of high-value acquisitions. Noteworthy company acquisitions in this period include Point International AB, a company focused on electronic payment solutions for $818 million and Hypercom Corporation, a company offering transaction processing services for $485 million. 
User reviews from around the web 
There are fewer independent reviews online for Verifone compared to competing companies, however, a good picture can be built from those available. 
Trustpilot

  – 4.0 / 5 (based on 114 reviews) 

G2

– 3.9 / 5 (based on 172 reviews)
Based on the independent reviews taken from both Trustpilot and G2, Verifone score an overall rating of 3.9 / 5 out of a total of 286 reviews. 
User Reviews
Review Summary
0.0 out of 5 stars (based on 0 reviews)
Recent Reviews
There are no reviews yet. Be the first one to write one.
Submit a Review