Founded in 1995, formerly as Targeted Transaction Managed Services Limited, takepayments is a payment processing company focusing on card terminals, online payments and EPOS systems.
Following more than 2 decades of business, the company has been through a handful of name changes whilst operating in the payment industry. Most recently, the brand was known as Payzone UK, before the bill payments portion of the business was sold to Post Office. 
The rebranded Stockport-based company is taking the UK by storm and has amassed more than 20,000 positive reviews around the web. takepayments now has more than 60,000 customers throughout the UK with offices in Stockport, Grimsby and London. The in-house teams are joined by a team of mobile Payment Consultants dotted around the country. 
Prices/fees
The pricing and fees offered at takepayments are not currently published online for businesses to find. 
Companies can, however, get a free quote from takepayments by visiting their website and selecting the products and services that they are interested in. 
Product/service overview
The list of products and services offered by takepayments spans three main categories with card terminals, online solutions and EPOS systems.
The offering of all services from the company are focused on small businesses and ensuring that the process of taking payments is as simple as possible. Below we will briefly highlight the top services offered by takepayments. 
Card Terminals
One of the main sticking points that small businesses find when operating in the UK is the issues surrounding in-person payments.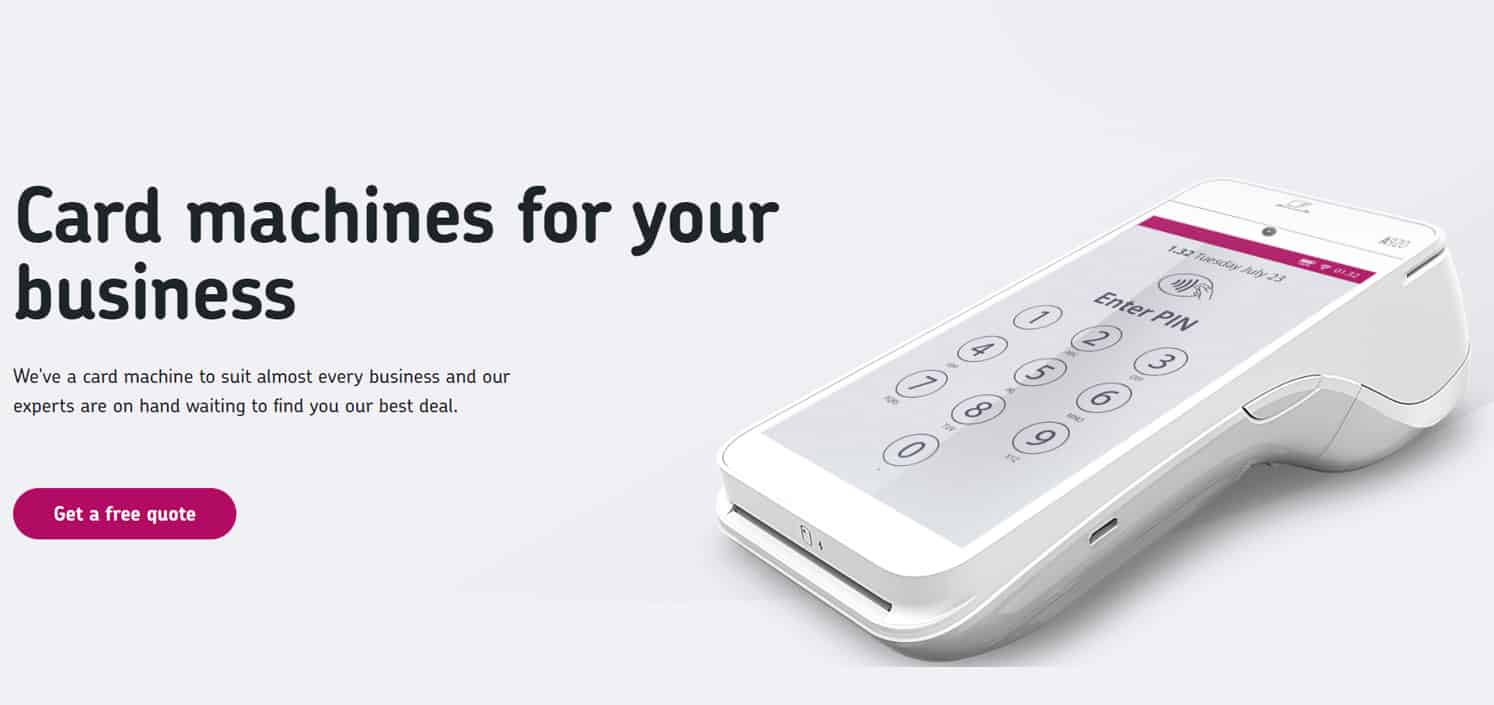 The takepayments services aim to streamline the card machine headache with four main products suited to different businesses. 
takepaymentsplus
The takepaymentsplus is the main highlighted product in the card terminals offerings, starting from just £25 per month. 
The takepaymentsplus terminal allows businesses to do more than simply accept in-person payments. There is a range of additional benefits including real-time reporting, the ability to track received cash, understand stock usage and rapidly checkout in store. 
Receipts of purchases can be sent to customers via email, SMS or simply printed with the device. These can be simple or detailed examples with the ability to specify product detail and VAT rates. 
Countertop
The countertop terminals offered by takepayments boast a range of benefits ranging from next-day settlement to a £0 set up fee. Businesses are also able to rely on the UK support offered 7 days a week, quickly addressing and solving any potential issues when they arise. 
The terminals, supplied by Ingenico, offer a range of impressive features that make for a perfect countertop companion. The compact terminal can be connected via broadband or phoneline, ensuring that there's always a connection to quickly process payments. 
All terminals are PCI compliant and easy to set up and, with fast thermal printing, ensure that payments can be processed as efficiently as possible. 
Portable 
Again, supplied by Ingenico, the portable terminals offered at takepayments ensure that businesses can take payments throughout their location. 
Whether in a busy restaurant or on the shop floor, businesses can rely on a portable terminal with up to 50m of Bluetooth range. A long-lasting battery prevents the need for regular recharges and the small, lightweight design is great for transporting quickly.
Mobile
The mobile terminals offered by takepayments and supplied by Ingenico are among some of the most popular mobile payment solutions. 
Each portable mobile payment terminal is supplied with a built-in GPRS SIM card, connecting to the strongest possible networks for optimum signal. This not only allows for an efficient terminal but a light, durable and long-lasting one. 
As with the countertop and portable terminals, businesses can benefit from a quick thermal printer to issue all necessary receipts. 
Online Solutions 
The in-person payments account for only a small percentage of a large number of businesses and takepayments ensures that all online aspects are also catered for.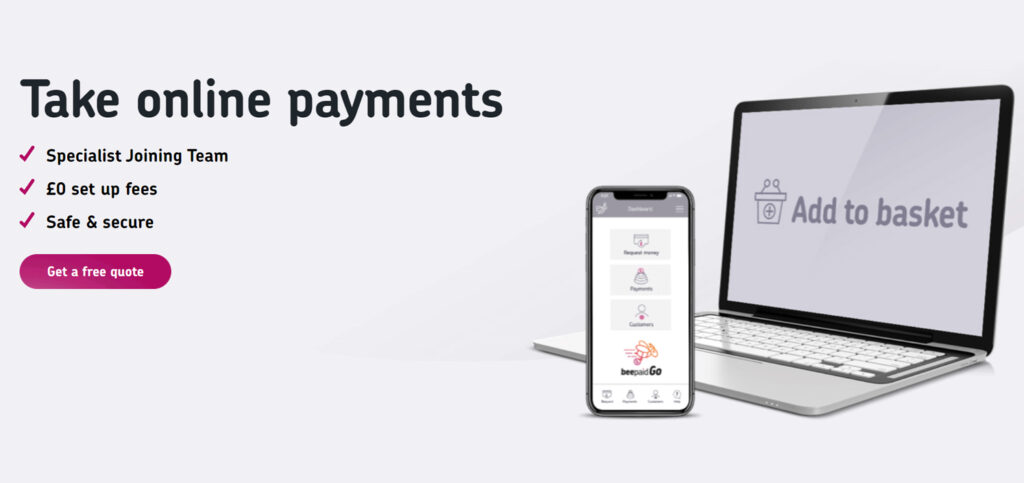 The services available range from the ability for customers to order and pay at their table to the option of phone payments and pay by link. 
Order & pay at the table 
The ability for restaurants and eateries to offer and order and pay at table service is a huge benefit and is supported by takepayments. 
Pricing is both affordable and simple, with businesses able to pay only for rental and card processing fees. There's no tricky onboarding, takepayments does all the hard work for you, generating a QR code from your menu and allowing for orders and payments at the table. 
Payment app
Alongside the traditional payment processing options offered by takepayments, the company also offers businesses the beepaidGO payment app.
With £0 set-up fees, a short 12-month contract and next-day settlement capabilities, the app offers a simple method in which small businesses can receive payments. No matter the size of the payment, businesses can open the app, send an invoice and receive payment from customers. 
Pay by link 
The option of Pay by link is one of the best payment solutions offered by takepayments and allows businesses to send a link within an email to get paid. 
There's no website needed and businesses can easily keep track of payments, receive real-time reporting and customise all emails to match business branding. There are no set-up fees required and onboarding is taken care of with a specialist joining team. 
Phone payments 
Payments made by phone can also be received by businesses when using takepayments with a virtual terminal allowing in-browser payment processing. 
There is no physical terminal required to take payments over the phone. Instead, the virtual terminal offered by takepayments simply requires a device with a browser option. Businesses can log into their virtual terminal, accessing the payment page.
Customers then simply verbally confirm their card details which can be entered into the in-browser system. 
Payment gateway
The payment gateway offered by takepayments allows for payments to be processed via a business's website, allowing for eCommerce capabilities. 
The takepayments payment gateway is ultra-secure, utilising SSL certification to encrypt all sensitive data uploaded onto the web. The gateway also takes advantage of 3D secure technology, requiring customers to enter their online banking password for an additional layer of security. 
This gateway allows customers to enter a trustworthy portal for payment. This not only increases the safety of the buyer but increases the potential conversion rate of purchases.
Developer support
Developers will appreciate the support offered by takepayments to implement the payment processing options into their programming. 
Shopping cart plugins are among the most popular methods of enabling takepayments at a website. The brand can be used with a huge range including WordPress, WooCommerce, Magneto and more. 
There is also a range of online resources built specifically for developers with a PHP integration guide, graphics pack, test cards, direct Integration documents and more all available via the takepayments website. 
EPOS Systems
Electronic point of sale systems, also commonly known as EPOS Systems, are ideal solutions for both restaurants and stores, offering a capable terminal for payment processing.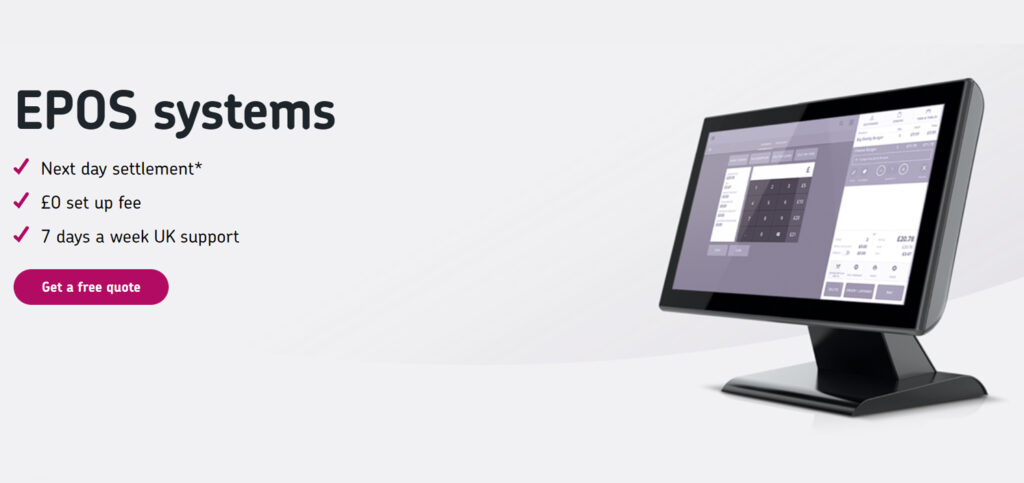 The EPOS systems available from takepayments fall into two categories, the EPOS card machine and the EPOS till system. Both offer a range of benefits and are suited to different applications. 
EPOS card machine 
The takepayments eposmove allows businesses to utilise an integrated EPOS and card machine all within a standard handheld POS terminal.
From a starting price of £45 per month, businesses can utilise a competent EPOS system from a handheld device. The device allows for real-time data to be viewed and analysed with sales and stock information held within cloud-based software. 
Businesses looking to upgrade to an EPOS card machine will be able to choose a one-to-one training option. This is great for getting employees up to speed and getting the absolute most out of the eposmove devices.
EPOS till system
The larger of the two devices in the EPOS till system with takepayments offering businesses an award-winning system with prices starting at £65p/m.
Similar to the handheld device, businesses can access valuable business data, integrate the device with numerous apps and customise dashboards for industry-specific needs. The till system is the most powerful option available to businesses and covers every facet of running a brick-and-mortar business. 
Company background
takepayments was originally formed in 1995 under the name of Targeted Transaction Managed Services Limited. 
The company has more than 2-decades in the payment processing business and despite the current branding under the name of takepayments, the brand was more recently known as Payzone UK. In 2018, the Payzone name was sold to the Post Office, alongside the bill payments portion of the business. 
As of 2020, takepayments has shifted not only the name but its focus, now looking to simplify how independent businesses take payments.
User reviews from around the web 
There are a huge number of positive independent customer reviews on the web for Takepayments with the bulk found online at Trustpilot. 
Based on the Trustpilot reviews accrued by the company, takepayments has earned a rating of 4.8 / 5 from a total of 22,382 reviews. 
User Reviews
Review Summary
0.0 out of 5 stars (based on 0 reviews)
Recent Reviews
There are no reviews yet. Be the first one to write one.
Submit a Review