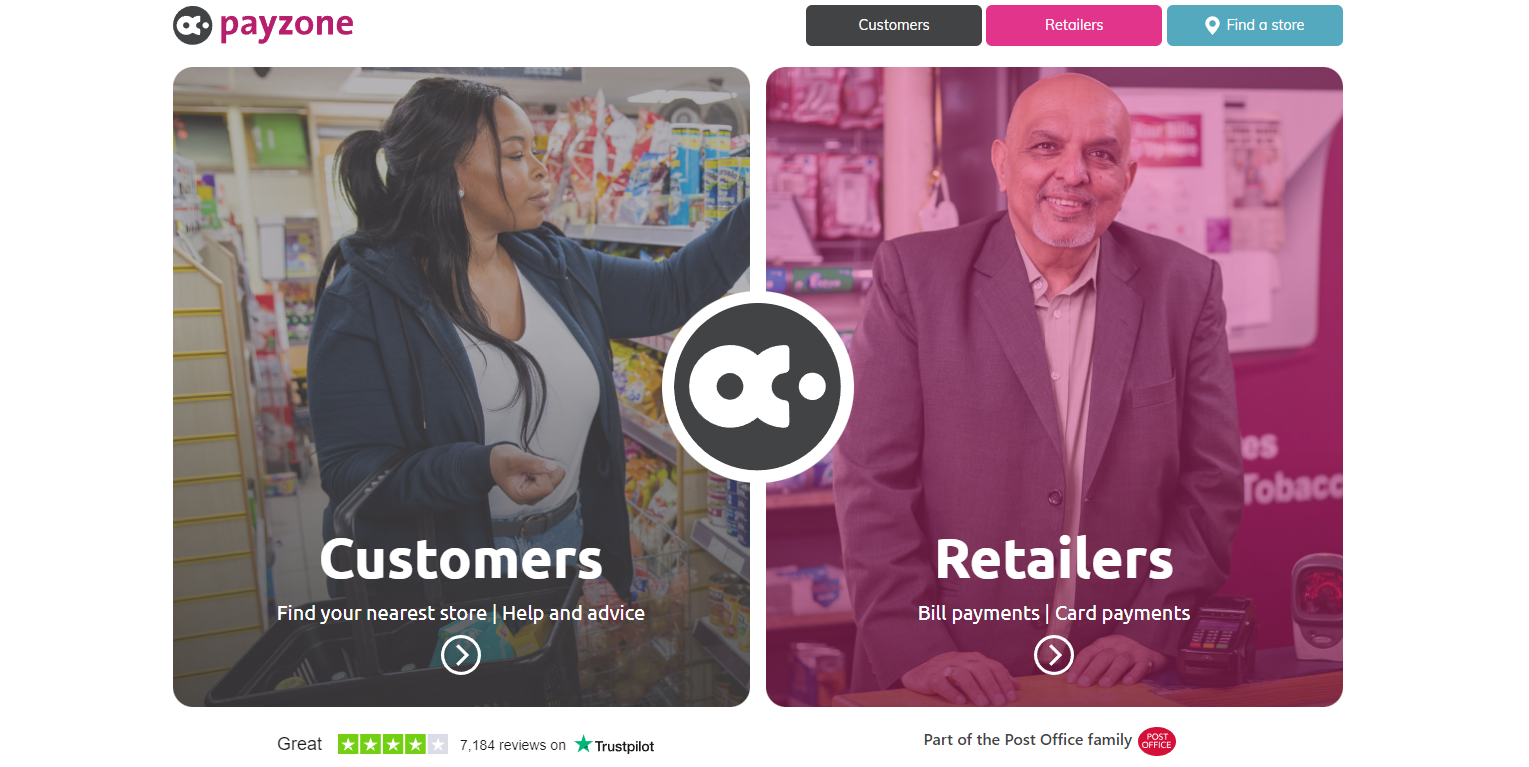 Payzone operates in the consumer payments sector in UK and Ireland. Although the company within the two countries used to be linked, they operate as separate entities today.
Payzone UK was founded as a separate company in 1995. It aims to rent payment terminals to web and physical retailers for card payments.
Payzone Ireland was founded in 1989, and since then, it has operated under several different names and acquisition partners. They process a variety of services for electronic money transactions, such as card transactions, mobile top-ups, motorway tolls, utility bills, and many other things.
In this review, we will focus on Payzone UK.
Price/Fees
The website doesn't provide much information about the fees and prices for Payzone's products and services.
As of 27 March 2023, their weekly fee rose to £2.99, but the company gave up other specific fees, such as the set-up, card acceptance and restocking, site visit, equipment inspection, promotional material removal, training, change of legal entity, and a number of other charges. All of this now comes for free.
Upgrading to the Payzone Plus plan can unlock exclusive services, including JISP Scan and Save, free of any additional charge. This allows retailers to commission for every purchase of discounted groceries that the consumer makes through the app.
Retailers who want to upgrade from an older device to a Payzone Plus device can do that for £4.99 per week. Alternatively, it costs £7.99 per week to include Debit/Credit card acceptance.
Product/Service Overview
Payzone UK offers several valuable services for seamless internet and in-store payments to customers and retailers.
Customer Services
Gas, Electric, and Water Bills
Payzone offers a list of Payzone stores and Post Office branches for its customers to be able to conveniently pay their utility bills. Visit Payzone's website to find the nearest shops.
The most popular utility transactions are topping-up gas and electricity meters, getting a replacement key or card, rent and council tax payments, and water and other bills.
The most popular utility suppliers via Payzone are British Gas, Scottish Power, e-on, EDF, and United Utilities.
Mobile Phone Top-Ups
Payzone stores are also a good place for users to top up their pay-as-you-go mobile phones and purchase SIM cards. All of this is available through the Payzone device.
The most popular mobile phone services with Payzone are phone top-ups, SIM card purchases, and buying international cards for roaming-free international calls.
Some of the most popular suppliers of these services are Vodafone, Virgin Media, Tesco Mobile, Lebara, O2, GiffGaff, and Lycamobile.
Transport and Ticketing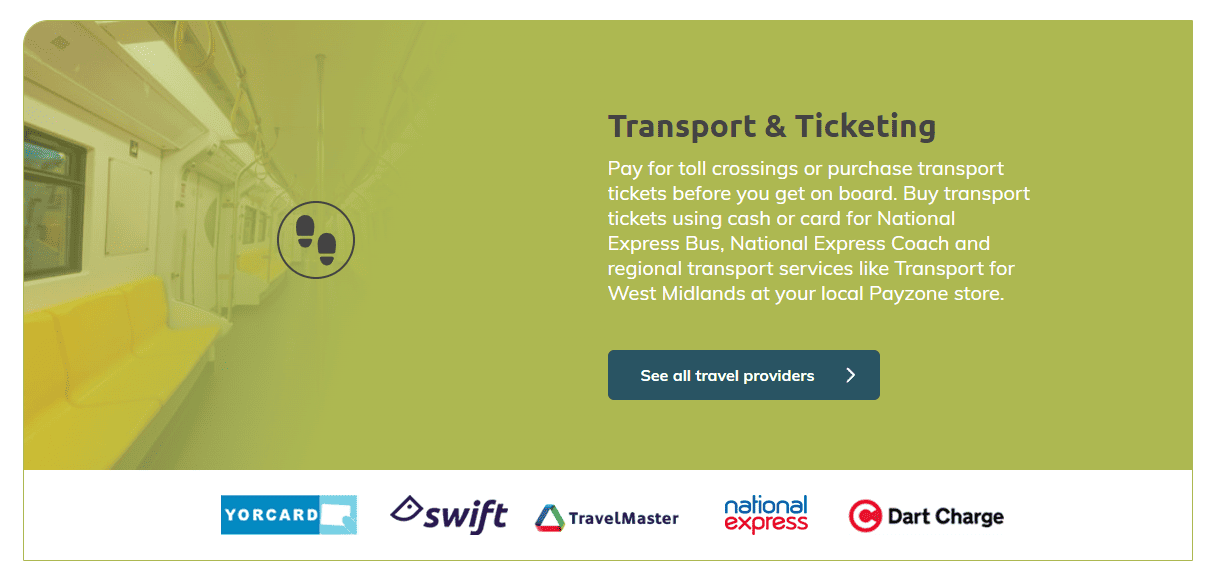 Another service that the Payzone store provides is topping-up travelling cards or buying train, tram, and bus tickets in advance for several transportation providers. 
The most popular ticketing and transport services are smart ticketing for bus services, Dartford & Mersey Tolling, and National Express Coach, while the most popular transport and ticketing providers available via Payzone are National Express, Travel Master, and West Midlands.
Online Gaming
Payzone stores make online gaming and account management simpler than ever. Players can purchase tickets and top-up gaming accounts with cash at their nearest Payzone store.
The most popular online gaming services are The Healthy Lottery, Lotto Social, topping-up online gaming accounts, and secure payments with Neosurf. These are also the most popular online gaming providers.
Parcels
Another fantastic option that Payzone offers to its users is parcel delivery. There are many cases when people are not home to receive their parcel delivery, thus risking it being left at their doorstep.
Payzone offers a solution to this problem by opening the doors of its stores for parcel deliveries. Customers can pick them up from the nearest store whenever it's convenient for them.
The three most popular parcel delivery suppliers/services are HubBox, Post Office Drop and Collect, and Download EasyID.
Gift Cards
People often find themselves in a situation where they don't know what to give someone for their birthday or need to figure out an original last-minute gift. Payzone stores offer an ideal solution for this issue with their large selection of gift cards.
There are four types of gift cards available at Payzone.
One4all gift cards come in various designs, including Birthday, Christmas, and Classic. More than 130 high-street brands accept these cards.
Gamers Choice gift cards are ideal for friends and coworkers who are passionate gamers. The card will give them access to their favourite console games and can be used for PS, NDS, Xbox, and other consoles.
Fashion Choice gift cards provide access to all popular fast-fashion brands, such as Primark, ASOS, M&S, and others, making them a perfect gift for a person who loves fashion.
Finally, the Restaurant Choice gift card allows its holder to choose from various restaurants, including Nandos, Byron Burger, and Pizza Express.
The most popular gift card providers for Payzone are M&S, H&M, Zalando, New Look, EA Games, B&Q, River Island, and Clarks.
Rent and Council Tax
Payzone offers council tax payments at its stores and Post Office branches. Users can make payments to various housing associations, such as Capita LGS (Sheffield), Manchester City Council, North Tyneside Council, Cardiff Council, Worcester Council, Bassetlaw District Council, and Hartlepool Borough Council, just to name a few. 
Retailers
Bill Payments
Utilities
With Payzone, retailers have an opportunity to become a "one-stop-shop" for utilities and bill payments for their customers. Thanks to exclusive contracts with companies like Jersey Electricity and British Gas, as well as offerings for ScottishPower, United Utilities, and many others, retailers can expand their operations and increase their revenue.
Retailers can provide three types of services: gas and electricity payments and top-ups, water, council tax, and other bill payments. They also may become SuperAgent. Payzone SuperAgents stock replacement gas cards and electricity keys, so customers who need replacement utility cards and keys will be directed to the SuperAgent's store.
Mobile Phone Top-Ups
Regarding mobile phone top-ups, Payzone retailers can complete this task through Payzone devices, then sell SIM cards and stock international calling cards. Payzone works for telecom companies like Vodafone, O2, Lycamobile, and others.
Transport and Ticketing
Retailers who decide to work with Payzone can also become a "one-stop-shop" for transport ad ticketing. By making transport and ticketing services available in their shops, retailers enable customers to purchase bus tickets, top-up their travel cards, or pay toll charges in their stores. This makes commuting much simpler for customers, but it also brings additional revenue to retailers.
Retailers can provide three types of services for transport and ticketing: smart ticketing for bus services, national express coach, and Dartford and Mersey Tolling.
Online Gaming
Another way retailers can benefit through Payzone is by offering online gaming services to their customers. By partnering with Payzone, retailers can provide a convenient way to pay for online gaming services through their stores, creating an additional revenue stream for their business.
Retailers can provide various types of services to customers, such as allowing them to top up their gaming accounts, purchase in-game currency, and pay for subscriptions. By offering these services, retailers can attract a broader customer base and increase foot traffic.
Parcels
Similar to the other services previously listed, retailers who decide to start collaborating with Payzone can become parcel drop-off and collection spots.
Retailers can provide three types of parcel-related services to their customers. Those are HubBox, Post Office Drop and Collect, and Easy ID.
Gift Cards
Retailers who partner up with Payzone have an opportunity to provide their customers with convenient gift cards for their own stores. They can offer various types of cards, including digital and physical. Retailers can also customise them to suit their brand image.
Retailers who opt-in for gift cards enjoy raising awareness of their brand by promoting it on the gift card and creating an additional stream of revenue.
Rent and Council Tax
By partnering with Payzone, housing associations and councils can provide their residents with a simple and convenient way to pay their bills in person at local retail stores, creating an additional payment channel for their customers.
Retailers can offer various bill payment services, including council tax, rent payments, and utility bills.
The service is easy to use and ensures a seamless and safe payment experience for customers, while retailers get to expand their sources of revenue.
Card Payments
Contactless
Contactless card payments are a convenient way for customers to make purchases that also help reduce the lines at the cash registry since no PIN code is needed to realise the payment.
To start accepting contactless card payments, retailers need an appropriate card reader, and Payzone offers an excellent deal to retailers to provide them with the necessary machine.
To obtain more information, interested parties need to fill out a form on Payzone's webpage.
Countertop
Thanks to their partnership with Takepayments, the countertop card machine provider is able to provide these machines to retailers who wish to partner up with them.
This type of machine is convenient in the case when the retailer is serving customers from one place.
The main benefits are that it's small and compact, easy to connect, prints receipts, and accepts contactless payments.
Mobile
With Payzone's mobile card payment system, retailers can accept card payments using a smartphone or tablet without needing a dedicated card terminal. To use the mobile payment terminal by Payzone, retailers need to download the Payzone app and connect a card reader to their devices. The card reader can then handle customer payments, which are processed securely through the app.
This payment system is very convenient as it reduces queuing times, but it's also very secure, thanks to the latest encryption and security technologies applied.
Portable
Payzone is also able to provide retailers with more flexibility, as they can obtain a portable card machine allowing customers to pay on the spot without going back to the register. These machines have a 50m Bluetooth range, are very lightweight, have a long-lasting charge, and accept contactless payments.
Small Business and Retail
Finally, Payzone has special offers for card payment solutions for small businesses and retailers. These solutions include many benefits, such as faster payment processing, increased security, and flexibility regarding payment methods.
For retailers and small businesses, Payzone has a variety of payment terminal options to offer, along with additional features such as cashback, mobile card reader, and tipping.
Business Operations
Over three decades, Payzone has evolved to offer a wide range of business operations designed to improve their users' experience from the retailer's and customer's perspective.
Making Various Consumer Payments
When it comes to consumer payment options, Payzone offers several payment methods for different things: EDF bills, SSE bills, ScottishPower bills, E.On Next bill, and British Gas bill.
EDF bills can be paid via direct debit service by automatically taking money from the customer's account each month as a "Regular Payment Amount". The Regular Payment Amount is a yearly estimate of the amount of energy the consumer will use over one year.
Other options for EDF bills are telephone payments using MasterCard and Visa Cards, online payments (EDG app/website) and postal payments.
The same payment options apply for ScottishPower bills, E.ON, and British Gas.
When it comes to SSE bills, there is one additional payment method, the Smart pre-pay Top-Up. It works by topping up the Smart PAYG meter at the Post Office and using the Account Identification number to make cash, debit, or cheque payments.
Payzone Plus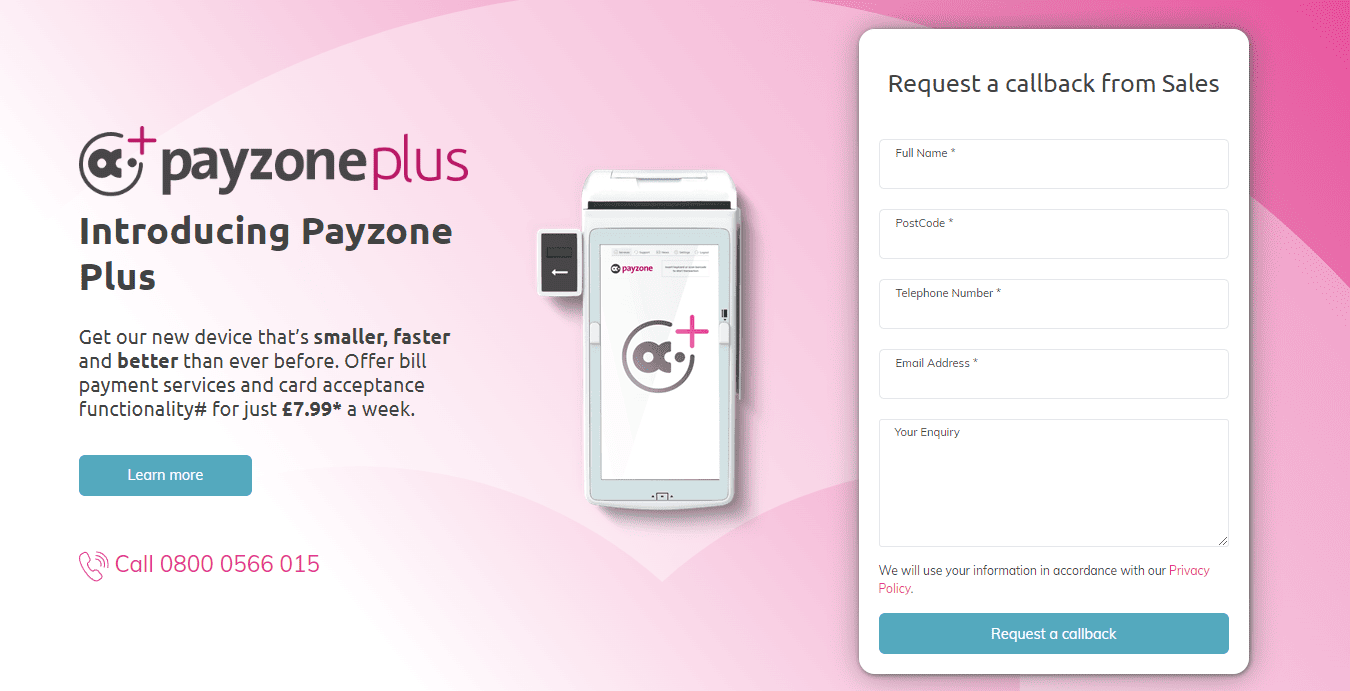 Payzone has recently launched a new device which is smaller, faster and offers better functionalities compared to other devices, such as bill payments and card acceptance. The device is called Payzone Plus and comes for only £7.99 a week.
The main benefits of Payzone Plus are additional footfall, weekly commissions for each transaction, and exclusive contracts with bill payment suppliers such as British Gas and Jersey Electricity. Also, users get a special business banking offer which includes a free account for two years, a 0.3% cash deposit fee, and only 1% cash back on card payments.
Company Background
For more than 30 years, Payzone's main aim has been to help small and independent retailers across the UK grow their businesses. On average, their devices are 95% cheaper compared to the competitors. They offer high-end customer service that covers all steps of the process, from the initial enquiry to using the Payzone device the most efficiently.
Since 1995, Payzone Ireland and Payzone UK have operated as separate entities. To find out more about Payzone Ireland, visit this link.
User Reviews From Around the Web
There are few user reviews of Payzone on the web, but the following ratings may help build a fuller image of this company and its popularity.
User Reviews
Review Summary
0.0 out of 5 stars (based on 0 reviews)
Recent Reviews
There are no reviews yet. Be the first one to write one.
Submit a Review