Founded in 2005, acceptcards is a UK-based company focused on providing UK businesses with the best possible merchant services from UK providers. 
The company does not offer merchant services directly, but instead acts as an independent broker, finding businesses the best deals on merchant services in the UK. With a strong, but small team of less than 15, acceptcards is able to offer a truly tailored service that is great for small and medium businesses. 
With in-depth knowledge covering all aspects of payments, all businesses can benefit from acceptcards when searching for the best merchant services in the UK. 
Prices/Fees
Unfortunately, the pricing and fees of acceptcards are not currently published online and merchants are required to reach out directly for an accurate quote.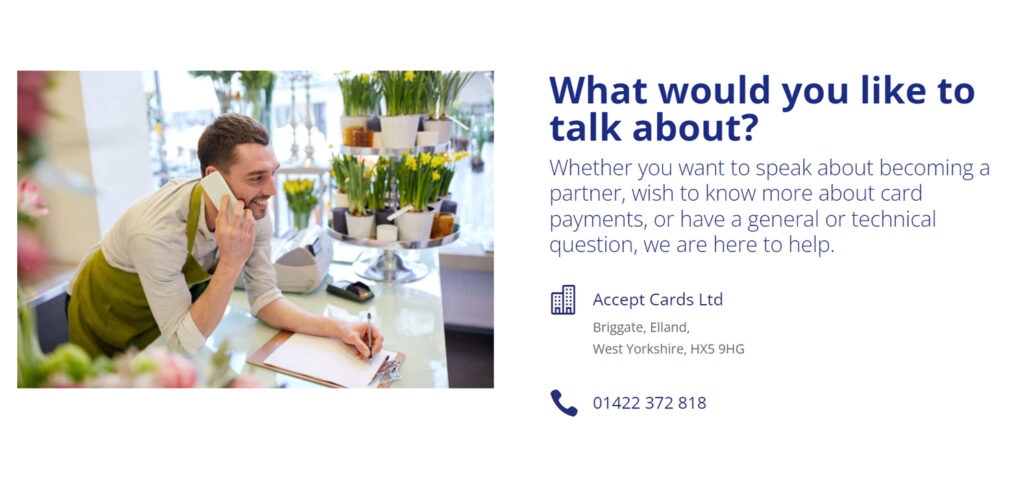 Product/Service Overview
acceptcards covers the majority of services that merchants may require when looking to accept payments with a card, online or over the phone.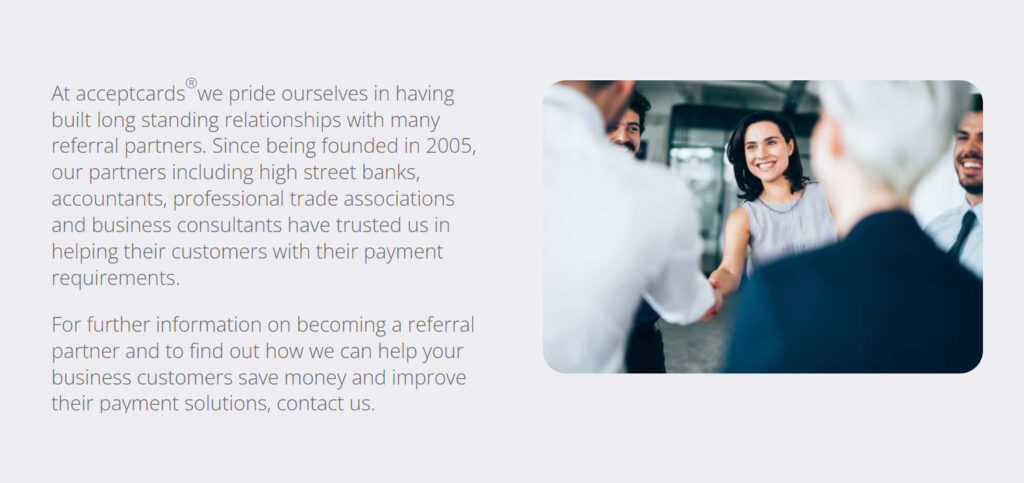 The company is trusted by all of the top card acquirers in the UK alongside the key players offering terminals, Epos systems and website gateway providers. However a merchant may be looking to accept a payment, acceptcards can help by sourcing the top UK deals. 
Card machine
The first step for a huge number of businesses looking to accept payments is to set up a card machine. 
Regardless of whether or not businesses are looking for a simplistic retail card machine or a more advanced Epos system, acceptcards are able to help source merchant suppliers. Terminals are also able to be supplied independently, preventing merchants from becoming tied in with contracts if their situations change. 
Simple pricing plans and pain-free set-ups make the card machines sourced by acceptcards a fantastic solution for business cash flow.
Phone payments 
Businesses requiring credit and debit card payments over the phone are able to do so with help from acceptcards.
Phone payments can still a lucrative part of any business and acceptcards allows businesses to efficiently accept these payments with minimal fuss. 
Alternatively, acceptcards are able to assist with the option of a virtual terminal, streamlining the process of taking payments over the phone, via email or through fax. 
Virtual terminal
A virtual terminal is a common solution used by a number of businesses, allowing payments to be accepted over the phone via a secure web-based interface. 
These terminals do not require any additional hardware to be used and can simply be accessed through a browser of a device. Additionally, a virtual terminal does not tie up the existing card machine, preventing delays with in-store customers. 
A virtual terminal can also be supplied directly by acceptcards or, depending on the needs of the business, their trusted partners are able to offer the same.  
Online payments 
Businesses looking to accept online payments can find the top merchant services available in the UK with the help of acceptcards. 
Online payments must be safe, secure, simple and fast with the best online payment solutions for businesses able to streamline the checkout process. In addition to taking payments, the online systems are able to give insights into cart abandonment and maximise the conversion rates of purchases at a merchant site. 
This can be all achieved with the addition of fraud prevention services, protecting both the customer from identity theft and the merchant from chargebacks.
Payment gateways
A secure payment gateway is the main tool required for merchants to begin accepting payments online. 
This can be thought of as a terminal build for the online world and is essential for all businesses selling online. acceptcards is able to offer its own online gateway in addition to the range of different high-quality providers that are able to do the same. 
E-commerce
Merchants looking to get started with their own E-commerce store can find assistance in getting things off the ground with BigCommerce, a partner of acceptcards. 
The cloud-based solution grants merchants access to countless drag-and-drop templates, each of which is catered to different industries. With a fully integrated payment gateway as standard, the E-commerce offering is not only intuitive but reasonably priced, too. 
Merchants are able to use a 15-day free trial with BigCommerce to get to grips with the service before committing to a monthly subscription. 
Pay by Link 
The option of Pay by Link is a method of sending e-invoices chosen by countless businesses in the UK. 
With industries ranging from hospitality to construction able to send a link allowing for payment, the service offers a quick and easy alternative to sending invoices. The solution allows for payments to be made quickly with a simple click-and-pay approach that customers appreciate.
Many of the merchant providers in the UK do currently offer a "pay by link" service as an optional add-on, but there are options for merchants to find a bespoke and fully customisable service where appropriate.  
Pay at Table
Businesses operating in the hospitality sector, including restaurants, pubs, cafes and bars, will be pleased to find a "Pay at Table" option offered by acceptcards. 
The solution offers exactly what it says on the tin – the ability for customers to pay at the table when dining out. The option gives customers the freedom to choose how they prefer to pay, allowing for a smooth experience that works for all that walk through the door. 
Open Banking 
Open banking payments are expected to rapidly grow in the coming years with their popularity among consumers in the UK rising. 
acceptpayments are able to identify UK merchant providers offering open banking as a solution and offer it to their customers where appropriate. With relationships developed across the open banking sector, merchants are able to capitalise on the emerging service. 
EPOS Payments
An EPOS system is one of the most popular solutions for a brick-and-mortar business, allowing for a computerised till system to operate efficiently.
These Electronic Point of Sale systems can be and are often used by a variety of different businesses with everything from restaurants to hairdressers benefiting from the software. In addition to allowing customers to make payments, an EPOS takes account of vital business information including stock control, buying habits, staffing and product sales. 
EPOS systems are offered in either full integration or semi-integration, offering full control for the merchants investing in the system. 
Charity Contactless Donation 
A charity contactless donation system can also be offered by acceptcards, allowing the public to make charitable donations despite the minimal cash-carrying in the modern world. 
These charity donation points offer a simple "tap" solution, allowing for all to make a charitable donation, even when they're not carrying cash with them. The units are both WiFi and GPRS compatible, allowing for a fully portable solution that can be used to place in front of areas of high footfall.
The charity contactless units are also supplied with purpose-built security mounts, showcasing the unit and bringing it to the attention of the public. 
The pricing of the charity contactless donation starts at £28 + VAT per month on a 36-month contract. Additional costs include a 1.69% fee per donation and a further £19.99 + VAT one-off fee for the SumUp Air reader. 
Pay As You Go 
Merchants that are not expecting to take large volumes of payments may be best in a pay as you go contract for payment acceptance. 
These contracts, although do require higher transaction rates, are a good solution when the monthly contract pricing is higher. As a general rule, businesses taking more than £3,000 per month should consider moving to a monthly solution.
Cash Handling Services 
In addition to the online and digital payment solutions, acceptcards also offers cash handling services for those businesses where handling cash is an important part of the day-to-day.
Solutions from the top UK companies offering cash handling services can be found and completed by acceptcards, solving the associated time and cost issues. 
Company background
Founded in 2005 by Richard Bradley, acceptcards is an independent UK-based payment company focused on offering all businesses top solutions from merchant providers.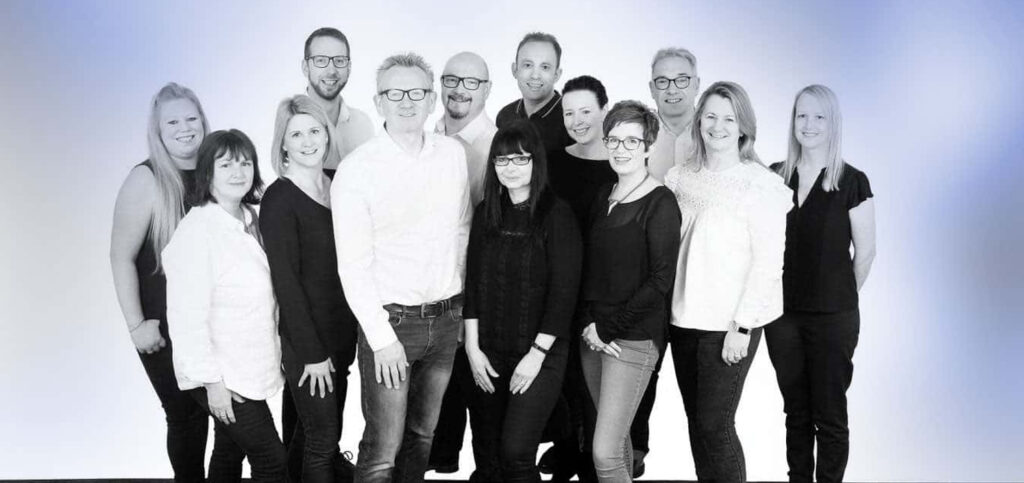 The company adopts a simple mindset, listening to the customer and recommending the best possible solutions for their business needs. It's for this reason that acceptcards have continued to grow in the competitive industry. 
In addition to offering businesses the best possible merchant services, acceptcards also boasts a charity commitment, made possible by their customers. The company supports good causes by both raising funds directly and by supporting its customers and partners in CSR commitments.
In 2020, their charitable support was taken up to the next level with the creation of their social enterprise organisation (CIC). This was created as a partnership in collaboration with the Charity Retail Association.
User reviews from around the web 
At the time of writing, the number of user reviews available around the web is small with only a handful available on the top independent review site, Trustpilot. 
Although the average of 3.8 / 5 from a total of just 2 reviews offers little true value, there are no red flags with negative reviews about the company. 
User Reviews
Review Summary
0.0 out of 5 stars (based on 0 reviews)
Recent Reviews
There are no reviews yet. Be the first one to write one.
Submit a Review