Founded in 2009, Card Cutters is a UK financial services company that offers the latest payments technology and merchant services.
Both small independent retailers (SMEs) and larger multi-outlet businesses are catered for by Card Cutters with more than 12,000 merchants currently trusting the company with financial services. 
With partnerships with both AIB Merchant Services and Evo Payments International United Kingdom, Card Cutters is able to offer both world-class merchant services and integrated payment APIs.
Prices/Fees
The pricing and fees of the services offered by Card Cutters are not publicly published online on their website.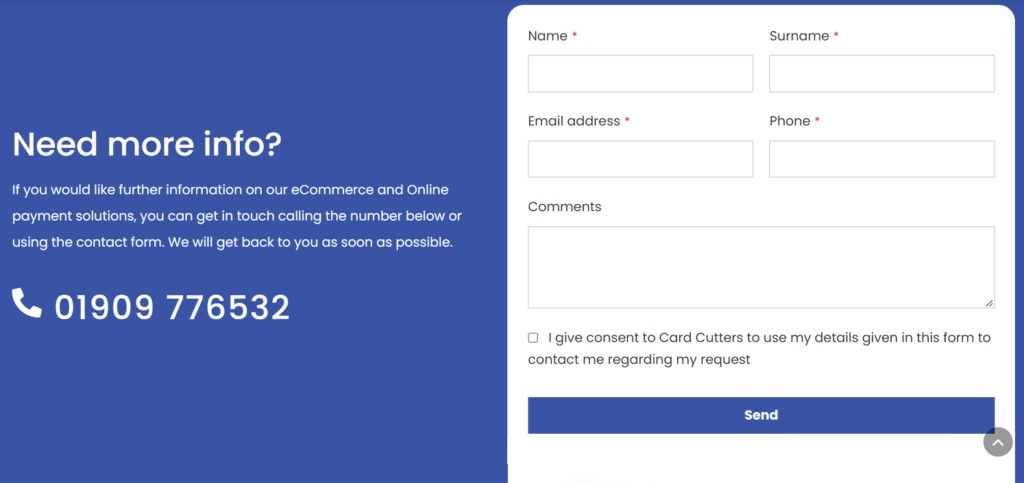 To access a quote, merchants should contact the company by accessing the online form for an accurate price. Card Cutters is, however, focused on offering competitive pricing, boasting the capability to save merchants as much as 40% off high street banking prices.
Zettle pricing
Although the pricing of the services offered by Card Cutters is not highlighted, clear pricing from Zettle is published on the site. 
Merchants can expect to pay a £29 fee for the card reader followed by a 1.75% fee for card transactions. Merchants are not expected to be charged for the POS app.
Product/Service Overview
Card Cutters offers a range of financial products and services that can be categorised into card processing, ePOS systems, online payments and fundraising devices.
Card processing
Processing payments via card is one of the most important facets of a traditional brick-and-mortar business and can be offered in a range of different forms. 
At Card Cutters, merchants can choose from countertop, Bluetooth and WiFi, mobile and multi-com credit and debit cards. Each available card machine offers a unique set of pros and cons with different types suited to different businesses.
Terminals are typically rented from Card Cutters, however, a purchase option is also available. Merchants should still expect to pay a small monthly fee to cover the services offered by Card Cutters (customer support etc.) when purchasing card machines outright. 
Countertop
A countertop card machine is a go-to choice for businesses with static sale points such as shops and cafes. 
Card Cutters offer businesses the option to rent five different terminal options from companies including Ingenico, Castles and Spire: 
Ingenico Tetra Desk 3500

Ingenico Tetra Desk 3500 + iPP315

Spire SPC5

Ingenico Lane 3000

Castles Vega 3000C
Bluetooth and WiFi
Card machines that offer Bluetooth and WiFi connectivity are great for restaurants and location-independent businesses that require a little extra flexibility. 
Card Cutters offers businesses the option to choose from one of three Bluetooth and WiFi-enabled terminals from Ingenico, Spire and Castles: 
Ingenico Tetra Move 3500 BT/WiFi

Spire SPG7

Castles Vega 3000M – WiFi
Mobile 
A mobile card machine is great for merchants that do not have a dedicated space for trading as the terminals can connect wherever the customer may be. 
Card Cutters gives the choice of two main mobile terminals with a choice available from both Ingenico and Spire:
Ingenico Tetra Desk 3500 – 3G

Spire SPG7
Multi-Com
A multi-com system is a great choice where merchants are looking for the maximum level of flexibility in their POS. 
When looking at a multi-com system, businesses are given choices from companies including Spire, Ingenico and PAX: 
Spire SPG7

Ingenico Tetra Move 5000

PAX A920

Castles Vega 3000M – WiFi & GPRS
Epos systems
An ePOS (Electronic Point of Sale) is a valuable system that combines a traditional till system with additional software that helps to run businesses smoother. 
An ePOS system can be offered in a variety of different packages, each of which is suited to different businesses (retail, hospitality etc.). Card Cutters allows businesses to choose from Epos Now, Zash and Zettle when looking for their best-suited service. 
Epos Now
Epos Now offers a complete ePOS system, allowing business owners to wear as many hats as they may need when completing their daily tasks. 
The Epos Now system offers everything businesses need in one package. Merchants are able to set up, onboard and train their staff, enable online deliveries and collection, access real-time business insights, access real-time reporting on staff, sales, stock etc. and use countless apps and software. 
The solutions offered by the ePOS system are highly flexible, allowing for merchants to pick and choose from a complete solution, the PAX A920 handheld POS and a tablet solution. The options are great not only for stores but for restaurants and other brick-and-mortar businesses. 
Zash ePOS
Powered by the Optomany Gateway, the Zash ePOS is one of the top ePOS solutions available today for UK merchants. 
Cafes, restaurants, convenience stores, services, retail and e-commerce can all benefit from Zash. A range of merchant services can be accessed via the ePOS system with a huge range of associated benefits. 
Zettle
Zettle is a complete POS and payment service, offering businesses the option of taking flexible payments wherever they may be.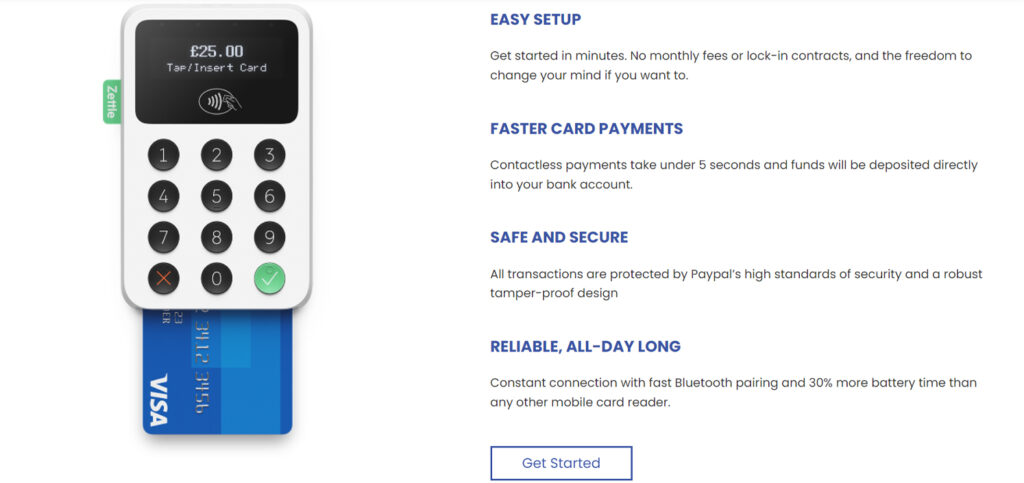 With an easy setup, reliable service and lack of contract or hidden fees, Zettle is a great choice for entrepreneurs looking for a simple solution. 
The pricing of Zettle is simple, too, with no charge for the POS app, a £29 fee for the card reader and a 1.75% card transaction fee. 
Online payments 
Card Cutters offers an online payment gateway that allows businesses to take payments from their own website to offer eCommerce.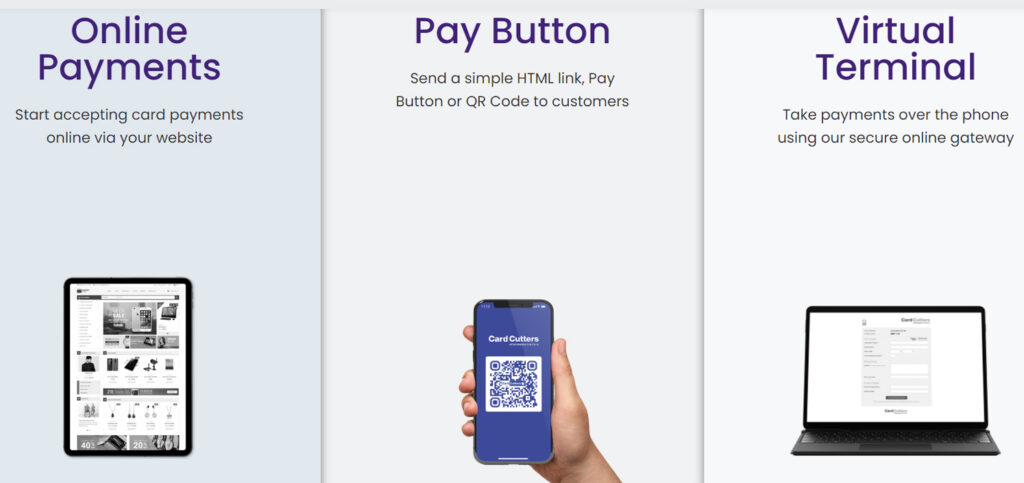 The online payments service extends to more than just the ability to take payments and Card Cutters offers businesses the option of shopping modules, making it easier to offer products and services online. 
Tokenisation, a secure method of accepting recurring payments, is also offered by Card Cutters and customers can make payments with alternative methods (including PayPal, Apple Pay and Google Pay).
Alongside the service of offering payment processing, Card Cutters also gives merchants the option to use a pay button and a virtual terminal to boost their business.
Pay button 
Painful invoices can be a thing of the past with the ability to send a pay button to customers. 
Merchants can now send a simple HTML link, Pay Button or QR Code to their customers which can be used to pay for products and services. 
Virtual terminal
A virtual terminal is also offered by Card Cutters, allowing businesses to accept payments over the phone.
The secure payment gateway does not require any additional hardware and the virtual terminal can simply be accessed via an internet browser. This allows merchants to accept payments made via telephone with the helpful virtual terminal. 
Fundraising devices
One of the unique features offered by Card Cutters that is rare to find in most other payment processors is the option of fundraising devices. 
These are exactly what they say on the tin, devices that are used for fundraising for charities and causes from a place of work. The fundraising devices available from Card Cutters are purpose-built terminals with the sole purpose of raising funds for good.
GBx Mini
The GBx Mini is a versatile and compact terminal that allows for donations to be taken by customers seamlessly. 
Contactless payments can be accepted up to the value of £30 with a Chip & Pin option for larger amounts. A touchscreen offers top usability and a three-hour battery life is great for taking donations on the go. 
GBx Core
The GBx Core is the step up from the GBx Mini, offering a large dedicated terminal to both attract attention and take donations. 
A 5.5" touchscreen allows for the donation size to be chosen and with more than 10 hours of battery life, it's great for taking away from the counter. 
GoodPlate
Built for religious fundraising, the GoodPlate gives an alternative to cash when donations are being made. 
An easy-to-remove GBx Mini can be detached from the GoodPlate, allowing for larger Chip & Pin donations to be received. 
GoodBox GBx Podium
The final fundraising solution offered by Card Cutters is the GoodBox GBx Podium, a free-standing unit supporting a GBx Core.
The unit is great for attracting attention and with the GBx Core taking centre stage, donations can be processed quickly, easily and securely. 
Company background
Card Cutters was founded in 2009 and, in more than a decade of offering payment processing, has amassed a customer base in the UK, UAE and Ireland.
At the time of writing, Card Cutters report that more than 12,000 merchants utilise their services as card acceptance and payment solutions specialists. 
Although the company aims to look after most offerings in-house, Card Cutters does offer a range of integrated payment APIs with partnerships with both AIB Merchant Services and Evo Payments International United Kingdom.
User reviews from around the web 
Card Cutters may not have amassed as many user reviews as some other payment processors operating in the same space – but what the company lacks in volume it more than makes up for in quality.
Trustpilot  – 5 / 5 (based on 251 reviews) 
Taking the Trustpilot reviews as the sole supplier of independent reviews, Card Cutters manages to score a flawless total of 5 / 5 from a total of 251 reviews. 
User Reviews
Review Summary
0.0 out of 5 stars (based on 0 reviews)
Recent Reviews
There are no reviews yet. Be the first one to write one.
Submit a Review